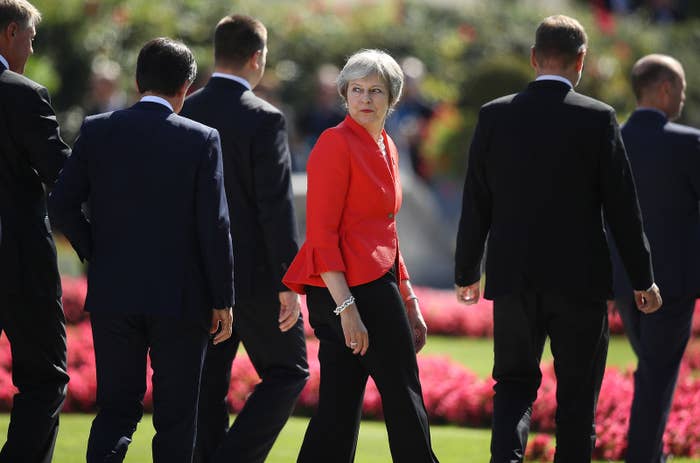 Brexiteer cabinet ministers are considering forcing Theresa May to pivot to a Canada-style free trade agreement with the European Union within the next few days, after her Chequers proposal was rejected by EU leaders yesterday.

Ministers complained of an information vacuum at the heart of government on Friday as Number 10 aides spent the morning locked away deliberating over how to respond to the EU's public dismissal of May's Chequers plan.
As cabinet ministers and reporters were left waiting for clarity from Downing Street, there was speculation May would make a public statement today. This was denied by Number 10, though BuzzFeed News understands it is still under consideration.
"They still don't know what they're going to do. They still haven't decided," said one government source, adding: "The Brexiteers in the cabinet are now watching and waiting to see what Number 10 do and how it goes".

A second government source said Downing Street had been blindsided by the EU. "They really thought they were going to get some warm words ahead of conference. They never thought the EU would send them into conference with this. Their intel was totally wrong". Some in government are blaming May's Brexit adviser Olly Robbins for failing to judge the mood.
Cabinet Brexiteers view this weekend as the crunch point, and have decided that if the situation still looks as bleak afterwards then they will tell the prime minister to abandon Chequers and pursue a so-called CETA+ deal.
Two weeks ago, BuzzFeed News reported that Leave-supporting ministers, including Dominic Raab, Penny Mordaunt, Esther McVey and Andrea Leadsom, wanted May to consider the Canada option if her Chequers plan fell apart. Sajid Javid is also believed to support Canada if Chequers falls.
A Brexiteer former Cabinet minister told BuzzFeed News: "If we started talking to the EU about Canada we could agree it in time, but we are not going to agree it in time if we keep wasting time pushing a plan that the EU has made clear is not going to work. We need to get on with it bloody quickly."
But while an offer of a Canada deal is already on the table from the EU, it would not provide an solution to the Irish border issue, as even Brexiteers in the cabinet concede. This is essential to securing a withdrawal deal.
The Canada option was still considered off the table inside Number 10 this morning, with housing secretary James Brokenshire telling BBC Radio 4's Today programme that it would "effectively break up the UK", and May's director of communications Robbie Gibb tweeting that it did not address the Northern Ireland issue.
On Thursday night, a Number 10 source insisted to BuzzFeed News that nothing significant had changed, and that the EU's rejection of Chequers was part of a negotiation in which May will not make any more concessions. The Downing Street view last night remained that the UK had given ground before and it is the EU's turn to move next.

This morning, Brokenshire repeated this line on Today. It did not convince cabinet colleagues. "You know things are bad when they put Brokenshire up," commented one Whitehall source.
Government sources said that May had two only other options if she would not pivot to a Canada deal. The first is to "throw it back on the EU", essentially doubling down and sticking to her Chequers proposal, telling Brussels that the UK has negotiated in good faith, that it is in both sides' interests to do a deal and that something based on Chequers is the best solution.
The second option is no deal. This is considered completely unviable inside Number 10, partly because they think the economic impact would be unconscionable, but mainly because they believe parliament would prevent it from happening.
"No deal is not an option," said a government source. "If we do not get a deal, or if parliament votes down a deal, it would mean total political chaos, possibly an extension of Article 50, possibly a general election, possibly no Brexit, possibly a Jeremy Corbyn government."
The consensus view among Tory Brexiteers is that May would choose option one. They disagree about how this will play out. Most think Chequers is dead and that May faces insurrection if she refuses to budge ahead of conference.
Others think May could have a lifeline. A senior Tory Brexiteer told BuzzFeed News: "It is not at all clear that the EU meant to deliver such a strong rejection. The press love the idea that the PM has been humiliated by Brussels, but what Tusk and Macron said is nothing new. It is always the way with the EU that two seemingly irreconcilable positions end up being fudged together. When it comes to it, the EU could still turn round and say they want a deal and will make it work".
But most agree May finds herself in a position where her Chequers plan has been rejected by the EU, and that even if she managed to agree a deal based on Chequers, the strength of opposition to it among Brexiteer MPs means it would be voted down in the Commons.
The current calculation inside Number 10 is that may not have the numbers to get a Chequers-based plan through parliament, and there are genuine fears about the prospects this has for whether Brexit even happens at all.
A senior Tory said the reality of the situation meant May ultimately will have no choice but to opt for Canada. "Norway is not an option. Chequers is now not an option. No deal is not an option. We have been offered Canada. We have to take it. It is Canada or a general election."
Update: The BBC has confirmed May will make a statement at 1:45pm.