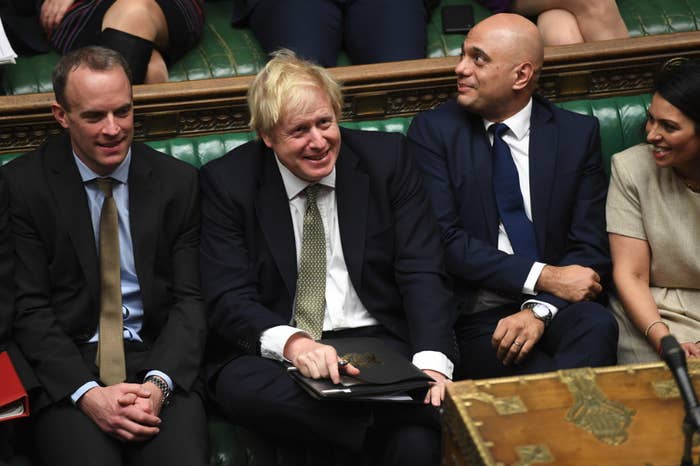 Britain is finally set to leave the European Union more than three and a half years on from the referendum, after MPs voted by a majority of 124 to pass Boris Johnson's Brexit deal on Friday afternoon.

The Conservatives' crushing election victory last week ensured that the withdrawal agreement bill sailed through the House of Commons at its second reading by 358 votes to 234.
The bill will complete its passage through Parliament in the New Year and means the UK is now due to officially leave the EU on Jan. 31, after which the Department for Exiting the European Union will be dissolved. The government will then enter into intense negotiations with Brussels to attempt to strike a new free trade deal by the end of the transition period in December 2020.
Calling on the MPs to "move on and discard the old labels of leave and remain", Johnson said that the bill ensured: "Brexit will be done. It will be over. The sorry story of the last three and a half years will be at an end and we will be able to move forward."
But confirming the possibility of the UK leaving the standstill transition period on World Trade Organisation terms at the end of 2020, Johnson vowed he would not extend it beyond the deadline of December 31 next year if he cannot agree a free trade agreement with the EU in that time.
Comparing "the permanent possibility of extending" the transition period to "Lucy snatching away Charlie Brown's football" and "Prometheus chained to the Tartarean crag, his liver pecked out by an eagle", the prime minister said the bill meant there was "no possibility of an extension".
Downing Street's decision to water down a section of the bill on legal protections for refugee children was roundly condemned by opposition MPs.
The legislation removed a commitment to supporting refugee children seeking to reunite with family members in the UK, in a move described by the Labour leadership contender Lisa Nandy as "a direct attack on some of the most vulnerable children in the world".
Johnson insisted that the government's position on refugee children was being "misunderstood or possibly misrepresented" and that he remained "absolutely committed" to offering protections to refugee children, but that "this is not the place in this bill to do so". A commitment on workers' rights has also been dropped from the legislation.
Outgoing Labour leader Jeremy Corbyn ordered his MPs to oppose the bill, arguing: "We warned before the general election that the prime minister's Brexit deal was a terrible deal for our country and we still believe it is a terrible deal today."