The UK Has Yet Another Idea To Solve The Backstop, But MPs Already Say It's "Legally Meaningless"
Downing Street has discussed making a "unilateral statement" that the UK won't be kept in the backstop against its will.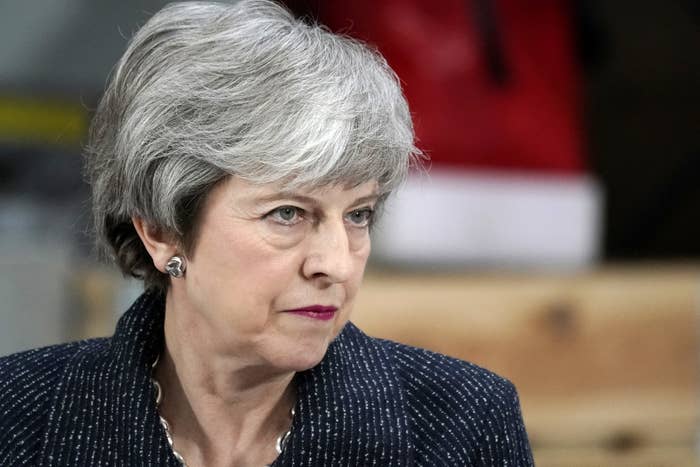 The UK government has a new plan to solve the controversial Irish backstop issue that is preventing Theresa May's Brexit deal from winning a majority in Parliament.
BuzzFeed News has learned that, under a proposal drawn up by May's team and discussed with MPs and ministers over the last 48 hours, the government could publish a unilateral statement saying it would consider it "bad faith" on the part of the EU for the UK to be kept in the backstop for more than a period of up to five years.
According to one version of the plan, the UK could then use the statement to say it could not be kept in the backstop against its will.

A government source confirmed: "There are several proposals that remain under consideration."

Yet MPs who have been briefed on the unilateral statement idea expressed scepticism that it would be enough to convince a majority in Parliament to vote for May's deal.
One Brexiteer MP described the proposal as "legally meaningless" as it would equate to the UK unilaterally attempting to leave the backstop without the consent of the EU or the agreement of an arbitration panel.
They warned that MPs would take a dim view of any suggestion that the UK could breach a treaty or fail to meet its international obligations.
Downing Street has previously attempted other similar proposals to give the UK a say on whether it wanted to stay in the backstop.
At one stage a so-called Stormont lock was mooted, giving the Northern Ireland Assembly and executive a say on any new regulatory barriers within the UK.
In December, May attempted to convince MPs to back her deal by offering a "parliamentary lock" on the backstop — giving Parliament a vote before the UK entered the backstop.
The idea never came to fruition as it was dismissed as a "ruse" by Brexiteer MPs who said the UK would not be able to renege on what it signed up to in the withdrawal agreement.
A Brexiteer MP told BuzzFeed News they feared that the unilateral statement is "the Stormont lock and the parliamentary lock in a different guise".