Boris Johnson's Women Advisers Are Furious They're Being Paid Less Than Their Male Colleagues
Several women aides are appealing their pay packages. One is considering taking the government to an employment tribunal, and some are talking about quitting in protest.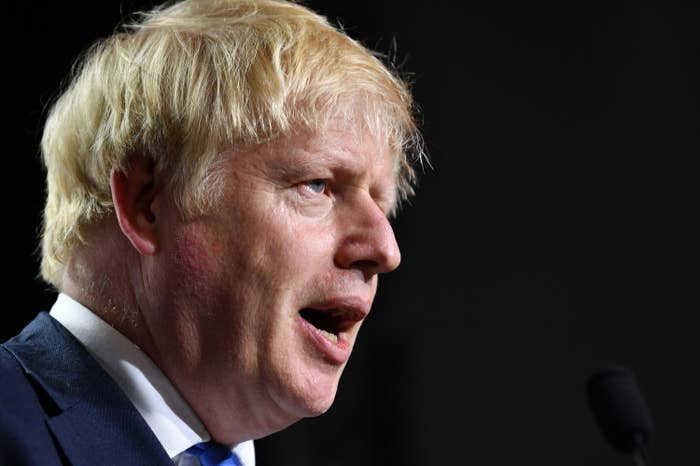 Boris Johnson's women aides have expressed fury that they are being paid less than their male colleagues, with one adviser threatening to take the government to an employment tribunal and several people lodging complaints about their salary packages, BuzzFeed News can reveal.

In developments that raise questions over the Johnson government's gender pay gap, it emerged that less than one-third of its advisers are women and that the vast majority of women aides have been placed in the lowest pay bands.
Dominic Cummings, the Number 10 chief of staff, told a meeting of advisers last week that he was aware of their concerns about a gender pay gap but denied that there was a problem.
Following complaints from the cabinet staffers, BuzzFeed News was told the office has promised to improve maternity rights for government advisers.
Special advisers — powerful political aides who are known in Westminster as "SpAds" — have been told by the government that they are split into four new pay bands.
Aides in the "Number 10 senior team" will be paid up to £145,000, "senior special advisers" are on up to £102,000, "special advisers" will get up to £78,000, and "junior special advisers" will earn up to £60,500.
So far nearly 100 special advisers have been appointed to jobs in the new government, of whom around 30 are women.
Whitehall sources told BuzzFeed News that fewer than eight women aides are in the top two pay bands, with at least 22 women advisers in the bottom two pay bands. By contrast, there are at least 17 men in the top two pay bands.
One aide claimed that several new women special advisers are being paid less than their male predecessors who did the same job under Theresa May's government.
Several women said they were appealing to the cabinet office about their pay packages.
One woman told BuzzFeed News that they were considering taking the government to an employment tribunal on grounds of discrimination if their salary did not improve.
Some aides have even discussed quitting their government jobs in protest at their pay.
But another special adviser said that several aides had taken a pay cut from their previous jobs in the private sector because "they recognise it is one of the most amazing job opportunities you get".
Whitehall sources who spoke to BuzzFeed News on condition of anonymity said that Helen MacNamara, the cabinet office's director general of propriety and ethics, was responsible for the pay squeeze.
The sources complained that she was uncontactable, did not give out her telephone number, and that protests about pay packages were met with automated responses.
At a meeting of SpAds last week, Cummings told the room that he hoped to hand out bonuses to aides who were responsible for the best no-deal Brexit preparations. He joked that MacNamara would tell him any such bonuses were illegal but that he didn't care.
A Cabinet Office spokesperson said: "Special advisers' salaries are based on their experience and their role. The Cabinet Office has put in place a new and objective pay framework which takes into account the role an individual is undertaking and their experience; this process is ongoing and salaries are not yet all confirmed. We are also taking steps to improve maternity and parental leave rights."
Dave Penman, general secretary of the FDA trade union of senior civil service professionals, told BuzzFeed News: "The appointment of special advisers is made directly by ministers and must be approved by the Prime Minister. They are exempt from the normal civil service rules of appointment on merit.
"The Prime Minister, therefore, has direct responsibility for the outcome of these appointments. He is accountable for their diversity — or lack thereof — and salary levels. No-one else has an overview of these appointments across Government, and no-one else can control them in the way that he can. As such, the Prime Minister can neither hide behind process nor offshore his own responsibility."