The Senior Politician Now Running The UK Says He's "Confident Boris Johnson Will Pull Through"
Dominic Raab's described the prime minister as "a fighter" as the chief medical officer admitted the UK government had lessons to learn from Germany on testing.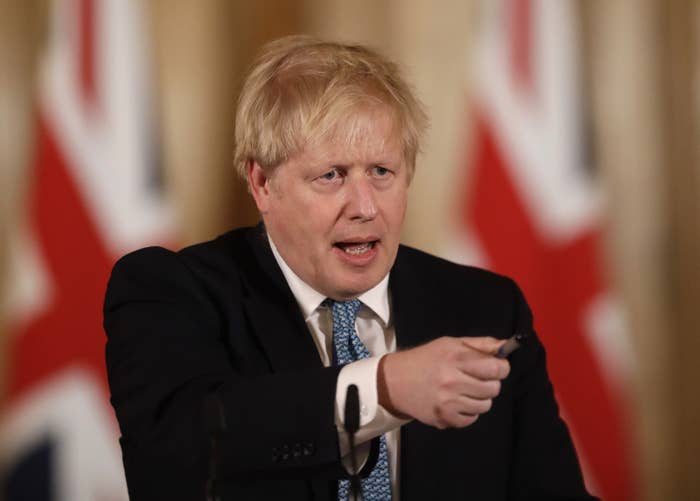 The journalists at BuzzFeed News are proud to bring you trustworthy and relevant reporting about the coronavirus. To help keep this news free, become a member and sign up for our newsletter, Outbreak Today.
---
Dominic Raab, who is deputising for Boris Johnson, has hailed the UK prime minister as a "fighter" and said he was "confident he will pull through", after his condition stabilised in his hospital battle with COVID-19.
The foreign secretary, who is leading the UK's response to the coronavirus crisis while Johnson recovers, told reporters at Tuesday evening's press conference that the PM's admission to intensive care "comes as a shock to all of us".
"He's not just the prime minister, for all of us in cabinet he's not just our boss, he's also our colleague and he's also our friend," Raab said.
"I'm confident he will pull through because if there's one thing I know about this prime minister: he's a fighter and he'll be back at the helm leading us through this crisis in short order."
In what appeared to be the first significant admission of failings in the UK's initial coronavirus response, chief medical officer Chris Whitty told reporters that the government was learning lessons from Germany on testing for COVID-19.
"Germany got ahead in terms of its ability to do testing for the virus and there's a lot to learn from that," Whitty conceded.
Last week, BuzzFeed News reported on why other countries such as Germany and even the US had been testing more than the UK — as Johnson's government faced heavy criticism for failing to carry out enough tests in the early weeks of the pandemic, and for playing catch up ever since.
Raab also came under pressure to say whether or not health secretary Matt Hancock's pledge to guarantee 100,000 tests per day by the end of the month still stood. The target covered both antigen tests, which tell whether someone currently has the virus, and antibody tests, which tell whether they previously had it, but it's now known that the latter tests won't be available by the end of the April.
Raab refused to say whether the government intended to carry out 100,000 antigen tests a day, and appeared to distance himself from Hancock's promise. "The health secretary set out that target," the foreign secretary said.
Earlier on Tuesday, Johnson's office confirmed that the prime minister had not required mechanical or noninvasive ventilation, but had received "standard oxygen treatment", relaying information provided by St Thomas' hospital in London.

The prime minister does not have pneumonia, his spokesperson confirmed.
On Monday, Downing Street announced that Johnson had been moved to intensive care after his condition had "worsened".

Raab is currently well, but if he should become incapacitated himself then the chancellor Rishi Sunak will take charge, the spokesperson said.

The prime minister's weekly audience with the Queen will not continue while Johnson is absent. The royal household is being kept informed by the cabinet secretary, Mark Sedwill, and the PM's principal private secretary.
In a tweet, the Duke and Duchess of Cambridge sent Johnson their regards, saying: "Our thoughts are with the Prime Minister and his family, who like so many in the UK and around the world are affected by coronavirus. We wish him a speedy recovery at this difficult time."
The royal family's Twitter account also stated that the Queen had sent a message to his family and his partner Carrie Symonds.