Boris Johnson's Allies Say There Will Be An Election If His Brexit Deal Is Softened By MPs
Downing Street has been divided over what to do if Parliament tries to add a customs union to the deal the prime minister struck with the EU: Accept it and deliver Brexit, or delay and go for an election.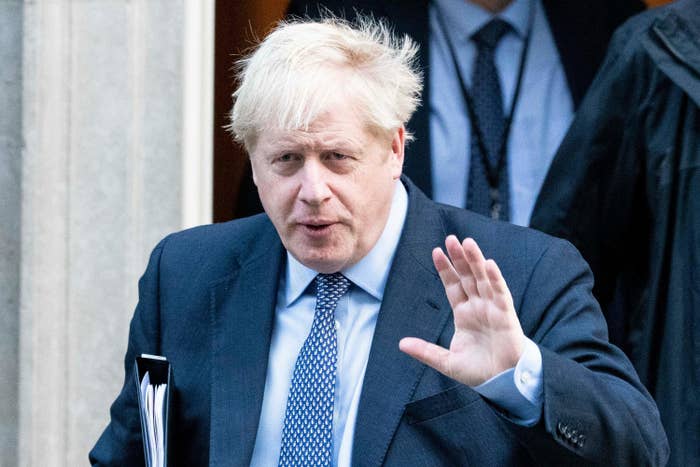 Boris Johnson's allies say the country is headed for a Brexit delay and a general election if his withdrawal deal is watered down or blocked by MPs on Tuesday.

Many at the top of Johnson's government are confident that they have the numbers to defeat opposition amendments to the Withdrawal Agreement Bill (WAB) attempting to add a customs union to the prime minister's deal or put it to a confirmatory referendum.
They believe it is possible for the deal to get through the House of Commons relatively unscathed and for the UK leave the EU on Oct. 31, or a few weeks after, following a technical extension for ratification purposes.
However, those in government are increasingly worried that they will lose a vote on the programme motion tomorrow — which outlines the timetable to pass the Brexit legislation through Parliament.
If the programme motion is lost, it becomes extremely difficult for the government to get the legislation through by the Oct. 31 deadline. This would inevitably lead to Johnson asking the EU for another Brexit extension, in order to have a general election.
They also fear an amendment could pass which prevents the UK from leaving the transition period on World Trade Organisation terms if a free trade agreement with the EU is not agreed. There are concerns that if such an amendment passes, hardcore Brexiteers could withdraw their support for the bill.
BuzzFeed News can reveal the prime minister's top team of ministers and aides have been divided during discussions in the last 24 hours over what to do if their Brexit deal is blocked or amended by Parliament to add a customs union with the EU.

Such a move, supported by opposition MPs, would remove the need for customs-related checks between the UK and the EU, including in the Irish Sea. However, Brexiteers say it would inhibit the UK's ability to strike trade deals with other countries.
On Monday, BuzzFeed News reported that several Tory MPs, including Damian Green and Paul Masterton, who were previously supporters of the UK staying in a customs union, were planning to vote against the amendment. Government whips are also confident that they will be able to defeat an amendment seeking a referendum on the deal.

There have been two trains of thought among government ministers and aides over what they should do if a customs union amendment secures a majority in the Commons.

Some ministers have privately been arguing that Johnson could accept the amendment and proceed with the bill's passage through Parliament, if it meant that the UK left the EU on Oct. 31, as he has repeatedly promised. They have argued that he could then overturn the customs union position after a general election.
Other close Johnson allies have said that he could not countenance changing his Brexit deal to add a customs union. They told BuzzFeed News that if MPs were successful in amending the WAB to add a customs union, Johnson would pull the bill. A Number 10 source said: "We aren't staying in the CU. PM crystal clear."

Then the prime minister could agree an extension to Article 50 with the EU that provided enough time to hold an election, but not a referendum. The EU has said that any extension is conditional on the UK providing a reason for it, for example, holding a democratic event to break the Brexit deadlock.
Government sources said that this scenario would put the UK on course for a general election at the end of November or beginning of December. Conservative headquarters has been put on full election footing, with ministerial aides briefed on key campaign messages.
Labour leader Jeremy Corbyn has previously said that he would accept an election once an extension is triggered.
If the EU grants an extension conditional on an election, there would be no feasible way for Parliament to block it, a government source said.
The source told BuzzFeed News that the Tories would then campaign claiming that Johnson got a deal with the EU that his opponents said was impossible, removing the backstop, and that Labour and Parliament blocked Brexit from happening.
"We have a majority for the deal. [Oliver] Letwin, Parliament and [John] Bercow are preventing us from holding a vote on it because they know it means we will leave on October 31. People are not stupid. They know what is happening and those blocking Brexit will pay at an election," they said.