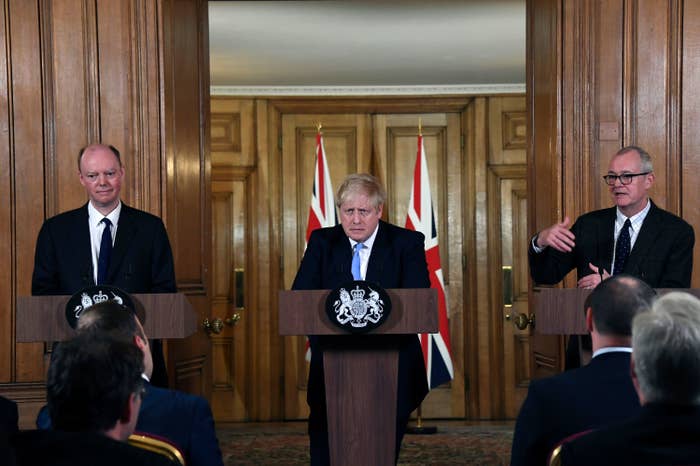 Boris Johnson has warned that "many families are going to lose loved ones before their time" as he escalated the UK's response to the coronavirus, which he called "the worst public health crisis for a generation".

Addressing people who are showing coronavirus symptoms — a cough and high temperature, however mild — the prime minister said the medical advice was that they should now stay at home and not leave their house for 7 days from when symptoms started.
Patrick Vallance, the chief scientific adviser, said: "We are now on a trajectory where it looks as though we are about four weeks behind Italy".
The Italian government has put its country in lockdown, closing restaurants, bars and most shops, leaving open only essential services such as pharmacies and grocers.
He warned that while the official number of confirmed UK coronavirus cases stood at 590 on Thursday, experts' modelling showed the true number of current cases in Britain was likely to be 5,000 to 10,000.
"The most dangerous period is some weeks away," Johnson said at a press conference in Westminster, as he prepared the public for more dramatic restrictions on day-to-day life.

The government is advising against travelling abroad for cruises and school trips.
"We are likely to go further than these measures in the coming weeks", he said.

The prime minister insisted that the scientific advice was that there was little benefit to banning mass gatherings and sporting events at this time, but added that the government was considering this action and may do so "at the right time".
Johnson said the UK would not close schools currently, but that "this may change as the disease spreads".
Speaking directly to elderly people, Johnson said the country would "mobilise millions of people" to help them battle the virus.
Updated government advice said that anyone showing mild symptoms of the virus should:
ask your employer, friends and family to help you to get the things you need to stay at home.
stay at least 2 metres (about 3 steps) away from other people in your home whenever possible.
sleep alone, if that is possible.
wash your hands regularly for 20 seconds, each time using soap and water.
stay away from vulnerable individuals such as the elderly and those with underlying health conditions as much as possible.