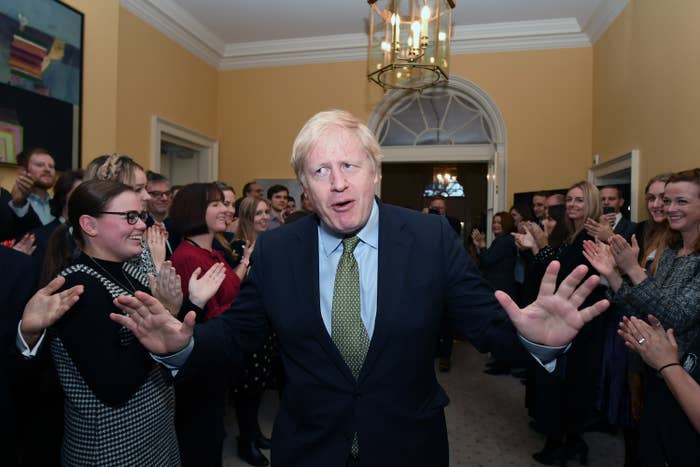 Boris Johnson's Conservatives have won a huge parliamentary majority in the general election, returning him to Downing Street as prime minister and setting the UK on course to leave the European Union at the end of next month.

With 649 out of 650 seats declared, the Tories have won 364, giving them a majority of 78, the party's largest since the '80s.
It became clear when the exit poll predicted a crushing Tory victory that Johnson's massive gamble on a winter election had paid off, as the Tories made sweeping gains from Labour across the country.

At 5am, it was confirmed the Conservatives had secured a majority in the House of Commons after winning their 326th seat.
Addressing supporters in London, Johnson thanked people who had voted Tory in traditional Labour heartlands. "I am humbled that you have put your trust in me and that you have put your trust in us, and I and we will never take your support for granted," he said in a televised speech.
In a private victory speech to Tory aides at 4:30am, Johnson said — in an audio recording passed to BuzzFeed News — that "no one can possibly dispute that it is the will of the British people to get Brexit done."
Labour leader Jeremy Corbyn announced his intention to stand down, saying he would not lead his party into the next general election but would stay on during a "period of reflection".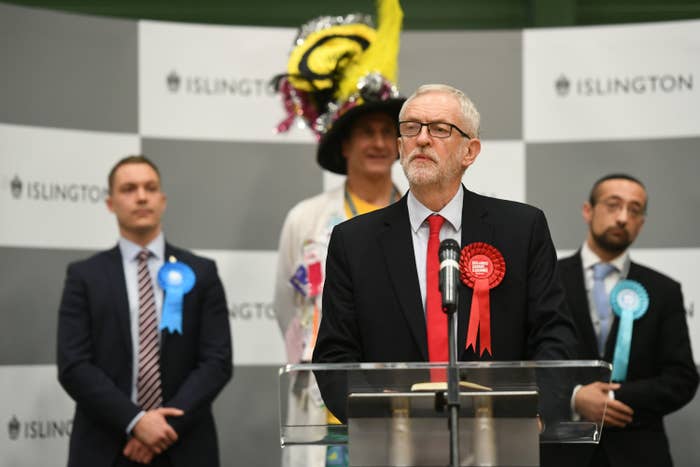 But he is under mounting pressure to resign immediately after Labour suffered devastating losses, with traditionally safe seats in their heartlands in the North and Midlands falling to the Conservatives. The party also suffered losses to the SNP in Scotland and is currently on 203 seats — down 59 on its 2017 result.

Labour MPs were already jostling for position ahead of an expected leadership contest early next year, with Jess Phillips telling Sky News the party needed a new leader and refusing to rule herself out. Other Labour MPs called on Lisa Nandy, a candidate from the so-called "soft left" of the party, to stand.
Ruth Smeeth, who lost her seat in Stoke, called on Corbyn to quit and blamed his handling of Labour's anti-Semitism scandal for the heavy defeat. "We are the racist party because of the actions of our leader," Smeeth said in a blistering assessment of the Corbyn project.
Liberal Democrat leader Jo Swinson lost her seat in East Dunbartonshire on a humiliating night for her party — as other Lib Dems turned on her for deciding to help Johnson call the election in October. She automatically stood down as leader and was replaced by new acting co-leaders Ed Davey and Sal Brinton.
The election, which set many party activists on edge over fears of the dangers of campaigning in the dark, frequently descended into a bad-tempered affair, marred by allegations of egregious lying from both sides, regulators and social networks working to stop misleading ad campaigns, and physical assaults on campaigners.
It was also disrupted by a terror attack at London Bridge, which Johnson was later accused of politicising, most notably by the father of one of the victims who tragically died in the incident.
Speaking at his count in Uxbridge, Johnson said: "It does look as though this One Nation Conservative party has been given a powerful mandate to get Brexit done."
The Tories signalled that he would immediately bring his Brexit deal back to the House of Commons with the aim of passing it before Christmas.
MPs are expected to sit in the run-up to Christmas Day in order to pass the deal, which would ensure that the UK leaves the EU on Jan. 31 next year.
Crucial to the Tories' win was securing gains across the so-called "Red Wall" of typically Labour-voting constituencies in Wales, the Midlands, and the North that contain a significant number of Brexit voters.
Conservative candidates defeated Labour MPs Melanie Onn in Grimsby, Caroline Flint in Don Valley, Emma Reynolds in Wolverhampton North East, Emma Dent Coad in Kensington, and Anna Turley in Redcar.
Tory Zac Goldsmith lost to Liberal Democrat Sarah Olney in Richmond.