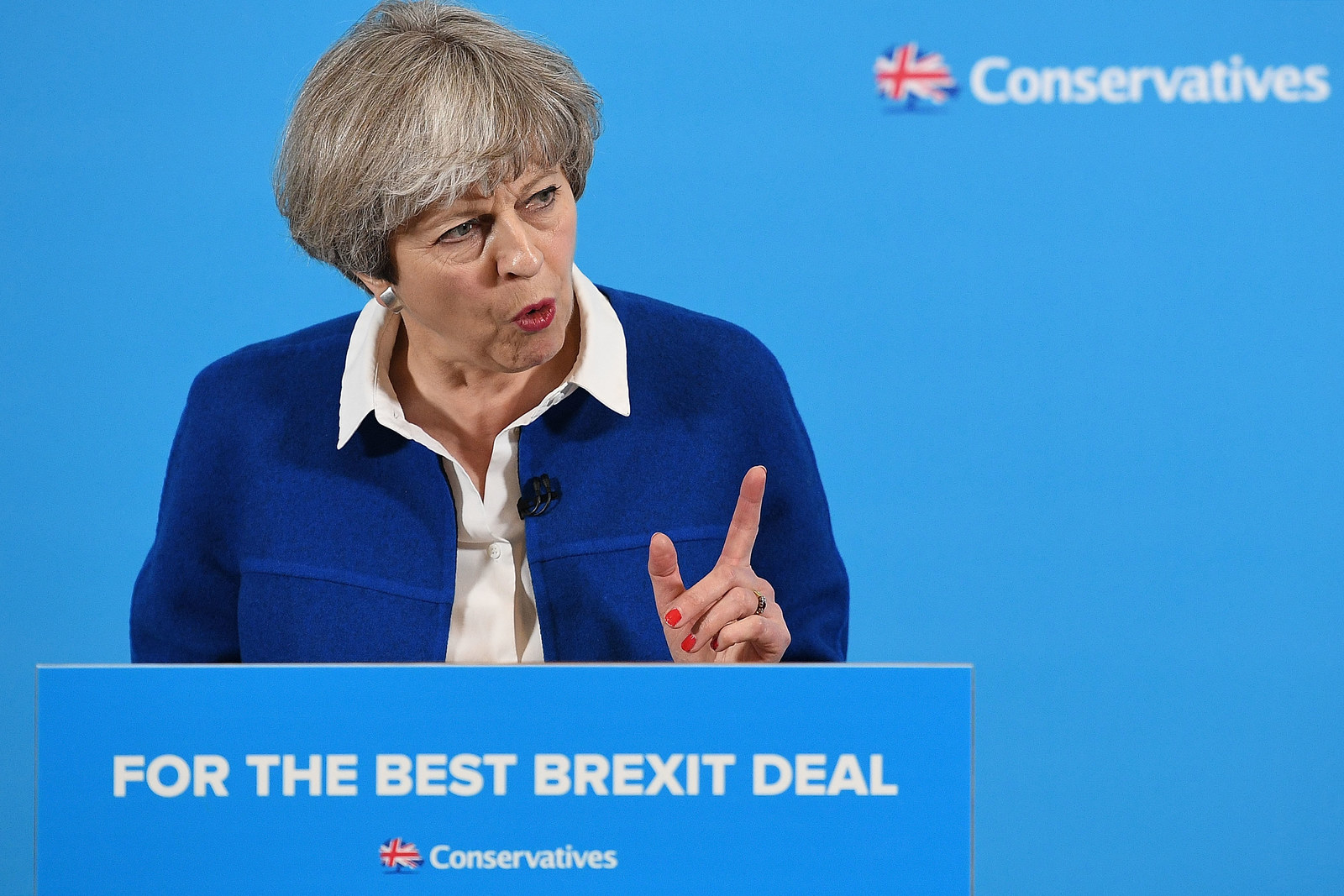 Theresa May left no doubt about her strategy for the rest of the election campaign on Tuesday, swooping into Labour territory to deliver a scathing personal attack on Jeremy Corbyn.
Back on the stump after a pause for the bombing in Manchester last week, May was hoping to reboot a Conservative campaign that had appeared to be floundering after the U-turn on social care and an unexpected bounce in the polls for Labour.
Appearing at a rally in Wolverhampton, May made a long, highly personal attack on her closest rival, accusing Corbyn of being incompetent, hapless, and entirely unprepared to lead Britain's negotiations with the European Union.
"Last night showed that Jeremy Corbyn's minders can put him in a smart blue suit for an interview with Jeremy Paxman," the prime minister told an audience of Conservative loyalists in Wolverhampton, referring to the Sky News/Channel 4 debate where Corbyn gave arguably his most accomplished performance since becoming Labour leader.
"But with his position on Brexit, he will find himself alone and naked in the negotiating chamber with the European Union."
There were signs at the event that May's campaign chiefs have decided to refine their approach for the final stages of the campaign.

There was a much greater focus on Brexit, for one thing – the reason May said she called the election in the first place, which had disappeared from the campaign debate in the controversy about the Tory manifesto.
And the banner behind May read "Theresa May and the Conservatives", including the party's branding that had been conspicuously missing at previous events. There had been suggestions the campaign would not be so exclusively centred on the prime minister and include more senior Tories in the final days.
However, the playbook remains the same, on the evidence of Tuesday's event, and a key part of the strategy is to remind voters repeatedly of the opposition's perceived weaknesses – even if critics say it risks the Tories being seen once again as "the nasty party".
May's 30-minute speech dwelt heavily on Corbyn's alleged flaws as a politician, including his positions on nuclear weapons and terrorism and his links to the IRA.
She said several times that Corbyn would, given the chance, form a "coalition of chaos" with the Scottish National Party and Liberal Democrats – a warning she has issued at all her campaign events, even though the other parties have repeatedly deny that is their intention.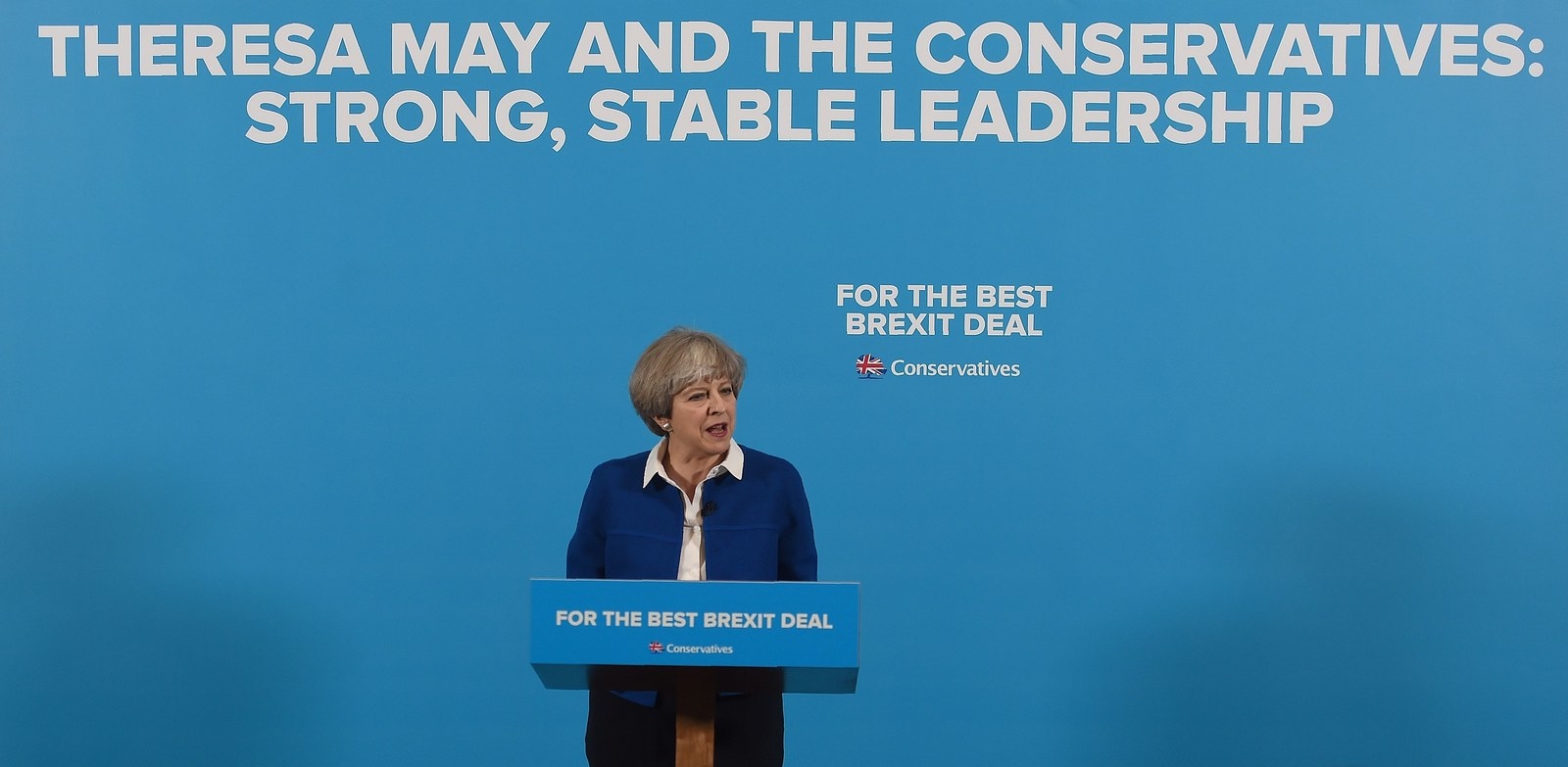 This time, May's main focus was on the prospect of a Corbyn-led government negotiating Britain's withdrawal from the EU.
"There'll be no time to waste" after the election, May said. European leaders were determined to take a hard approach and wouldn't allow Corbyn time to pause and figure out his moves, she said, in a sly reference to the Labour leader's car crash interview with 5Live's Emma Barnett earlier in the day.
The prime minister ridiculed Corbyn's positions on Brexit as lurching from "half-baked plan to half-baked plan".
Taking questions from journalists, May was accused of not spending enough time putting forward a positive vision of her own and trying to scare voters about the prospect of a Corbyn government.
May replied: "Strong and stable leadership means being open with the British people about the challenges we face, and that's what we've done in the manifesto we've set out.

"Strong and stable leadership is about being open about the hard choices that lie ahead, in order to build that strong government, and strong and stable leadership is about having a plan to take us through those Brexit negotiations and a plan to take Britain beyond those Brexit negotiations and build that stronger, fairer country for all.
"And that's why I have strong and stable leadership."
May's decision to refocus the campaign on Brexit – and Corbyn's perceived weakness on the subject – reflects the influence of Sir Lynton Crosby, the Conservatives' campaign guru. Crosby steered the party to an unexpected majority in 2015 partly by hammering a few key messages centred on doubts about Ed Miliband and the SNP potentially forming a coalition with Labour.
With just over a week to go, the Conservatives are trying to put their wobble behind them and exploit their biggest asset: Their leader's trust and approval ratings are still far higher than those of Corbyn.
"All elections have negative and positive aspects to them," said Giles Kenningham, a former special adviser to David Cameron in Number 10 who worked on the Conservatives' 2015 campaign. "Disrupting your opponent is part of the rhythm of a campaign.
"Politics is a contact sport and it's quite right that all leaders face heavy scrutiny about what they've said and done in the past."