Stunned Tories Are Already Debating Whether Theresa May Should Step Down
After taking her party from a 17-seat working majority to a hung parliament, May is being urged by some Conservatives to consider her position.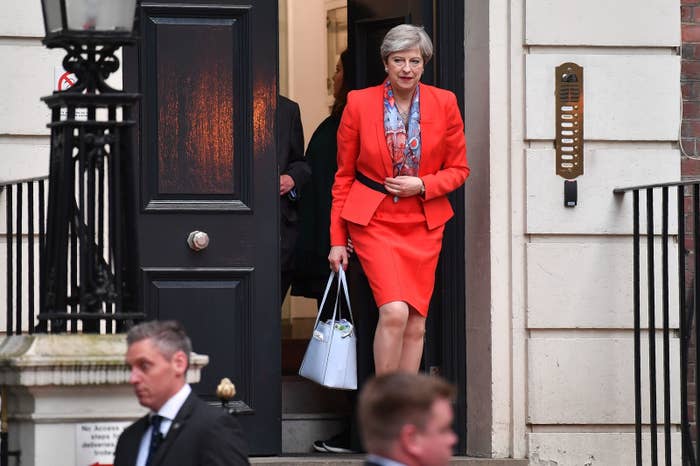 Stunned Conservative MPs were debating the future of their leader this morning, after Theresa May's "dreadful" campaign led the party to an unexpectedly poor election result.

Some suggested May wouldn't survive the day, after her disastrous decision to call an election three years early backfired and left the party with fewer seats than it won in 2015 with David Cameron at the helm.
Eight weeks ago, May appeared on track to return to Number 10 Downing Street with a historic majority that would "strengthen her hand" as prime minister.

Instead, shocked MPs were struggling to reckon with a startlingly poor result in the early hours of Friday morning. Behind the scenes, many were asking whether May would be able to survive as leader.
"I'm afraid we ran a pretty dreadful campaign. That's probably me being generous," Anna Soubry, the pro-Remain MP, told the BBC after narrowly hanging on to her seat in Broxtowe.
Boris Johnson, the foreign secretary, was already sounding out colleagues about potentially challenging for the party leadership before the full extent of the disappointment was clear, Conservative sources told BuzzFeed News.
Soubry, when asked to elaborate on why she thought the campaign was so bad, told the BBC: "Where do you want me to begin? It was a dreadful campaign."
Through the campaign, the party's messaging had been "appalling", Soubry said. In particular, the U-turn on social care had wounded the leader: "It did not make her look the strong and stable prime minister and leader that she said she was. That was a very difficult and serious blow, in terms of her own credibility."
Asked if May should resign, Soubry said: "That is a matter for her."
Asked again, Soubry said: "It's bad. I think she's in a very difficult place."
Soubry added: "I mean, dear god, we never thought at the beginning of this evening that we would be actually losing seats – and seats which we've held with excellent MPs over some considerable time. This is a very bad moment for the Conservative party and we need to take stock."
Laura Kuenssberg, the BBC's political editor, said senior Tory sources were saying May was "50-50" to survive the day.
Craig Oliver, David Cameron's communications chief, who played a leading role in the Conservatives' successful 2015 election campaign, said on Sky News: "I suspect that during today you'll start hearing a lot of criticism and a lot of people saying that somebody else needs to have a go."
However, Iain Duncan Smith, the MP and former Conservative leader, said his colleagues needed to wait and ensure a period of stability. "It's clearly not business as usual," he said, but added that the party shouldn't rush to change the leadership and pursue "off-the-cuff vendettas".
Was it a dreadful campaign? "It wasn't the greatest campaign I've ever witnessed. We all know that," Duncan Smith said.
But the party needed to "take a deep breath" and stay off the airwaves until it could take stock of the situation, he said.
Tim Montgomerie, a prominent Conservative pundit, said: "June has seen the end of May. All her authority in Tory party has gone."

Toby Young, another Tory-supporting columnist, also said it would be "hellish difficult" for May to govern now.

The ConservativeHome website, the house journal of the Tory party, was running a survey on Friday morning: "Should May stay or go as Tory leader?"
Rupert Harrison, George Osborne's former adviser in the Treasury, suggested on Twitter that the Conservatives lost because they tacked to the right in a misguided attempt to woo UKIP voters who ended up going to Labour instead.
Ruth Davidson, the leader of the Scottish Conservatives, who had a strong night in Scotland – in contrast to the national leader – declined to talk about May's future.

"We have a prime minister and there's no vacancy," Davidson told ITV. But she admitted: "There are questions that we naturally have to ask."