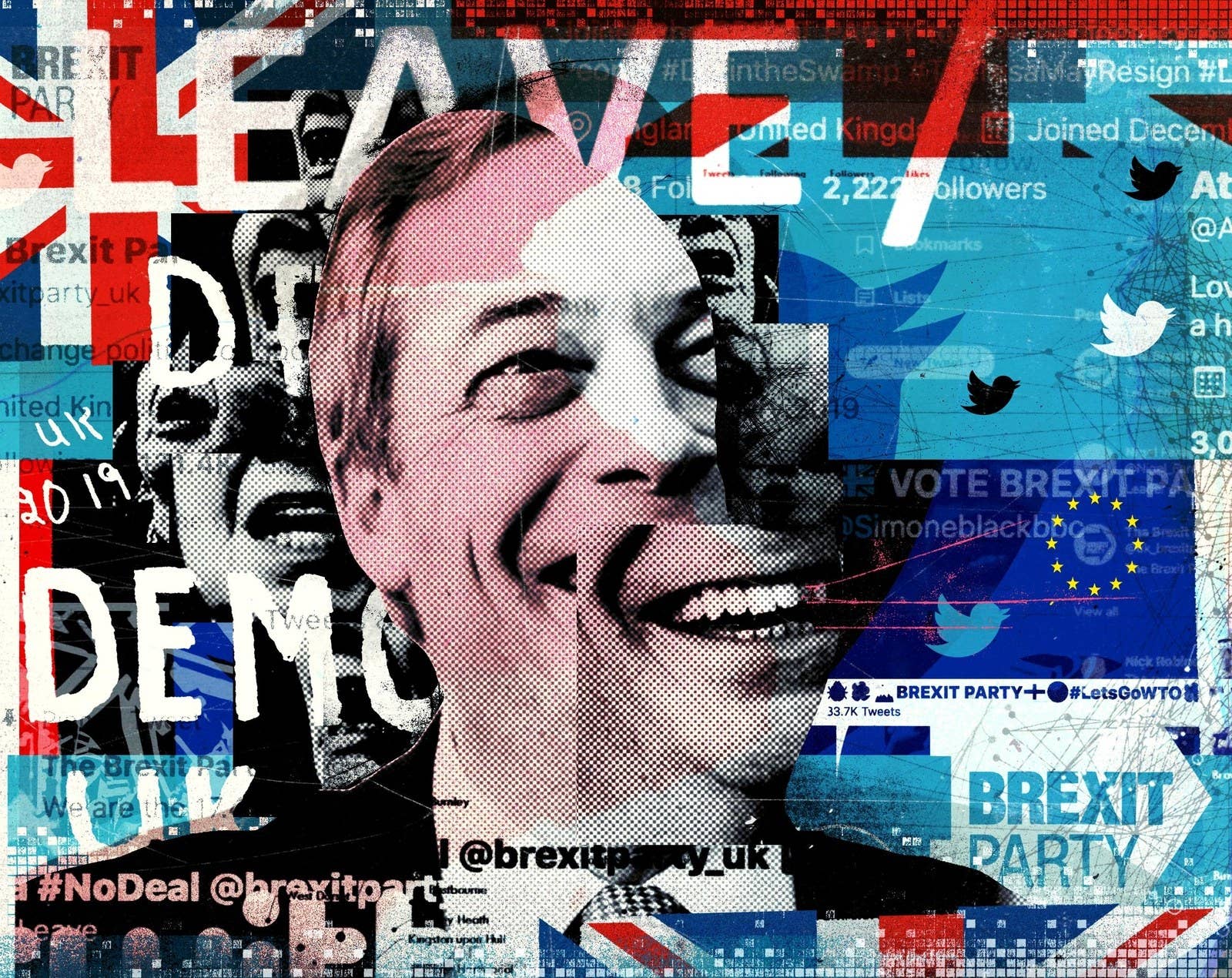 Nigel Farage's Brexit Party is attracting big crowds, thousands of small donors, healthy support in opinion polls — and a legion of Twitter followers sharing its campaign messages at a breathless rate.
"100,000 Twitter followers!" the party tweeted after its launch last month, celebrating another indication of its surging grassroots support. Its following has since grown to 134,000.
Accounts with handles like AthenaLeave, jeanett49751382, and SimoneblackBBC, many using the Brexit Party logo as their profile pictures, have been pumping out supportive messages, amplifying Farage's push for a no-deal Brexit and adding to the sense of momentum that quickly established it as a major force in British politics.
But the behaviour of many of the party's Twitter followers doesn't appear consistent with that of real voters, according to two separate researchers who analysed related activity on the platform at the request of BuzzFeed News.
One account, set up in March, has sent more than 23,000 tweets in its first three months on the platform, nearly all of them about Brexit.
Another account sent 823 tweets on the topic in a single day, mostly retweets and many just seconds apart.
Another blasted out a string of 69 hard-Brexit tweets before dawn on a Monday morning.
"This isn't how we'd expect normal people with diverse interests to behave," says Professor Kalina Bontcheva at the University of Sheffield, one of the researchers who examined the data.
Another thing that stood out to the researchers was the disproportionately high number of new accounts following the Brexit Party. According to Andy Patel, a researcher at F-Secure, a cybersecurity company based in Finland, more than 8,800 of its followers — about 7% at the time of the analysis — were created in the first and second quarter of 2019. These accounts are disproportionately represented among the most active retweeters of Brexit Party content, Patel says.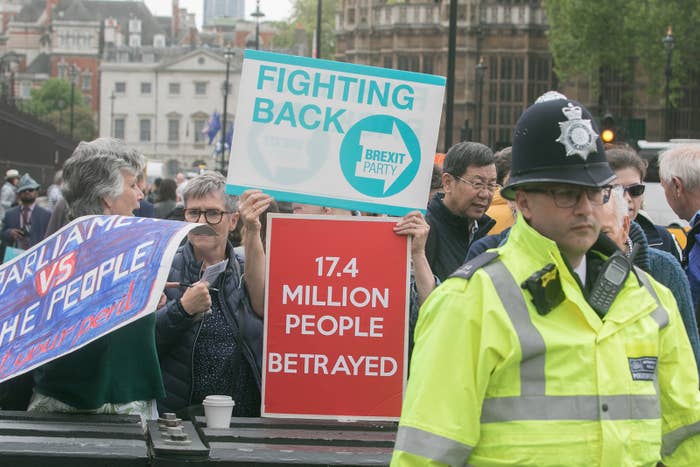 After examining activity at different points in the last few weeks, both researchers said they believed that networks of inauthentic accounts may be working to artificially inflate the buzz around Farage's new party on Twitter.
"This is likely the result of a strong pro-Brexit amplification campaign we've been observing over the past few weeks," Patel told BuzzFeed News. "This campaign is utilising large numbers of low-quality accounts, including very new accounts and non-UK accounts, to amplify content from a handful of high-profile pro-Leave Twitter personalities."
Patel and Bontcheva identified dozens of accounts that, in their analysis, seemed to be acting in a way that wasn't genuine.

On Thursday, BuzzFeed News handed a sample of 30 of those accounts to Twitter. The next morning, Twitter had suspended 7 for breaching its policies. On its website, Twitter says that suspended accounts are typically taken down "because they are spammy, or just plain fake".
The social media giant declined to speak on the record about the activity around the Brexit Party. BuzzFeed News understands that it doesn't regard the debate around Brexit as particularly problematic. Its detection systems haven't uncovered evidence of a coordinated plot to artificially amplify conversations in this area, or signs of foreign interference.
Based on its internal tools, Twitter is confident that the accounts flagged by BuzzFeed News are those of real people in the UK, despite their seemingly-suspicious activity.
In a statement, Twitter said: "Of the accounts brought to our attention, we took strong enforcement action against those that are currently in violation of our rules and we will continue to robustly enforce our policies where appropriate."
Twitter welcomes security analysts using its publicly-available API to investigate activity on its platform, the spokesperson added, but those outsiders can't see the measures Twitter takes behind the scenes to protect its platform from abuse. Every week, Twitter challenges millions of accounts it suspects are trying to distort public conversations, the spokesperson added.
The researchers are frank about the limitations of their analysis.
It's incredibly hard to tell whether an account is authentic and to pinpoint the location of the person controlling it, they acknowledged. So they make informed assumptions based on factors such as the frequency of an account's tweets, the time lag between them, the time of day they're sent, and the ratio of accounts they're following to followers.
One of the main red flags in this case, they said, is the number of new accounts following the Brexit Party.
It's possible that the emergence of Farage's party has drawn thousands of voters to Twitter for the first time, the analysts say. But as a general rule, they regard a high percentage of new followers as a sign of inorganic activity. It could be a result of "astroturfing", whereby campaigners use genuine-looking fronts to give the impression that their cause is more popular than it really is. Or it could be that bots Twitter banned for violating its policies are reforming in a different guise.
One of the suspect accounts which Twitter suspended after being alerted to it by BuzzFeed News was AngelaC88117995.
Described as the account of Angela Cook, a "Brexiteer , Dislikes PC" from Essex, it was created on April 2 and had tweeted nearly 11,000 times in the six weeks since then, almost exclusively about Brexit. It mainly retweeted other pro-Leave accounts, although some of its output was original.
"Brexit party gets my vote !" it tweeted to the Change UK MP Chuka Umunna recently. "A positive message coming across from their many rallies . Honest, Inclusive & diverse candidates. It is truly inspiring!"
"If you are betrayed . You don't forget !!" it tweeted on another occasion.
These original tweets and replies suggest that a real person is behind the account, Patel said. However, there were other odd patterns to AngelaC88117795's activity that led Patel to consider it suspect.
It tweeted hundreds of times a day, at short intervals, seemingly about nothing but Brexit. Many of its followers were new accounts. It tweeted at strange times of day. On a recent Wednesday morning, according to a heatmap compiled by Patel, it fired off 141 messages between 1am and 4am, paused for a few hours, then started another spree.
Another of the accounts Twitter suspended is JimNola42035005.
Created in December, it claimed to be the account of Jim Nolan. It followed around 4,600 accounts, was followed by 1,900, and its profile read: "Green Badge 22 years love Brexit and I don't care what you think. FBPE loonies can do one. Hate the uber ponzi scheme with a passion."
"The Brexi (sic) Party has now entered into unstoppable mode," it tweeted one day last week, but it seldom posted its own comments. Mainly it retweeted other Leave-supporting accounts, firing off up to 823 messages in a day, often at unusual times. On a Sunday morning, it sent 92 tweets between 4am and 5am. The next day it sent 133 in the same time period.
According to Bontcheva's analysis, JimNola42035005 was part of a constellation of accounts that seemed to be working together to amplify the Brexit Party's messages.
"Their approach seems to be to post relatively small amounts of original content then hugely amplify it through high volume retweets, mentions, quoted tweets and replies by a network of accounts," she told BuzzFeed News.
Discussions about social media manipulation often centre on the possible involvement of Russia. Bontcheva and Patel stressed they'd found no evidence that the Kremlin may be targeting the current Brexit debate with the sort of information operation it deployed so successfully in the run-up to the 2016 US Presidential election.
As they pointed out, many other groups try to manipulate political debates for their own ends, and it doesn't take the resources of a national intelligence agency to distort a debate on Twitter. In Patel's view, much of the suspicious activity attached to political issues on Twitter is driven by gamer types with far-right sympathies. Amplification could also be the product of domestic campaigners and political lobbyists trying to create the appearance of grassroots support for their cause — a practice known as "astroturfing".
Although Twitter has put in place systems to detect and remove content that violates its policies, the researchers say that the political activity on the platform is so voluminous that it is running to keep up. Malicious actors are constantly looking for ways to avoid detection. They're a moving target.
And given what is at stake, they say the suspicious activity they've found needs to be explored further.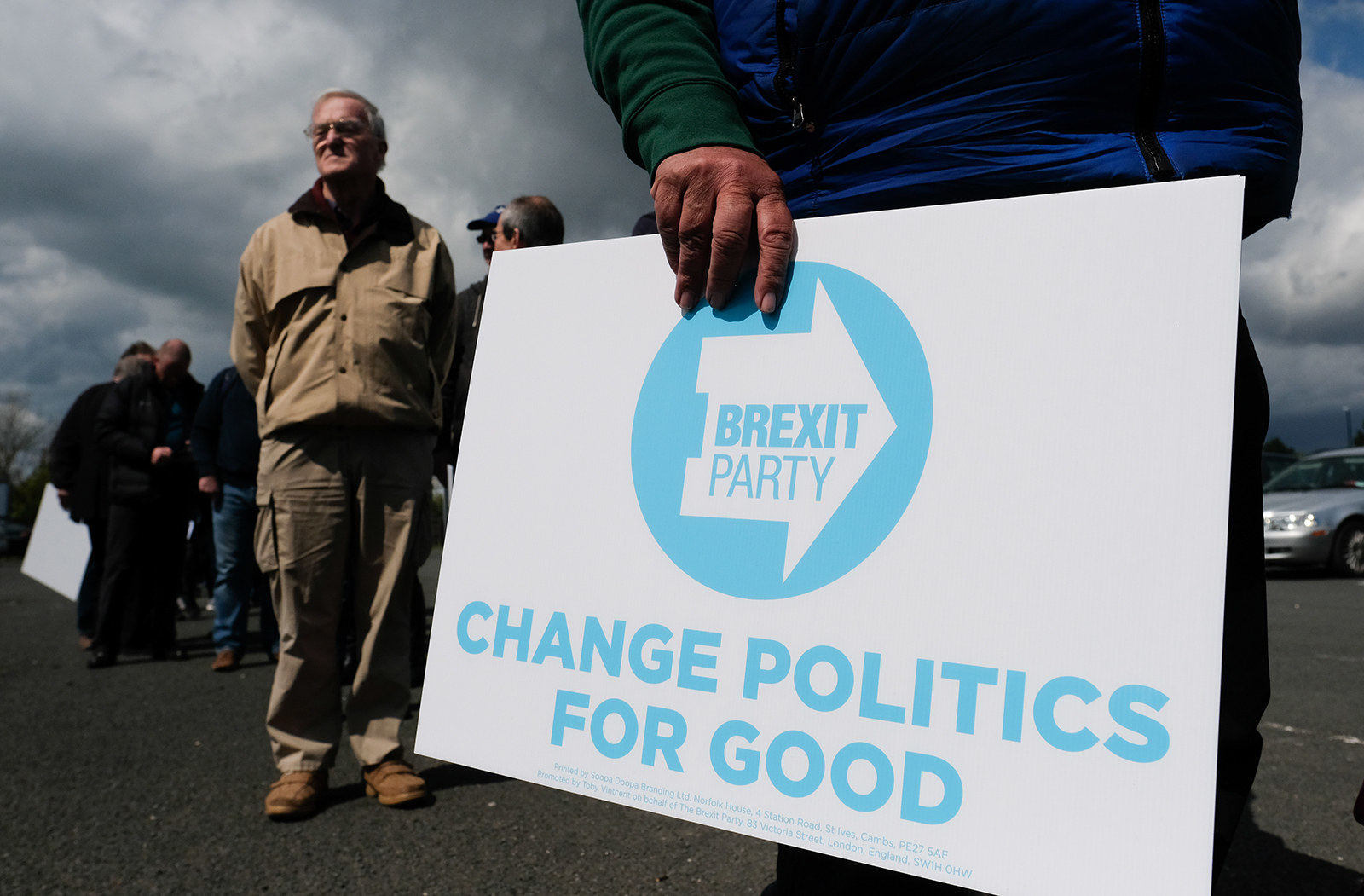 Artificial amplification can distort political debates. It creates the impression that a particular issue, cause or politician is more popular than they really are. It promotes extreme opinions and aggravates disagreements. It could swing elections.
"It skews things catastrophically, leaving a media environment that is narrow, divisive and inflammatory," says Alex Krasodomski-Jones, director of the Centre for the Analysis of Social Media at the think tank Demos.
Asked to comment on the Twitter activity around it, a spokesperson for the Brexit Party said: "We are no more able to control the creation of Twitter accounts by individuals or organisations with whom we have no connection than we are able to control the weather.
"Hard though it may be for our opponents to imagine, the reason the Brexit Party is gaining so much traction on social media is that our messages about restoring trust in democracy are resonating with voters," the spokesperson added. ●