It's On: MPs Just Approved Theresa May's Call For A General Election In June
By a majority of 509, the House of Commons voted to hold a general election on 8 June. The campaign will kick off in earnest after parliament dissolves on 3 May.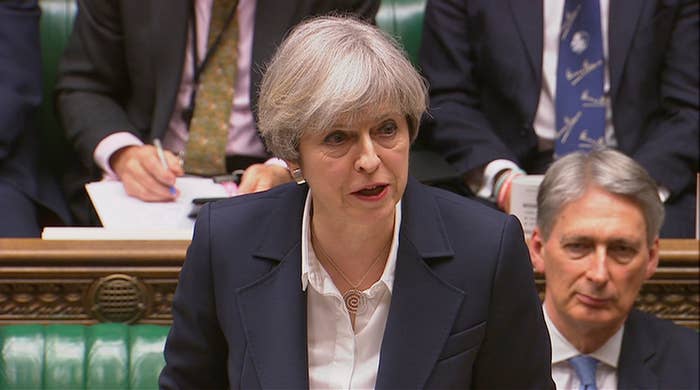 Britain will go to the polls again in June after the House of Commons today voted overwhelmingly in favour of an early election.

MPs voted 522 to 13 to support the motion, which was put forward by Theresa May a day after she backtracked on repeated firm assurances that she would not seek a new election before 2020.

May required the support of two-thirds of the Commons to pass the motion, and achieved it comfortably with the backing of Labour and Liberal Democrat MPs. The Scottish National Party abstained.
Among the MPs who voted against the election was Labour's Clive Lewis, who is widely regarded as a potential successor to Jeremy Corbyn as party leader.
The election will be held on 8 June, nearly a year after the UK voted to leave the European Union.
According to opinion polls, May is on course to win a crushing majority that would strengthen her position politically as she goes into difficult negotiations with Brussels about Britain's withdrawal from the EU.
The Labour party, meanwhile, appears to be heading for one of the worst results in its history, if the polls are to be believed.
"She looked across the despatch box and could not resist the political equivalent of taking candy from a baby," Tim Farron, leader of the Liberal Democrats, said in a debate in the Commons before the vote.
Desmond Swayne, a Tory MP, congratulated May on getting "those turkeys" on the Labour benches to "vote for Christmas" by supporting the motion for an early election.
Angus Robertson, leader of the SNP in Westminster, said May had changed her mind because she now realised the Brexit discussions were going to be much harder than Eurosceptics had imagined.
For months, May had resisted calls from within her own party to push for another election before the current parliament was due to end in 2020.
Advocates of an early election argued that the Conservatives were virtually certain to win a much larger majority given Labour's historic weakness, which would give May's unelected government an unquestioned mandate. Her narrow working majority of just 17 left her vulnerable to challenge by rebels within her own party, both on Brexit and domestic policies.

After repeatedly dismissing the suggestion, May announced on Tuesday that she had changed her mind. Attempts by opposition parties to delay and frustrate the process of withdrawing from the EU had convinced her it was necessary to seek a new, stronger mandate, May said, and that it should be done before the negotiations with Brussels started. She made the decision to reverse course while on a walking holiday in Wales with her husband Philip earlier in the month.
Before 2011, a prime minister could dissolve parliament and call a snap election at any time they wanted. In 2011, however, the Conservative–Liberal Democrat coalition passed the Fixed Term Parliaments Act, which set a firm five-year period for each parliament. That term could only be curtailed if the Commons voted with a two-thirds majority for a snap election, or if it passed a motion of no confidence in the government.
Under the legislation, parliament must be dissolved 25 working days before the election. That will be on 3 May.