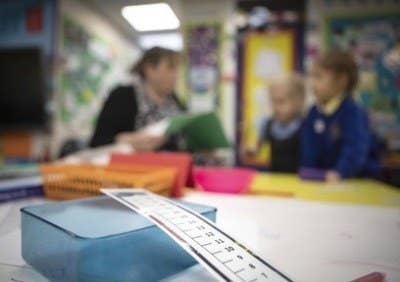 Around 40,000 disabled children with complex medical conditions are "extremely vulnerable" to the coronavirus, but the government does not appear to have a clear plan to protect them, head teachers and parents have warned.

Head teachers across the country were in frantic discussions on Wednesday about how to safeguard these at-risk youngsters after receiving ambiguous guidance from the government.
Hundreds of schools are likely to close in the next 48 hours, a representative of a steering group of head teachers told BuzzFeed News. But keeping those children at home in isolation, potentially for several months, will put an intensive burden on their families, and parents say they've yet to receive guidance from ministers about how to manage or on what support will be available to help them — especially if the parents contract COVID-19.
"We're all stuck in this quandary of just hoping we don't get ill, because the care system has been gutted and there are no care workers who can come in and do such an intimate job," said Dan White, a writer, artist, and commentator whose daughter has spina bifida and hydrocephalus.
While children generally do not seem to be affected as severely by the coronavirus as adults, it does pose a grave risk to a significant majority of youngsters, the head teachers said. They estimate there are 30,000 to 40,000 children with learning disabilities who also have severe medical complications, including respiratory difficulties, which make them among the most exposed groups in the population if they were to contract the virus.
Dominic Wall, a spokesperson for the Medicine in Specialist Schools steering group, which represents schools for special needs pupils across the country, told BuzzFeed News that head teachers have been trying for more than a week to get specific guidance from Public Health England and the Department for Education about how to manage their most vulnerable pupils, but had struggled to even get responses.

Guidance published by the Department for Education on educational settings — and tweeted by education secretary Gavin Williamson on Monday — doesn't mention children with special needs or disabilities. It merely advises teachers that children should attend school as normal unless they have symptoms of the virus.

On Monday, the steering group wrote to Williamson and health secretary Matt Hancock warning that "this sub-group are exceptionally vulnerable, and therefore require a planned intervention to 'shield' them from risk as far is as possible, until the 'herd immunity' point is reached in due course".
"There is currently no clear advice emerging from government about this vulnerable group," the head teachers stated. "We request that you use your influence and authority to act swiftly to safeguard these vulnerable children."

One measure, the teachers said, would be to order the closure of around 500 special schools which have vulnerable pupils with complex medical conditions on their rosters as a precautionary move so that their families can isolate them at home. It's too risky to keep them in an environment where they are surrounded by hundreds of people, Wall told BuzzFeed News.
Another member of the steering group, Simon Knight, the joint head teacher at the Frank Wise School in Banbury, told BuzzFeed News: "Whilst we recognise that this is an extremely complex and fast-moving situation, treating schools as a homogenous group is unacceptable when the distribution of risk and complexity is not even. It is vital that the country's special schools receive clear guidance from government as fast as possible, in recognition of the complexity and vulnerability of so many of the children we teach."
Then, later on Monday, the government published guidance about which groups are most vulnerable to the virus and should be isolating at home. It included a bulleted list of medical conditions, including people with "a learning disability or cerebral palsy".
While it was not an explicit instruction to special schools to close and send those pupils home, Wall said that many head teachers, after intensive discussions on Tuesday, interpreted this as the government's intention.
"My expectation is that there will be numerous special schools that close in the next 48 hours," he told BuzzFeed News.
"There comes a point when you have to take action rather than keep listening to a seven-day silence, to protect children."
But that will leave many families extremely isolated.
Because of their complex needs, some disabled children require an intensive amount of assistance around the clock. That will be an exhausting and stressful burden for parents to take on alone for weeks or even months, without respite and while trying to hold down jobs.
And some are gravely concerned about how their families will cope if they get the virus. "How can I isolate in the same house from a child who's got complex needs and will be seriously affected by this virus?" White said.
He called on the ministers for care, children, and disabilities to urgently address families with kids who have special needs to give advice and support.

"I'm at the centre of a large community of parents. Everyone has the same fear. No-one knows where to turn," White said. "No-one's talking to us."
Public Health England referred a request for comment to the Department for Education. A spokesperson for the education department said: "We recognise schools are facing numerous challenges as a result of coronavirus, and we are continually reviewing how best to support them.

"The advice from Public Health England continues to be for schools to remain open. Special schools should work with parents and carers to agree if self-isolation is appropriate, and how support can continue to be provided."
On Monday night, the care minister Helen Whately tweeted:
Wall said that the situation is unprecedented and head teachers are urgently trying to figure out ways to support their pupils when they're isolated at home. There are no obvious or tested solutions, he said, but they will consider measures including welfare checks and technology so that pupils can communicate with teachers and other children remotely.
"It's definitely very complicated," Wall said, but if these children are not protected they will "require a lot of NHS input to protect them". "They have to be up there with the most vulnerable people in society."