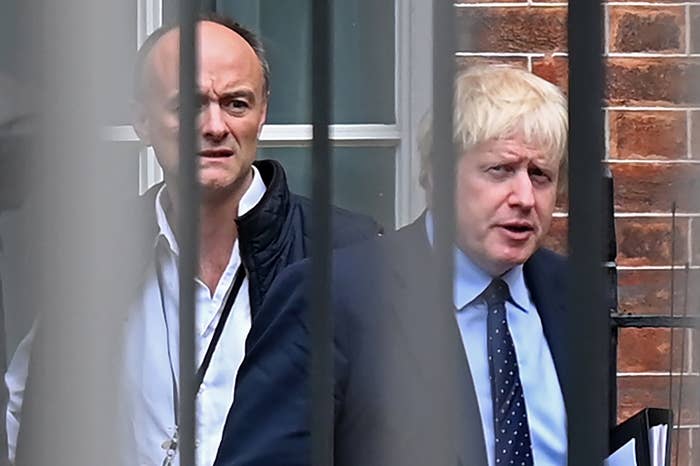 Boris Johnson has secretly ordered the Cabinet Office to turn the government's public internet service into a platform for "targeted and personalised information" to be gathered in the run-up to Brexit, BuzzFeed News has learned.
In a move that has alarmed Whitehall officials, the prime minister has instructed departments to share data they collect about usage of the GOV.UK portal so that it can feed into preparations for leaving the European Union at the end of next month.

Dominic Cummings, the prime minister's chief adviser, emailed senior officials instructing them to make sure that ministers, department heads, and political aides know that the instruction is "TOP PRIORITY", according to leaked government documents.
In a personal minute on Aug. 19 to members of the Cabinet's EU exit operations ("XO") committee, which is responsible for no-deal preparations, Johnson said centralised data was also necessary to accelerate his ambitions for a digital revolution in public services. The committee includes chancellor Sajid Javid, home secretary Priti Patel, and the minister responsible for no-deal planning, Michael Gove.

"I expect everyone to act immediately to execute the above actions," Johnson wrote. Any delays were to be reported to his office right away.

Cummings reiterated the urgency of the direction in an email to senior officials on Aug. 28:
To stress: as per the PM note to all Cabinet and ministers yesterday, please ensure that all ministers, Perm Secs, and spads know that this is TOP PRIORITY.


We must get this stuff finalised ASAP and there are many interdependencies resting on this happening.


The PM says a) his office must be informed of anything that will delay the GDS / comms plan by 24 hours and b) CDL will deal with any problems/delays today…

A government spokesperson told BuzzFeed News: "Across the industry, it is normal for organisations to look at how their websites are used to make sure they provide the best possible service.
"Individual government departments currently collect anonymised user data when people use GOV.UK. The Government Digital Service is working on a project to bring this anonymous data together to make sure people can access all the services they need as easily as possible.
"No personal data is collected at any point during the process, and all activity is fully compliant with our legal and ethical obligations."
However, BuzzFeed News understands that some officials in Whitehall are concerned about such an enormous transfer of data being done at speed, behind closed doors, at a time of national crisis. It is not obvious, one said, how the Cabinet Office having access to all the GOV.UK data from across Whitehall will aid its Brexit preparations.
Privacy campaigners, policy experts, and opposition politicians said the move raised a huge number of legal and ethical questions. Pooling the user data from across government would give GDS a detailed picture of people's online interactions with government, the privacy experts said, and this should not be done without the public's knowledge and rigorous checks to ensure that data rights will be protected.
"Secret orders are not the way to handle these complex policies that have generated huge controversies in the past," Javier Ruiz Diaz, head of policy at the Open Rights Group, told BuzzFeed News. "We need consultation and public debate to build social consensus for any new gathering of personal data, including the appropriate safeguards."
"Citizens have a right to know how their data is being used," said Gavin Freeguard, head of transparency and data at the Institute for Government think tank. "Government should be having the debates and discussion about the appropriate use of data in public, with the public, rather than sending secret notes to cabinet committees."
Labour said it was suspicious of the urgency and timing of the demand, given that it came as Downing Street was preparing for a political showdown over Brexit and potentially a general election.
Tom Watson, Labour's deputy leader, told BuzzFeed News: "These leaked memos should set off serious alarm bells. How does profiling citizens help with no deal preparation? Why is government prioritising it when we are just six weeks away from Boris Johnson's own Brexit deadline, and why the threat to departments that refuse to comply?"
Watson added: "Given Dominic Cummings' focus on data science in the Vote Leave campaign this sudden urgent need for big data collection is extremely concerning. We need immediate clarity about how citizens' data will be protected and assurances that it won't be misused for party political purposes."
Cummings, the combative former head of Vote Leave, has a keen understanding of the power of data. The pro-Brexit campaign's success in the 2016 referendum was partly due to its use of digital technology to target messages.
In a personal blog before entering Downing Street, Cummings mused about the potential for data to disrupt and transform public services: "One of the many ways in which Whitehall and Downing Street should be revolutionised is to integrate physicist-dominated data science in decision making," he wrote in a post in October 2016.
"There really are vast improvements possible in Government that could save hundreds of billions and avoid many disasters. Leaving the EU also requires the destruction of the normal Whitehall/Downing Street system and the development of new methods. A dysfunctional broken system is hardly likely to achieve the most complex UK government project since beating Nazi Germany…"
GOV.UK is the British government's public internet platform, providing information about and links to services from passports to pensions. Since the start of this month, it has also been the hub for the government's publicity campaign to prepare voters and businesses for a no-deal Brexit. The government is running advertisements on Facebook and elsewhere urging people to "Get Ready for Brexit", directing them to GOV.UK for more information.

At present, usage of GOV.UK is tracked by individual departments, not collected centrally. According to the documents seen by BuzzFeed News, the Cabinet Office's digital unit, the Government Digital Service (GDS), will add an additional layer of tracking that "will enable GDS to have data for the entire journey of a user as they land on GOV.UK from a Google advert or an email link, read content on GOV.UK, click on a link taking them from GOV.UK to a service and then onwards through the service journey to completion".
In the personal minute, Johnson told members of the XO committee that GDS had been asked to turn the GOV.UK portal into a "platform to allow targeted and personalised information to be gathered, analysed and fed back actively to support key decision making" in the run-up to Brexit.
Departments needed to send data to GDS and "work in partnership so that it can build a single consolidated view of how citizens interact with Government through GOV.UK", Johnson said. He told ministers they may need to reallocate digital resources and staff to "work on the central analytics platform being developed by GDS as part of the Insights programme to support Brexit preparations for a period of up to 6 months".
The prime minister added that better data analytics will be crucial to improving digital delivery of public services in the long run:
At the heart of that is our approach to UK digital identity, transitioning to a model driven by ubiquitous digital identity standards. There are decisions ahead on how best accelerate convergence onto these standards, including next steps on Verify. XO has tasked GDS with developing — in cooperation with others — a digital identity accelerated implementation plan and I would ask you all to engage in that work urgently.
Verify is the government's flagship digital identity scheme. It was meant to be used by 25 million people by 2020, but it failed to meet performance targets and its future is now uncertain. A Public Accounts Committee report concluded in May: "People using Verify have been badly served by an onerous system that is not fit for purpose."
In the short term, Johnson said: "There are also digital identity factors that relate to preparations for 31st October." He continued:
There is a desire to develop personalised "account creation" feasability studies pre-31 October which can deliver benefits shortly after. The greater the volume of data structured through personalised ID, the more impact the outcome. Steps that Government can take to increase the volume now whilst continuing to deliver critical services, must be looked at. This includes fully exploiting various current pilots such as use of passport data for identity checking and that new services are meeting an appropriate identity standard that can help not hinder convergence. The accelerated implementation plan can pick this up.
In a separate document seen by BuzzFeed News, departments were told that GDS had been asked to collect data about "key Brexit services" by the end of Aug. 30.
"We have identified a subset of key Brexit services and are already working with those service teams, we are now working to add all other services, including those not related to Brexit," it said.
Departments were asked to sign a memorandum of understanding setting out the terms of the sharing arrangement and to return it to the Cabinet Office by the end of Sept. 3.
Freeguard, from the Institute for Government, said: "More intelligent and joined up use of data could be a big improvement — for Brexit preparations and elsewhere across government. But doing data in the dark could lead to a loss of public trust and make citizens much more hesitant in allowing their data to be used in future."