A Headteacher Says Her School Will Have To Close Its Kitchen Because Of The Tories' School Lunch Plans
Campaigners say Theresa May's plan to replace free hot meals with breakfasts will cause huge disruption for schools and be bad for pupils, without saving as much money as the Tories' say
Three years ago, children at Haddenham St Mary's Church of England School, in a strongly Conservative part of Buckinghamshire, celebrated as the celebrity chef Raymond Blanc opened their new school kitchen. Now their head teacher says she will have no choice but to close it.

Karen Collett told BuzzFeed News the primary school will not be able to meet the costs of keeping the kitchen going if the Conservatives proceed with a controversial plan to cut free hot lunches for most infants, included in their policy manifesto.
It is May's latest reversal of a policy put in place under David Cameron and has been criticised as a misguided attempt to save money. Pressure is building in the Tory ranks after George Osborne's Evening Standard attacked the move on its front page on Wednesday. An expert brought in by Cameron and Michael Gove to advise on school nutrition told BuzzFeed News the change would cause chaos for schools and affect children's health.

"I'm talking about a real project that we put blood, sweat and tears into," Collett said. "I'm just really disappointed, to be honest. Disappointed and kind of exhausted by the whole system."
Haddenham St Mary's, which has 145 pupils, pulled together £85,000 from government grants and other fundraising to install the kitchen in 2014. It helped change the way pupils and parents thought about food, Collett said. Two mothers trained to become full-time kitchen managers. The school put in an allotment where the children grew their own herbs and vegetables.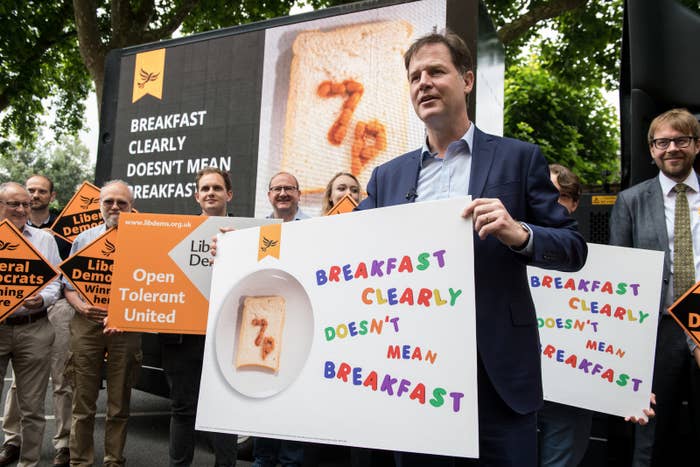 That has all been put in doubt, Collett said, by the Conservatives' decision to stop paying for universal free lunches for pupils aged 5 to 7, to save £650 million a year. If re-elected, the party plans to instead offer free breakfasts before school for all primary pupils, based on studies suggesting providing free breakfast is just as effective as lunches academically while costing the state a lot less money.
The government would still pay for the poorest pupils, those whose parents are on benefits or earn under £16,000-a-year, to have free hot lunches. And schools could still provide hot lunches for the others but ask their parents to pay. But without as much money coming from the government, the sums just won't add up any more, Collett said. She will have to close the kitchen. Four staff will have to be made redundant. And two other schools in the area which Haddenham St Mary's currently supplies with home meals will also go without.
A Conservative spokesman said: "Our plans guarantee that every primary school child will have access to a free breakfast at school, which experts say provides the same benefits as a free lunch, and we'll continue to ensure school lunches are free for those who need them. So the poorest children will get not one but two free school meals per day."
The Tories' decision to pledge universal free lunches, only three years after it was introduced by David Cameron's coalition government, is one of the most controversial policies in a manifesto that Theresa May said had not ducked the "hard decisions" required to confront Britain's economic and social challenges.
Supporters of universal free lunches claim the new approach will not save as much money as the Conservatives think, while causing huge disruption for schools that installed and upgraded facilities only recently, add to the financial burden on families that are struggling to make ends meet, and undermine the pupils' health and educational attainment.
Henry Dimbleby, founder of the Leon restaurant chain, who wrote a landmark government report in 2012 that led to the introduction of free school lunches, told BuzzFeed News the policy will be a "blueprint for chaos".
Many other schools will have to close kitchens and lay off serving staff, only a few years after they invested in the facilities based on assurances from the government, Dimbleby said. About 600,000 working families — the "just about managing" voters that May said she is targeting with her manifesto — will have to fork out an additional £440 a year to pay for lunches for their infants, putting pressure on their household budgets.
More children will end up going hungry during the day, Dimbleby said. It makes no sense at a time when Britain is facing an obesity crisis, he added.
"They talk about strong and stable government — this is the opposite of strong and stable government," Dimbleby, the son of the BBC broadcaster David Dimbleby, told BuzzFeed News.
In 2012, Dimbleby and his business partner in Leon, John Vincent, were commissioned by the Department of Education to produce a blueprint for improving food in schools. One of their main recommendations in the School Food Plan was to introduce universal free school lunches, after reviewing academic evidence suggesting it would help to improve educational achievement and public health. Michael Gove was education secretary at the time.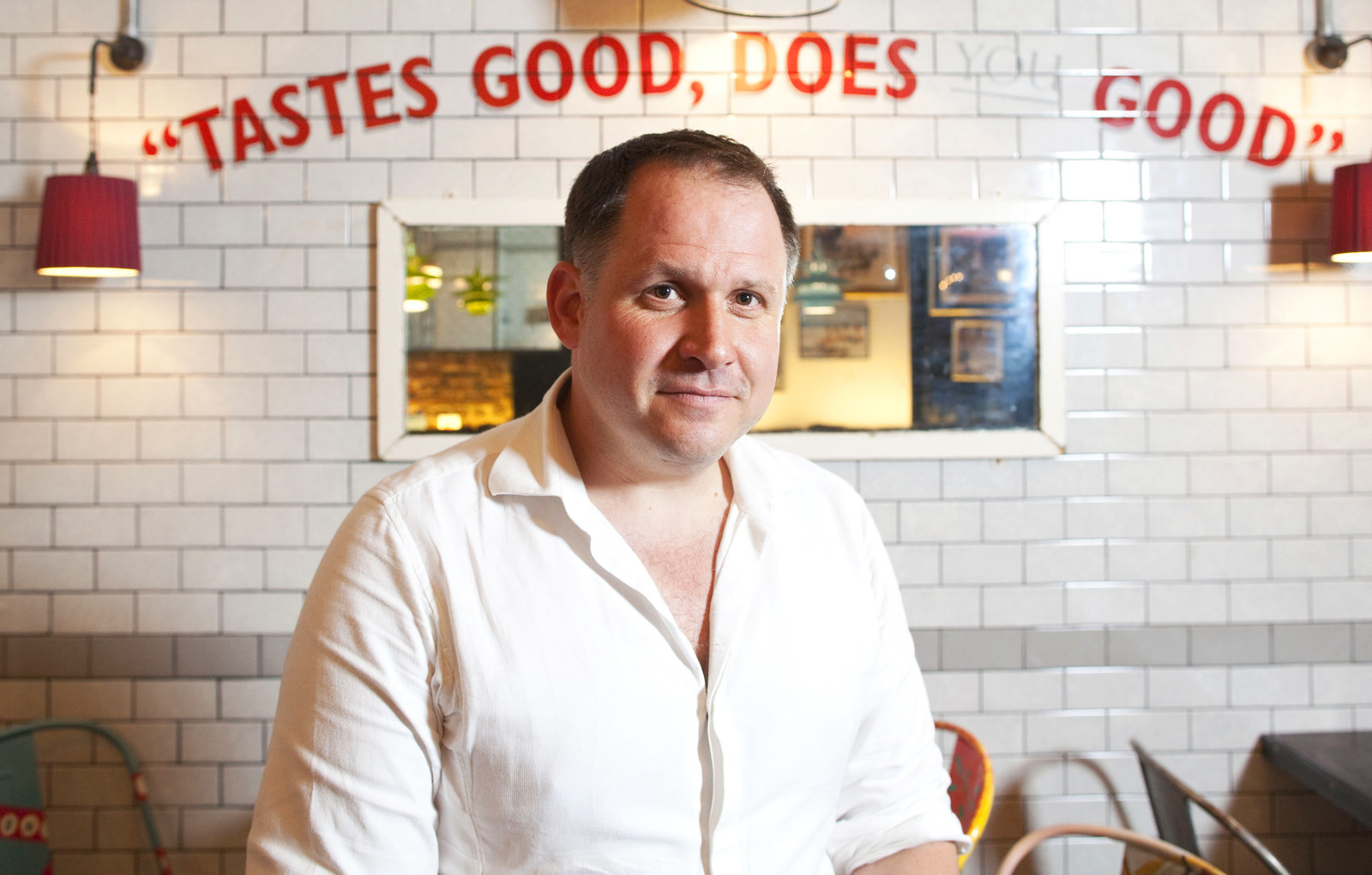 Two years later, education ministers said they had been convinced by the evidence and would roll out free lunches to all pupils in the first three years of primary school, allocating state funding of £2.30 per meal. "Schools can plan confidently in the knowledge that we are making a serious and long-term policy commitment," Gove told headteachers in a letter.

Under May, the Tories have changed course. If re-elected, the party will provide lunches to only those children whose parents are on benefits or earn less than £16,000 a year. Instead, all pupils will be given breakfast before school, at no cost. In their campaign policy manifesto, the Conservatives said this was because they "do not believe that giving school lunches to all children free of charge for the first three years of primary school — regardless of the income of their parents — is a sensible use of public money".
There is "good evidence" that breakfasts are just as effective at spurring children's progress in school, and the savings could be put back into the core schools budget so that headteachers have more money to spend on other things, the party said.
The party believes it can save several hundred million pounds a year by switching to providing free breakfasts without harming children's health and academic performance. A Conservative spokesman emphasized the new system will mean children from the poorest families will now get two free meals a day at school.
In a press release relating to the policy, the Conservatives cited research by the Institute for Fiscal Studies, a highly-regarded independent think tank, as evidence that breakfasts are "at least as effective as free lunches".
In November, the IFS published a study which found children who were given free breakfasts made faster progress at reading, writing and maths than pupils who weren't. It "looks more cost-effective" than free lunches for infants, the IFS said. This month, in another paper, the IFS said free breakfasts might be "a cheaper and more effective way to improve both education and health outcomes". One pilot study estimated that 40% of the cost of free lunches is spent on children who would otherwise have paid for their meals, the IFS said.
However, the IFS told BuzzFeed News its research was not definitive.
Christine Farquharson, a research economist at the institute, said the studies were based on two trials in disadvantaged schools. While the evidence suggested free breakfasts are more cost-effective, the studies "do not demonstrate that breakfasts would definitely be more effective than lunches for the population in general", she said. It was "difficult to say" whether the findings would be replicated across the country.
The new system will clearly be cheaper than providing free lunches, but mainly because fewer pupils tend to take up the offer of breakfast than lunch. In the IFS studies, take-up of free breakfasts was around 13%. If all primary school children come to school early for breakfast every morning, it will cost the government about £700 million a year — wiping out the planned savings from cutting the lunch scheme.
Collett said she operates a "breakfast club" for pupils already. Based on that, she estimates take-up would be no more than 40% of her pupils if breakfasts were offered for free every morning. Most parents won't "want to take their children to school an hour earlier," she said.
Campaigners and opposition political parties have criticised the Conservatives for backtracking on school lunches. In its campaign manifesto, Labour promised to expand the scheme to include all primary school pupils. Angela Rayner, the party's education spokeswoman, said: "Labour got their school meal recipes from Jamie Oliver. The Tories are getting theirs from Oliver Twist."
Nick Clegg, the Liberal Democrat MP, who was deputy prime minister when the policy was introduced in 2014, said May's decision was "cruel and illogical", and would deprive many children of the only hot, nutritious meal they received each day. On Wednesday, Clegg launched a campaign poster attacking the Tories' change of policy.
Campaigners including the celebrity chefs Jamie Oliver and Yotam Ottolenghi have called on the prime minister to reconsider.
Anger is growing in the education sector about the proposal, Dimbleby said. "It's a massive thing. It's a big, big deal," he told BuzzFeed News. "It's going to be very painful in a way they don't realise yet. It's going to build and build."

Collett said it was another blow to schools that are already struggling to deal with budget cuts, changes to the curriculum, and growing classroom sizes. "I'm a headteacher that tries to embrace everything that's put in front of me," she said. "I feel at the minute, why bother?"