Apparently, It's Not the Students' Choice Where They Work
Pinky was told at the beginning of the school year by executive chef Jason and former general manager Keisha to hire more student workers because the Gizmo was understaffed. But in the middle of winter term, general manager Diane told her that she [Diane] "was not part of that" initial request to hire more students and made Pinky remove shifts which led to seven student workers losing their jobs. The reason Diane gave for eliminating shifts was that the Hard Knox Cafe needs more student workers. Pinky tried to explain to her that the students don't like working in the cafeteria because it is a more stressful working environment. Diane responded by saying that it was costing too much to have so many students in the Gizmo and that it was not the students' choice where they work; they'd be cafeteria workers or they'd be out of a job.
Students Are Not to be Trusted
Full time Gizmo employees are also no longer allowed to take breaks together, even though it is what they've always done. The reason Diane gave for this is that "full time employees need to make sure that student workers are doing their job." But students who are upperclassmen and have worked at the Gizmo for several years argue that they can basically run the Gizmo by themselves. The supervisors agree.
"On College Time"
Pinky and other staff members have been told that there are certain things they can't do "on college time." Pinky has been forbidden from watering her plants. An employee that works in the dish room was reprimanded for speaking to students during the NAACP dinner. Both this employee and Pinky recollect and agree that when Marriott (Knox's first and until now, only, outside dining services management) was in charge during the late 90's, they were much easier to work with.
"It's Not Family-Oriented Anymore"
Pinky made the schedules for the Gizmo even when Marriott. She says she'd be willing to work with Bon Appetit if there was different management team and that most employees feel the same way. There is a different atmosphere with Bon Appetit at the Gizmo. The employees used to be happier when the supervisors had more freedom. A lot of the students call the gizmo staff their family. But Pinky says: "It's not family-oriented anymore."
"In my almost 50 years at Knox there have been 8 changes in the management of dining services. Out of all of those, only the change to Bon Appetit has come with such severe issues." --Pinky Gibbons
And Now: The Gizmo Comment Cards!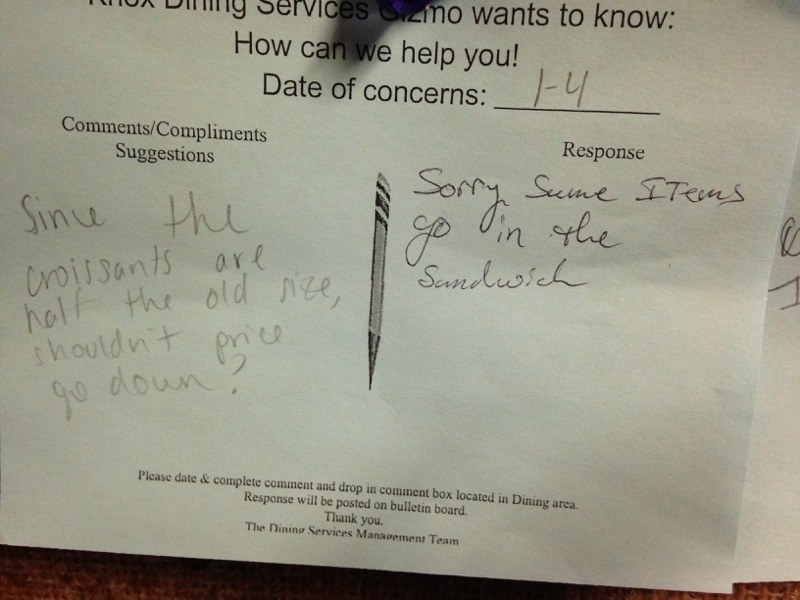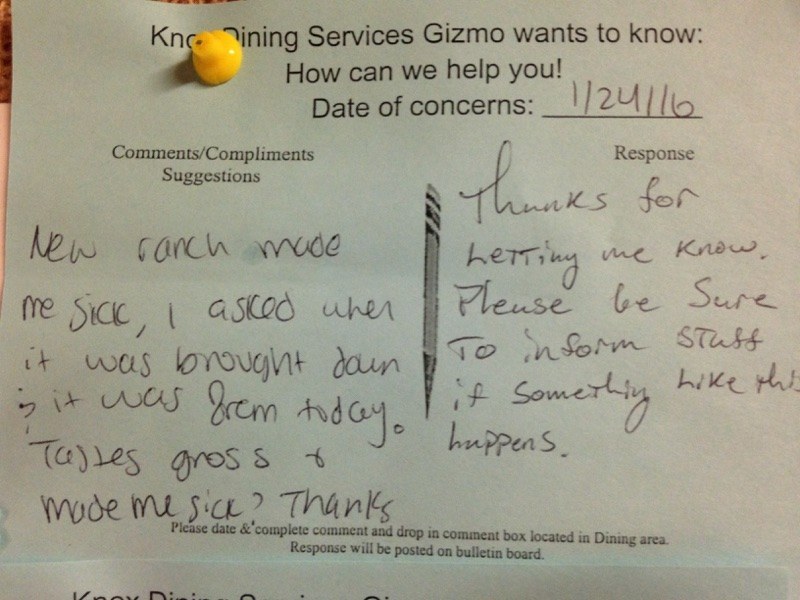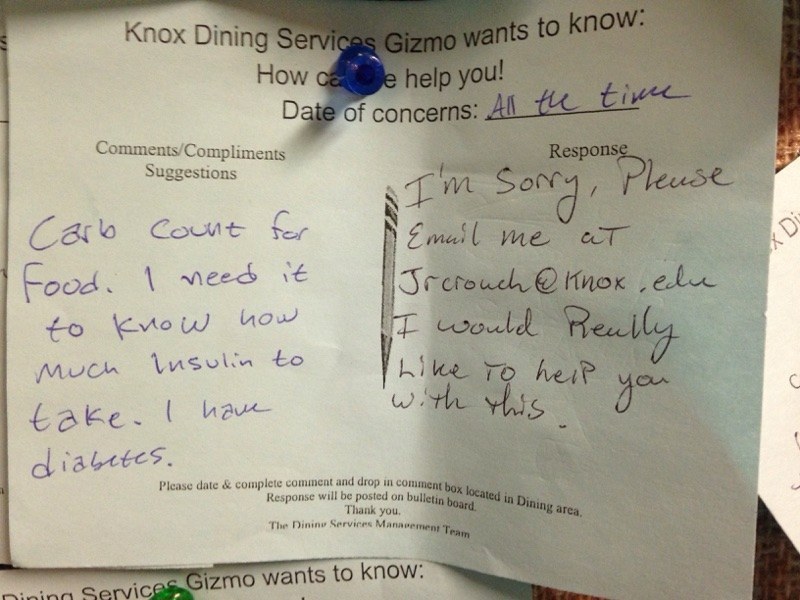 Don't Get Us Started on the Smoothies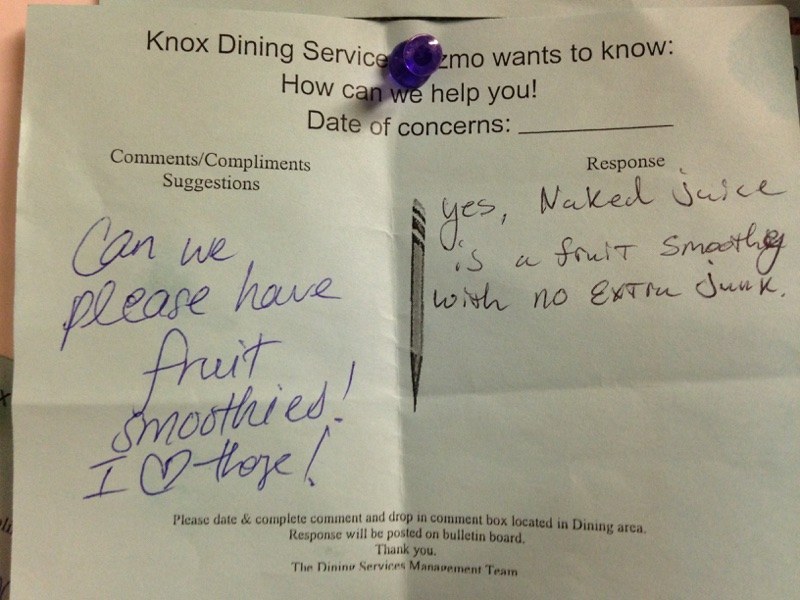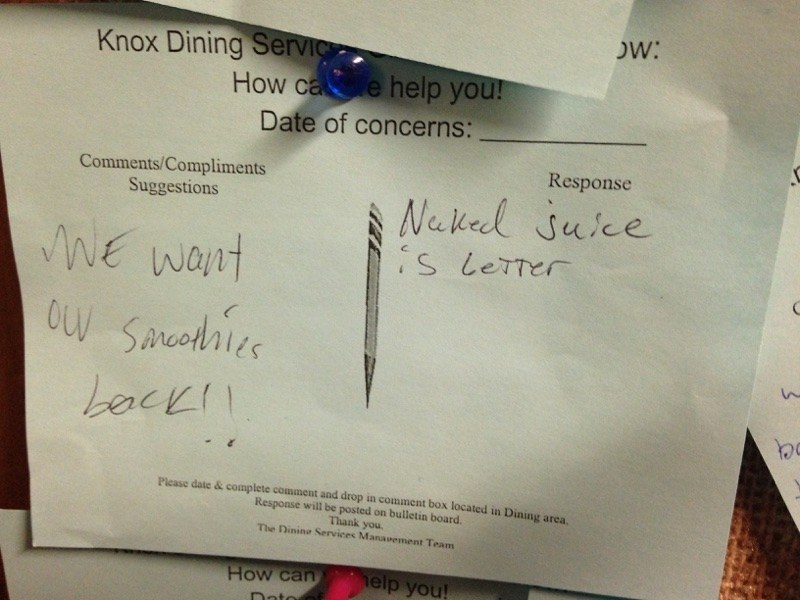 You'd think by now that after all our pleas for our own smoothies from that marvelous smoothie machine; they'd bring it back and stop telling us that Naked Juice counts as a smoothie. On top of that the old smoothies cost $1-2 but they sell Naked Juice for about $3.50.
Brought to you by Knox College Alliance for Peaceful Action