This Makeup Chain Made Indigenous Customers Give Up Personal Information For Purchases
An offensive term was also used in a company memo.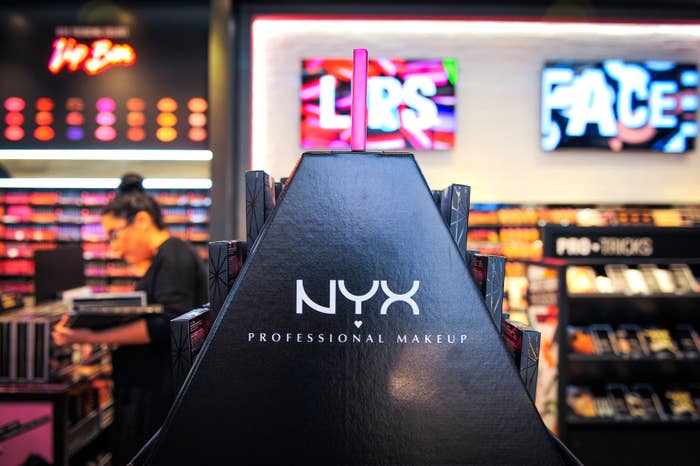 The Canadian beauty industry's biggest employer has instructed retail employees to collect unnecessary personal information from First Nations customers who pay with a status card, and a training document given to employees included a sample First Nations customer with an offensive name, a BuzzFeed Canada investigation has found.
Two employees of cosmetics stores owned by L'Oréal Canada say they were instructed last week to require anyone paying with a status card to disclose personal information at the cash register. One Toronto employee, who asked not to be named for fear of losing their job, said the company told them they must at least collect a customer's name and email address or risk being audited. Canadian law does not require First Nations people to disclose additional personal information when making a purchase with a status card.
"I was so thrown. I felt like I had been punched in the gut," the NYX Cosmetics employee told BuzzFeed Canada. "They can audit individual sales persons on customer profiles because it's all under the system in our name. So they're basically locking us into this position where we are giving people with status cards no choice but to give us their personal information."
A L'Oréal training document obtained by BuzzFeed Canada instructs staff on how to create customer profiles for customers paying with a status card and warns employees they must fill out the profile or face an audit. The customer profile in the document lists fields for the customer's name, age, ethnicity, birthday, phone number, email address, home address, age, ethnicity and skin type.
The training document also included a sample customer named "Indian Demo-Chief." A company spokesperson told BuzzFeed Canada it "does not condone" that name and has subsequently changed it in the document.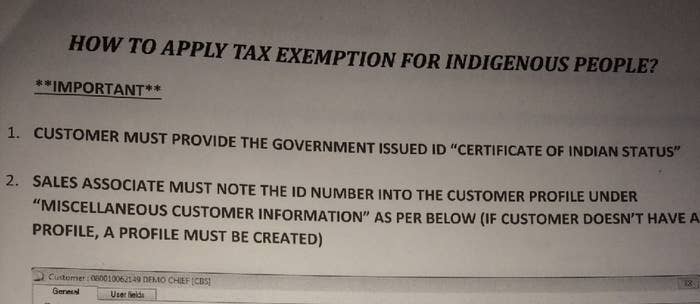 In spite of the instructions laid out in the document, L'Oréal spokesperson Virginie Hotte-Dupuis also said the company does not require First Nations customers to reveal information in order to make a purchase with a status card, and that a translation error may be to blame.
"We would like to assure you that L'Oréal Canada's policy regarding tax exemption for Indigenous customers is in strict accordance with Canadian laws and regulations," said spokesperson Virginie Hotte-Dupuis. She added that email and other information is only collected with the customer's consent.

"Should a customer refuse to provide it, our employees are expected to respect their choice," said Hotte-Dupuis.
However, BuzzFeed Canada found this is not always the case when we tested the policy by visiting four L'Oreal-owned cosmetics stores with a Mohawk woman who has a status card. At one store she was told she must disclose personal information in order to receive the tax exemption that comes with a status card. The other three stores did not ask for additional personal information but failed to properly apply the HST exemption.

As a result, L'Oreal has admitted there is a clear "need" for new training and policies at store level.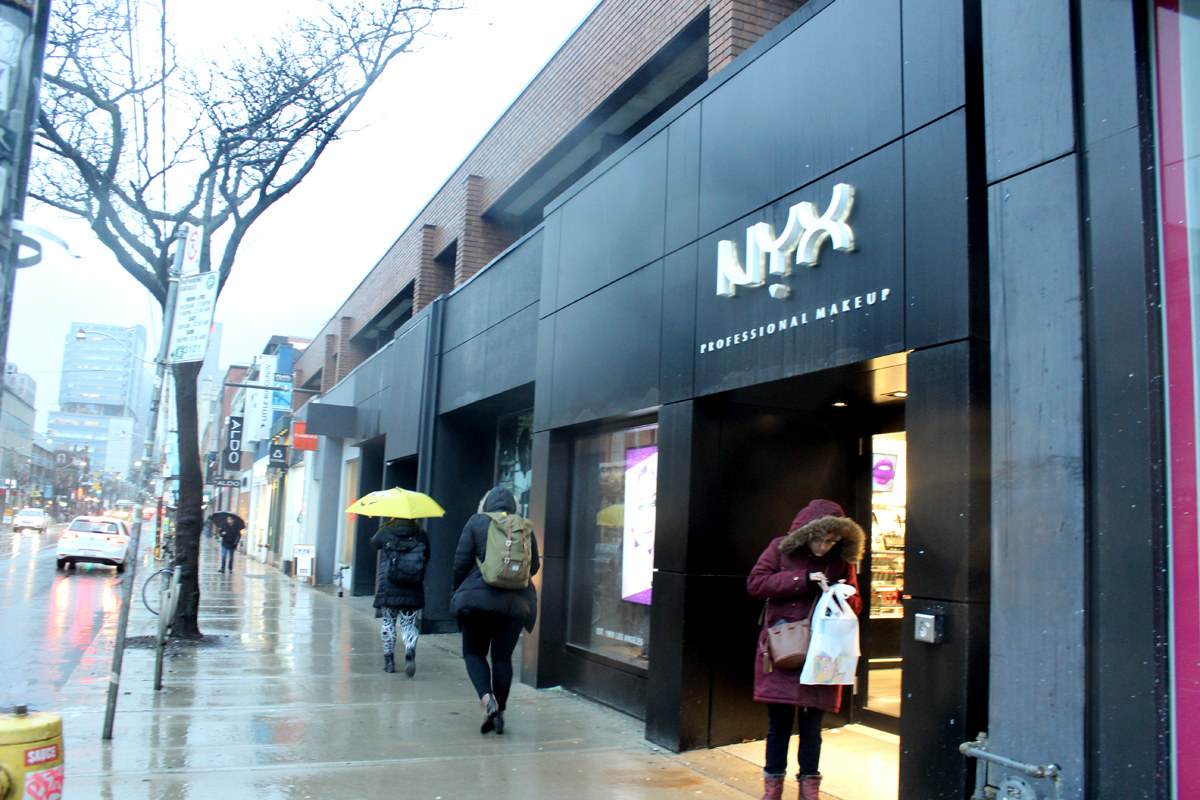 L'Oreal employs 1,200 full-time workers in Canada and its stores include NYX Cosmetics, Urban Decay, Kiehl's, The Body Shop, and Biotherm.

Under the Indian Act, Indigenous people whose lineage is recognized by the Canadian government can carry a Secure Certificate of Indian Status, known as a status card. In Ontario, status card-carrying customers don't have to pay provincial sales tax (PST) on goods, which is 8% of retail price. They still have to pay the rest of the harmonized sales tax (HST), totalling 5%.

By law, customers only need to present their status card at the cash register. Vendors are supposed to record the date, the person's name, the card number, and the band number, as well as the product being sold. Customers are not required to share any personal information.

The two L'Oreal employees who spoke to BuzzFeed Canada said they both received the same training document with the warning about being audited, and the offensive demo customer name.
The company's information collection instructions first surfaced when a L'Oreal employee asked a moderator of a Facebook group called Bunz Makeup Zone to post about the policy on their behalf. Members voiced their outrage over the post, as well as the insensitivity of the example customer's name, and took to social media to call NYX Cosmetics out.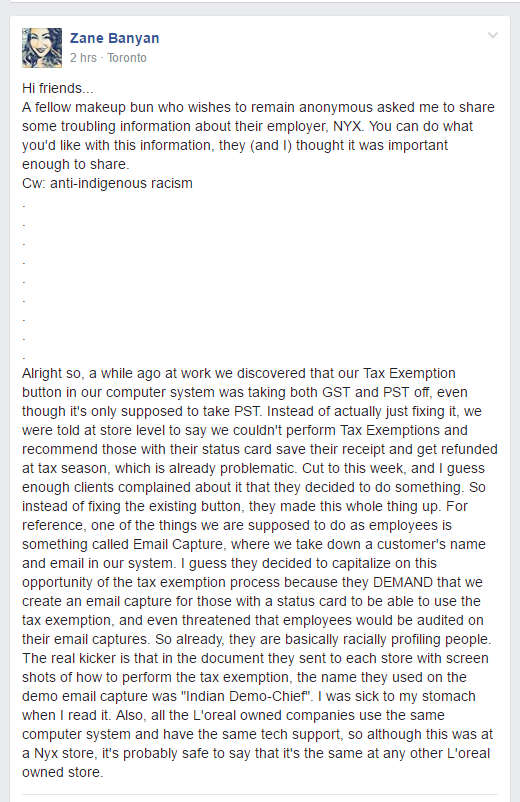 When asked for an explanation of "Indian Demo-Chief," L'Oreal's Hotte-Dupuis said the name goes against their ethical principles and corporate values.
She also said the training memo had been translated from its original French into English, and "unfortunately, it is obvious that some of the intended meaning was lost in translation." As for the warning of auditing, Hotte-Dupuis said that in reference to the information "sales associates are required to keep the appropriate documents for government auditing purposes.

"This memo has since been amended and will be resent to all store employees," she said.

The NYX Cosmetics employee who spoke to BuzzFeed Canada said they decided to come forward because they hope customers "vote with their dollars."
"I don't want people to bash or be mean to [staff] in stores. They're doing their best and they want to help people get makeup that works for them … L'Oréal owns everybody," they said. "I'm glad I never had solid plans to make makeup my career, because I don't think I'll ever work in makeup again."
Both L'Oréal employees say that before the training memo was sent, their stores had different approaches to status cards, such as removing all HST, asking for managers to authorize transactions, or telling customers to keep their receipt and file a tax rebate. As APTN News has reported, the Ministry of Revenue can't penalize retailers for failing to comply with status card tax exemption. This is one reason why different retailers handle payment with a status card in different ways.

Alex Keenan, associate lawyer with Ottawa-based firm Nelligan O'Brien Payne LLP, explained that while it's not illegal to ask for more information, it's certainly improper.

"They're justified for proof of address, but asking for phone number, email address, there's no reason to ask for that and make it conditional. Nothing that makes it illegal — it's just a bad business practice," she said.

Keenen added that, unfortunately, this puts the onus on those with status cards to ensure they're getting the exemption. For those having trouble, she suggested speaking to a manager and, failing that, calling a Ministry of Finance hotline.

"There won't necessarily be any punishment for the retailer, but it gives [the Ministry] the idea there may be a problem," she sad.

BuzzFeed Canada decided to test the L'Oréal policy outlined in the training document by visiting several stores.
Ashley Bomberry, a 34, is Mohawk from Six Nations and carries a status card. We visited L'Oreal-owned stores in Toronto with Bomberry on four occasions.
At two stores, HST was removed entirely and no personal information was collected. However, Bomberry's status card number was also not recorded, which is required by law.
At a third location, an NYX store on Queen Street West, in Toronto, the tax exemption was correctly deducted from HST and no personal information was collected.
The fourth store visited was a Kiehl's on Queen Street West. As Bomberry purchased a Crème Du Corps body moisturizer for $13, she showed her status card. Bomberry was then asked by the cashier to make a profile.
"Is this necessary?" Bomberry asked.
The cashier said yes, and that in order for the tax deduction to go through, Bomberry had to give the store her full name, phone number, and email address.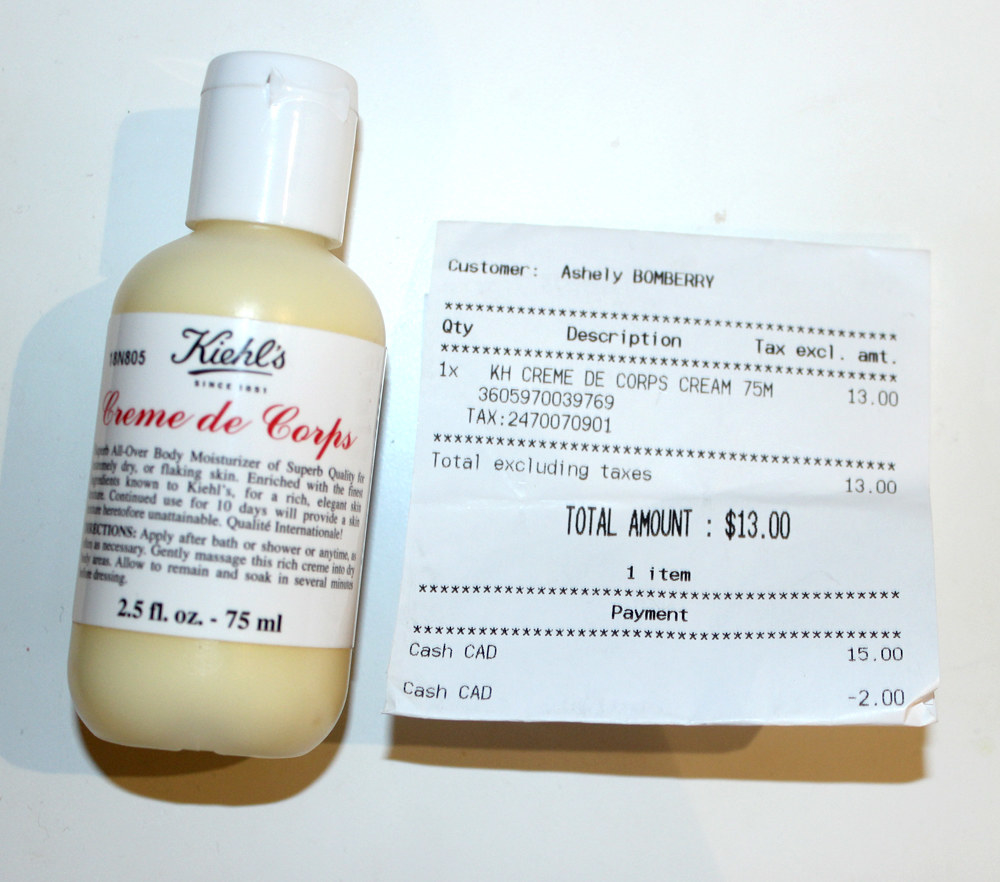 After cashing out, Bomberry's receipt shows tax was deducted incorrectly; all the HST was missing, and she was only charged the moisturizer's retail price. Although three of the four shopping trips gave Bomberry a bigger deduction than required by law, to her the inconsistency shows that staff are not being properly educated and trained.
"It feels like someone at headquarters had a conversation, with all of their branches, and now there's protocol put in place to fix the Indian problem," said Bomberry. "It's not that fixable."
When told about Bomberry's experiences, L'Oreal's Hotte-Dupuis said new policies are being rolling out starting next month.

"It is clear that there is a need for additional training and review of policies and procedures at the store level," she said. "Rest assured that this is a matter we take seriously and will address it immediately."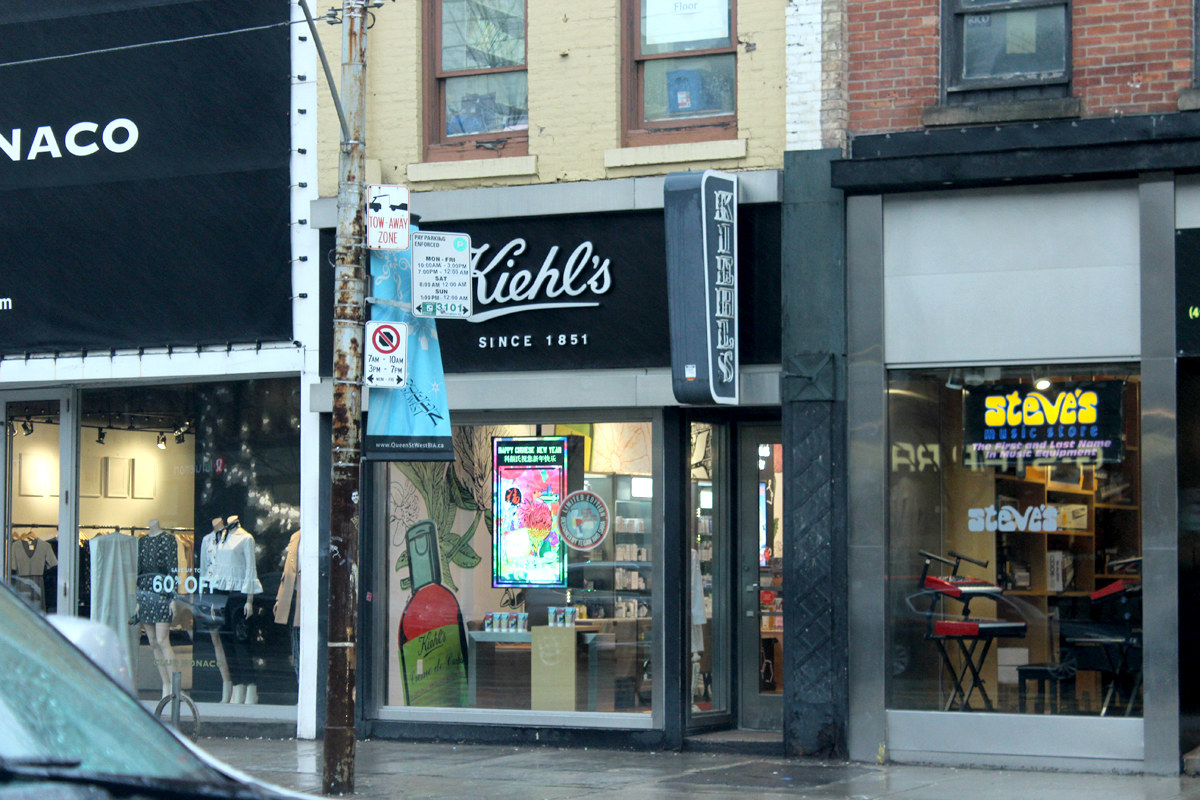 Kaly Lynn Jackson of the Opaskwayak Cree Nation in northern Manitoba told BuzzFeed Canada she was also asked for personal information at a Toronto NYX store last summer. Jackson said she was asked to fill out a paper form with her name, home address, email address, and phone number, when she bought a lipstain kit. She says she was told the profile was necessary, and that she needed to fill it out to get her deduction.
Jackson said that many retailers have poor status card training, and she's often been met with eye-rolling or long wait times. She says that since many First Nations people are low-income, the inconsistency is a barrier and is one of the reasons why she only uses her status card on big expenses.
Bomberry said it was also "infuriating" to learn that L'Oreal had used "Indian Demo-Chief" as the demo customer name in its training document.

"I feel like an apology should happen," she said. "Someone made that decision to call [the example customer] Indian Demo-Chief. I actually propose for maybe some cultural sensitivity training. Maybe teach some of the history for Toronto, for Canada, this Indigenous land and [why] we need to respect the people who are here."