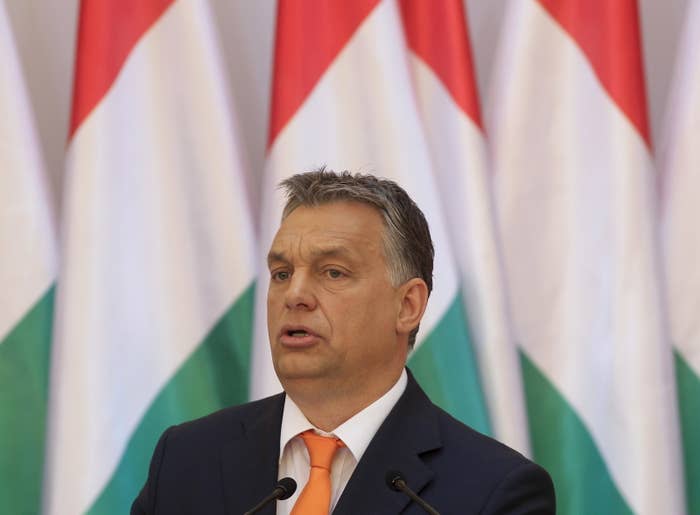 UK prime minister Theresa May will meet Hungarian prime minister Viktor Orbán in London this afternoon. Orbán was the only EU leader to publicly endorse Donald Trump. Before the US election, the Hungarian prime minister said he had listened to Trump's proposals on security and concluded that they "would be the best choice for Europe and for Hungary".
Orbán was quick off the blocks to welcome Trump's victory on Wednesday morning posting on his Facebook page that is was "great news". "Democracy is still alive," he added.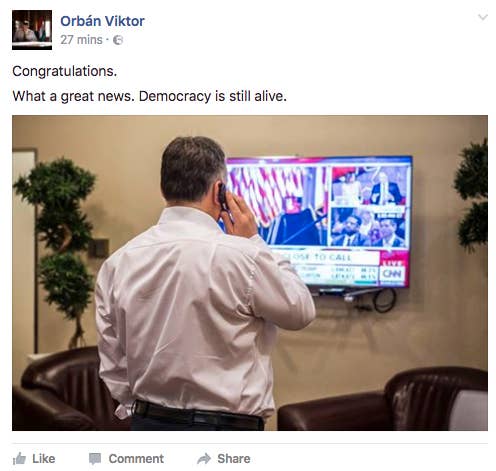 Orbán's visit will fuel accusations from a number of EU and European officials that Britain is building an alliance with Hungary's right-wing leader in an attempt to divide and conquer the EU in Brexit negotiations.

He is viewed as a controversial ally for Britain because of his government's stance on refugees, an alleged crackdown on freedom of speech, and tensions with other governments and the EU over the balance of powers between Europe's institutions and its member states.
At the EU Council summit in Brussels last month, the Hungarian PM was one of the few leaders to praise May. "She's done excellently. ... She's clear-cut," he said.
Referring to what they perceive as Britain cosying up to the Hungarian prime minister, one senior EU official told BuzzFeed News last month: "Good company May is keeping."

Just two weeks ago the Italian prime minister threatened to veto the EU budget if Hungary didn't take a fair share of refugees. The Hungarian government responded by saying it it did not need Italy's charity.

But in Orbán, May could find a useful ally as she seeks a path that combines introducing work permits for EU nationals with securing a trade deal. Hungary and other central European governments have an ambiguous attitude to freedom of movement: On the one hand they will want to protect and maintain the rights of their citizens abroad, but on the other they are keen to slow the flow of talent leaving their countries.

As EU leaders met in Brussels three weeks ago, Hungary's foreign minister was in London to sign a memorandum on the establishment of the British-Hungarian Business Council. The council's 10 founding members include Tesco, British Telecom, and BP. The 771 UK companies in Hungary employ some 49,000 people.

A senior Hungarian government official told BuzzFeed News last month that the government's priority at home is to see wages and inward investment increase, and that the UK will become Hungary's largest non-EU trading partner once it leaves the trading bloc.
The same official said a meeting between Orbán and May had been planned for some time.