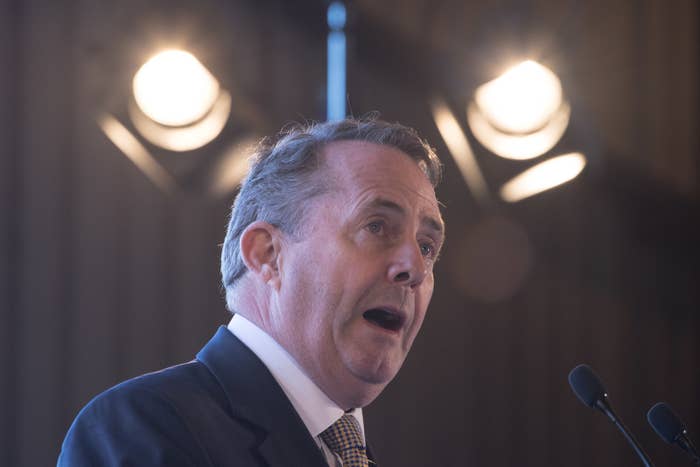 Britain's international trade secretary Liam Fox pushed proposals that would involve the establishment of a sweeping surveillance system for goods, vehicles, and people across the island of Ireland in a bid to keep the border open after Brexit, BuzzFeed News can reveal.

A "confidential" report prepared for Fox and other officials last May by a small UK technology company called UtterBerry — a copy of which has been leaked to BuzzFeed News — included proposals to attach radio frequency identification (RFID) chips to every individual package of goods crossing the border as well as fitting tracking devices to commercial vehicles.
It also proposed embedding scales under roads at the border so that vehicles could be weighed as they drove across and the results compared to the data from the RFID chips.
Despite fears that any physical infrastructure at the border would be targeted by dissident terrorist groups, the report also mentions cameras to read vehicles' registration information; facial recognition to monitor anyone within 100 yards of either side of the border; and a database of "unrecognised" faces. Faces would be scanned whether people were in vehicles, on public transport, or on foot, and some of those crossing the border would also be required to carry their passports so that the RFID chips inside them could be read remotely by sensors.
"The solution to the [border] issue, if done correctly, can be completely electronic," said the report, which was sent to Fox by UtterBerry CEO Heba Bevan, after she met with him and DIT officials last May.
In the accompanying email to Fox's private secretary, she wrote: "It was a pleasure meeting you as well. If you could, please also thank Dr. Liam Fox for his time."
The document was prepared as he and other Brexiteer cabinet ministers fought for a technological solution — dubbed "max fac" — for the border rather than the future customs arrangement that Theresa May favoured.

According to a government source, Fox championed the proposals in a working group of cabinet ministers exploring the future customs arrangement proposal. Emails seen by BuzzFeed News show that his private office also shared the UtterBerry report in full with then-Brexit secretary David Davis, who was on the cabinet working group examining max fac.
Fox and other officials met the company again this January for a demo of its software, Bevan told BuzzFeed News.
The leak of the report comes as Brexiteer MPs once again push technological solutions to the Irish border question in an attempt to kill off the so-called backstop currently included in the withdrawal deal agreed between Theresa May and the European Union as an insurance policy to keep the border open after Brexit in all scenarios.
On Wednesday, the Sun reported that ministers were considering resurrecting proposals for the Irish border involving plate recognition cameras and vehicle tracking that were pitched last year by Japanese tech giant Fujitsu.
But a government source told BuzzFeed News that the UtterBerry document — titled "TECHNICAL AND PROCEDURAL SOLUTION FOR INVISIBLE UK-IRELAND BORDER" — formed the basis for Fox's lead proposal last year on the border question as he was meeting with several companies on a quest to find a technological answer to the Northern Ireland dilemma. Other officials have disputed that characterisation, insisting it was one of a number of a proposals he considered.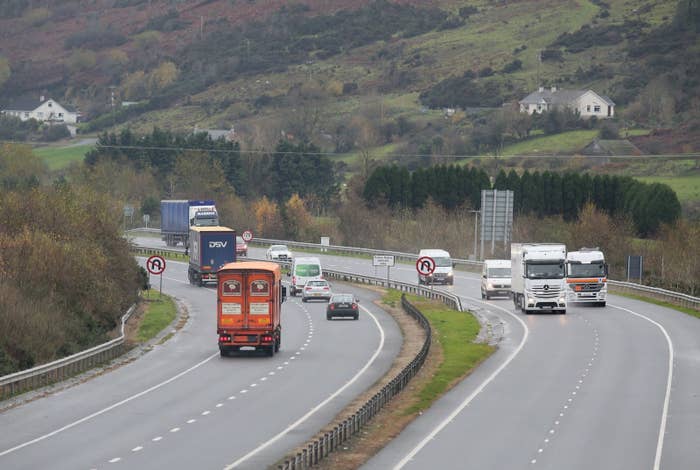 The international trade secretary is also understood to have asked Irish government ministers to consider listening to proposals from various companies, including UtterBerry. The invitation was not taken up, sources told BuzzFeed News.
On June 13, Fox met his Irish counterpart, Heather Humphreys, records on the DIT website show.
A spokesperson for Ireland's Department of Business, Enterprise and Innovation said: "The department does not comment on the content of such bilateral meetings. In any case, the issues in question would not come under the remit of our Department, and no such meeting/presentation took place with Minister Humphreys."
DIT did not dispute the claim when it was put to them in writing this week.
In its report, UtterBerry recommended building a system incorporating "wireless sensors, RFID chips and cameras interconnected through Wi-Fi and the cloud" to track people, vehicles and goods.
A DIT spokesperson said: "Ministers and officials from DIT regularly engage and consult with stakeholders, including companies, think tanks, business representative groups, and related organisations, to ensure the DIT policy is informed by a wide range of views and proposals. It is normal procedure to share this information, where relevant, across government."

Davis did not respond to a request for comment.
The report makes no mention of the scale of the task, nor the cost, of what is proposed.
"The purpose of the document [was] to provide information on the solution and how it works. At the time the document was drafted we did not have specifics on scale, the parties involved in the project, their role, etc, and this remains so at the moment. Cost information normally follows once the project requirements are released and it is put up for bidding," the UtterBerry CEO told BuzzFeed News in an email.
Although the report's title specifically referred to maintaining an "invisible" Irish border and was sent after a meeting with Fox and officials, Bevan said not all the features in the proposal, including systems to read passports from a distance and facial recognition, would be needed for that purpose.
"The solution could be used for any border or a zone within a border. It has a number of features, but not all features would be needed in every application. For the UK-Ireland border I believe they will only need goods and shipping-related features, not facial recognition, so that technology would be absent from it. In another application such as an airport, facial recognition might be needed," she wrote.
In a follow-up email to BuzzFeed News she added that UtterBerry's "solution doesn't require any physical infrastructure (e.g. cameras). That tailored version of the system, which also uses blockchain, was demonstrated to DIT in January. It is a working solution."
"All technology is different so I don't want to compare our solution with Fujitsu's," she added.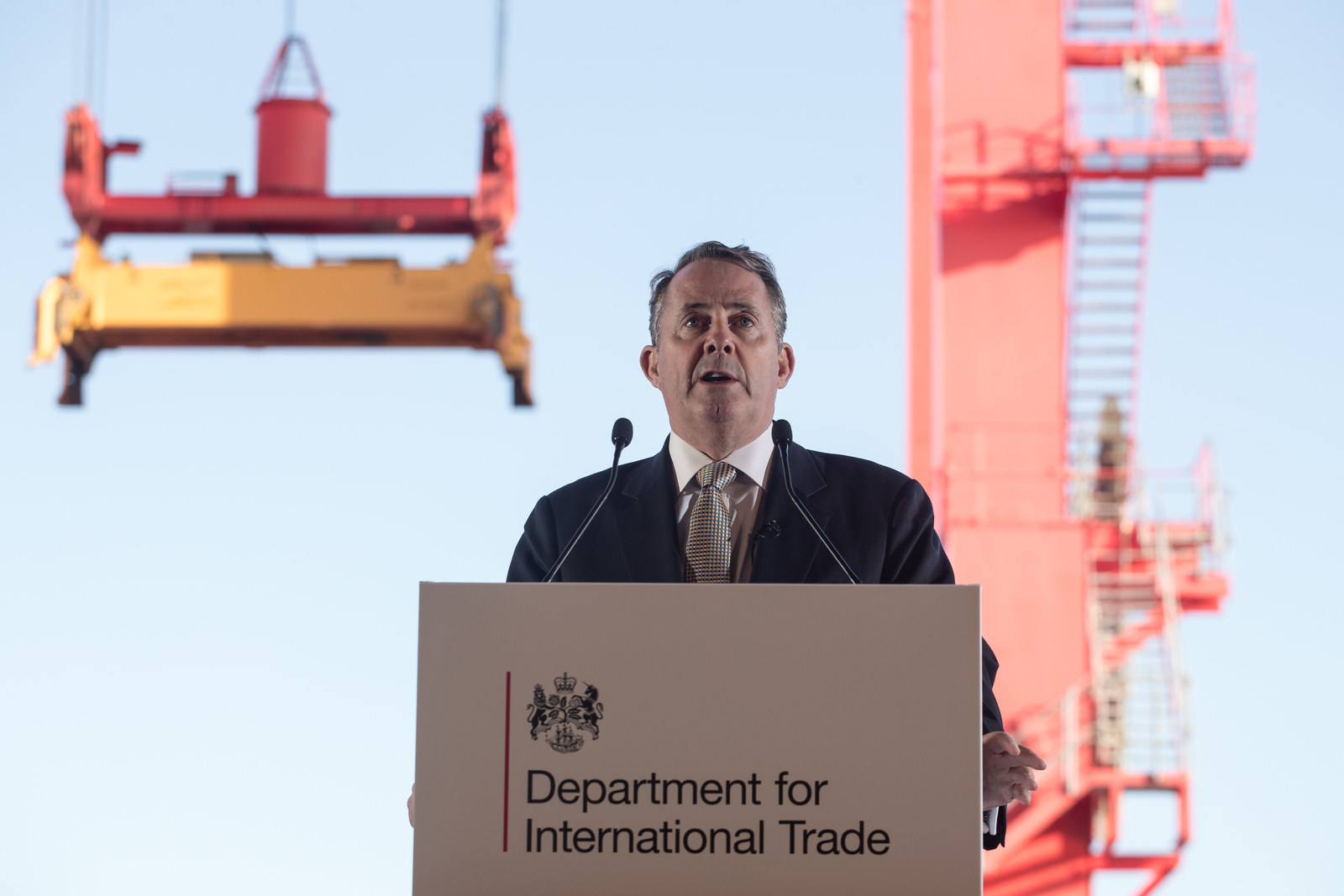 In the end, the technology-driven ideas to avoiding a hard border that underpinned max fac were rejected as unworkable last year, both by the prime minister and the EU, but following the historic defeat of May's Brexit deal in the Commons, Brexiteers have forced her to reconsider "alternative arrangements" to the backstop.
European government officials and trade experts, with whom BuzzFeed News shared the contents of the company's report over the phone this week, said they were sceptical about some of the ideas it proposes because of the unique circumstances in Northern Ireland. Other ideas, EU officials said, were explored during negotiations with the UK last summer, and are still deemed unworkable.
The alternatives that emerged from last year's cabinet discussions – a customs partnership, involving the UK collecting tariffs on the EU's behalf and tracking goods across borders, and "max fac", a streamlined customs arrangement using technology-based solutions – were initially set out in a government paper, and later discussed and examined by UK and EU negotiators during talks in Brussels.
The government acknowledged at the time that some of its ideas were "innovative and untested." In July, ministers agreed a new hybrid plan at Chequers.
But some MPs are now pushing for a return to max fac, and as they do so appear to be reheating many of the same technological solutions explored and rejected last year.
According to report in the Sun, the Fujitsu proposal was first drawn up 10 months ago.
A government source told BuzzFeed News that work on it was not ongoing, as suggested by the newspaper, because the proposal did not avoid new border infrastructure, a core government requirement, and this was explained when it was first presented.
A government spokesperson said: "This proposal was not taken forward as it does not work for the unique circumstances of the Northern Ireland border."
EU and European government officials, meanwhile, have been at great pain to stress that the withdrawal agreement cannot be reopened, and the ideas floated by MPs have already been examined in detail during negotiations. These have either not stood up to scrutiny, or would require a lot more time than is currently available in the Article 50 process to be properly tested.
May has also pushed back against suggestions that the backstop can be replaced by technological solutions alone. In a speech in Belfast earlier this week, the prime minister said that while she would look at alternative arrangements, and technology could play a part, "these [arrangements] must be ones that can be made to work for the particular circumstances of Northern Ireland."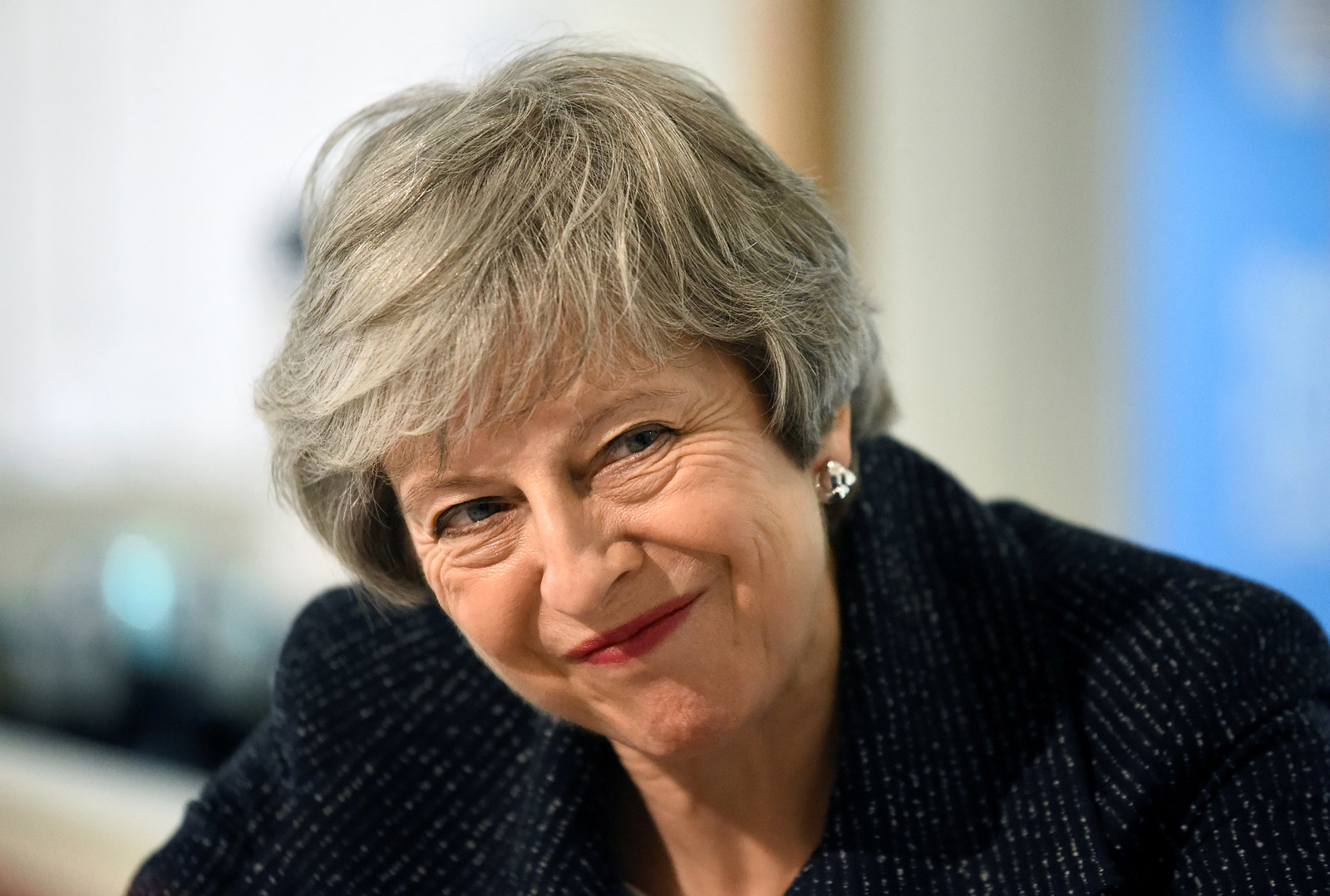 As part of a department-wide drive to solve the border issue using technology, Fox met with UtterBerry last May.

Following up on the meeting, Bevan, the company's CEO whose clients include London Underground, Thames Water, and Network Rail, sent the report to Fox and his private secretary on the 10th of that month. The correspondence and the documents was also forwarded to the private office of Davis.
"I did initially meet with a group of 5-6 people at DIT, including [his private secretary] and Dr Liam Fox. As CEO and an engineer, I document inventions and solutions, and this is how the document came to be. DIT later followed up with UtterBerry, as I believe they did with a number of companies," Bevan wrote in an email to BuzzFeed News.
"No one wants a hard border with Ireland and a return to the violence and bloodshed of the Troubles. As a tech company, we produced a solution that would avoid a hard border and could have applications in other scenarios," she added.
The company was already on the government's radar. UtterBerry was a member of the UK's trade delegation to China that February. May namechecked Bevan and the company in a speech the prime minister gave to British and Chinese business leaders in Shanghai.
Bevan was awarded an OBE in December.
The central component of the UtterBerry plan was the RFID tags it produces. It proposed attaching these to every pallet and every individual package of goods to provide information ranging from its category and country of origin to its VAT number and whether the good is compliant with UK and EU regulations.
The document states that:
"RFID tags are scanned at source and registered via the cloud."

"The location of goods will be relayed by GPS and / or signal propagation method enabled by wireless sensors…"

"Goods are scanned at destination (or at any point) to record receipt. Goods are also scanned when sold."
"Tags would be scanned at the start and end of a trip; our blockchain and token method enables certain users to know if duty, VAT, etc has been paid; consumers can also know exactly where their goods are from and what they contain (e.g. which chemicals were used, expiration date, etc)," Bevan explained in an email.

She added: "Tracking devices can be used in the system, for example if a company needs to know the exact location of their lorries and/or shipments, to prevent goods tampering; government officials can check whether there has been unscheduled stops and unauthorised goods have been added (e.g. counterfeit goods or to avoid payment of duty, VAT, etc).
Blockchain and tokens feature in both scenarios above."
On its website, UtterBerry, which was founded by Bevan in 2013, describes itself as "a provider of Artificially Intelligent wireless smart sensor systems for infrastructure monitoring and the development of Smart Cities". Its core product is a small smart sensor designed for infrastructure civil engineering projects.
In its report to Fox, UtterBerry recommends equipping commercial vehicles with wireless sensors. These would relay information including, a vehicle's make, model, and colour, as well as its registration number and journey details.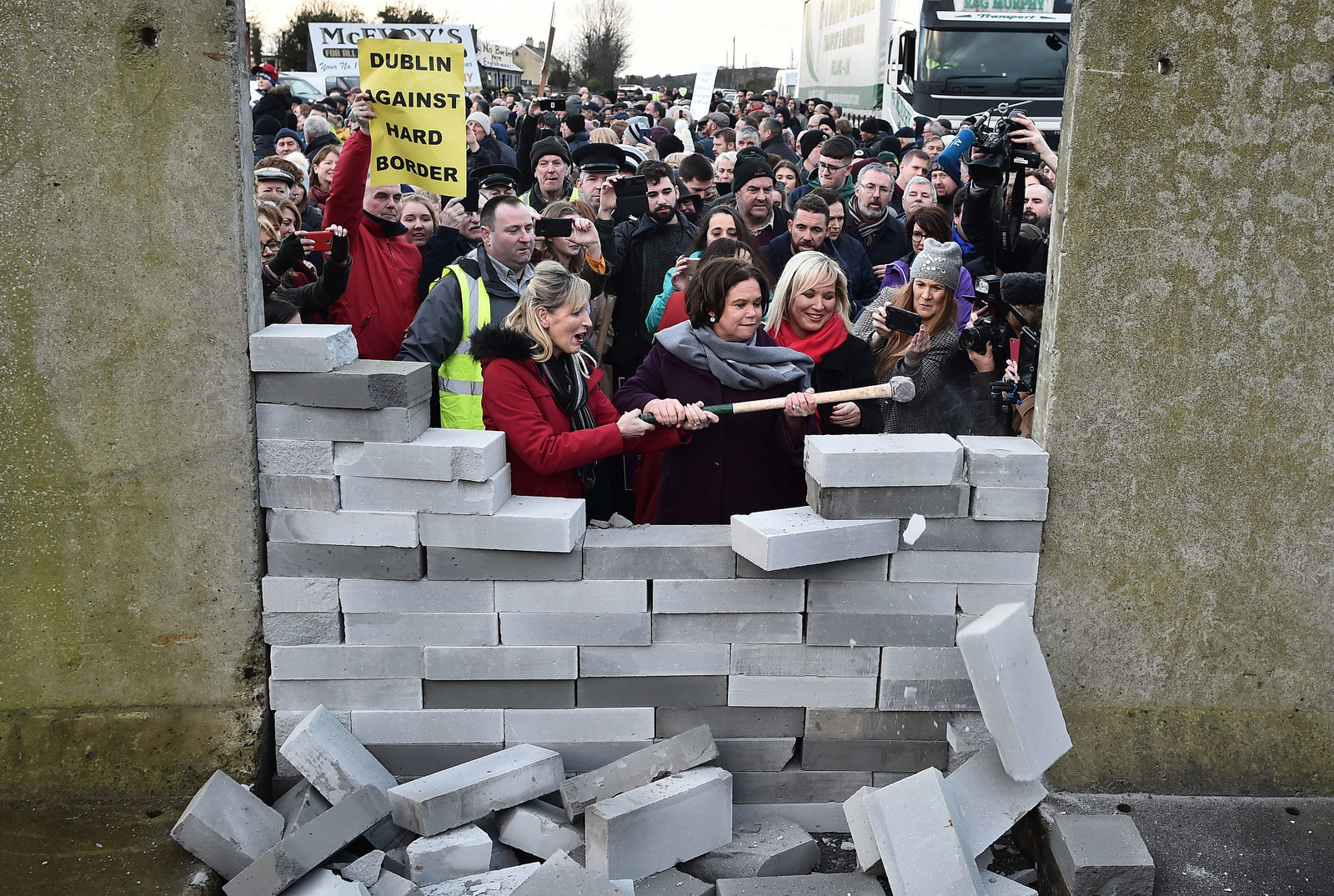 "Vehicles must be registered and authorised for transport of goods. All vehicles that travel across the border must have an authorisation to go between the two countries," the document reads. Cameras would recognise license plates and communicate with sensors in and around the border area, the proposal adds.
The report also suggests embedding scales in roads, which wouldn't require vehicles to slow down. This would ensure that the weight of a vehicle matches the weight of the load of goods it is thought to be carrying.
Sam Lowe, a senior research fellow at the Centre for European Reform, told BuzzFeed News: "As with most technical/technological solutions to the Irish border, this proposal stumbles over the same issue: how do you differentiate between those people who play by the rules, those who don't and those who simply decide not play whatsoever?
"Either you have a means of checking at the border, or you accept a certain level of smuggling and police it on the basis of random searches and intelligence gathering combined with behind the border raids."
He added: "This proposal seems to embrace the whole lot. Behind the tech buzzwords, it suggests physical infrastructure in the form of cameras, special lanes for non-freight carrying cars, and weighing scales built into the road; heavily intrusive intelligence gathering in the form of facial recognition software deployed at the border; and an increased frequency in the random stop-and-search of vehicles.
"It's difficult to see how this could be acceptable to Ireland, the EU and indeed the people who live on either side of the border. But it does show the lengths some are prepared to go to avoid taking difficult political decisions," said Lowe.
In an annex to the report, UtterBerry acknowledges that a scenario whereby someone simply packs goods and crosses the border without following the recommended procedures cannot be prevented 100%. "There must be random checks, at shops and possibly on different routes. The punishment must be stringent enough that people are deterred," the document says.
One of the most controversial ideas contained in the document is a proposal demanding that "people that plan to cross the border, or a certain distance beyond the border, need to register for an ESTA-type entry visa 12-24 hours before travel." The report goes on to say that these same people would "need to carry ID such as a passport."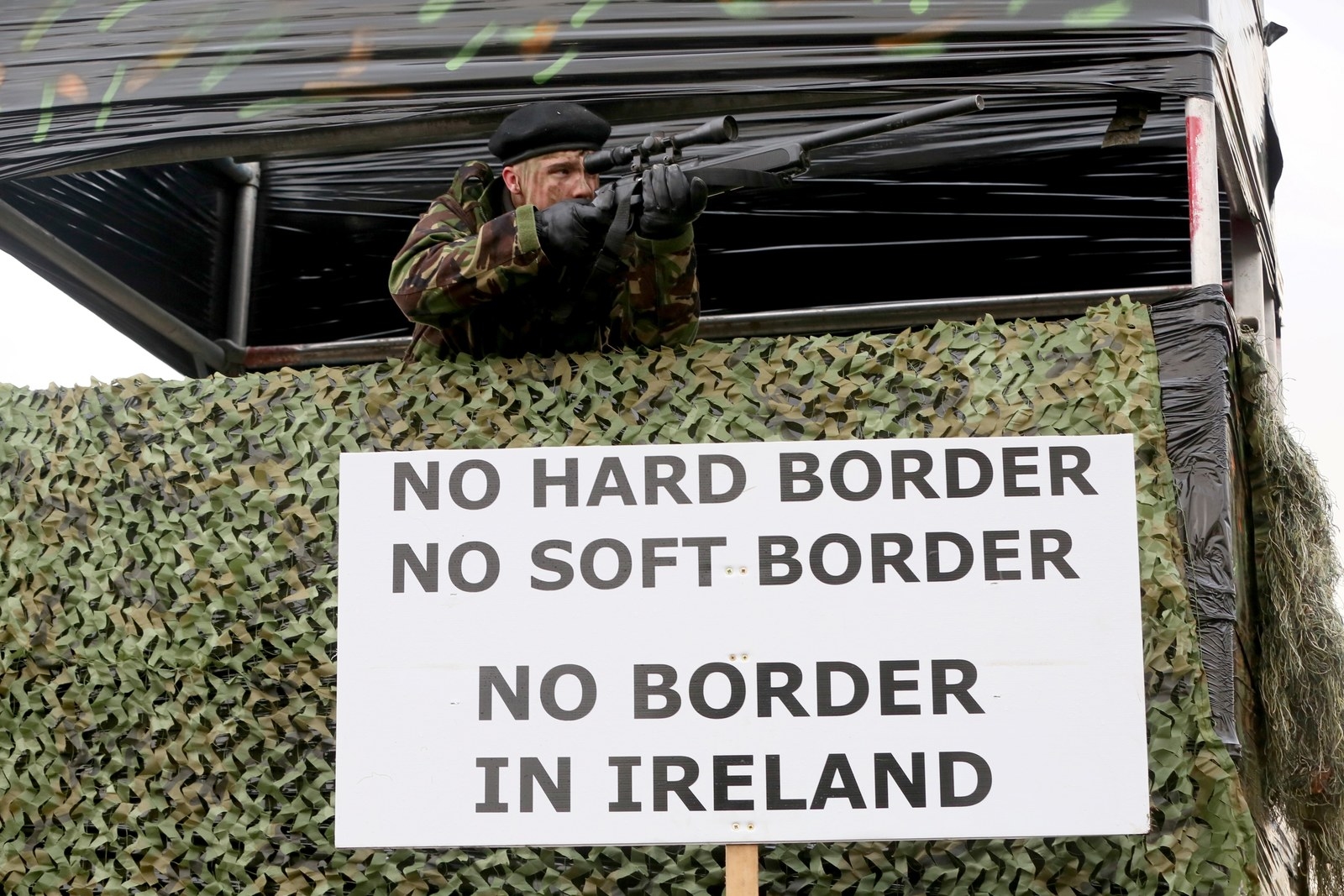 The document explains that passports contain RFID chips that can be read at a distance of 50-100 metres, and do not need to be presented at a checkpoint because they can be read from a car. RFID readers could be located in places such as bridges, tunnels and around petrol stations in order to cause fewer disruption.
Some of the ideas in the report are seemingly at odds with the UK and the EU's aim to find a solution that avoids installing hard infrastructure at the border.
The registration plates of personal vehicles would be read by cameras, and special "personal car lanes" could be set up for this purpose, the document says. People using public transport would be similarly scanned. But unlike commercial vehicles, which would require a wireless sensor with a unique ID, noncommercial vehicles wouldn't need a unique ID.
Under UtterBerry's proposals, cameras would also be used to "scan faces at the border, of both pedestrians and people in cars, and use facial recognition".
The document adds: "Unrecognised faces will still be uploaded into a database and will be recognised later whether their biometric data is recorded or not."
Asked about this specific idea, Bevan wrote: "This would not be part of the UK-Ireland border solution, as far as I am aware." The UtterBerry CEO said the same about the ESTA-type entry visa and of the system to read passports from a distance.