EU Leaders Will Have Warm Words For Theresa May This Week – But The Brexit Ball Is Still In Her Court
And Theresa May's challenges are likely to extend beyond concluding the first phase of negotiations: The UK will have to soon spell out what it wants in detail.
by
,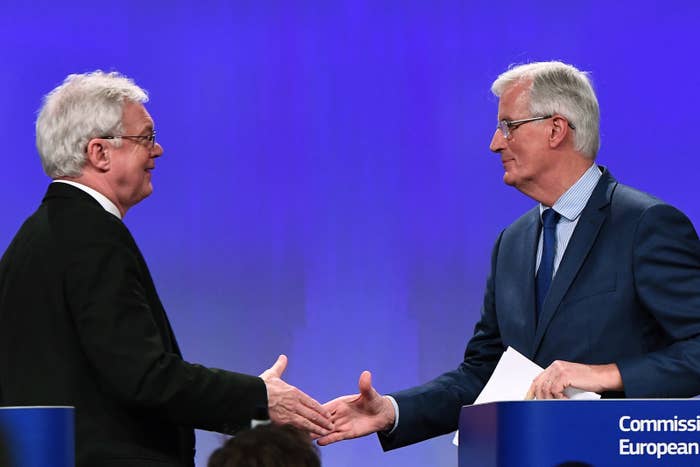 Theresa May will get little more than warm words to give the appearance of momentum on Brexit at what had been expected to be a pivotal summit of European Union leaders this week, six senior European sources have told BuzzFeed News.

With the first phase of negotiations still deadlocked, top EU and European government officials said their focus at the Brexit meeting – without May – in Brussels this Friday would now be limited to finding "the right words" to signal an openness to talk about May's transition proposals but only after more progress is made on the divorce deal.
There have been suggestions that EU governments could expand the mandate of the chief negotiator Michel Barnier to start negotiating a transition. But multiple well-placed sources told BuzzFeed News that while Barnier has raised the possibility, EU leaders told him they're not prepared to budge from their original negotiating plan. The sources said they're highly unlikely to change their minds by the end of the week.
Instead, the emphasis for the leaders of the other 27 EU states at this week's council summit will be on conveying that message in language that creates a "positive tone" for further negotiations, the sources said.
"That's the best-case scenario," said a senior diplomat from a major European country who, like his counterparts, spoke to BuzzFeed News on condition of anonymity.
The October European Council meeting had been seen as crucial to the Brexit process, with the UK hoping that it would be the moment that the talks moved on from the divorce arrangements to the terms of a "deep and special" future relationship. But it's been clear for some time that this was unlikely given the lack of progress in the negotiations.
Nevertheless, the UK government had hoped that the EU would be willing to allow its chief negotiator to explore transition arrangements in an attempt to break the deadlock on the EU's three priorities for the divorce: the UK's financial commitments after it leaves the EU, the status of EU nationals in the UK, and the Irish border.
Speaking to reporters at the of the latest round of talks on Thursday, the Brexit secretary David Davis restated that hope. "As we look to the October European Council this week, I hope the member states will recognise the progress we have made, and take a step forward in the spirit of the prime minister's Florence speech," he said.
"Doing so will allow us to best achieve our joint objectives by turning the ideas we have explored into concrete shared proposals."
But the European sources said that as things stand, the EU leaders are expected to agree a statement that is friendly, constructive, and forward-looking but makes clear that the talks can't move on until there's greater progress on the three outstanding issues.
"The key is the tone with which that message is conveyed," a senior EU official told BuzzFeed News.
"It could be helpful for the 27 to signal an openness to May's proposed transition. May is in a bind over money. The 27 could give an indication that helps her tie a move on finances to talks over what she calls 'the implementation phase'.
"However, whatever the 27 decide to say, it will be in the framework of the existing guidelines."
That was underlined forcefully on Thursday by Barnier, who told reporters there were no concessions to be made on the three withdrawal issues. He also confirmed that he would be advising EU leaders that progress hasn't yet been sufficient enough to move on to the next phase of negotiations.

On the question of Britain's financial obligations, despite a "new momentum" after May's Florence speech, the talks had reached a "disturbing" deadlock, Barnier said.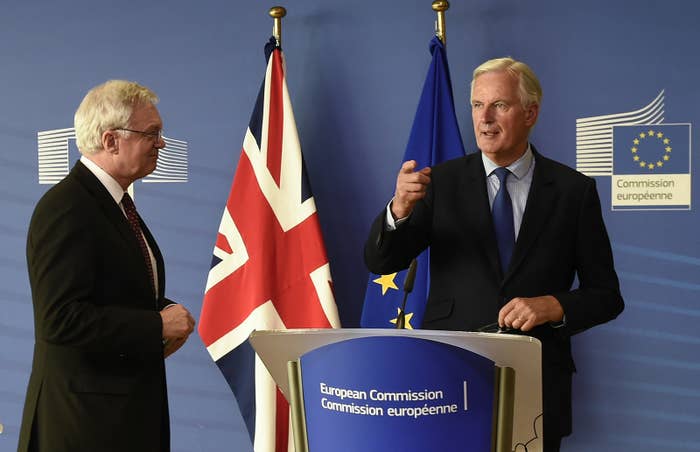 The 27 leaders are also considering how much they should begin discussions among themselves this week on transitional arrangements and the future relationship, in a so-called scoping exercise again aimed at signalling a willingness to engage on this issue after the divorce has been addressed.

But they are extremely unlikely to alter their negotiating stance to expand Barnier's mandate to include agreement on an interim period at this stage, the diplomatic sources said.
The result is that it will not be until the next council meeting in December that the EU27 will decide whether there has been "sufficient progress" to move the talks to a new phase – seen as absolutely vital if the UK is to avoid a sudden economic shock when it leaves the union in March 2019.

The December meeting is now seen as make-or-break for May, with time in the Brexit negotiations fast running out and businesses growing increasingly anxious about the lack of progress.
Big companies and banks want the two sides to agree a transitional period effectively maintaining the status quo for two or more years, to give them time to adjust to post-Brexit economic and legal systems. And according to multiple business lobbyists and analysts, they're at the point where they're ready to trigger drastic contingency plans if there's no sign of progress by the new year — including shutting down facilities and moving staff overseas.
There's growing frustration at politicians on both sides that they haven't already made more progress.
Adam Marshall, director general of the British Chambers of Commerce, said business executives are frustrated at the UK for "not having their ducks in a row" and "the Europeans for being too inflexible and for not being willing to discuss the things that really matter".
"I still don't think the politicians have grasped the true nature of the chaos that will follow from a hard Brexit without a deal," says Ian Wright, director general of the UK's Food and Drink Federation, a trade group whose members include Cadbury, Mars, and Nestlé.
Still, that both sides are trying to make encouraging noises is not totally insignificant after the heated rhetoric that surrounded the negotiations earlier in the year. Several sources said May's speech in Florence last month had helped to lower the temperature and inject some momentum into talks. But European leaders aren't willing to do more than moderate language that might make it easier for May to sell difficult concessions to Leavers in the Conservative party.
A number of technical exit matters have been gradually ticked off by negotiators during the past four months, and on all three divorce issues there have been steps forward after five rounds of talks. But progress has been slow and, crucially, hasn't gone far enough for Europe's leaders.

On guaranteeing citizens' rights, gaps still remain on family reunification rights, exporting social security rights, and how to legally guarantee people's rights after Brexit. The EU also wants to hear more about the Britain's plans for a "streamlined system" to grant EU nationals settled status in the UK after a series of Home Office blunders has seen Europeans registering for permanent residence receive deportation letters instead.
On Britain's financial commitments, the UK hasn't clarified whether it's prepared to fulfil all future payments on pledges it agreed to while a member of the EU, including those falling beyond 2020.
Northern Ireland has been structured as a rolling issue that will continue beyond the first phase of negotiations. And, while both sides have said they want to avoid a hard border in Ireland, and an agreement on principles enabling the two sides to move beyond an initial phase is within reach, longer-term workable solutions have been in short supply.
An internal report by Ireland's Revenue Commissioners concluded that an open customs border is "impossible" if the UK exits the customs union and single market.
"Of the three issues, Ireland is the most difficult. There is no solution yet," a senior diplomat from a top European country told BuzzFeed News.
"The UK has to put its cards on the table, and spell out what it wants," they added.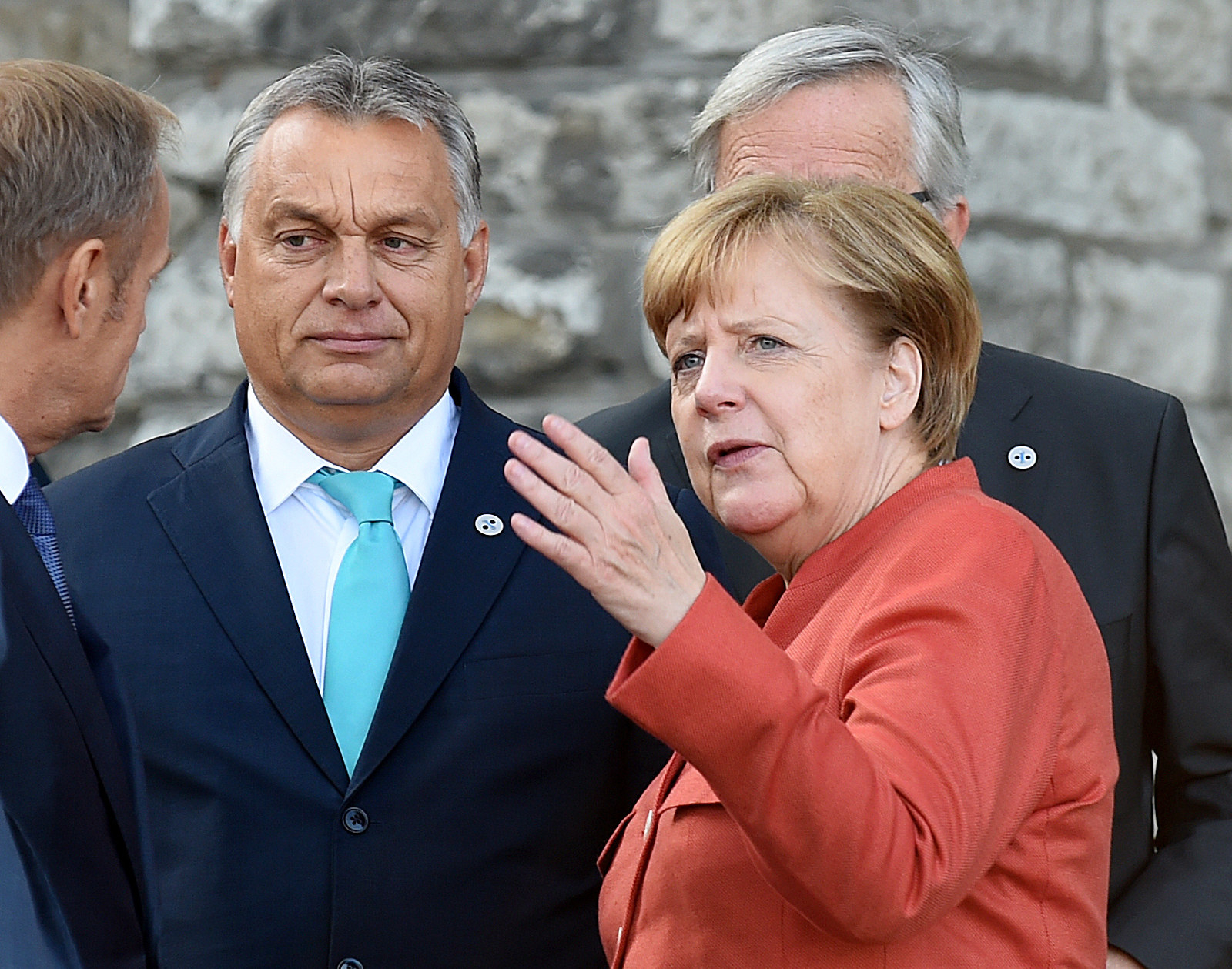 The challenge for the prime minister is that she will return to London having to convince backbenchers, hardliners in her cabinet, and public opinion that more concessions will be needed to start talking about a trade deal.

Europe's governments have taken note of the domestic difficulties May is facing, but it has had little bearing on their bottom line. Still, they have welcomed the change in tone marked by May's Florence address. The fact that the speech gave way on important issues, especially over a potential role for the European Court of Justice after Brexit, was well received.
"There have been steps forward but more work needs to be done," the diplomat said. "Although we're still far from the 'sufficient progress' needed to move on, depending on what happens over the next [seven] days before the Council, there are ways of finding the right words that work for both sides, to look to December and reflect a positive climate."
They also noted that work was continuing to move the EU's medicine and banking agencies out of the UK.
Charles Grant, director of the Centre for European Reform, said Germany was "taking a very hard line" on the UK's financial obligations.

Grant predicted that May would probably capitulate by the end of the year to get things moving. "I expect that at some point this autumn Mrs May will find a way to give the Germans what they want," he told BuzzFeed News.
However, Grant also said there was a possibility that the talks would collapse between now and December.
"It's a shame that Europe's not being more flexible," he said, adding: "I think what they don't realise is that if May falls and a Leaver becomes PM, possibly Boris Johnson, then their life will become more difficult. … I think they're missing the bigger picture. If Britain crashes out, there will be consequences. They would regret not doing more."
Officials both in the UK and elsewhere in Europe warn that May's challenges on the home front are likely to extend beyond the first phase of negotiations and agreeing a two-year transition. The prime minister has yet to present what tradeoffs the UK will have to make as a third country outside the EU, out of both the single market and existing customs arrangements.

May is in a hugely difficult position politically. On one hand, corporate and financial executives, and officials in her own Treasury, are pushing for a lengthy transition period, arguing that there simply isn't time to sort out the numerous complicated issues that need to be resolved by March 2019. Getting the EU to agree to an extension will require concessions by the UK on matters such as the exit payment and the role of the European Court of Justice. As they see it, that is simply the political reality, and it should be resolved sooner rather than later.
However, some of those concessions will go against the "red lines" set down by Eurosceptic Conservatives, including several influential players in May's own cabinet. And May is so weak she can't afford a rebellion. Failure to sell her own party on the terms of a deal could collapse the talks and her government, analysts and Whitehall insiders believe.
A string of future partnership papers have been adopted primarily as a means to secure cabinet positions on a number of issues, from security to data sharing, government insiders claim. But a unifying position on the overarching relationship the UK seeks with the EU in future has yet to emerge. BuzzFeed News understands that officials have prepared broad scenarios with varying degrees of access and control, but May's cabinet isn't in agreement on which one it wants to pursue, the sources said.
But until it's clear what status the UK wants to transition to, exactly which ties it wants to sever, and to what extent Britain wants to withdraw from the EU and all of its structures, a final deal will be difficult to reach, the European officials and diplomats warned.
One EU official said: "The UK has to say what it wants, what 'deep and special' looks like, in some detail."