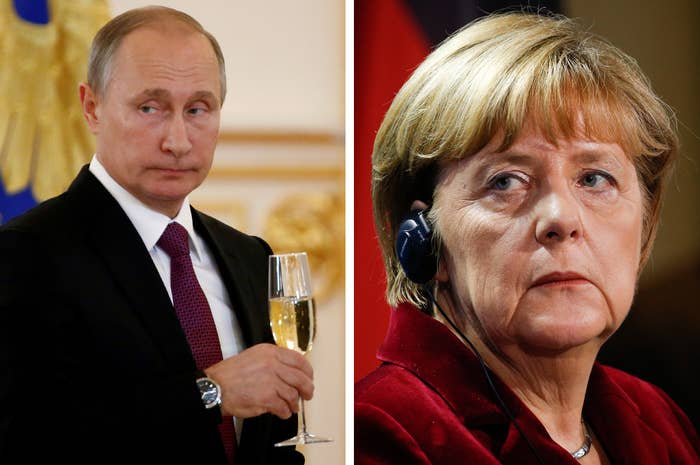 German intelligence agencies have warned that a combination of fake news and Russian interference through hacking and misinformation could disrupt next year's federal elections in a way that mirrors what happened during the US presidential contest, an official told BuzzFeed News.

The concerns add to those expressed by top US, EU, and NATO officials about Russia's actions in Germany — and across the continent — in what they say is an attempt to destabilise chancellor Angela Merkel at home and abroad.
A German intelligence official told BuzzFeed News the agency could not rule out a repeat of the type of interference that followed the hack on the Democratic National Committee's systems in the US. German officials have no idea how much and what kind of information was stolen during a hack on the German parliament's network last year.
They said the group behind the hack, Sofacy/APT 28, is "steered by Russia". The same group, which is also known as Fancy Bear, allegedly hacked the DNC in the US. Hackers, also suspected to have Russian connections, have also targeted Germany's political parties, including Merkel's Christian Democratic Union (CDU). Officials said they were concerned networks of government ministries were vulnerable to attacks.
On Tuesday, the head of the US National Security Agency described WikiLeaks's dumping of hacked Democratic party emails as "a conscious effort by a nation-state to attempt to achieve a specific effect".
The German official, who spoke on condition of anonymity, said they were "alarmed" by the volume of fake news on social media, and that it was something they were monitoring. BuzzFeed News analysis published this week revealed that fake political news outperformed real news on Facebook in the final stages of the US election campaign.
In a speech last month in Munich, Merkel said search engines and social media were distorting people's perception of reality and that this would threaten democracy. She called on sites to be more transparent about their algorithms.
On Wednesday, Hans-Georg Maassen, head of the German domestic BfV intelligence agency, said the agency was worried about the possibility of Russia using misinformation to disrupt next year's election.
"In Europe, Russia's main enemy is Merkel," an EU diplomat told BuzzFeed News. "Russia sees itself at war with the West, information is a part of its army," the official added.

Earlier this year, reports of the alleged rape of a 13-year-old Russian-speaking girl, supposedly by Middle Eastern migrants, sparked outrage in Germany and Russia. The story, which was prominently covered by Russian media, claimed a girl from a Russian immigrant family had been abducted on her way to school and gang-raped by "southern-looking" asylum-seekers.
But the allegations of rape were not true, as Berlin's police chief made clear in a statement.
Nevertheless the story was widely shared on social media, and Russian migrants in Germany took to the streets to protest alongside local far-right and anti-Islam groups who helped to organise the protest. Russia's foreign minister, Sergei Lavrov, accused the German government of "sweeping the case under the carpet".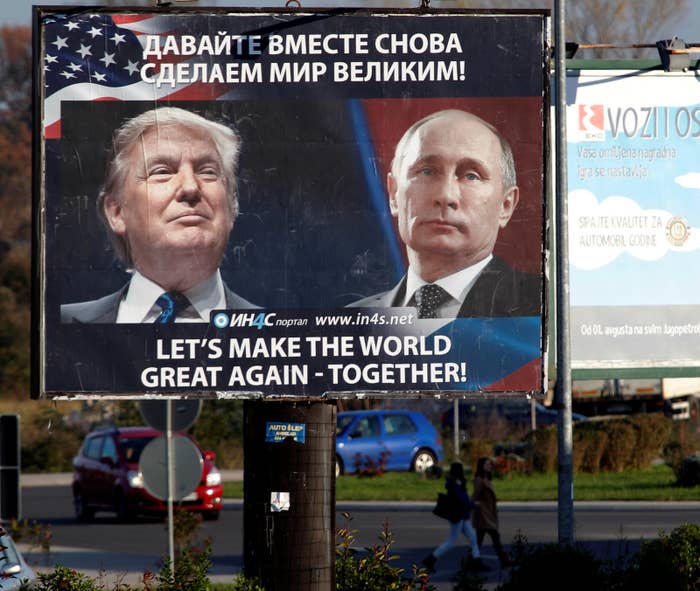 Misinformation has been integral to Russia's military doctrine. But European government and military officials told BuzzFeed News the scale of its use in peacetime is unprecedented, as is the sophistication of the methods, with both state and non-state actors exploiting technology, history, local emigre groups, religion, culture, business links, and nationalism to spread misinformation.
"The problem is not the messaging," the EU diplomat said. "It's that Russia has developed an infrastructure that can be used when they want – and we do not know when they will use it."
Russia's objectives are not ideological, but aimed at stirring divisions, weakening cohesion between states, and ultimately destabilising Europe. "When they see weaknesses in systems they are ready to exploit these," Col. Aivar Jaeski, deputy director of NATO Strategic Communications Centre of Excellence, told BuzzFeed News.
One EU diplomat told BuzzFeed News there were "dozens and dozens" of misinformation sites that mimic and amplify the Kremlin's interpretation of events. European Values, a think tank based in Prague, has identified 39 such websites that operate out of the Czech Republic alone.
"If the Czechs think that Merkel's refugee policy is bad, then that puts pressure on their government, and destabilises the EU-wide position," the diplomat said.
One difficulty that the officials who spoke to BuzzFeed News said they have is finding proof to directly link misinformation sites to Russia. However, based on particular cases where some evidence has been found, the officials suggested the patterns are similar to those present on other misinformation sites and cases of viral fake news.
The German official said they were unable to share specific examples of Kremlin involvement because such cases were confidential.
Alongside hacking and misinformation, Russia also was adept at influencing politicians who are friendly to the Kremlin's point of view. The EU diplomat noted a number of European politicians, citing examples from France, the Czech Republic, and Italy, who visit Moscow – and "when they return home their parties become more vocal on issues of interest to Russia or their policies change all together".
The German intelligence official said they were aware of contacts between the far-right Alternative for Germany party and Russia, but investigating the links was outside the mandate of the agency.