Brexit Trade Plan Involves Selling Beef To Japan, Where British Beef Is Banned
The UK government's "ambitious" food export plan also identified opportunities to sell beer, cider, wine, and vegan food to Germans.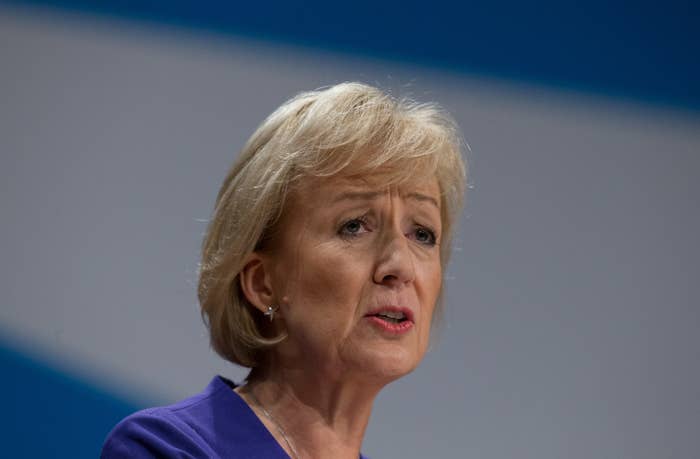 An "ambitious global trade plan" launched in Paris on Tuesday by Andrea Leadsom, the secretary of state for environment, food, and rural affairs, includes the aim of boosting post-Brexit trade by selling large amounts of British beef to Japan. There's only one problem: In Japan, importing British beef is banned.

The environment secretary hopes to use the "big opportunities" presented by global sporting events, such as the 2019 Rugby World Cup and the Tokyo Olympics, to promote a set of goods to Japan.
"With improved market access (beef and poultry) commodity trading will form a key element of our campaign," the plan states. "We will be promoting British ingredients for the foodservice market (including seafood) whilst focusing on traditional ambient grocery (tea, biscuits, preserves) for the retail market."
Japan introduced an import ban on beef from the EU in 2001 because of risks associated with BSE, aka mad cow disease. The ban has since been lifted for France, the Netherlands, Ireland, Poland, Denmark, Sweden, and Italy, as well as for the USA, Canada, Norway, Switzerland, and Liechtenstein.
A departmental spokesperson insisted negotiations to allow the sale of beef to Japan "form a key part of our plans to grow exports". While it's "not something that's going to happen tomorrow", it is planned within the "next five years", justifying Leadsom's decision to focus on selling beef to the Pacific country.
The government has also identified opportunities to export beer, wine, cider, and vegan food to Germany.

The plan also includes securing an additional £293 million of exports to Australia and New Zealand, where "there's a growing thirst for UK beer and cider", and a £215 million export boost in Mexico and Latin America thanks to a growing demand for a wide range of British products including whisky and gin.

On Tuesday The Telegraph reported that British tea, jam, and biscuits would be at the heart of the Brexit trade strategy. Overall, the plan, which has identified 18 target countries for British food and drink, hopes to boost the economy by £2.9 billion over five years.

The plan is supported by the Great British Food Unit, which was launched earlier this year.
Speaking in Paris, Leadsom said: "Our food and drink is renowned for having the very best standards of animal welfare, quality, and safety, and I want even more of the world to enjoy what we have to offer."