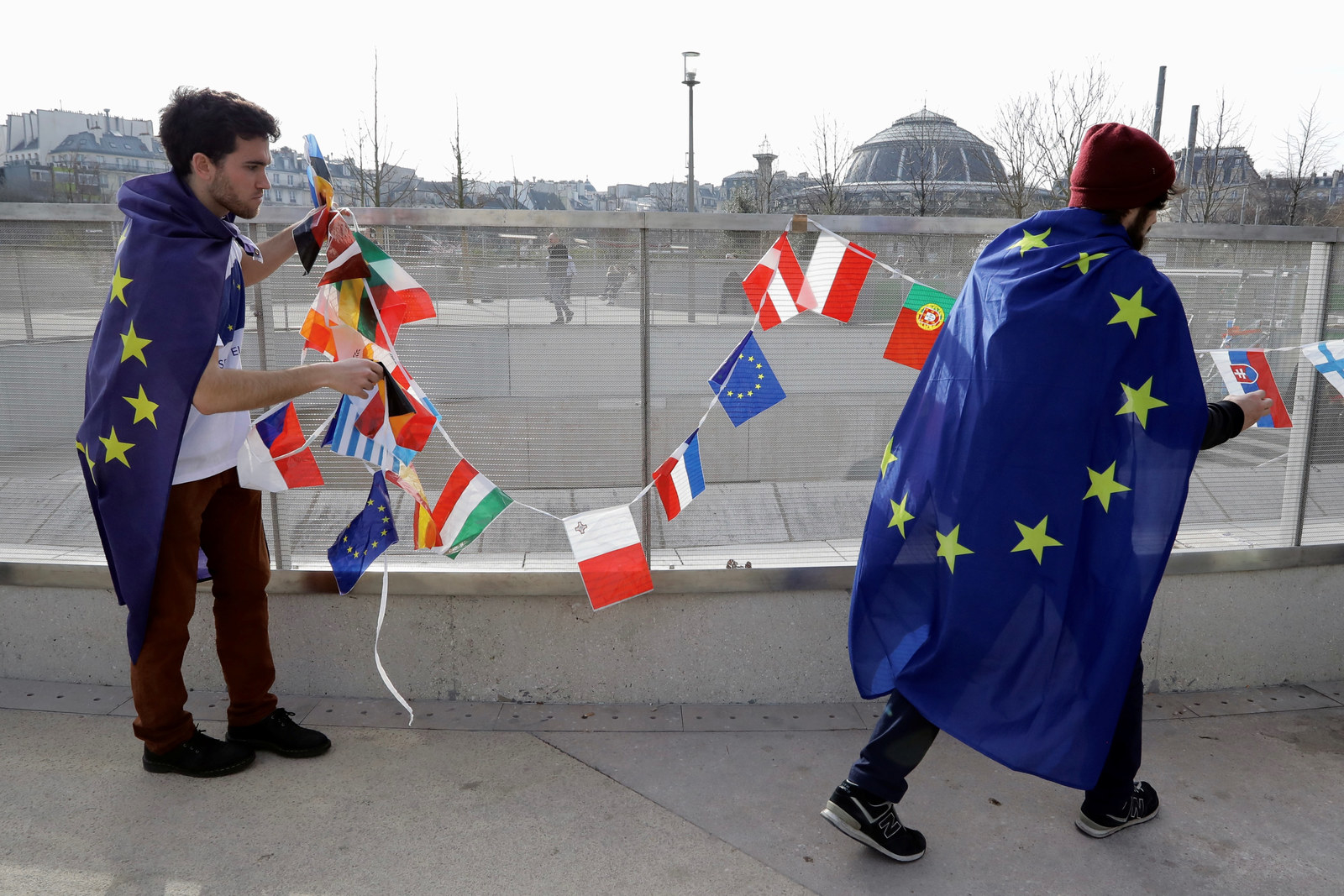 BERLIN — Daniel Röder had had enough. After the Brexit vote in the UK and the election of Donald Trump in the United States, he said he felt it was time to act. So he sent out an email last November to friends and acquaintances, inviting them to meet up in a square in central Frankfurt. With elections due in the Netherlands, France, and Germany, it was time to stand up for Europe, he wrote.

On a wet, dark afternoon, about 150 people showed up. Among them was Stephanie Hartung, who, like Röder, is a lawyer.
"People who believe in the European idea need to become visible and audible," Röder told the small crowd.
After the Frankfurt gathering, Röder, his wife Sabine, Hartung, and a handful of others, got together to come up with a plan. They drafted 10 principles, and little over a month later, in mid-January, they formed Pulse of Europe.

The format is simple: Every week, people meet for an hour in squares across the Europe to show their support for the EU. Anyone can sign up to speak and do short open mic speeches about the EU and its future. There is music, and lots of EU flags. About 400 people showed up in Frankfurt in mid-January.
Meanwhile, some of the friends of the founders set up Pulse of Europe clubs elsewhere, organising get-togethers in the German cities of Freiburg, Hamburg, and Cologne.

This citizen-led movement has grown since Röder's first email. Last month, some 5,000 people gathered in Frankfurt, Hartung said. On the last weekend of March, more than 40,000 people attended events in 70 cities. There are now Pulse of Europe clubs in 12 EU member states. Some are still new, including ones in Galway in Ireland, and Bath in the UK.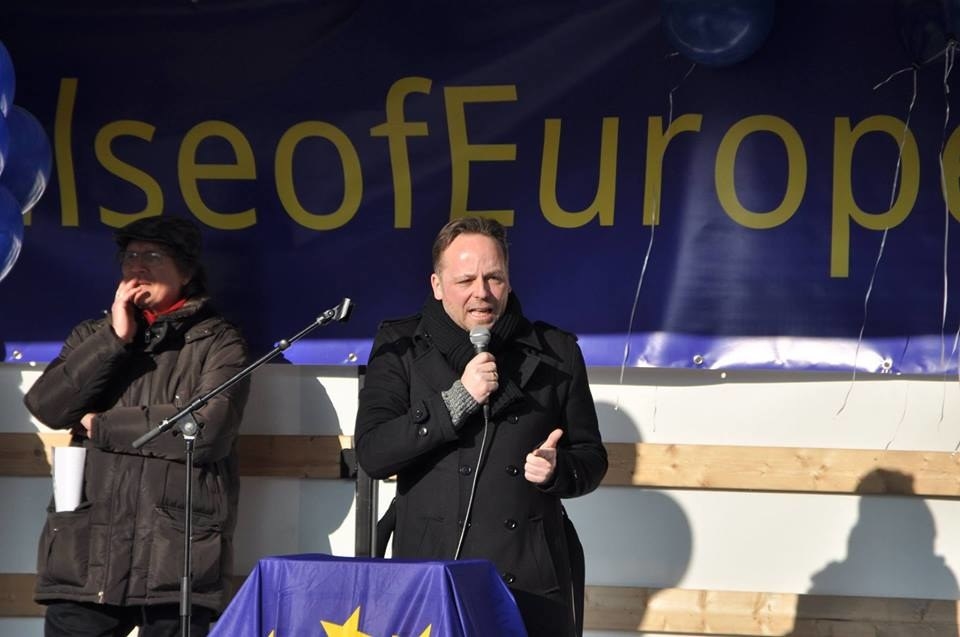 Members of the movement say its basic principle is that the fundamental freedoms — the free movement of goods, services, people, and capital — remain non-negotiable. "Special arrangements and exceptions may lead to an erosion of the whole," the group's manifesto reads.
At a rally in Berlin's Gendarmenmarkt Square on Sunday, 7,000 people filled the area. Among them was Michael, who works in the public sector and was attending his sixth Pulse of Europe rally. He told BuzzFeed News: "It is important to attach emotions to the EU, to see all these flags for a debate that has so far been so unemotional."

The UK's decision to leave the EU usually comes up in most of these gatherings. "The lesson of Brexit is that we have to get involved," Michael said. "Sure the EU needs reforms, but leaving is not the answer."
"We elect people to take the difficult and complicated decisions. We don't have referendums in Germany. If we don't like politicians' decisions, then after four years we elect someone else," he added, saying that referendums were a terrible idea.
Despite interest across the political spectrum, the Pulse of Europe founders don't have political aspirations. "We don't want to become a party. We want to get people up from off their sofa and out onto the streets," Hartung said.
Ahead of the Netherlands' elections in March, a clip about the movement posted by Dutch broadcaster NOS was viewed more than 1 million times.
Hartung said the group is now focusing on making its voices heard ahead of the presidential election in France. Meet-ups have been set up in eight French cities, including Paris, Lyon, Strasbourg, and Lille.
"It's important that pro-European voters show up and stand up for their opinion, and bring these kind of pictures into the mass media," Hartung said.

Sophie, a recent graduate who was also participating in the Berlin rally, said many of her friends, especially in southern Europe, are losing faith in their politicians. "There is mistrust everywhere," she said. "Take the Italian referendum, for example. It wasn't an anti-EU vote, but a rejection by people who felt left out. It was about trust and corruption."
Participants at the rally said they're also worried about the rise of nationalism across Europe. "Me and my friends are now following elections everywhere," Sophie said. "We didn't do that before."
"Europe is important for me, I express that by coming here," she told BuzzFeed News.
As the crowd in Berlin began to disperse, Stefan, a pensioner, told BuzzFeed News: "I have lived in Berlin for 40 years. I was born in Saarland, on the border with France. ... For me it's simple: Europe is my life."