Second Saudi Juvenile Faces Beheading As Cameron Tries To Justify "Squalid" Deal
Dawoud al-Marhoun was 17 when he was arrested in 2012, according to the campaign group Reprieve.
A day after David Cameron had to defend a "squalid" deal between Britain and Saudi Arabia, it has been revealed that a second juvenile is facing execution in Saudi Arabia for protesting against the regime.
According to the campaign group Reprieve, "Dawoud al-Marhoon was 17 when he was arrested without a warrant by Saudi security forces in May 2012, at the height of protests in the country's Eastern Province."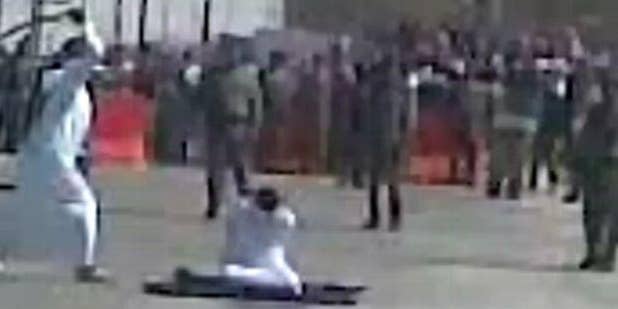 The campaign group claims that al-Marhoon signed a "confession", which was used to convict him, after he was tortured. In a press release the group said: "He has been held in solitary confinement, and has been barred from speaking to his lawyer.
"Dawoud was sentenced after a number of secret hearings took place without the presence of his lawyer, who was also blocked from receiving information about appeal hearings," Reprieve claims.
The European Saudi Organisation for Human Rights has outlined the torture it believes he received – it includes beating, tortures, verbal abuse, electrocution, and being hung upside down.
The organisation says that due to this he suffers: "ear pain that feels like air entering and exiting his ear while talking; rib cage pain caused by the injury of his right side three ribs; teeth pain accompanied with bleeding when eating/drinking warm or cold, blood in urine and poor psychological condition [sic]."
Reprieve says that he has been sentenced to death by beheading by the Specialized Criminal Court, which recently upheld a sentence of crucifixion for Ali al-Nimr.
Ali al-Nimr is a young activist who also allegedly "confessed" under torture to offences that took place when he was 17.
According to Amnesty International:
Ali al-Nimr was sentenced to death on 27 May 2014 by the SCC in Jeddah, for offences that included taking part in demonstrations against the government, attacking the security forces, possessing a machine-gun and armed robbery. The court seems to have based its decision on "confessions" which Ali al-Nimr has said were extracted under torture and other ill-treatment and has refused to look into this allegation.
In last night's widely shared and testy Channel 4 News interview, Jon Snow asked Cameron about the recent revelation that Britain did a secret deal with the Saudis to allow both nations' election to the UN Human Rights Council in 2013.
Cameron was repeatedly asked about the deal, which Snow described as "squalid", before finally saying: "The reason we have the relationship is our own national security. There was one occasion since I've been prime minister where a bomb that would have potentially blown up over Britain was stopped because of intelligence we got from Saudi Arabia."
Separately, Cameron has been criticised over a £5.9 million contract to advise the Saudi Arabian prison system on training needs that is to be delivered by the Ministry of Justice.
BuzzFeed News understands that the justice secretary, Michael Gove, would like to scrap this deal, but is unable due to pressure from other government departments.
Maya Foa, director of the death penalty team at Reprieve, said: "It is grossly hypocritical for David Cameron to say he opposes these sentences, while his government is bidding to support the very prisons service who will be responsible for carrying them out. The British government must urgently change its priorities – ministers must cancel the bid, and call unequivocally on Saudi Arabia to halt the executions."
In a separate statement to BuzzFeed News she said: "Dawoud al Marhoon was just 17 when he was sentenced to death by beheading for attending a pro-democracy rally. He was tortured into signing a 'confession' that was later relied on to convict him. It is extremely alarming to see how deeply involved our government is in propping up the regime responsible for these abuses, and how they abandon concerns for human rights in favour of cosying up to the Saudis.
"The Prime Minister has said he will personally raise the case of Ali Mohammed al-Nimr, which is encouraging – he must raise both Ali and Dawoud's cases before it is too late."