You may have seen people sharing this on Facebook recently. It first went viral a couple of years ago, but it seems to be making a comeback.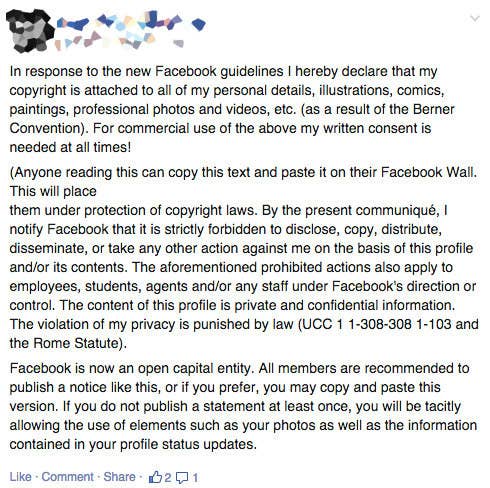 Here's why you shouldn't share it:
1. As stated in Facebook's terms and conditions: "You own all of the content and information you post on Facebook, and you can control how it is shared through your privacy and application settings."
2. ABC News has interviewed Brad Shear, a Washington-area attorney and blogger. The organisation reported:
He said that when you agree to Facebook's terms of use you provide Facebook a "non-exclusive, transferable, royalty-free, worldwide license to use any content you post. You do not need to make any declarations about copyright issues since the law already protects you. The privacy declaration [in the message being shared] is worthless and does not mean anything."
3. It's the Berne Convention, not the Berner Convention, and as Snopes points out, it won't let you alter your acceptance of Facebook's terms and conditions and privacy policy. The same goes for the Uniform Commercial Code (UCC).
4. The fact that Facebook is an "open capital entity" doesn't alter this either.
5. The main part of Facebook's terms and conditions this hoax appears to be addressing is this:
For content that is covered by intellectual property rights, like photos and videos (IP content), you specifically give us the following permission, subject to your privacy and application settings: you grant us a non-exclusive, transferable, sub-licensable, royalty-free, worldwide license to use any IP content that you post on or in connection with Facebook (IP License). This IP License ends when you delete your IP content or your account unless your content has been shared with others, and they have not deleted it.
There's very little you can do about Facebook using this content if you've made it public: Snopes suggests not having an account in the first place, "bilaterally" negotiating a modified policy, lobbying for the social network to amend its policies, or cancelling your account, though as stated above, this won't help the fact that others may have shared it.
In summary: