Good morning. Must be a Wednesday, because guess what?
It's British-politics-has-a-total-meltdown time.
Why had the broadcasters scrambled to Downing Street, where prime minister Theresa May was due to give a speech, with such haste that they ended up broadcasting compelling footage of one of her confused advisers?
How had we got to the point where the prime minister was quite literally spitting deep bars in a bid to survive?
Well, it's actually quite simple*.
*Deep breath*
This morning it was announced that 48 or more letters calling for a vote of no confidence have been submitted to the 1922 Committee of backbench Tory MPs, which means a confidence vote on May's leadership will be held tonight, and this in turn will give rise to at least one of the outcomes outlined here below by our political reporters Alex Spence and Alex Wickham, on the BuzzFeed News whiteboard of doom.
(*sorry, it is not)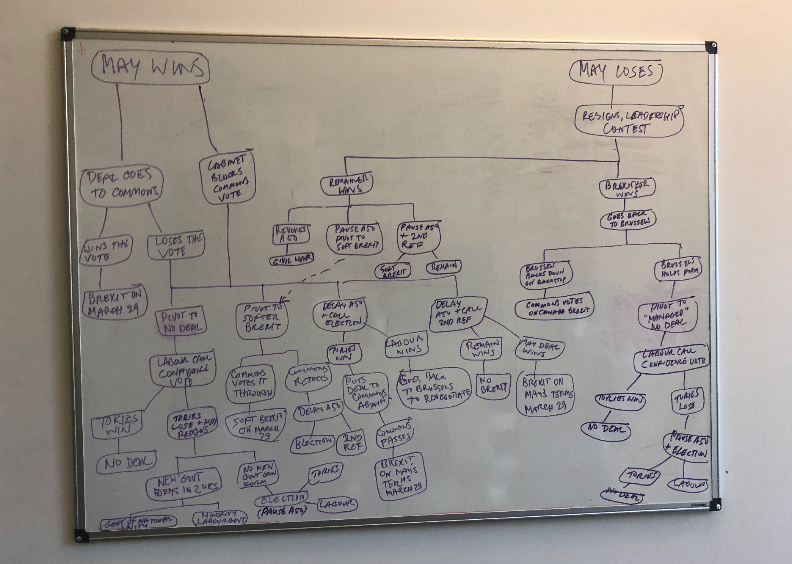 You could try to decipher that, but the TL;DR is the Tories are royally screwed.
And the reason they're screwed is the lack of unity. Here's one Tory MP refusing to appear on TV next to another, for example, in footage best not viewed by anyone who suffers from social anxiety.
Awkward timing for all this TBH.
And here's the other bit of good news: So divided are they, there's apparently not a single candidate who could take over from May whom the rest of the party's MPs would support en masse.
In fact it's entirely likely a new leader would only widen the divisions and make a general election even more likely.
Pro tip: When the MPs who support you are dropping c-bombs in relation to their colleagues, it's fair to say your party's not in a great place.
And others — ironically, some Leave-supporting Brexiteers — think a narrow win shouldn't count.
So for Labour supporters the whole thing's hilarious, not that their party is much less divided.
By lunchtime, the shitshow had reached "Oh god even the Americans are watching" proportions.
Whereupon David Cameron gave the nation a chance to come together.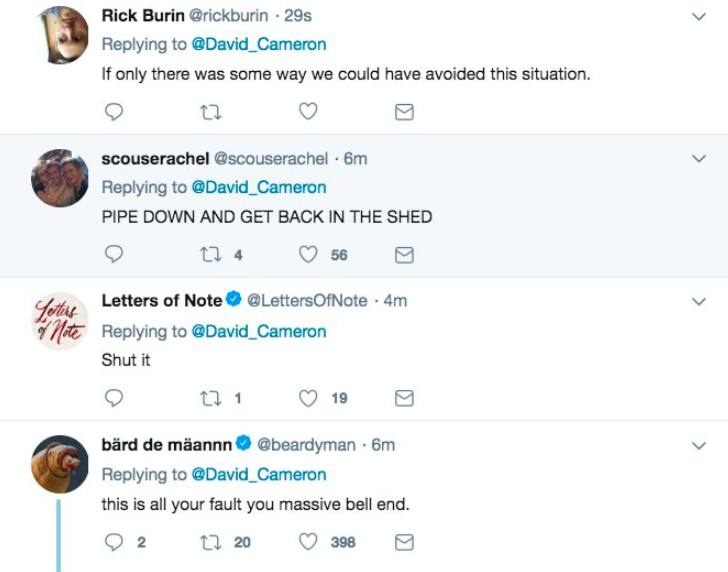 It all led people to hark back to a simpler time.
Still, at least things are quieter on the continent.
Even the good news now looks like bad news.
All of which meant that at one point the environment secretary was being chased around Westminster by a man dressed as Santa, and people barely noticed.
As the Tories started to vote, the questions mounted.
Would she be safe for another year?
Finally it was all over, everyone claimed to have won, and the BBC got too excited.
In summary: