Britain Deported Dozens Of Syrian Asylum-Seekers Last Year
Home Office figures show a marked increase in the number of people from the war-torn country being refused permission to stay in the UK.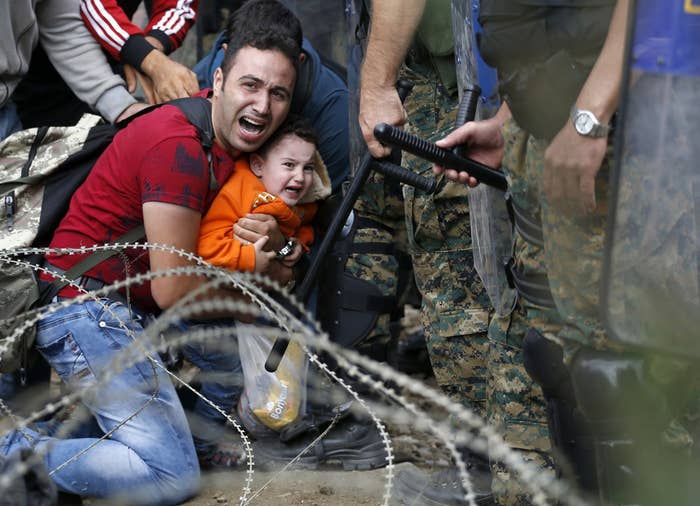 Home Office figures show that Britain enforced the deportation of 44 Syrians last year, while a further 253 were refused entry at port.
Both figures are in line with a gradual increase in deportations and refusals over the previous three years. In 2011, the year after the Arab Spring commenced, 17 people of Syrian origin were deported from Britain, while just 34 were refused entry at port. The next year, 28 were deported and 50 were refused entry, while in 2013 53 were deported and 122 refused entry.
In March this year, the Home Office released a statement of changes in immigration rules which was designed to deter Syrians who were passing through the UK from attempting to claim asylum here.
It described its purpose as "removing the transit without visa exemption in respect of Syrian citizens and nationals possessing a B1 or B2 category visa for entry to the United States of America." The Home Office document said the measure was necessary, "in order to prevent the potential for a significant influx of citizens and nationals of Syria travelling to the UK to claim asylum."
Syria is the third-most-common country from which people apply to the UK for asylum. In the year ending June 2015, 2,204 people applied from Syria and 87% were successful.
Recently, Labour leadership candidate Yvette Cooper said government ministers were "cowards" for failing to open up Britain to thousands more refugees.
"We seem paralysed to respond," she said in a speech at the Centre for European Reform in London. "Stuck in the troubled politics of immigration when this is about asylum instead. Stuck treating immigration and asylum as the same thing when they are completely different and we should keep them so."
David Cameron has today told reporters that ministers "do care" about the crisis, but has refused to confirm whether or not Britain will accept more refugees.
The data shows that deported individuals have not been sent back to Syria. For the most part, they were sent back to EU member states they previously passed through on the way to Britain under the so-called Dublin Regulation.
Earlier this year, lawyers told The Guardian that the government was "quietly removing" Syrian refugees. One of those quoted, Greg Ó Ceallaigh, a barrister at Garden Court chambers, told the paper: "The worst case was an extremely vulnerable woman with a newborn child and serious mental health issues whom [they] tried repeatedly to send to Bulgaria at a time when it was well-known that the situation was very poor."
Ó Ceallaigh confirmed to BuzzFeed News that the woman was eventually allowed to stay in the country after she "got really sick", but said the Home Office "fought tooth and nail" to remove her.
The Home Office did not immediately return a request for comment.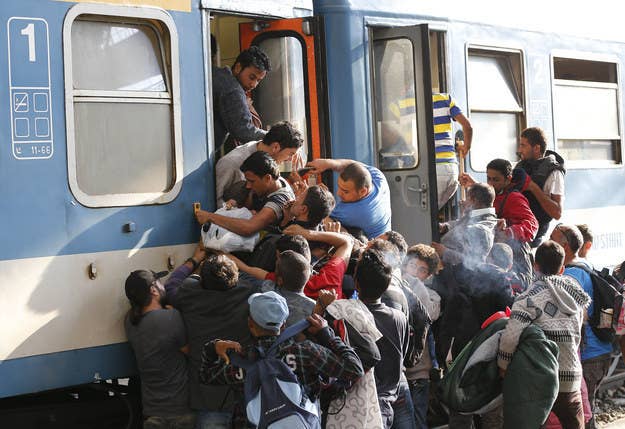 In Hungary, there have been chaotic scenes today after the international train station opened its doors to hundreds of refugees who have been camped outside for two days. Many had hoped to move to Germany and other western European countries and fear being moved to a camp within Hungary.
In Scotland, first minister Nicola Sturgeon has called on Cameron to do more to help with the situation. She was, she said, "reduced to tears" by the photo of Aylan Kurdi, a young boy who drowned on the shore of a Turkish beach on Wednesday.
Update
A Home Office spokesman said: "The UK has been at the forefront of the international response to the humanitarian crisis in Syria - we are the second biggest donor of humanitarian aid, having already pledged £900m.
"In addition to this financial support, we have granted protection to almost 5,000 Syrians through normal asylum procedures since the crisis began.
"We also continue to work closely with the UN High Commissioner for Refugees (UNHCR) to identify those most at risk, including people requiring urgent medical treatment and survivors of torture and violence, and bring them to the UK under the Vulnerable Persons Relocation Scheme."