This morning human rights campaigner Bianca Jagger repeatedly tweeted a link to a list of MPs who voted for the Iraq war.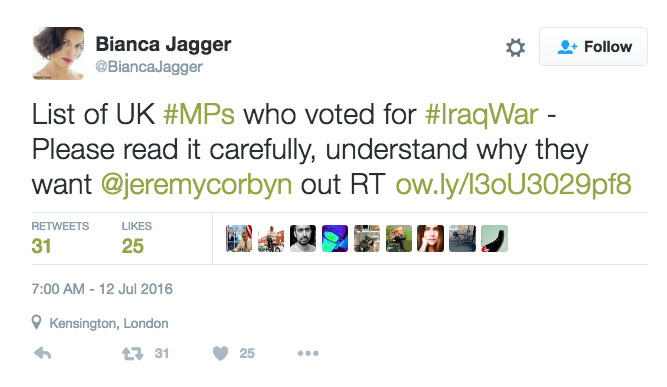 However, the link was to a list of MPs on Metapedia, a far-right website that contains white supremacist and neo-Nazi points of view.

While the error is certainly ironic given Jagger's plea to "read it carefully", her mistake was probably made due to the style of the website, which attempts to ape Wikipedia. It does not openly state its views – however, the note section includes a number of problematic descriptions.
Labour MPs Clive Betts, David Borrow, and Chris Bryant, for example, are described as "openly homosexual". Ivor Caplin MP is described as a "Jew" and Labour peer Paul Boateng as a "Negro".
As of 2015, Metapedia is available in 18 languages. It propagates the views of the Swedish right-wing extremists who set it up through systemic bias and insinuation – its entry on Hitler, for example, contains a section entitled "Less politically correct views of Hitler", with one of its first links a reference to the Holocaust-denying historian David Irving.
In 2009 it was investigated by the Swedish chancellor of justice following allegations of criminal racial agitation in the aforementioned article about Hitler. However, there was no prosecution: The chancellor stated it did not "contain any dissociation from Adolf Hitler's anti-Semitic views, but neither does it contain any sympathy for those views, even if it would appear that the author of the article has a positive attitude towards Hitler".
Jagger's tweet prompted a furious reaction from high-profile media figures.
Jagger has now apologised.