After freelance writer David Perry posted this letter to his blog from 11-year-old Rowan and shared it on Twitter, it swiftly went viral.
Transcript:
Dear DC comics,

My name is Rowan and I am 11 years old. I love superheroes and have been reading comics and watching superhero cartoons and movies since I was very young. I'm a girl, and I'm upset because there aren't very many girl superheroes or movies and comics from DC.

For my birthday, I got some of your Justice League Chibis™. I noticed in the little pamphlet that there are only 2 girl chibis, and 10 boys. Also, the background for the girl figures was all pink and purple.

I remember watching Justice League cartoons when I was really young with my dad. There are Superman and Batman movies, but not a Wonder Woman one. You have a Flash TV show, but not a Wonder Woman one. Marvel Comics made a movie about a talking tree and raccoon awesome, but you haven't made a movie with Wonder Woman.

I would really like a Hawkgirl or Catwoman or the girls of the Young Justice TV show action figures please. I love your comics, but I would love them a whole lot more if there were more girls.

I asked a lot of the people I know whether they watched movies or read books or comics where girls were the main characters, they all said yes.

Please do something about this. Girls read comics too and they care.

Sincerely, Rowan
A couple of days after Perry shared the letter on Twitter, DC Comics replied:
Over at the Daily Dot, Lisa Granshaw has interviewed Rowan's parents, Renée and Jim.
They said Rowan had been annoyed years earlier at the fact she hadn't been able to find any female superhero costumes to go with her Superman and Batman ones. Renée told the Daily Dot:
When she wanted to know why it was so hard to find the toys that she was so excited about, we tried to explain that most companies don't think girls are interested in superheroes, so they don't think they'll make money on products that feature female characters. She thought that was stupid, and she got pretty angry about it, even at age 5 or 6.
Shortly after the controversy, the #WhyWonderWoman hashtag began.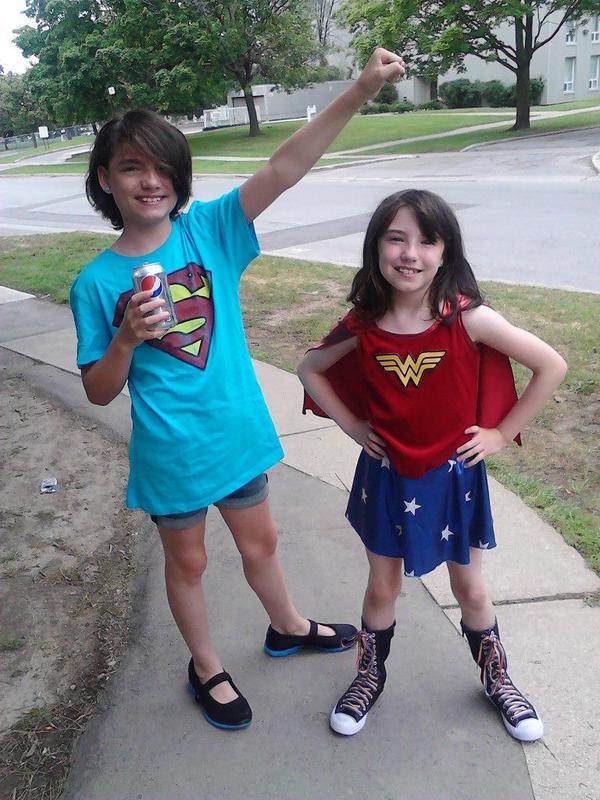 On his blog, Perry, the person who first shared the image of the letter, stressed the importance of the main point Rowan was making:
Plenty of people (though a small fraction of the hundreds of interactions I've now had about this tweet) criticized the letter by pointing out how many female characters there were in the DC Universe. This doesn't in fact contradict Rowan's letter, but is Rowan's point. She loves Hawkgirl. Where's the Hawkgirl merchandise?
However, at the same time, the objectification of women in comic books has a long and complex history. That's why Perry made some suggestions for DC to combat it, including hiring women to "write, do art and direct".
He argued that it's fine for DC to bring in new shows and merchandise, but "if you don't de-stablize the corporate culture that led you astray in the first place, that consistently de-emphasized female characters, or sexualized them, or put them only in pink and purple settings ... the new products and shows will likewise fall prey to that culture".