The most-read story on the Daily Express site at the time of writing is this story about how a waterpark has "banned bikinis".
The newspaper's website claims that "WaterWorld in Stoke-on-Trent plans to black out windows and provide a prayer room during a women-only night aimed at Muslims".
It goes on to describe how "Only female lifeguards will patrol the park during the event, which has triggered a flood of complaints."
The piece even goes on to quote a Conservative MP, Philip Hollobone, who says: "I imagine there would be a lot of outrage if the boot was on the other foot and swimmers were told they had to dress appropriately in respect of Christians. I don't see how this is different."
Here are some reactions to the story.
However, the advertisement for the event, on the park's Facebook page, suggests the story is not quite as it appears.
Firstly, as the headline fails to make clear, this event is taking place outside of normal opening hours.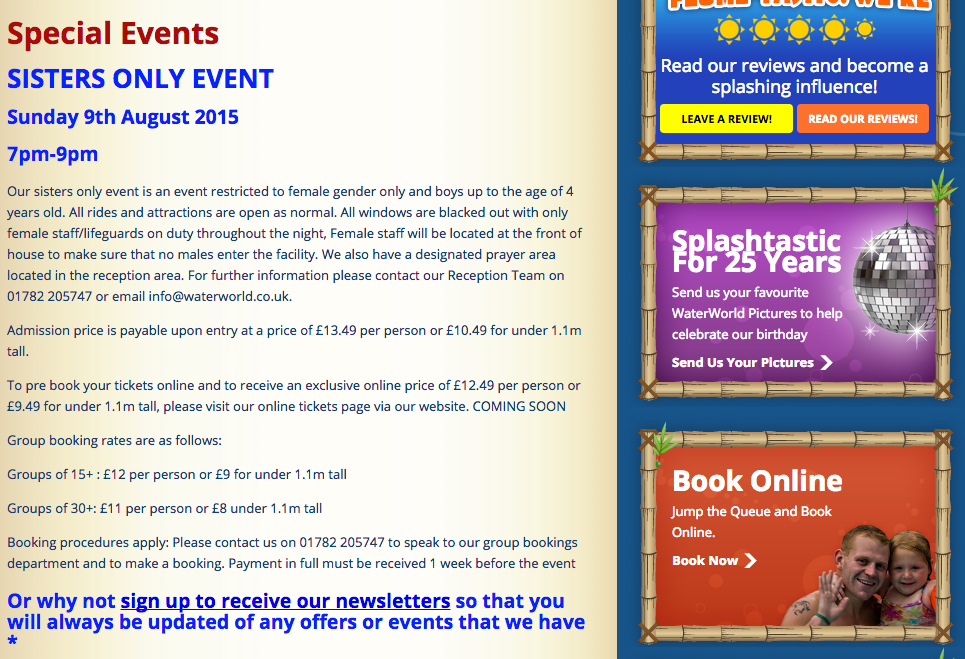 Secondly, the Express has posted an image of an advert that says women should wear "Islamically appropriate" clothing, but nowhere has a burka been specified. This requirement is also at odds with the advert on the main WaterWorld website (above).
The park's Facebook post says that "we invite you to visit our facility and enjoy its features whilst having the option of wearing attire that our normal operating procedures prevent".
In a statement to the Huffington Post, WaterWorld said: "We pride ourselves in having the adaptability and diversity to cater to demands of our guests. This is a female-only event and is not specific to any ethnic or religious group."
Various social media users have realised this is the case.