100 Thoughts We've All Had While Shopping At Sephora
Do I need this $40 eyeshadow palette, or do I NEED it?
1. Oops, I'm all out of this one specific product I use every day! Better pop into Sephora real quick.
2. Good lord, it's bright in here.
3. And it smells...good? Weird? A lot.
4. No, ma'am, I don't need any help today.
5. Your bright green eyeshadow sure is daring, though.
6. Actually wait I have no idea where I'm going.
7. I could have sworn that the brand I want was right over there by the entrance.
8. Maybe they've rearranged the store?
9. Or maybe I'm going crazy.
10. Maybe I've never even been here in my life.
11. Maybe all of time and space is a lie.
12. Oh word, there it is.
13. Alllllll the way at the back of the store.
14. I may as well stop and look at some other stuff while I'm on my way.
15. Ooh, this lipstick is so cute!
16. Like I'm not REALLY a lipstick person but maybe this will convert me.
17. I wish there wasn't this curly weird hair stuck to the tester.
18. I guess that's why Mother Nature invented rubbing alcohol.
19. Am I even applying this right?
20. Should I stick to the natural lines of my lips?
21. Ehh that looks a little thin.
22. I'll just try going a litttttttle wider.
23. Fuck.
24. Clown City, U.S.A., population: me.
25. Thank god there's makeup remover.
26. That...kind of worked?
27. I can rock this crusty pinkish tinge.
28. Maybe everyone will just think it's lip stain.
29. No, ma'am, seriously, I actually don't need your help, the last time I was here one of your cohorts applied eyeshadow up past my forehead.
30. Onto the next row!
31. Sparkly eyeliner! Sparkly blush!
32. Sparkly hairspray?
33. Who could possibly ever need that many sparkles in their life.
34. JK IT'S ME BUYING ALL OF THIS.
35. Ugh, but now my hands are full and I didn't grab a basket because I thought I was only going to buy one thing.
36. I'll just casually walk back up to the front of the store.
37. SHIT dropped the hairspray.
38. Why are you jerks staring at me like that?
39. Like YOU'VE never dropped anything before, Perfect-Hair Susie.
40. Like YOU'RE so perfect, Winged-Eyeliner Sally.
41. OK reached the baskets, at long last.
42. WAIT NO WHY IS THE ALARM SOUNDING I'M LITERALLY 5 FEET AWAY.
43. I'VE NEVER STOLEN ANYTHING IN MY LIFE, NOT EVEN THOSE JUNIOR MINTS FROM 7-ELEVEN EVEN THOUGH THE EIGHTH-GRADE BULLY TOLD ME I WAS A NERD IF I DIDN'T DO IT.
44. Phew, that's over.
45. Dumping this crap in the basket.
46. Back to my browsing mission.
47. On a scale from 1 to 10, how on point is my eyebrow game?
48. What I'm asking is should I spend half a day's pay on something called "eyebrow gel."
49. If I don't, chances are my unruly brows will cause me to miss out on professional, social, and romantic success of all varieties.
50. Better be on the safe side, into the basket with you.
51. Ooh, perfume! Glittering like an effervescent wall of promise!
52. MA'AM, DO NOT SPRITZ ME, SERIOUSLY DO NOT.
53. That one has such a charming bottle!
54. Just gonna try a tiny spray.
55. Oh cool, now I smell like floral baby garbage.
56. Maybe this other one will mask the stench?
57. Nope, patchouli barf.
58. I'll be fine as long as nobody comes within 10 yards of me for the rest of the day.
59. Wait, did that girl just apply a tester mascara directly to her eyelashes? Welcome to Stye Town.
60. I should just cut my losses and head for the checkout.
61. But NOT BEFORE I THROW THIS ADORABLY TEENY HAND LOTION IN MY BASKET.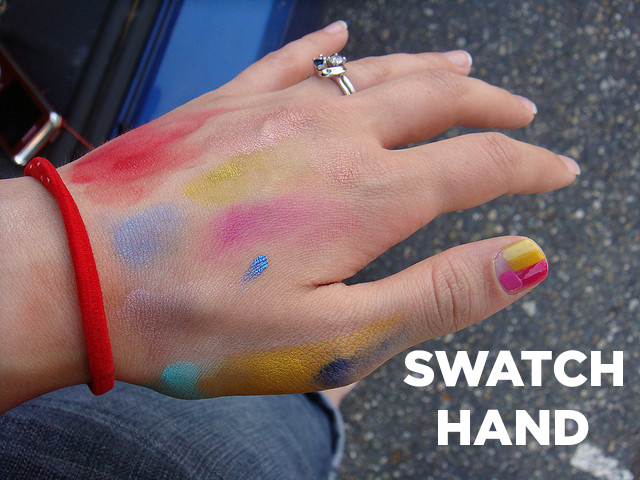 62. Man, this line is long.
63. There seem to be five checkout people and only one is actually interacting with customers.
64. Oh well, I can entertain myself. There are so many sample-sized products to play with right here!
65. And they're only like 10 bucks each! That's practically free!
66. I'll take four.
67. Come on, lady, it's your turn to go.
68. Like you're at the front of the line.
69. And there's an open register.
70. The cashier is literally beckoning to you.
71. Just WALK.
72. OK, if you won't, I wi—
73. OMG SORRY I DID NOT MEAN TO OFFEND YOU WITH MY PHYSICAL SELF YOU JUST SEEMED LIKE MAYBE YOU WERE DEAD.
74. Breathe.
75. OK, finally my turn.
76. Dammit, forgot my VIB card.
77. Maybe try this email address?
78. No? How about my mom's home phone number?
79. I have HOW MANY Beauty Insider points?!?
80. I mean on the one hand, cool, more free samples for me.
81. On the other hand, how "free" are these samples if I had to spend THOUSANDS OF DOLLARS to get them?
82. Whatever, totally taking the 500-point set.
83. All those little shampoos and face washes and mascaras will come in handy during my glamorous world travels.
84. (Or I'll use each of them once and then forget them at the gym.)
85. (Or they'll get impossibly crusty within minutes.)
86. OK, moment of truth: How much do I owe?
87. Hahahahahhahahahahahah.
88. Oh.
89. Um.
90. OK.
91. I don't really...I mean….math?
92. Ah. Right. That one thing was secretly $65.
93. Oh yeah and that other thing was even more, not even saying how much even to myself in my own brain.
94. It's too late to put something back now.
95. And, like, I NEED this stuff.
96. I need to become the person I deserve to be!
97. And look how pretty it all looks in that lovely red tissue paper.
98. I'll figure out how to pay rent some other way.
99. But wait a sec.
100. I totally forgot what I came here to buy.
Want great beauty tips in your inbox every week? Sign up for the BuzzFeed Health & Beauty newsletter!