Everyone Is So Drift Compatible With John Boyega Joining The "Pacific Rim" Sequel
SWEET SKY PRINCE.
It was announced today that John Boyega would be starring in the sequel to Pacific Rim, thus making him a key lead in TWO major franchises.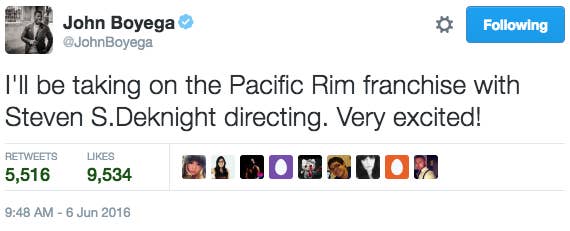 He's reportedly playing the son of Idris Elba's Stacker Pentecost.
HOT SCIENCE FICTION DAD, MEET HOT SCIENCE FICTION SON.
People were pretty immediately HELLA PSYCHED about it.
Like for real, it got emotional.
The crossover headcanons started right away.
As did the unforgivable puns.
And the unsightly evocation of memes, a necessary and beautiful evil in our time.
This suggestion cropped up, and honestly Hollywood should get on it.
Lin-Manuel Miranda was a fan.
And this news is already bringing new people to the franchise.
We stopped to give thanks for our many gifts.
He was crowned with his next true title.
Pride overflowed everywhere, pretty much.
WE'RE ALL JUST VERY PROUD OF HIM.
GET THAT PAPER, JOHN. JUST TAKE OUR MONEY ALREADY, PACIFIC RIM 2!!!