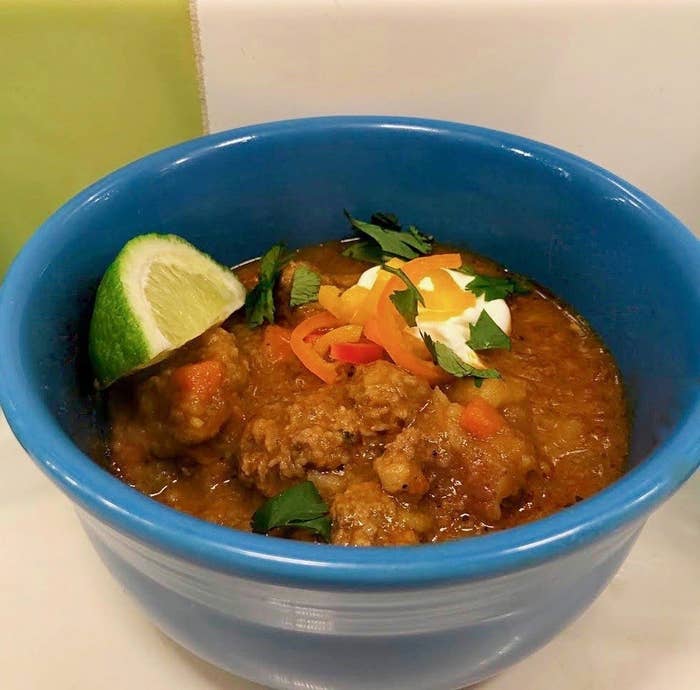 Ingredients:
2 lbs ground beef (85% lean or higher unless you love scooping fat off the top)
1 lb ground pork
1/2 cup uncooked white long-grain rice
1/4 cup mint, finely chopped
2 tablespoons cilantro, finely chopped (plus more as a topper) unless you think cilantro tastes like soap like my kid, then replace with more mint
2-1/4 teaspoon cumin (1/4 for meatballs, 2 for soup)
2-1/4 teaspoon Mexican oregano (1/4 for meatballs, 2 for soup), unless you've been sent to the store for ingredients and spent more than 5 minutes looking for Mexican oregano, then just buy regular oregano. No one will die.
1 habanero or serrano pepper (1/4 teaspoon finely chopped for the meatballs, 1/2 teaspoon finely chopped for the soup, extra slices as topper)
6 average sized garlic cloves (3 for meatballs, 3 for soup)
Kosher salt (2 tablespoons for meatballs, more for soup)
Black pepper (1-1/2 teaspoonss for meatballs, more for soup)
2 tablespoons breadcrumbs (unless you want it to be gluten free, then leave this out and the egg
1 large egg
1/4 cup olive oil
2 cups diced yellow onion (one onion)
2 cups diced carrots (about 4)
1-1/4 cup diced celery (about 3 stalks)
3 cups diced red potatoes (about 2 potatoes)
3 tablespoons tomato paste
2 bay leaves
8 cups chicken stock (ideally homemade)
7-8 oz Mexican tomato sauce like Del Fuerte 7.4 oz. If you use one with jalapenos, put fewer peppers in the soup to start. Also fine to go with regular tomato sauce.
2 teaspoons pimentón or smoked paprika
For optional toppers:
Sour cream
Cotija or other cheese
Avocados, sliced
Mini sweet peppers
Limes, cut into wedges
Just Make the Damned Soup Already:
Make the Meatballs:
Place the beef, pork, rice, mint, cilantro, 1/4 tsp cumin, 1/4 tsp oregano, 3 cloves of minced garlic, 1/4 tsp habenero or serano, 2 Tbsp salt, 1-1/2 tsp black pepper, breadcrumbs and egg in a big 'ol bowl. Get in there with your hands, mix that s***t up and form it into 1" meatballs to put on a tray. Don't be doing anything weird like trying to fry those or put them in the oven or anything. Set them aside because they're just going to cook in the soup.
Finally the Damned Soup:
In a large stock pot, place the olive oil, onion, carrots, celery, potato, 1 Tbsp salt, 2 tsp pepper and cook over medium-high heat for five minutes or so. The vegetables will soften up a bit and release some juices. Then, add the tomato paste, the rest of the garlic, bay leaves, 2 tsp oregano, 2 tsp cumin, pimenton, 1/2 tsp habanero or serrano, for about 3 minutes until it smells awesome and the tomato paste darkens and coats everything. Add the chicken stock and Mexican tomato sauce and turn it up to high heat until it bubbles. Then reduce the temperature until you get a nice simmer. Add the meatballs gently to the soup. It will seem like there is no way they will all fit in there and be submerged, but trust me, it's possible. Make sure they are submerged to allow them to fully cook. Then, DON'T TOUCH IT! Let that puppy go for 40 minutes total to allow the rice in the meatballs to fully cook. After the first twenty minutes or so, skim any excess fat off the top with a ladle. You can then stir it up a bit if you like to make sure the meatballs cook evenly, but be gentle so you don't get a lot of broken up meatballs. After the 40 minutes, season to taste with salt and pepper and add whatever toppings you like.
This makes something like 10-11 servings. It's great for freezing and saving for lunches on lazy days.