Dressed in an audacious '90s-style jacket and wearing a warm smile, Yassmin Abdel-Magied doesn't look much like a monster. She looks, one might say, like any cool twentysomething professional hanging out in Soho.
But standing before me is the self-described "most publicly hated Muslim in Australia", a woman whose determination to say it as she sees it triggered so much vitriol that she left her home country behind four months ago in favour of a different life in London.
The 26-year-old has been a preoccupation of the Australian press for the best part of a year, for two comments in particular: First, when she said she believed Islam was the most feminist religion during a TV debate, then, months later, when she posted this seven-word Facebook post.
It got to the stage where almost every time Abdel-Magied expressed an opinion, a media frenzy, public outrage, and death threats would swiftly follow. For the press she was a gift: Each story would go viral, guaranteeing tens of thousands of views, according to analysis by BuzzFeed News. For Abdel-Magied, the attention meant moving and changing her phone number out of fear for her safety.
When she announced her plans to relocate, a national TV station ran a poll on whether she should leave or "stay to face her critics". Somewhat disconcerting for someone who's "just a chick who's turned 26 and has an opinion", and whose day job is being a mechanical engineer.
Beyond Australia's borders, Abdel-Magied is seen as something of an inspiration: a TED talk speaker who counts Solange Knowles as a supporter, and an unapologetic advocate for Muslim women who has refused to quietly bow out of public life despite the toe-curling abuse she attracts.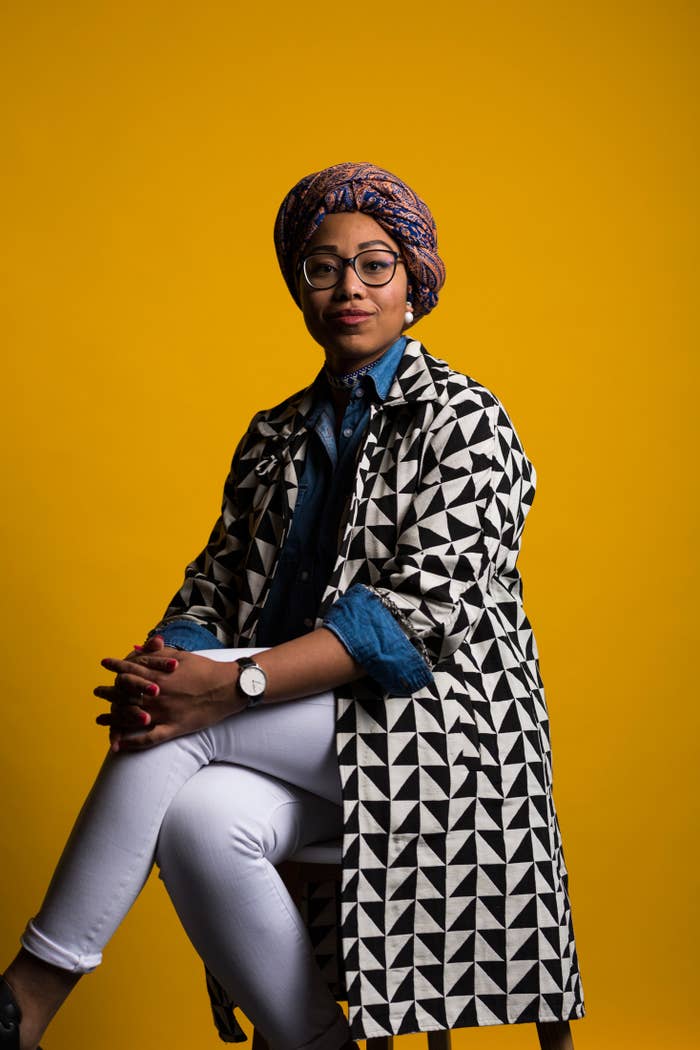 This month Abdel-Magied announced a deal to publish a young adult fiction book with Penguin Random House. Sharing the news on her Instagram page, she said the working title was You Must Be Layla, and that it was due out in 2019. The book is in the early stages, but the publishers told us they're "very excited about working with Yassmin on this project".
BuzzFeed News first interviewed Abdel-Magied in July when she moved to London. It was the first time she spoke publicly about the aftermath of the viral video of her standing up to the then Tasmania senator Jacquie Lambie that catapulted her to international notoriety. (Lambie has since resigned from office after learning her father is still a UK citizen, making her ineligible for the job under section 44 of the Australian constitution.)
"I can predict what's going to happen," Abdel-Magied told us during that interview with eerie premonition as a notification on her phone pinged – another death threat.
Days later, a short video from that interview in which she described the backlash against her as a "betrayal" went viral, restarting the cycle of hysteria. It prompted radio host Prue MacSween to declare she had a strong temptation to run Abdel-Magied over. That a headline of this threat is the header image on Abdel-Magied's Twitter profile says something of the chutzpah that drives her critics and naysayers wild.
Being the target of "vicious trolling", Abdel-Magied says, is a permanent feature of her life online. "When I tell people the kind of things people say to me, they can't believe it. And it's so weird, it's been normalised to me now. Like, I'm used to people sending me videos of beheadings, I'm used to people telling me that I should be beheaded and die, and flogged, and just the most violent things."
Despite going viral again for all the wrong reasons with that BuzzFeed News video, Abdel-Magied is unrepentant. She says the incident was instructive "in helping me articulate the lessons I'd learnt … [discussing] Australia as a country and its treatment of marginalised people".
She says she had not put it in such terms before, and suggested the move to London had helped to shape her thoughts: "Sometimes you need to leave your place to understand a place, and a little bit of distance gives you a lit bit of clarity.
"I decided it was time. And the fact that I put words to a lot of what people already knew did have some sort of an impact, I hope, at least starting conversations."
These are thoughts she summed up in an op-ed for Teen Vogue, "I Tried to Fight Racism by Being a 'Model Minority' — and Then It Backfired", published in September.
In it, Abdel-Magied, who moved to Brisbane from Sudan with her family when she was 2, reveals she once believed that if she did everything "right" she could change perceptions of Muslims, particularly Muslim women, in Australia.
Her CV includes cofounding the organisation Youth Without Borders when she was just 16 in the hope of empowering young people to make positive change in their communities, graduating at the top of her university class, and later becoming one of the very few women working on oil rigs. She advised the federal government in her role at the Council for Australian-Arab Relations, was named Queensland's young person of the year in 2015, and published her memoir before her 25th birthday.
Reflecting on the torrent of abuse that came her way once she started speaking out on issues that mattered to her, Abdel-Magied wrote: "I was being made an example of. And the reality is, none of the positive work that I did over the past 10 years mattered. All that mattered was that I was a young Muslim woman of colour who had stepped out of line."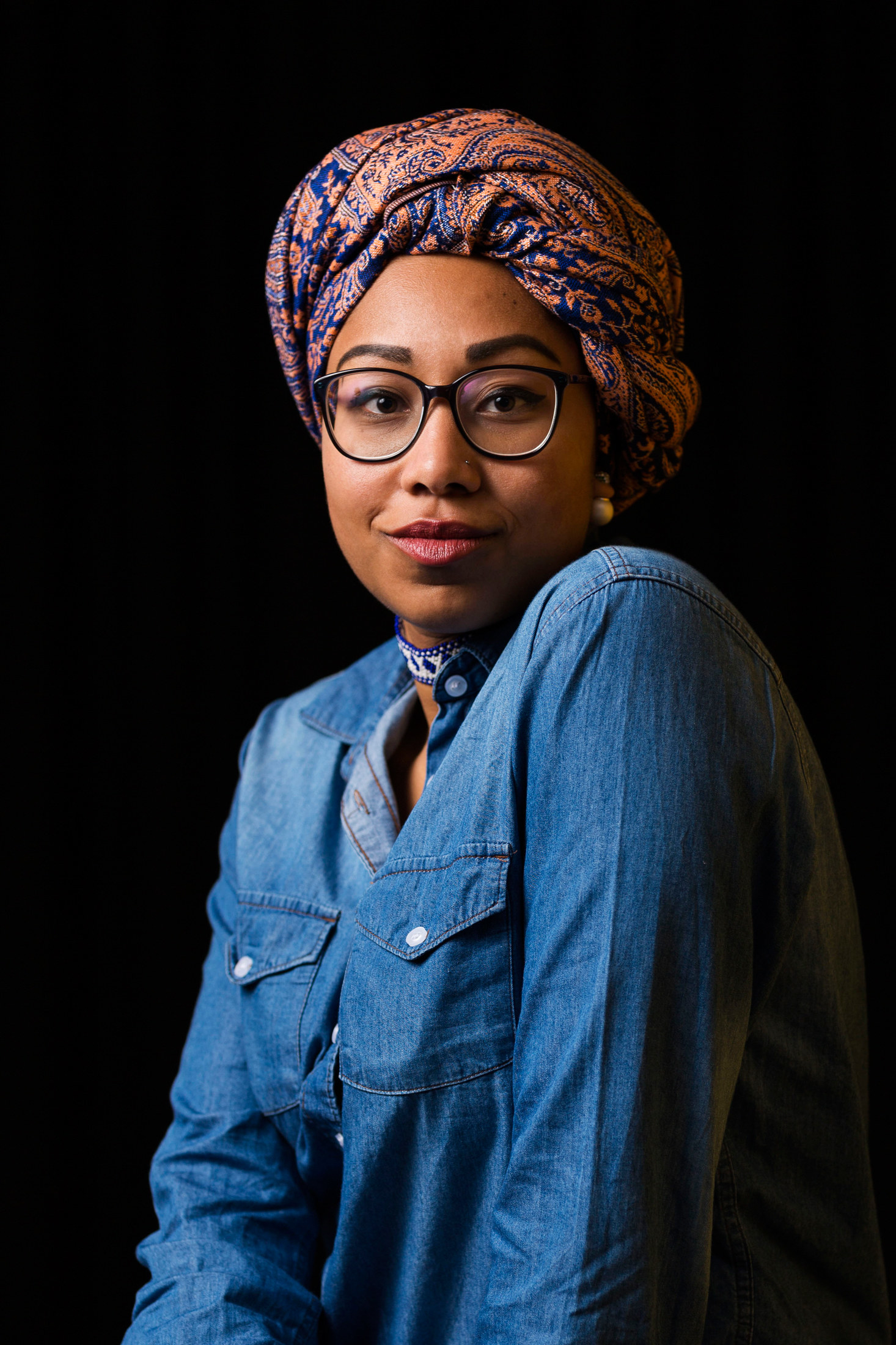 Abdel-Magied feels that this is an age-old struggle shared by anyone trying to make their way in a society where they are the minority. "The conversations are so global and so familiar to people and places in the UK and the US," she says, "and so when I talk about having a discussion with a senator about Sharia, and the double standards when it comes to how people of colour are treated in society, these are not surprising things to people in the US. They're not surprising things to people in the UK.
"They can see themselves in it because there's structural inequalities that exist around the world, and so it's pretty amazing I can bring my local context to a global audience."
As for many young Australians, London was an obvious destination for Abdel-Magied. And it was far easier as an Australian citizen originally born in Sudan to get a two-year working visa online for the UK as opposed to the US, where, until recently, Sudan was one of the Muslim countries included in its travel ban.
"The being-born-in-Sudan thing and having it in your passport makes a difference," she says, adding her heritage is something that has affected her options, which many people do not expect. "People talk about [the world] being globalised and borderless – it's only globalised and borderless if you have the right passport."
Since moving, she has become involved with a project about the ethics of technology and how it plays out in society that is at preproduction stage, and she also has plans to continue her writing. "I've come to London with some plans, but also a lot of space to explore and be a part of interesting conversations and essentially be really curious."
Long-term, Abdel-Magied's "pipe dream" is to upskill and create a platform that will bring tech to marginalised groups to better serve them. "Essentially what I'm interested in is, how do we go about creating structural change? How do we go about building systems that are designed to decrease inequality rather than increase it?"
Abdel-Magied says she is enjoying life in London, including attending Hacks/Hackers meetups and getting a sense of the city's tech and journalism scene.
"I'm like a kid in a candy store," she says of her time so far. "It's amazing."
"I wrote a post the other day and said one of the most exciting things is just seeing other super-diverse people on the street. I saw a hijabi woman reading the news on Channel 4 and I almost had a heart attack," she says, referring to Fatima Manji, the Channel 4 journalist. "I was like, oh my god! She's reading the news and she's not talking about terrorism or women's oppression – this is amazing! – but things like housing. This is dope." It's also "dope" that London has a Muslim mayor.
Visiting Brick Lane, where signs are in English and Bengali, was another eye-opener in terms of Britain's brand of multiculturalism.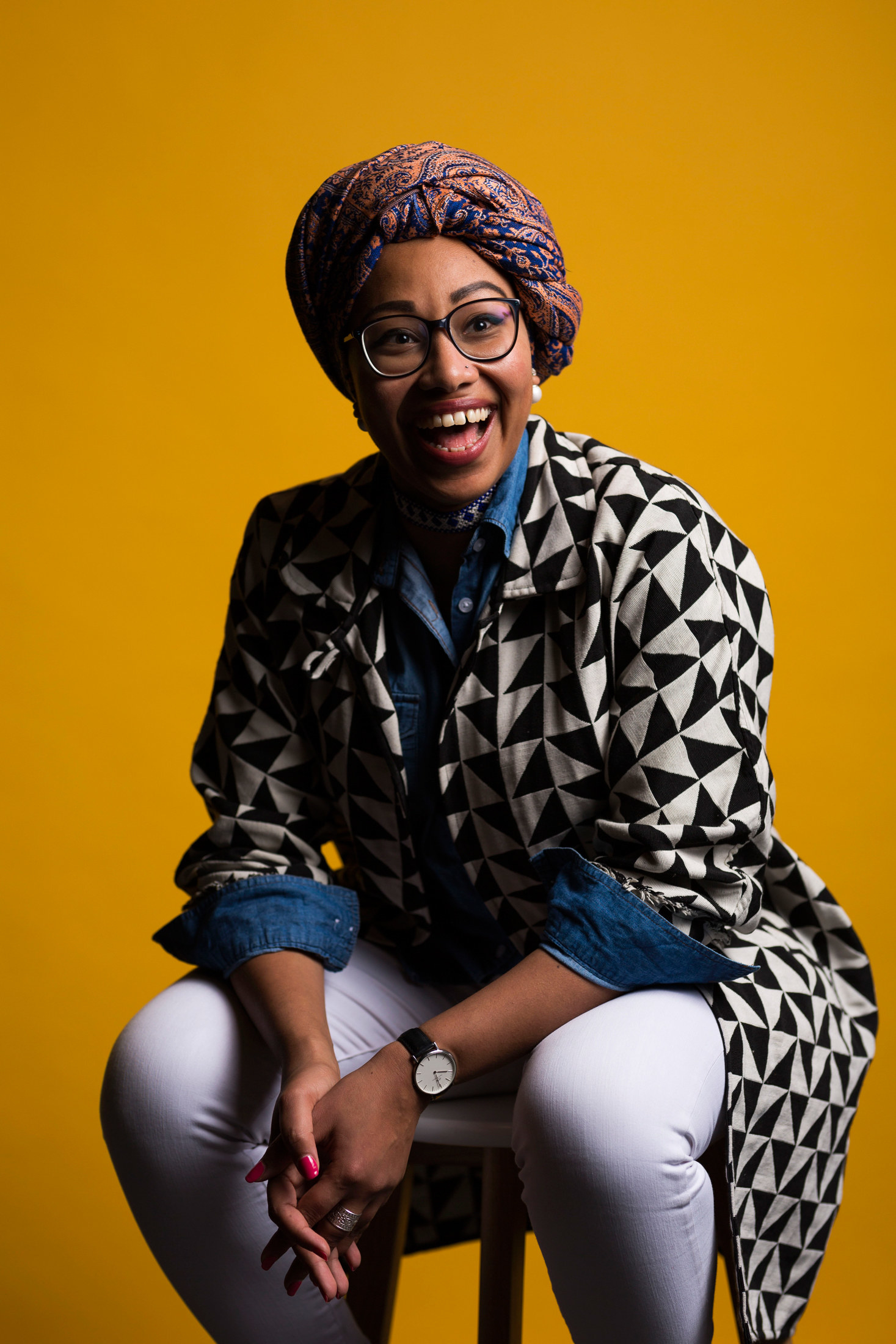 Abdel-Magied says London is so diverse that she no longer feels like "an aberration" and that no one stares at her simply because she's a Muslim woman wearing a headscarf. "You're just taken for who you are and you can run with it, which is awesome. I feel like I fit, even though I'm not British. … I fit in society in a way I haven't before."
Moving to London has also thrown up some interesting questions about her identity. While Abdel-Magied is usually described as "brown", in a UK context she might be seen as black.
"In Australia 'black' is usually referred to as First Nations or Indigenous people," she says. "So it's really interesting to come to the UK where people who share a similar heritage to me – Sudanese – do identify as black, and so, really interestingly, part of my move here has been figuring out how do I identify in a different context. And I'm still working through that."
When asked about the biggest challenges she is facing as she adjusts to life in the UK, she says: "The first thing that comes to mind is I'm a big personality, and the British culture is a little bit more reserved and I'm like, am I gonna just terrify everyone?"
It's also the first time she has lived in any big city outside of Australia, and on the other side of the world. Her arrival has been met with excitement: She has already been inundated with speaking requests from Muslim TV channels and by the Home Office's Islamic Network. Other people have offered to show her around the city. "I'm really open to that and I feel really lucky I have enough of a platform I can say, 'Hey, I'm here,'" she says.
The sense of the community she experienced during a visit to the UK earlier this year was a factor in her decision to relocate. She said it was inspiring to meet so many Muslim women and women of colour across the country "doing really interesting things [who] were so supportive".
"I just thought, Here is a place I can have real friends and have real community. … It just felt so warm and welcoming." She recalls how she, a stranger, was embraced by random people she met. On an earlier visit in June, she even attended a general election party, staying up to the early hours with newfound friends.
"You've been here for a lot longer," she says, referring to Britain's Muslim community. "It's a lot larger [than in Australia], and the community in London is different from Manchester and so on..."
She acknowledges that she does not yet understand all the nuances of the various Muslim communities in the UK and is feeling her way. "I don't know what's what – I dunno if someone who I'm talking to has my best interests at heart, or wants to co-opt me for some nefarious purpose."
But from what she can see so far, she says, British Muslims – of whom there are almost 3 million – are proud to be both British and Muslim. Dual identity is not so straightforward in Australia, where the community makes up less than 3% of the population, around 600,000 people. "There's a massive young Muslim population [in Britain], and that's also really powerful," she says, adding that she can't wait to get involved. "Bring it! Like, yeah, we're British. Yeah, we're Muslim. And, yeah, we're here and listen to us."
When Abdel-Magied is asked whether she has plans to cause any trouble in London, she laughs. "Look, evidently my existence causes troubles. I'm just going to say what needs to be said – if that causes trouble, that's not my problem."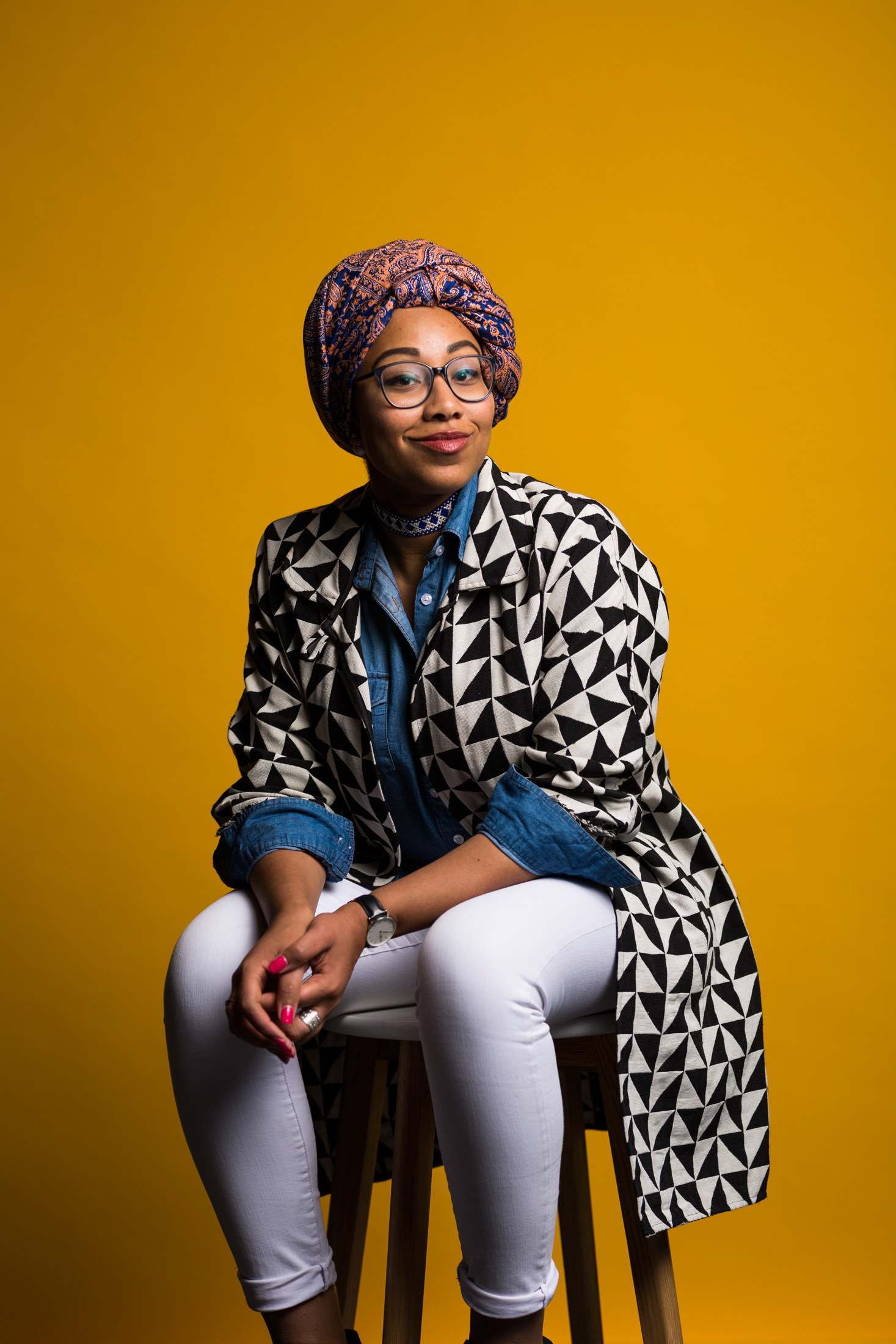 And she's stayed true to her word. She tweeted "#LestWeForget. (Manus)" on Remembrance Sunday, with a link to the UN refugee agency urging Australia to use a humane approach on Manus Island, where basic services such as electricity, running water, and food have been cut off as a now-closed detention camp for refugees once run by Australia is cleared.
Her tweet has already been covered extensively in the Australian press, which reported comments from a "moderate" imam criticising Abdel-Magied for "hijacking Remembrance Day".

Unmoved, Abdel-Magied responded on Twitter: "Perhaps instead of reporting on me, you can report on what Australia does to the powerless. At home and internationally."
Her impression of the British press, she says, is that it can be "pretty vicious". "I know Australia is responsible for Rupert Murdoch," she jokes, "but he definitely knows what is what here."
Abdel-Magied says the British media "is a much more crowded space … You do have more players, which means that it kinda goes both ways: On one hand you can have more nuanced conversations, on the other hand you do have a race to the bottom in the tabloid space."
She says she is still unsure of the relationship she will have with the media here and if she will end up on its bad side. She's also figuring out what issues in the UK are almost untouchable, she says. "I'm not arrogant enough to think I can come in and know everything. Because I don't know the context here, I'm not from here, I'm still a guest, and so it's important for guests to sit down and listen and also make sure I don't step on other people's toes."
She pauses to think, before adding: "Maybe the most important thing for me to do is raise other people up and give them a share of the platform or extend my platform to them. Maybe that's the most important thing."
Abdel-Magied says her main goal in life has always been about making a difference, not making a name for herself. She tells BuzzFeed News she'd like to be remembered for her "service" in empowering marginalised voices, whether that's women of colour, Muslims, or both.
"I'm assuming I'll put my foot in it at some point, because that's what I tend to do," she says with a laugh. "I'm not doing it intentionally." It's difficult to tell if she means it.