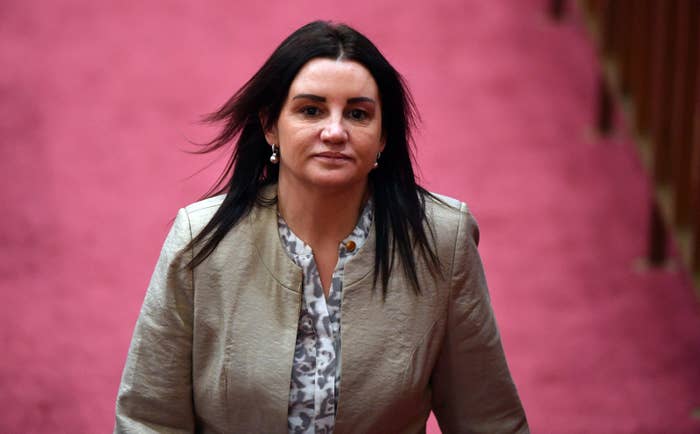 Independent senator Jacqui Lambie has resigned from parliament at the start of Senate proceedings today, after receiving advice from the UK Home Office that she is entitled to UK citizenship via her father, who arrived in Australia at the age of one from Scotland.

Lambie becomes the eighth politician in the 45th parliament to be forced to leave their job due to being ineligible under section 44 of the Australian constitution.
The senator told Tasmania Talks radio on Tuesday morning that she would resign after discovering that her father had not renounced his UK citizenship and it was "quite clear" that it meant she was also Scottish.
"I just want to let Tasmanians know because they deserve to know before everyone else," she said.
An emotional Lambie said she had spent the last week going through her documents with her father and couldn't find evidence he had renounced.
"[I said] 'Dad, there's no evidence you've renounced'. So that's how it's gone down."
Lambie, who is also writing an autobiography and intends to run candidates in the Jacqui Lambie Network party at the next state election, said she would run again at the next federal election.
"I won't be laying down. We'll just get our boots on and get out again."
In a speech in the Senate, Lambie said through tears that she hadn't been able to sleep since there was a question mark over her citizenship. She vowed to keep fighting for people who didn't have a voice in Parliament, and took aim at the politicians who claimed to represent battlers but then voted for budget cuts that hurt the most vulnerable.

Lambie detailed how she would like her vote represented in the parliament in her absence, including that she would vote how the public votes on same-sex marriage, and if a majority of Tasmanians voted for it, then she would have supported the change.
"If we don't listen to the public the whole exercise has been needlessly divisive, painful, expensive and extremely cruel," she said.
Lambie was first elected to parliament in 2013 as part of the Palmer United Party, but quickly split from then-leader Clive Palmer and established her own brand. She has focused on poverty issues, as well as veterans' issues, and was easily returned to the Senate at the 2016 election.
Labor and the Coalition came to an agreement yesterday that would result in politicians being required to disclose their citizenship status to the parliament by December 1, the heritage of their parents and grandparents, and disclose what they have done to renounce any citizenship entitlements.
It is expected there could be more referrals to the High Court after the disclosures.
It is expected that Jacqui Lambie Network candidate Steve Martin will replace Lambie in the Senate, and Lambie suggested she would not attempt to force him to stand aside so she could return once her dual citizenship was renounced.