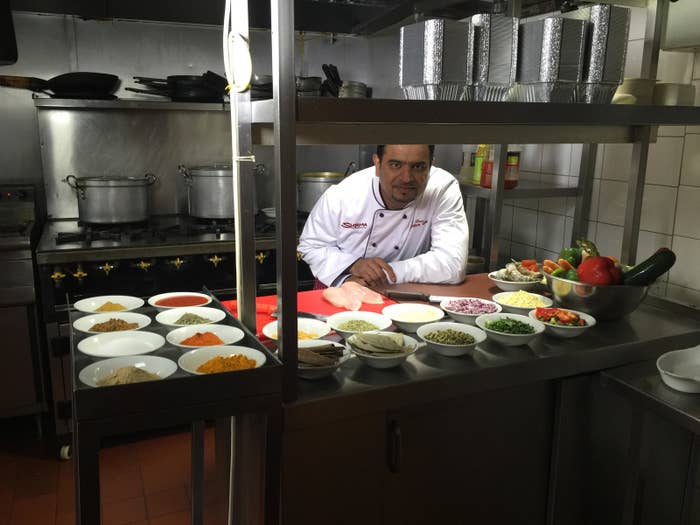 Just five years ago, Bengal Cuisine on Brick Lane was thriving – there were four chefs at the back of the restaurant cooking, perhaps one squeezing lemon on a pan of sizzling chicken and turmeric-rich base, flames licking the hot pan, and more than enough waiters to serve its devoted customers. But now, the one-time award-winning restaurant in east London is desperately looking for staff.
"We are looking for waiters every day," says Abdul Rahman, who works at the restaurant and is busy on a laptop at the bar. He said that a few years ago there were 400 to 500 customers each week, but he now struggles to attract even 100 people. "Business is really bad. Our family has been running this restaurant for 25 years. Now it is survival."
It's the story of many curry houses across the UK – around two or three shut down each week, say industry bosses – and one factor they cite is severe staff shortages. They are unable to easily bring workers from the subcontinent, and unable to attract workers from this country.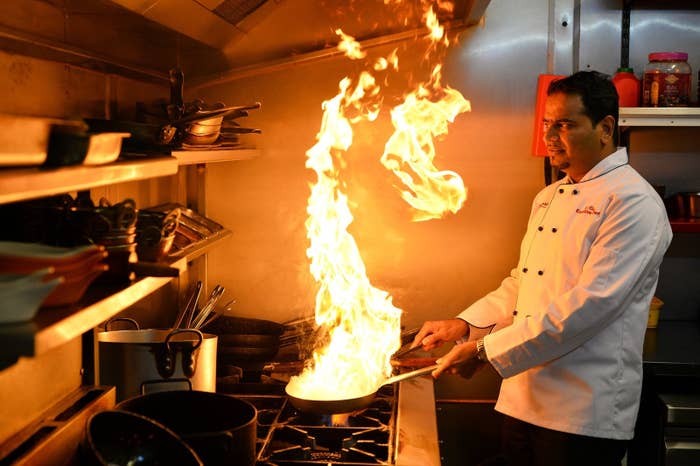 "It is a burning issue for us," says Kamal Yakub, the president of the Bangladesh Caterers Association, a network of around 12,000 British-Bangladeshi restaurateurs across the UK and the largest of the many trade bodies claiming to represent the curry industry.
"We have staff shortages, skills shortages mainly, and a lot of our restaurants are closing because of this," Yakub tells BuzzFeed News. He says it was fear for a suffering industry, which employs about 100,000 people and achieves annual sales of £4.2 billion, that led many Bangladeshi restaurateurs to vote to leave Europe last summer.

The latest fears for the industry came on the day of the Tory election manifesto launch last month, with the party promising to double the immigration skills levy, charging businesses £2,000 a year for each non-EU worker they employ – which includes skilled chefs.
Theresa May's party has pledged to "continue to bear down on immigration from outside the European Union" in order to slash net migration, currently standing at 273,000, to 100,000 or less – a goal that prominent figures in the curry business have called "ridiculous", saying the industry "was already suffering."
Yakub says when the manifesto was launched, "It hit our heart."
Reacting to news of the pledge, celebrity chef Oli Khan said: "Businesses being charged £2,000? That's ridiculous, that's ridiculous. Why £2,000? You want us to pay them [employees] £35,000, and then the government wants to charge another £2,000 from the owner. This is completely ridiculous.
"Why do we have to pay £2,000?"
"Where are the British workers? There isn't enough British workers here. We are really suffering for staff. Our windows say we are requiring bar staff, we are requiring kitchen assistants, we are requiring a manager. None of the English people apply for a job. It's very rare."
But that's not the only source of their discontent.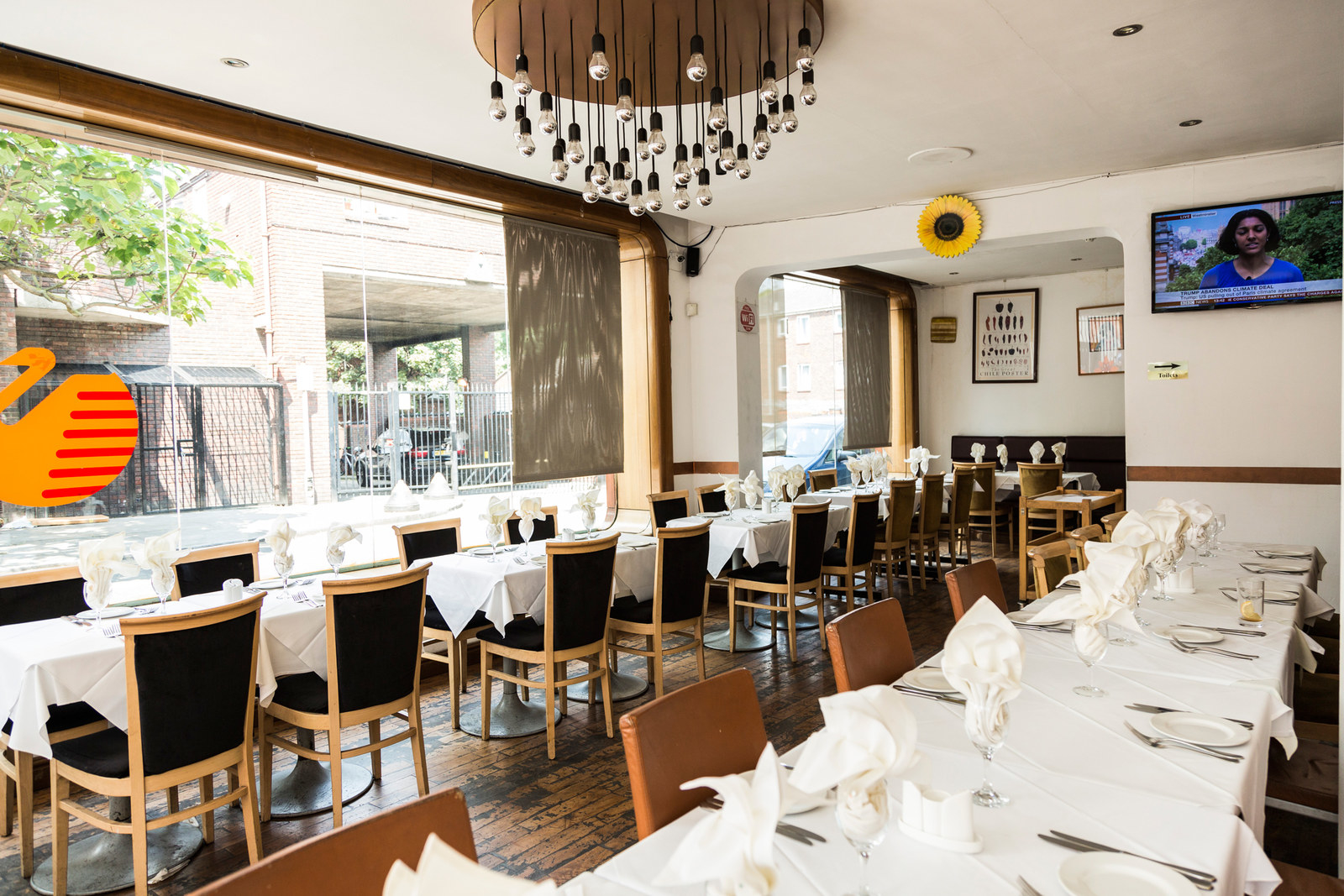 Curry house bosses told BuzzFeed News they have been "let down" by politicians who will not take their calls, but who at the time of the Brexit referendum had given them hope that the UK leaving Europe would mean more workers from South Asia would be allowed in, helping restaurants deal with the staff shortage.
Priti Patel, a top Brexiteer, launched an appeal urging voters to "save our curry houses" by leaving the EU. Hundreds of restaurants across Britain last year took part and were joined by Iain Duncan Smith.
At the time, Patel had said at a speech rallying support for Brexit that it was "manifestly unfair and unjust" that South Asian chefs should have to deal with a "second-class immigration system" compared with chefs from the EU.
"Priti Patel – she wanted to save the curry houses, that's what she said. Save the curry houses," Yakub says.
"We're frustrated now, and we keep on lobbying because this is part of what we need to do. We will gather more friends, join up with other ethnic groups, and stand with them on a platform.

"We'll keep on fighting but it will become that much more difficult."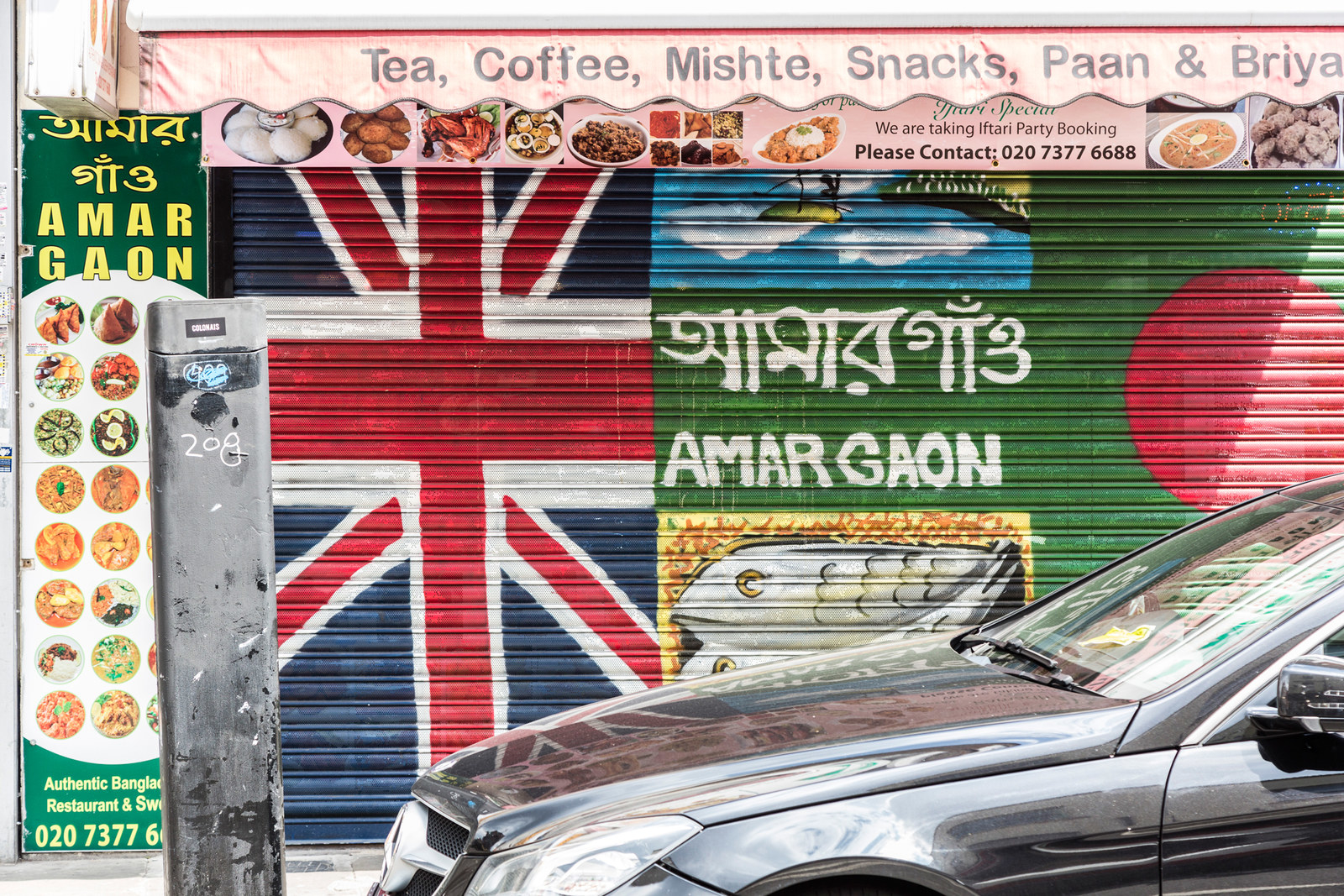 He says he had hoped for changes in legislation: "We need this badly. And we are talking about approximately 12,000 Bangladeshi restaurants, and all we want is maybe on average two people per restaurant. We're not looking for 100,000 people.
"Before the referendum, a lot of our restaurant owners were influenced into believing that after Brexit we would be bringing skilled workers from outside Europe, meaning [bringing people] from Bangladesh will be easier.
"We hold a big award and dinner ceremony every year, for many years now," he says, referring to the Curry Chef Awards, put on by the Bangladesh Caterers Association (BCA). "It's big: 1,000 to 1,200 people attend." David Davis, the Brexit minister, was invited in 2016 as the chief guest and hosted the lavish ceremony at the Park Plaza Hotel in Westminster. "He said to us: 'After Brexit there will be something for every community' – these were his exact words – 'and there will be something for BCA.'"
Their assumption had been that immigration from India and elsewhere in South Asia would increase post-Brexit, with the conditions for South Asian chefs in particular being more favourable. But soon after the Brexit vote, May ruled out the possibility of an Australian-style points system for migrants.
Yakub, who has been in the food business since the 1980s – running restaurants, takeaways, and now catering services – believes the next government needs to do more to save his industry. He has been running a sustained campaign, with his colleagues lobbying through their local MPs, and even through parliament's curry committee, in order to tackle the industry's shortage of 20,000 skilled and unskilled workers.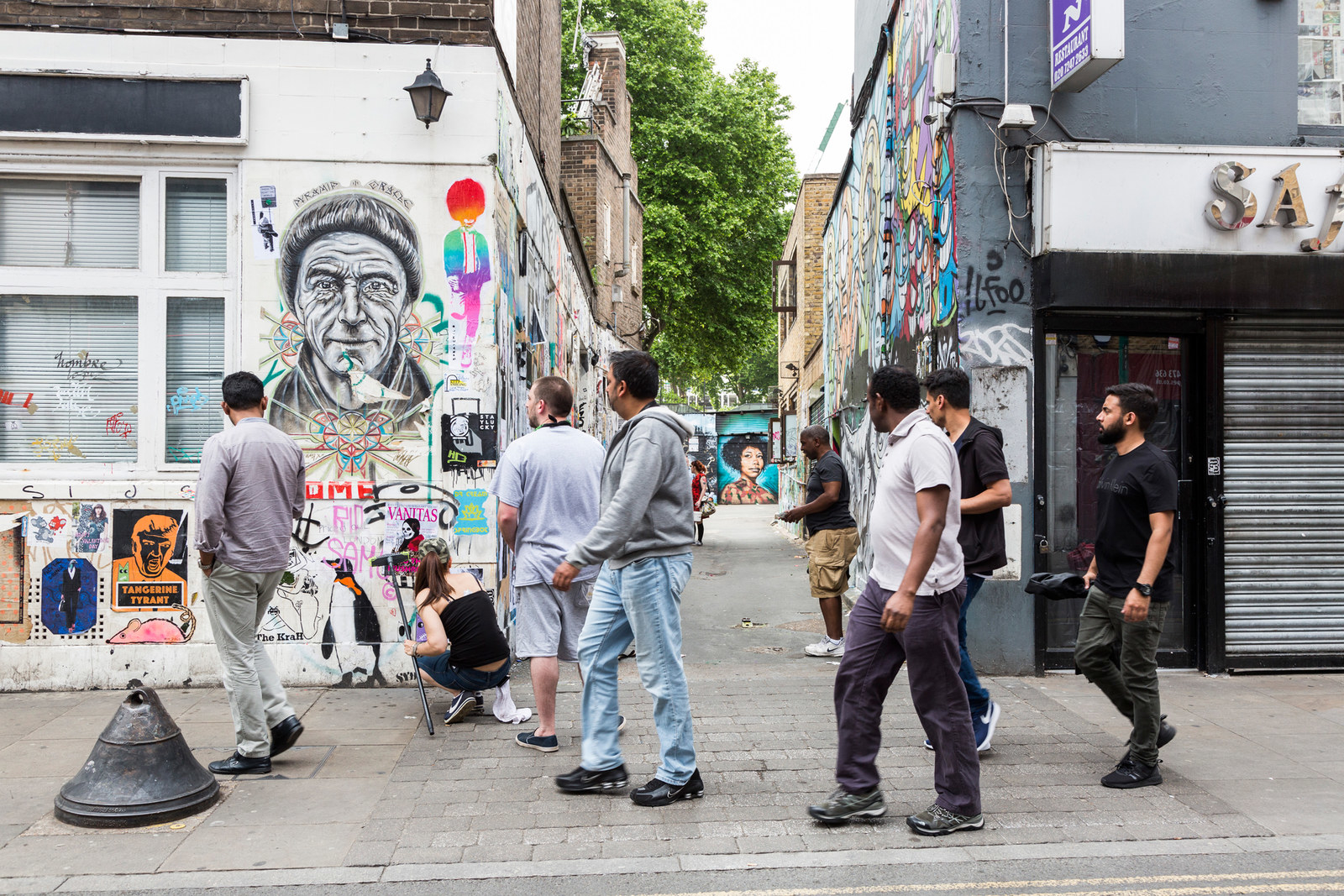 There were attempts made by the coalition government to address the skills shortage: A £1.75 million "curry college" scheme set up in 2012 to train British chefs collapsed within a year, after failing to attract enough applicants.
Eric Pickles, the communities secretary at the time, famously said at the 2010 Curry Awards: "Curry has a huge place in our national affections. The tikka masala is more British than fish and chips." But the government's appetite to help resolve the skills shortage seems to have declined since then.
The frustration over the Tory position on immigration and disappointment over Brexit promises do not mean the curry chefs are Labour supporters: Yakub says the BCA is apolitical, and says support among members is "more or less equally divided."
If anything, as restaurateurs became more affluent and moved away from London's East End, many would have endorsed what they saw as Tory support for small businesses and lower taxes. BritBangla, a national network of Bengali professionals, said in an email many of its members are Tory supporters, with some of them part of the Conservative Muslim Forum.
On immigration, Labour says freedom of movement will end when Britain leaves the EU and pledges bosses who try to undercut wages using migrant workers will face a "crackdown".
"Now we feel let down; we would have said the same thing if it was Labour or anybody. And it's not the Conservatives, it's the manifesto they have chosen. Why then talk about saving curry houses before the referendum and promise all those things? At least give hope to us," Yakub says.
"This was built by our predecessors, you know, a lot of hard work, and we're trying to hold on to this. And it's no longer called an Indian curry or Bangladeshi curry, it's a British curry, isn't it?" says Yakub.
Oli Khan, who owns Surma Takeaway and Spice Rouge in Stevenage, Hertfordshire, says curry houses typically paid skilled chefs a salary of £18,700 five years ago. Yet in 2015 the minimum that skilled chefs – who are on the government's shortage occupation list, which refers to roles employers are struggling to fill – need to be earning to secure a visa increased to £29,570 a year, with restaurant owners having to provide stipends for meals and accommodation. This minimum salary was again hiked, to £35,000, for non-EU migrants to settle in the UK.
In contrast, the average pay a head chef in the UK earns is just over £25,200. "Why £35,000 for the migrant chef from South Asia? So this is a double standard policy from the government," Khan says.
He says that on social media he's noticed fellow curry house owners shutting shop and advertising their businesses for sale on Facebook. "We reckon two, three restaurants are closing a week, but I reckon it's more than that because every time we open a Facebook page there are a lot of restaurants on sale, businesses on sale, and every week we see two or three Indian restaurants are coming up there and they are selling...cheap.
"Even where I have restaurants and takeaways – I have two in a high street in Stevenage – in the last two years in the high street, which is about a four-minute walk, there was about eight curry houses yet three have already closed down and five remain."
For Khan, the lack of communication from ministers after Brexit is a huge issue. "We are angry as the Brexit ministers are not responding to our calls, they are not responding to our mails."
He also spoke of another predicament now Article 50 has been triggered: the uncertainty around Eastern European workers the restaurants are currently relying upon. "Once Brexit happens we won't be able to get those Eastern Europeans. At the moment they are actually quite helpful – between 7,000 to 10,000 people working in the curry houses are Eastern European. They are filling some gaps, whereas British people are a failure in filling these gaps."
Back on Brick Lane, otherwise known as Banglatown, there are a few customers enjoying lunch at Eastern Eye Balti House, the windows wide open. Behind the bar, a young man is drying beer glasses. He sometimes manages the family business. "Brick Lane has changed since my dad started in 1993. By 2000 restaurants became big industry. But after 2014 there was a great fall."
The man, who asked not to be named, says: "Opposite us here used to be a restaurant and now it's a vegan shop." It's hard to find staff, he says, and in the last two years he's seen more staff cuts, which has meant restaurants are struggling, especially in the kitchen, while the price of a curry has also shot up – they used to sell for £4.95 but now cost £8.95. "At my friend's restaurant in Kent, they have two Romanians in the kitchen," he says.
Sean Carey, a senior research fellow at the University of Manchester, has written papers on Britain's curry business. On the health of the industry, he says: "What you're going to have is things dying on the vine, really."
Recently, he counted the restaurants left on Brick Lane, London's "Curry Mile". In 2003 and 2004 there were 48. A fortnight ago when he counted again, excluding the three fried chicken shops that also serve curry, there were only 27.
"That was the largest cluster of Indian/Bangladeshi restaurants anywhere on the planet," Carey says.
"Rusholme in Manchester came a close second. But Brick Lane managed to eclipse it, when I was doing by 2003 study, by about three or four." Now, on the sites of former restaurants that could no longer afford to pay the rent when the lease came up for renewal, you'll see they've turned into French bistros, barbers that do undercuts, a vape shop.
"You used to walk from Whitechapel High Street right down to Bethnal Green Road and there were curry houses all along that road," Carey says. "If we went in 10 years' time, how many would be there? Oh, that's anybody's guess."