This Muslim Woman Athlete Says The Hijab Ban Is "Bigger Than Basketball"
"Basketball is so universal and if people see if such a huge organisation like FIBA breaks that barrier, people will be more accepting."
Muslim female basketball players have said they will continue fighting against a hijab ban in the sport after the international basketball governing body announced on Monday that it had not yet come to a long-awaited decision on lifting its rule against wearing "headgear" on court.

Bilqis Abdul-Qaadir, a player who broke records as the all-time leading scorer in Massachusetts high school basketball and who in 2010 became the first NCAA Division I player to play while wearing hijab, is one of those to have had her international career blocked by the International Basketball Federation (FIBA) prohibition.
At first, Abdul-Qaadir was not aware of a professional basketball ban on hijab. She explains in a short documentary by Uninterrupted titled "FIBA Allow Hijab" how, having played basketball at college level and been the first to wear hijab, she wanted to continue her professional career.
It was only after she had begun looking for a team overseas that her agent told her there was a rule against headgear. "It took all of us by surprise," she said.
When she emailed FIBA, she received confirmation that this was the case. Article 4.4.2 of the FIBA rule states: "Players shall not wear equipment (objects) that may cause injury to other players." It says "headgear, hair accessories and jewellery" are not permitted.
Abdul-Qaadir, who has been campaigning to overturn the ban permanently, said in a video uploaded this week: "This hijab ban may seem minuscule to people but with the rhetoric behind Muslims right now, it's pretty intense and I do believe it's bigger than basketball at this point."
The campaign urging FIBA to allow players to wear hijab has recently gained high-profile support from fellow professional basketball players, with LeBron James of the Cleveland Cavaliers tweeting support.
Abdul-Qaadir said: "To see all the unity this 'Muslim ban' that Trump has put in place is bringing together – you see what happens when people unite regardless of religion, regardless of race, regardless of where you're from."

After its first meeting of the year, FIBA said in a statement it had approved the technical commission to come up with a proposal "that would allow headgear to be worn safely by athletes", which will be presented in May this year.
FIBA began process of revising its headgear rule in September 2014 and allowed religious head coverings such as hijabs and turbans on a trial basis in some competitions, after pressure from the Basketball Federation of India, when two Sikh players in the Indian basketball team were forced to play without their turbans at the Asia Cup Basketball Championship in China.
It has, however, taken the world basketball governing body over two years to make a decision.
Abdul-Qaadir said: "I think it important that FIBA does make a good decision in May because basketball is so universal and if people see if such a huge organisation like FIBA breaks that barrier, people will be more accepting.

"It has an impact on my community in such a big way because of the hate that's going on against Muslims and we just need support."
Over the last two years there has been a growing number of Muslim female basketball players demanding that FIBA allow head coverings to be worn for religious reasons in competition, with a Change.org petition receiving nearly 131,500 signatures.
Indira Kaljo, a Bosnian-born American who plays basketball with hijab, kickstarted the petition and wrote: "This sport has been a passion of mine since the age of nine, and I want to keep playing professionally. Unfortunately for me and many others, we're not allowed to do so due to our faith."

Asma Elbadawi, a basketball player based in Bradford in West Yorkshire, who campaigns for overturning the hijab ban, told BuzzFeed News: "I feel like now lifting this ban on women [who wear hijab] playing in the Women's National Basketball Association (WNBA) will send this message out to the Muslim community that there's nothing wrong with playing according to Islam, this is an achievable goal for young girls, and there's nothing wrong with a woman wanting to play basketball at a professional level."

Elbadawi, who has played basketball for seven years and now plays for the Bradford Cobras, said: "If I think back to my experience of playing sport – from netball and rounders and jiujitsu and everything – I never saw anyone on the TV wearing hijab until the last two Olympics."
When asked what would happen if the rule against headgear isn't changed, she said: "It will basically mean we'll have to fight this again.
"A lot of the girls who want to play basketball have already left and not been able to play in the past two, three seasons, and are going to have to stay out of basketball for a further few years until the ban is lifted again.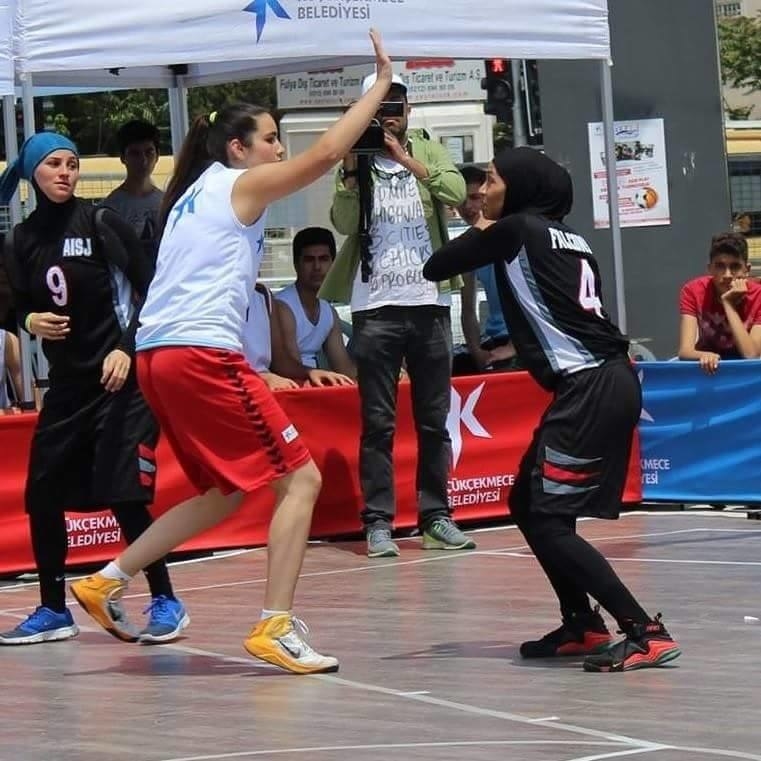 "It's also sending out the message you cannot be religious and enjoy sports or take sports seriously at professional level. It's just saying they are basically discriminating against us, but really obviously."

Hijab designers have been quick to develop sports hijabs to get around safety concerns, including Dutch company Capsters, whose products have been officially approved by FIFA, football's world governing body, for players to wear.
Modestly Active in the UK created the "Hijoobi", made with breathable technology and quick-release attachments. "It is fundamental to fight this and never stop. If the issue is health and safety then rugby players or football goalkeepers who wear head gear with a velcro strap should be banned," the company's founder Kausar Sacranie said.