This is me and my brothers.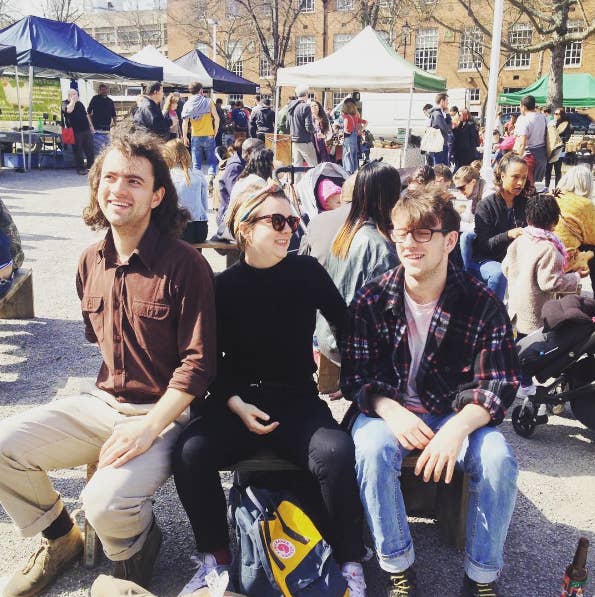 Rob (left) is 26 and a chef. Rory (right) is 18 and an art student. That's me in the middle, putting up with them. Can you tell I'm the eldest?
Rob and Rory have very different styles.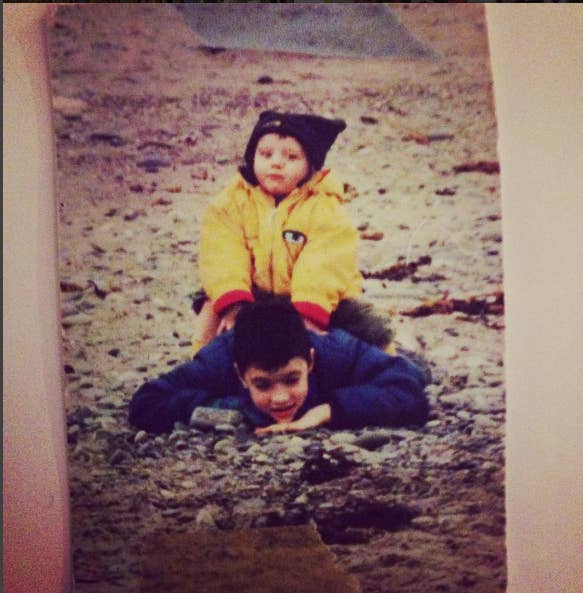 Rob dresses like he's stuck in the '70s but manages to pull it off. Think rolled-up cords, polo necks, and suede jackets.
Rory dresses like he was in Seattle during the grunge era. Think Doc Martens, flannel shirts, septum piercing, and lots of layers.
Meanwhile, I have a strong aversion to colour and like wearing versions of the same thing most days.
Things I love: stripes, eyeliner, white shirts, miniskirts, stripes, jumpers, stripes.
Things I hate: bright colours, clashing, wearing flesh-coloured tights.
I like to think of my style as "classic French" but really it's more "I hate change please let me keep doing the same thing every day thanks".
But I wasn't always this way.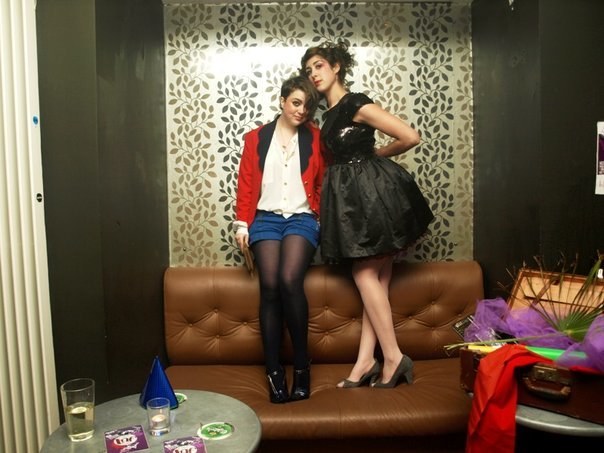 In my early twenties I wrote about fashion, and took real pleasure and pride in crafting my ~look~. I would channel a character ("Today I'm gonna be down-on-my-luck Art Thief") or go out of my way to try new pieces (yes, this meant a lot of ill-advised layering, but we were all young once).
Now I'm 29, I think my style now has calmed down a bit, but is that just grownup talk for "boring"?
Enough was enough. I decided to be brave and see if my brothers could help me find my look again.
I wasn't filled with hope.
Rory's immediate response: "I'm going to style you like Derelicte."
Rob's immediate response: "OK. Going to dress you like a lobster."

– I would send my brothers a photo inventory of my entire wardrobe, including shoes, hats, and scarves.
– They would collaborate and choose me five outfits.
– I was not allowed to add any details (like a belt, for example).
– I would send them a photo each day and they would rate the outfit.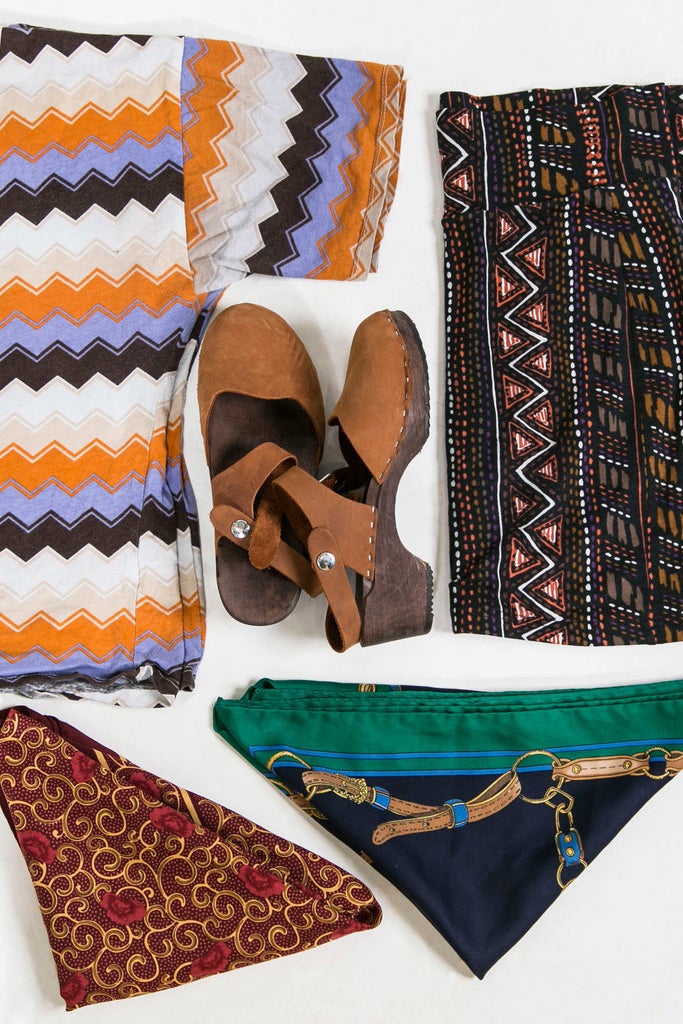 What They Chose: Ancient Primark T-shirt, ancient Forever 21 skirt, handmade leather clogs, vintage scarves x2.
Well, things did not turn out how I expected them to. Rory had a theme in mind for the first outfit. Are you ready? Here it is: "If an Aztec was brought into modern-day culture for five years, this is what they would wear after the five years."
So not only is this a time-travelling Aztec, it is a time-travelling Aztec who has spent five years researching current trends. I asked Rob for his feedback. "I agree with Rory," he said. "Gotta support family." Great. Rob then requested that I accessorise with two scarves, "styled as you like".
My Rating:
I hate this so much. I managed to get rid of one scarf by tying it to my handbag, but apart from that, this outfit was the worst. So many colours! Why am I wearing clogs? I wore this outfit during a Facebook Live video, two very important meetings, and dinner with friends. While I was comfortable (gotta love that stretchy skirt), I just did not feel like myself at all.
Their Ratings:
Rory: "It is pleasing to glance at, but I don't think an Aztec would have a very good fashion sense, no matter how long they are in society."
Rob: "I'm not into it. You look like an NME girl guide."
But they were undeterred.
"I don't regret giving Rory my support," Rob said. "I'm happy to support even if it was the wrong choice. We can only get better."
Day 2: "2 Scarf 2 Furious"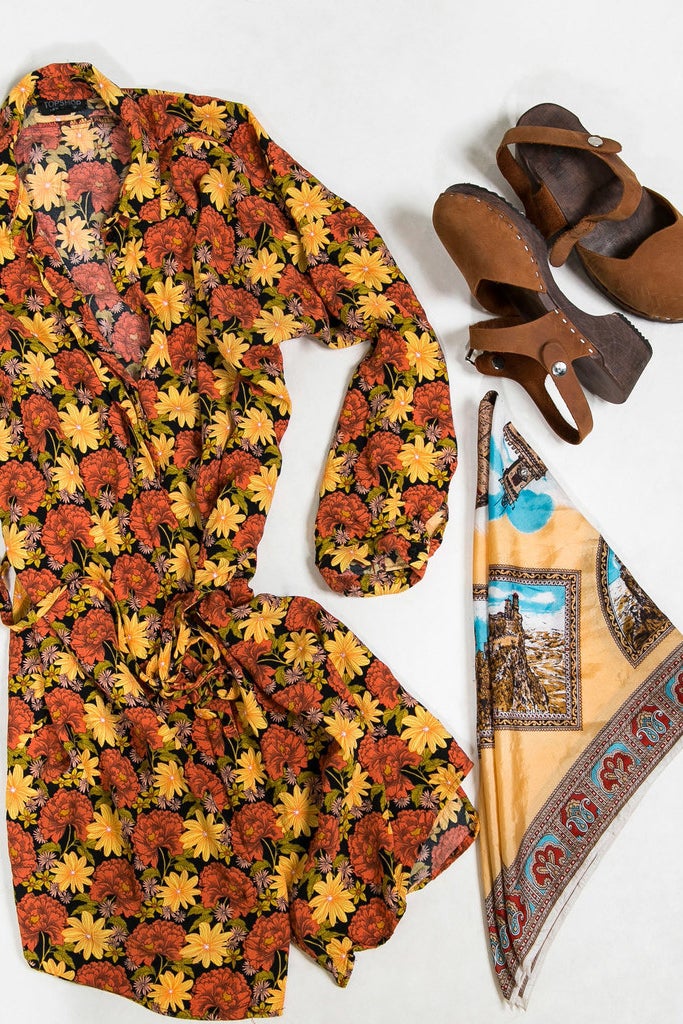 What They Chose: Topshop dress, handmade leather clogs, vintage silk scarf.
These boys just love a glitzy accessory. The original plan was for me to wear a faux-fur hat with this, but I pleaded for clemency due to the balmy weather. "Maybe I could just wear a necklace?" I asked, getting ready in a hurry for work. "No," Rob said, "wear a scarf instead. Scarf, scarf, scarf!" By this point I was running very late. "Which scarf?" Rob was nowhere to be seen, and Rory would not be drawn. "Text Rob," he answered, "This isn't my vision."
My Rating:
I really love this outfit, and will definitely wear it again. (Without the scarf of course, but I think I have now become immune to scarves.) I was super comfortable and felt '70s in a fun way – normally I wear this dress with summer sandals, but I think it works with these shoes. Well done, boys.
Their Ratings:
Rob: "A necklace would have been good. Less scarf. Or maybe more scarf."
Rory: "You look like the sun on its day off."
I decided to intervene in the accessories department. And I felt guilty.
"Maybe, just maybe, not every outfit needs a scarf," I offered.
"Scarves are the only accessories you've given us," Rory typed. "If you post more then we can make better outfits. Show us your belts!"
The fault was mine! I spent the evening taking photos of all my belts, bracelets, and necklaces. How could I blame them for all those damn scarves when scarves was all that I had given?
Day 3: "The Scarves Strike Back"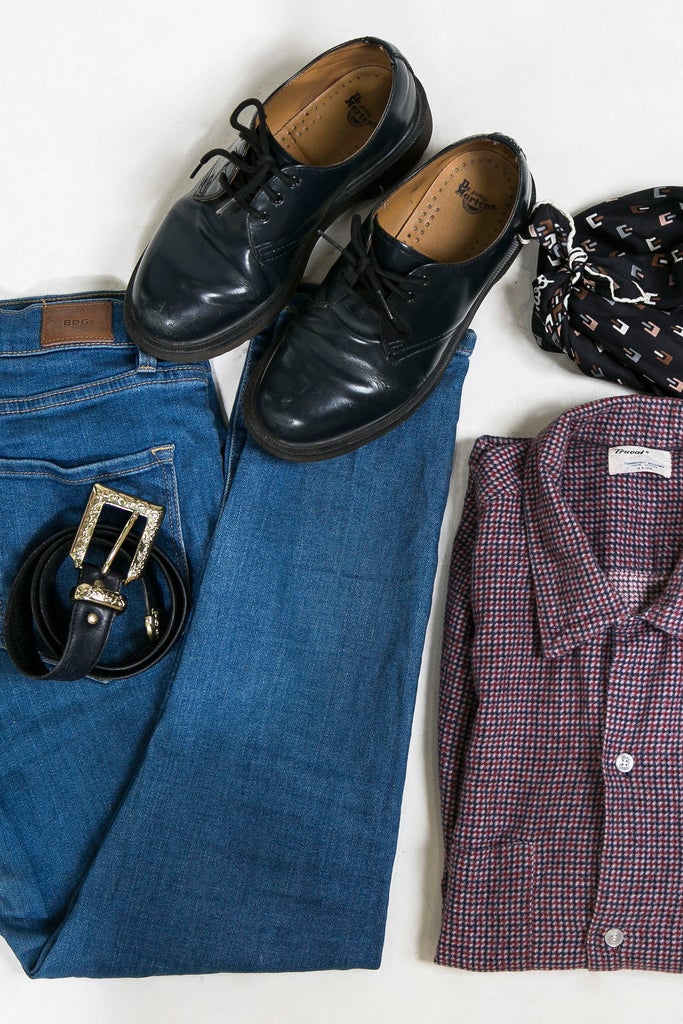 What They Chose: Vintage flannel shirt, vintage belt, vintage silk scarf, Urban Outfitters jeans, Doc Martens.
By Day 3, the boys had settled into their styling roles. Rory requested I "tuck the shirt in and then fluff it out, but keep it tucked in and roll up your sleeves". He then added a link to a picture of Rosie the Riveter for instruction as to how to tie my headscarf.
My Rating:
This is a great Saturday outfit: I wore it to a driving lesson and to the cinema and was comfortable all day. I've never worn this shirt tucked in but I think it looks good, and the belt is definitely a smart addition.
Their Ratings:
Rob: "It's good. Right on for a Saturday."
Rory: "Yep." (Presumably he was tired after art-directing my headscarf styling.)
Day 4: "The Rise of the Winter Tennis Player"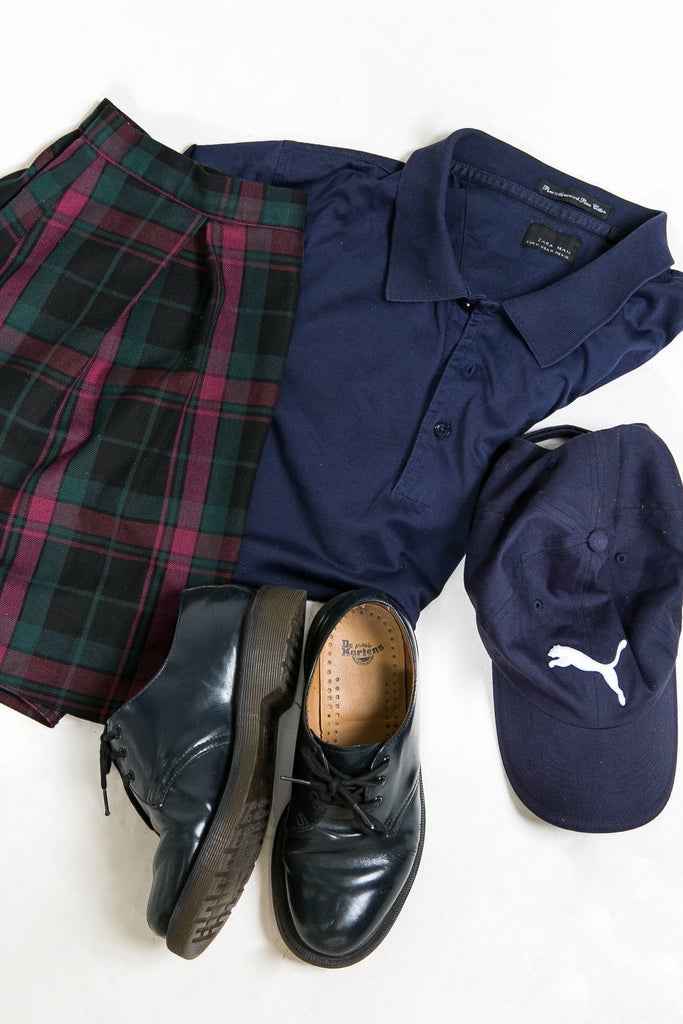 What They Chose: Urban Outfitters skirt, Zara T-shirt, Puma baseball cap, Doc Martens.
On Sunday, things took a left turn. Technically it was Rob's day to choose the outfit, but Rob wasn't answering his phone. (There is someone in everyone's family who treats their phone this way, and if you can't identify who yours is, then I'm sorry to say you're probably that person.) But once more, Rory stepped up to the plate. His inspiration? "I'm going for a winter tennis player kinda look."
My Rating:
I wore this outfit to a country pub with friends, who remarked that I looked more "Lady Golfer" than tennis player. I only wear this cap when I'm at the beach or exercising outside, so it was a strange choice to be honest. But the rest of the outfit is cute!
Their Ratings:
Rob: "Today's is good but very youthful (not an insult)."
Rory: "Ball boy vibes, I like it."
Day 5: "Great Expectations"
What They Chose: Vintage dress, pearl necklace, Doc Martens.
For the final day, Rob chose the theme. "My idea is, 'What would Dad choose?'" he said. This wasn't helpful to me, so I asked him to elaborate. "Because Dad would choose this. Nice dress, nice pearls. Top tip: If you're feeling frisky, then add a scarf." Unsurprisingly, I did not add a scarf.
My Rating:
When I got into work, several people told me how lovely I looked. Though it was a little glam for a Monday morning, it was nice to wear something fancy. I think this is my favourite outfit so far, and I'm gonna definitely wear it again. Would I have looked even nicer if I had added a cheeky scarf? We may never know.
Their Ratings:
Rob: "It's the best outfit by far. It looks dignified."
Rory: "It's great. It's as if a stylish granny were put back in her younger body."

Secretly I was hoping the boys would dress me in high heels, chic suits, and silk shirts. But I was also worried that they would troll me mercilessly and dress me in pyjamas for a week. So things could have been worse.
I loved seeing how the boys approached creating an outfit. Rory, art student that he is, liked to use a moodboard of influences and inspirations to achieve the look. And Rob, a chef, was more refined, building a look around one key piece – like he would when selecting produce. And I found it really touching how committed they were to finding a good look. Yeah, they went OTT on the scarves, but when they found a good outfit they were delighted with themselves.
Overall, it was enjoyable to play around with my clothes. I am guilty of taking myself too seriously sometimes, and if nothing else this week reminded me that it's not a big deal to wear a dumb outfit sometimes. And I say that as someone who dressed as a time-travelling Aztec.
Rob, Rory – any closing thoughts?
Rory: "We could have used more jewellery. We avoided a lot of things because they would be an inconvenience to you, like heels and so on."
Rob: "The whole process was very difficult because we have no idea of shape, fit, etc. But finally we cracked it. Although each outfit suffered from criminal under-use of the scarf."
All photos by Laura Gallant for BuzzFeed. Makeup by Joanne Reyes using Smashbox Cosmetics and shot at the Smashbox Studio Store, London.