You Can Make Your Very Own Wearable Embedded Camera
Who gets to tell the stories in our communities? You can build a hidden camera accessory to help tell the real stories in your neighborhood.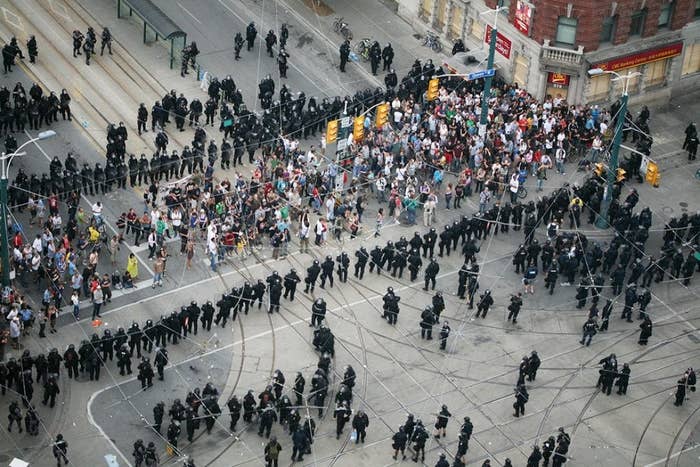 Who is telling the story of your neighborhood? What is the source of the data? What tools are being used to craft the narrative of your community?

I think citizens and journalists deserve their own policing and narration tools. Earlier this year, we tested out a hands-free timelapse hat at the Presidential Inauguration.

Since then, I've been streamlining the design as well as looking for ways to build and test the prototype with citizen journalists. The final design will be updated in the Open Lab git repo.
In the meantime we've put together this short sousveillance overview and prototype how-to for all you professional and citizen journalists and hackers.
Step-by-step instructions can be found in the Open Lab git repository.

There are five main parts to the project — modify the hat, assemble the hardware, install the operating system, add the Python script, then sew the hardware into the hat. I know it can sound overwhelming, but I'm here. As you work, it's important to test the circuitry periodically before sewing the hardware in place. The assembly does require some soldering which is a bit of an art, but don't let that intimidate you.
I believe in making technological topics accessible and digestible. So you'll find this project to be manageable for the beginner maker. If you don't find the instructions easy-breezy, lemme know.
In July, I will be facilitating workshops to walk through this tutorial. If you are interested in donating your time while honing your maker skills, you can register here. The hats created in our workshops will be loaned to local newsrooms and neighborhoods for user testing and storytelling.

Thoughts on tomorrow's journalist
In addition to ethical reporting, sourcing and interviewing, today's journalists are also expected to code, produce video content, crowdsource, and tweak SEO. At the Open Lab we set out to build tools that help lend an extra hand to these multitasking, storytelling badasses.
One bet I'm making on the next era of journalism is that it will include a resurgence of citizen journalism and community storytelling. With the impacts of faux news, I'm hoping communities are ready to take back authority, previously under the domain of newsrooms and other media entities, and instead tell their own stories.
And there are so many of our own community stories to be told! From police encounters, to immigrant experiences, to environmental travesties, there are many human rights issues to talk about from our own backyard. This first-person narrative tool can create a lens through which the rest of the world can see.
Send me your thoughts on sousveillance, prototyping, and wearables. Register for the Wearable Tools for Resistance workshop here.

Open Lab for Journalism, Technology, and the Arts is a workshop in BuzzFeed's San Francisco bureau. We offer fellowships to artists and programmers and storytellers to spend a year making new work in a collaborative environment. Read more about the lab or sign up for our newsletter.