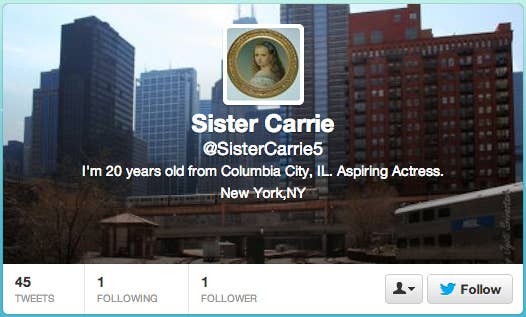 Most Internet users are aware that the World Wide Web can be a strange place. There are forums dedicated to uncovering the connection between Aaliyah and the Illuminati. There's the entire dark web, where you can trade in weapons, drugs and other contraband. There are photos of a drunk guy dressed like Santa getting a handjob in public in New York City.
But not every online oddity is conspiratorial, criminal or — in the case of that last one — cringeworthy. Some of them are as harmless as they are bewildering.
Case in point: There are half a dozen Twitter profiles based on characters from the 1900 novel Sister Carrie by Theodore Dreiser, which are, for some reason, reenacting the book's plot.
This post was created by a member of BuzzFeed Community, where anyone can post awesome lists and creations.
Learn more
or
post your buzz!