This piece is part our "I Did It!" series, a collection of first-person essays celebrating outlandish means and wild achievements. Submit your own story by emailing The Airship's editor at Arv@AirshipDaily.com.
We hit the trail around 9 A.M., already three hours behind schedule. The air on this July morning was thick and still, the grinding drone of cicadas crowding the soundscape. The trail was the Farmington Canal Trail, a non-motorized, multi-use path that stretches from New Haven, Connecticut to Northampton, Massachusetts. I'd been living in New Haven for close to a year, and ever since I'd been there, the trail called to me. I can't exactly put my finger on why. It's not as if riding the trail's length is some monumental feat. Eighty-four miles in one clip, while impressive, isn't exactly jawdropping.
But my friend Tim was game. We've been friends for nearly 15 years and try to cram in an assortment of outdoor excursions each summer. By the end, we generally annoy the hell out of each other and end up not speaking for a few days. The annoyances tend to come from our shared disposition towards not planning a goddamn thing. It's not that the lack of forethought comes from of a certain ideology, it's more a combination of laziness and an unwillingness to admit that we don't actually know what the fuck we're doing. Previous plan-less excursions resulted in getting lost several times in the woods with a lack of water and the sun sinking behind us, as well as me falling about 11 feet from an ATV and splitting my knee wide open.
Here is how we planned for an 84-mile bike trip: we bought eight Clif bars, a little granola, some bike shorts and three spare tire tubes. Shoved those items, plus a Camelbak pouch of water, into tiny backpacks. Dusted off an old map of the canal trail. Emailed a guy named Norm, president of the Farmington Canal Rail-to-Trail Association. Norm said: "Bring a lot of water!" Well, well. According to Norm, we were ahead of the game.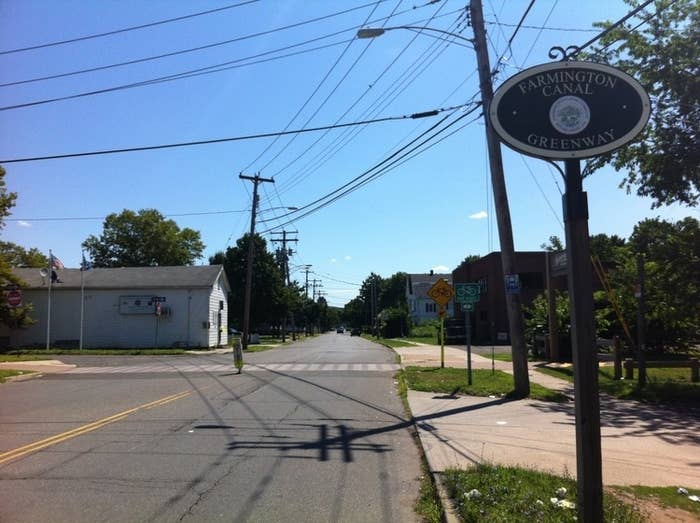 Back to the trail: We made good time through New Haven and Hamden, the first two uninterrupted segments. The trail is wide and tree covered, with slats of sunshine coming through here and there. The scenery changes rapidly from the desolate New Haven projects of Newhallville to Sleeping Giant, a gorgeous mountain that looks exactly like a man lying on his back.
In Cheshire, the trail comes to a halt for the first time, running right into a two-lane road. As we'd later learn, this happens in three or four other areas along the way, something the map I had doesn't exactly account for. We fiddled around with Tim's iPhone, but couldn't find anything concrete as far as reconnecting with the trail. On the shoulder of the road, I spotted two thinly spraypainted arrows, one green and one white. I looked at the less-than-helpful trail map in my hands, noticing the primary color scheme was green and white. This was somehow a good enough connection for us both. We followed the arrows.
Said arrows took us through sizable hills and tony Cheshire and Southington neighborhoods, rows of gigantic colonials with oversized garages and sprawling pristine lawns. The wind picked up a little here, and 25 miles in, we felt pretty good getting misted by sprinklers.
In Avon, we came to a sign: "Farmington River Trail," which gave way to a paved path. But the word "river" was throwing me off. The river wasn't the canal. Or was it? Fuck. This is where some research would have helped. And then there were the green arrows. They'd been leading us so well. I'd convinced myself they were somehow here just for us — mystical messages maybe from Norm, showing us the way. The compass Tim had told us we were headed Northwest, where we wanted to be. I voted for arrows, which looped to the left of the trail up a hill. Tim, frustrated, took off ahead of me. I wasn't in the best shape and chose to walk my bike up.
At the hill's crest, the road split in two and I couldn't see Tim. I reached for my phone, but it wasn't there. I realized Tim had it in his backpack, along with the extra water and our weed. After slapping my forehead for a bit, wishing I'd done a better job planning or at least asking Norm some more specifics, I continued on with the arrows, hoping Tim had done the same.
This post was created by a member of BuzzFeed Community, where anyone can post awesome lists and creations.
Learn more
or
post your buzz!