The Big Narstie Factor: How A Lovable Grime Star Conquered Late-Night Television
"The blackest thing on TV."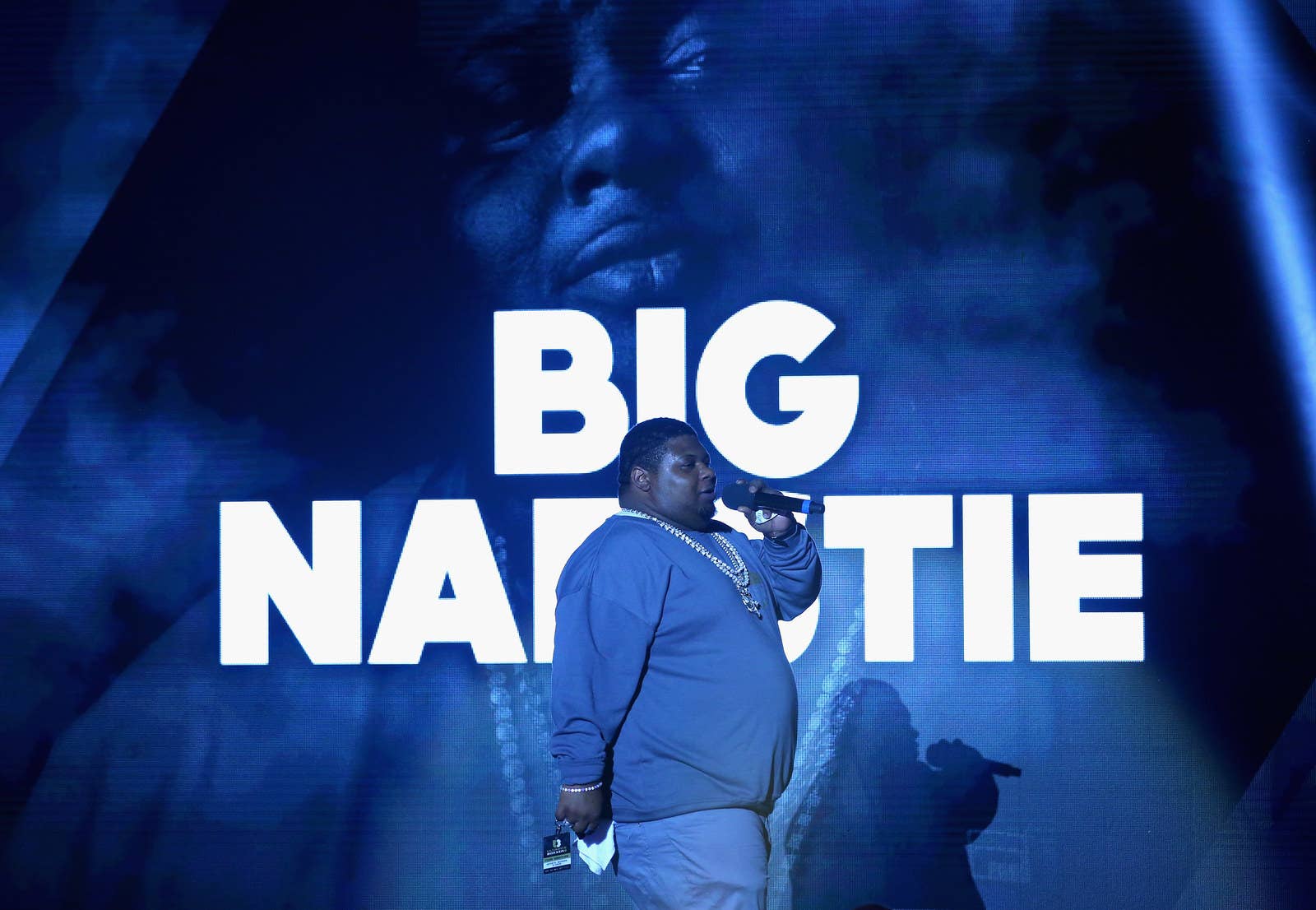 "I'm my production team's biggest nightmare," Big Narstie admits to BuzzFeed News with a cheeky laugh.
Nightmare or not, the Brixton native, born Tyrone Lindo, can boast that as the face of his own Channel 4 series, The Big Narstie Show, he has the pulling power to attract the audiences many broadcasters have struggled — or haven't bothered — to engage.
As well as grime MC, radio presenter, and one-off weatherman, 32-year-old Narstie can add TV's late-night disrupter to his sparkling CV. The variety-meets-talk show is like a raucous family BBQ where anything might happen: In one epsiode, Narstie gets a trim from his actual barber, and in another, you see grime legend Giggs fanboying over David Schwimmer aka Ross from Friends.
With support from comedian Mo Gilligan, the cohosts have entertained the British public for the past five weeks as a charismatic double act, and have brought with them more than three times the average share of black and ethnic minority (BAME) viewers and three times the average share of black viewers for Channel 4, a spokesperson for the show said.
The more impressive feat, however, is that the show, which Narstie calls "the blackest thing on TV," has managed to draw in that much-coveted youth audience: The first three episodes have more than doubled the average 16–24 audience at that time.
Narstie says of the show's formula: "You've got Mo, who is a professional comedian and can make a script. He can let you know what he's going to do by tomorrow. Then you've got man like me; I'm just off the cuff. You're going to get it then and there on the spot, so for a person who is very organised and likes to know what they're doing beforehand I'm a bloody nightmare."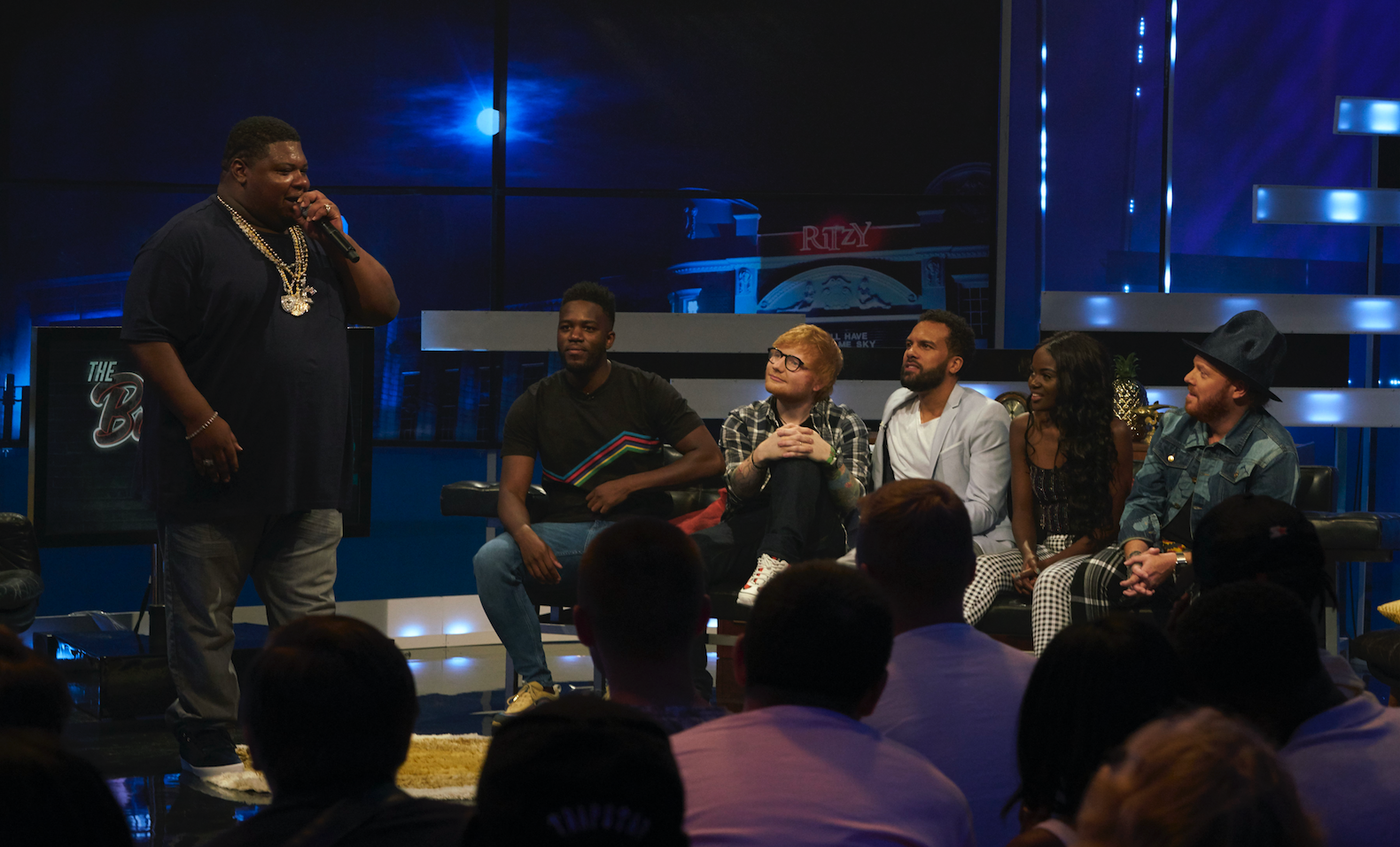 The show debuted on June 29 with a lineup that included all-star guests including Ed Sheeran, The Handmaid's Tale actor O-T Fagbenle, acclaimed dancer Sherrie Silver (of Childish Gambino's "This is America" fame), and the Leigh Francis character, Keith Lemon.
Since then it has had guests including Hollywood actor Thandie Newton, Craig David, rapper Lady Leshurr, and actor/writer/presenter Richard Ayoade.
While Narstie may not be your typical primetime host, the 32-year-old is no stranger to the entertainment industry. Still, he's candid about how he has managed to secure such a high-profile opportunity.
"To be honest with you, I really don't know," he says. "You know what, the thing is, I've managed to do all of this just being my natural self. ... It's a blessing, but it's so scary as well, because I don't know what I'm doing that everyone likes it so much. It's really scary sometimes."
He continues: "Some people see what I don't see — I'm just so happy to do all of this just being myself. The same thing what you get on the TV, you will see in your local Asda or the pound shop."
From week to week, the series has brought together more black people than the public are probably accustomed to seeing on the sofa of any late-night TV show. Narstie insists, however, that the show is an inclusive body of work.
"I would say The Big Narstie Show is the United Colours of Benetton; it's for everyone. But I would definitely say that it has a black appeal, because that's what I am," says Narstie.

"Jamaican culture. Caribbean culture — [that's] what I was born and raised with. RIP Desmond's! We ain't had nothing on TV where our culture could relate to since Desmond's, so I would definitely say that The Big Narstie Show is a representation of my black culture, because I think black culture is beautiful and I think the whole world should see it."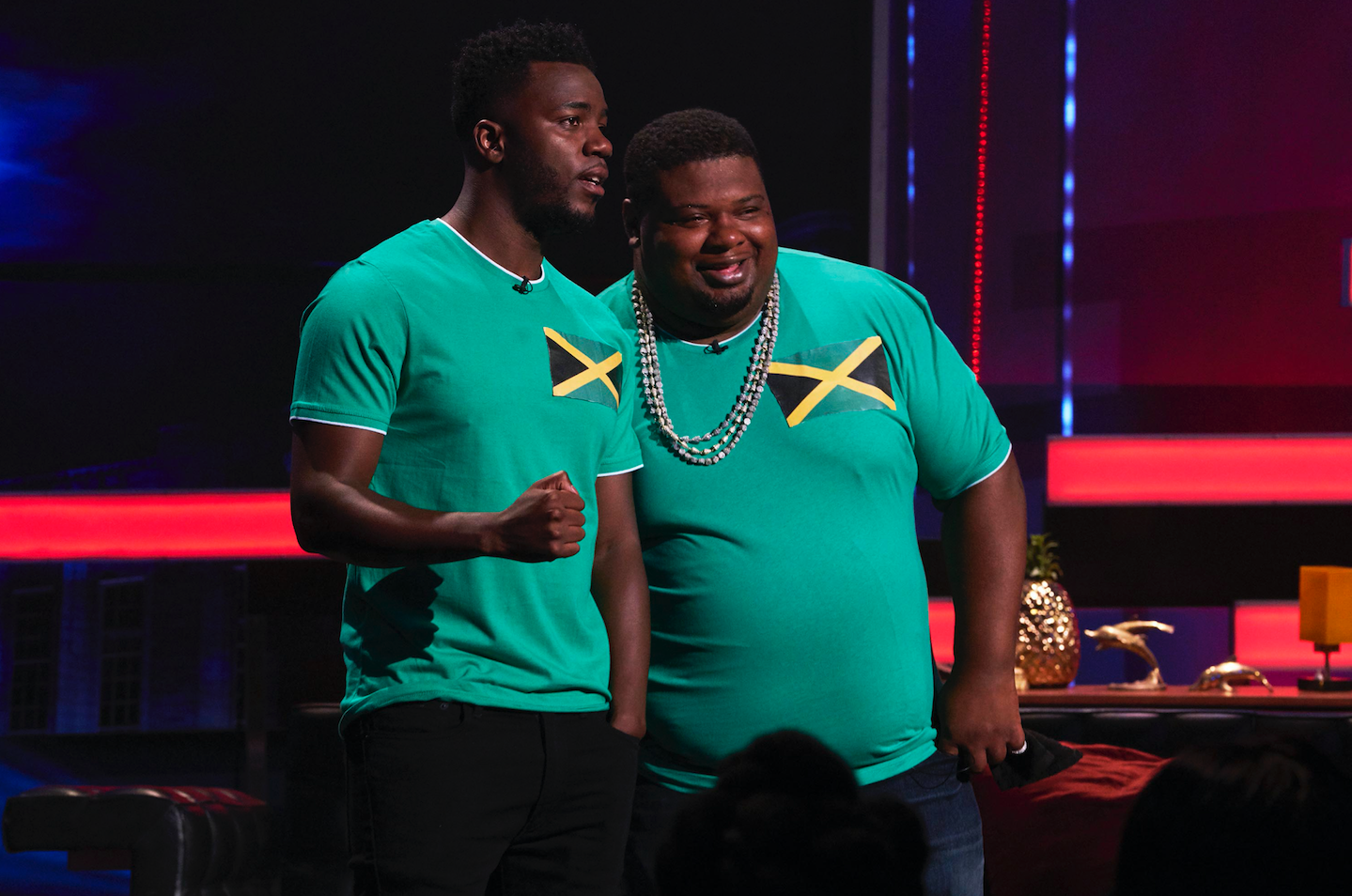 Carving out a space for himself in late-night television hasn't been without challenges, confesses Narstie, who may be more familiar to his longstanding fans for his work on YouTube, whether that's delivering The Grime Report or tackling the personal problems of fans when he transforms into the character Uncle Pain, his satirical take on agony aunts.
"It's nothing like YouTube," Narstie says. "It's nothing like just filming on your camera phone. There are rules and regulations, just the way how things are done.
"I'm a musician; this TV shit is just a whole new world, bare retaking shots from different angles, and they always want to recapture magic. Now, because I'm not a comedian I'm not going to stay up in the night thinking what funny things to say."
To remedy his lack of experience, Channel 4 recruited stand-up comic and online star Mo Gilligan, who Narstie credits for bringing "structure" to the show.

"I think Mo brings good banter and I think he brings a more professional-cut edge," he says. "Mo is like Trevor McDonald and I'm like Congo Natty: We're both black, but different types of black. I'm just there to be natural; Mo adds a bit of structure to the show, and obviously he is really fucking funny."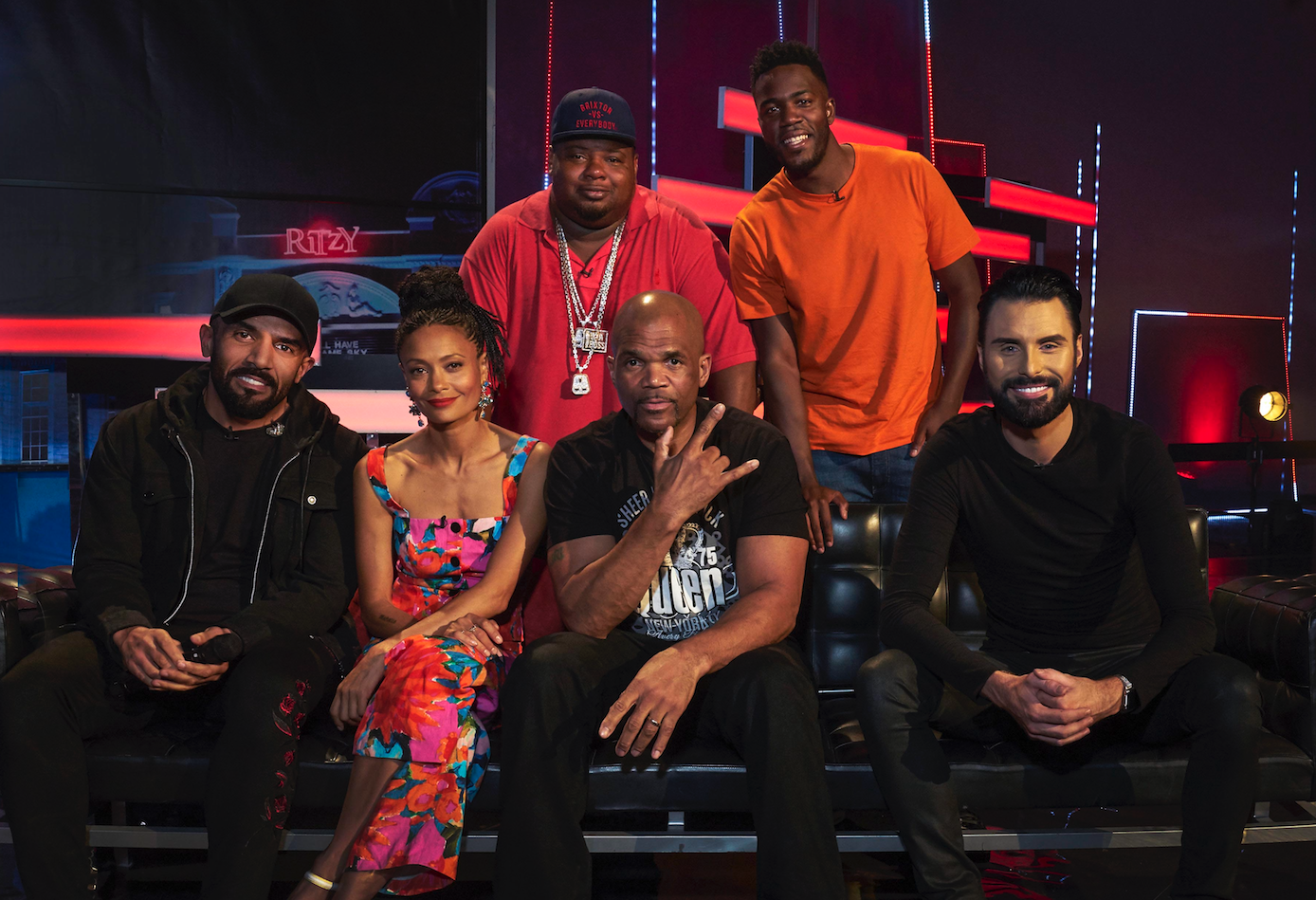 After the six-show run (the final episode airs tonight), Big Narstie will be handing over the baton to Elijah Quashie, the YouTube star known as the Chicken Connoisseur, who will have his own show in the 11pm Friday night slot, called The Peng Life. A show for Mo Gilligan is also in the pipeline.

It's part of a new experiment to diversify the broadcaster's range of programming.
It may also have something to do with Channel 4's commitment, announced in 2015, to put diversity at the heart of its organisation, on- and offscreen.
And Narstie is already focused on his next projects, which include a reinvention as an MMA fighter and promoting his latest musical offering, BDL Bipolar.
The title of the 26-track album reflects Narstie's diagnosis, which he says he started to recognise after participating in a university tour discussing mental health.
"I ticked all the boxes," he says. "The whole thing about the mental side of things, I called my album that as well because I wanted to take the stigma off of it. Especially in our industry, everything is so prim and proper; you'll never really see anyone show their sad side, because everyone wants to be perfect."
Narstie highlights the challenge that some artists face in navigating the industry when struggling with mental health and feeling less inclined to seek help over fears of being perceived as a liability.
"Anyone who's going through problems, they're probably scared about losing their deals or they're thinking, Are the company really going to keep investing in me if they think that I'm mentally unstable?"
His transparency about his own experiences with mental health has won the performer new fans, who he says regularly reach out to him. "I've had so many people hit me on my Snap and my Instagram to chat to me about things like that," Narstie adds.
With no confirmation on the future of The Big Narstie Show, the grime star maintains he is a "musician at heart", but is optimistic about returning to his career as a TV frontman, saying: "The future's bright; the future's orange."
In a statement to BuzzFeed News, commissioning editor Syeda Irtizaali added: "I absolutely love this show. Mo and Narstie have such a wonderful and effortless chemistry together and it's been a joy to watch them evolve with the series over the last few weeks.

"The strategy to introduce fresh and exciting talent to the channel and to experiment with new shows at 11pm is coming to fruition. We're delighted with the result which feels funny, unfettered and like nothing else on television."
The Big Narstie Show concludes on Channel 4 on Friday at 10pm, and you can catch up with the rest of the series on All 4.