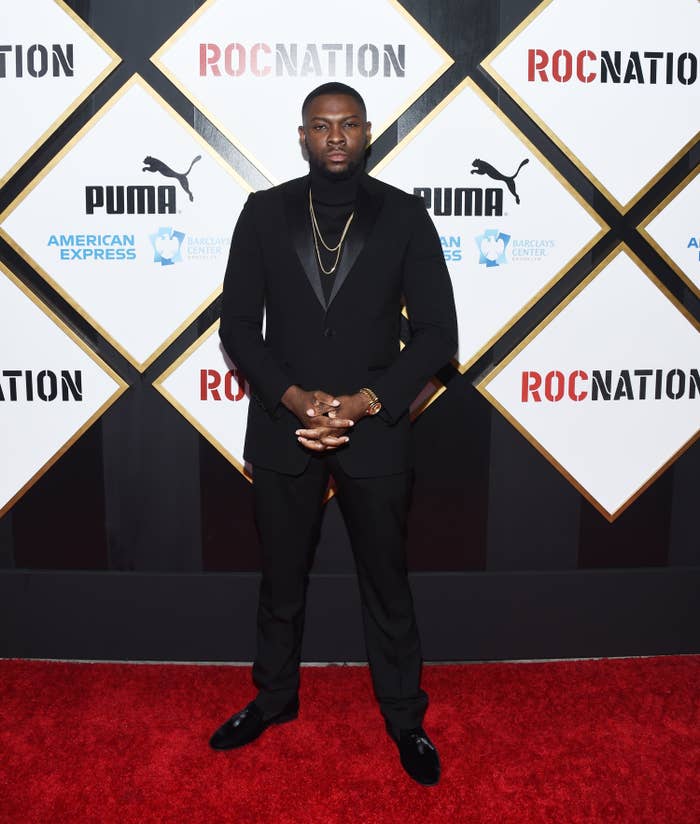 In September, when the Blue Story trailer was released, sections of the internet delivered a collective sigh of "Another one?" Some pushed back in defence of the project, but there was general fatigue around black storytelling with gang violence as the central plot, a starter pack complete with a gritty London council estate backdrop, pacey rap soundtrack, and cast of tracksuit-clad black men.
"People saw the trailer, and [there was] a lot of stuff on social media saying, 'Another one? Another gang film?' Look…there's many other films that have come out, Last Tree, Farming, but nobody wants to give those films attention, at least to me it seems anyway," Rapman, born Andrew Onwubolu, the writer and director behind the film, told BuzzFeed News.
At the time our interview with him was conducted, he was preparing for the world premiere of his debut feature film. His biggest concern was defending the film from a lack of enthusiasm amid claims it fed into unhelpful stereotypes.
And suddenly, everything changed.
Ten days later, the opening weekend would conclude with the film being pulled from two major theatre chains citing "safety concerns", following an incident involving up to 100 young people and resulting in six arrests.
In a statement, Vue Cinemas defended its decision, arguing that "during the first 24 hours of the film over 25 significant incidents were reported and escalated to senior management in 16 separate cinemas. This is the biggest number we have ever seen for any film in a such a short time frame."
Following Vue's lead, Showcase Cinemas similarly made the decision to pull the film from its locations around the country following "careful consideration."
The decision has been met with disappointment and a call to boycott the cinema chain under the hashtag #NoBlueNoVue. Top Boy actor Micheal Ward, who stars as one of the film's lead actors, told his followers: "I'm never ever going to Vue or Showcase cinema again in my life. Fuck them."
All of which carries a bitter irony. Speaking to BuzzFeed News before the ban, Onwubolu explained how he felt Blue Story articulates the complexity of youth violence and captures the role of social media in fuelling tensions, mental health issues, and a cycle of crime that keeps young people trapped. As he would later say on social media, it's a film about "love not violence".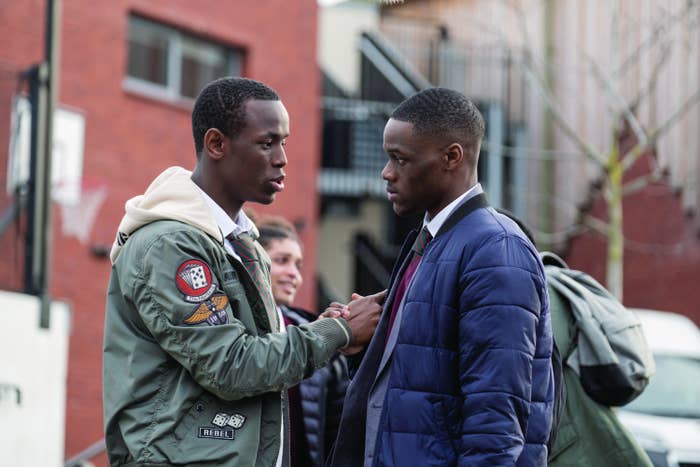 The rapper first captured the internet's attention in 2018 with his three-part rap drama Shiro's Story, written, directed, and narrated by himself. As of this moment, the series has more than 20 million views and after nearly 15 years of consistently delivering content in his signature rap narrative style, it would be the project that introduced the south London performer to a wider audience, including music magnate Jay-Z.
"Nothing happens before its time," reflected Onwubolu.
"You have to earn your respect. I had to earn my respect in that YouTube world to get to that level with Shiro's Story where people would respect me as a storyteller. Now, I'm trying to earn my respect as a feature filmmaker and I think they're going to respect me for that so you gotta take your punches, you've got to take your blows."
With his focus now aimed on capturing the silver screen, there was only one story that Onwubolu was prepared to tell. Despite the success and the fanbase Shiro's Story had generated, the plan was always to recreate his 2013 rap drama Blue Story.
"At the time I had like 500 followers, I didn't use professional actors, I just used friends and stuff like that and plus that story meant more to me than Shiro's Story. Shiro's Story was entertaining, I love it, it changed my life, I think it's dope, but Blue Story was based on my childhood."
A nod to the London borough of Lewisham, known locally as "blue borough" for its signature blue waste bins, Blue Story follows the paths of Timmy and Marco, powerfully portrayed by newcomer Stephen Odubola and rising star, Top Boy's Micheal Ward.
The pair star as the friends who become adversaries as a result of geography and taps into the reality of just one of the various features of youth violence: inherited conflict as a result of where you live and who you've been known to affiliate with.
"I was basically Timmy," said Onwubolu.
"I lived in Deptford and my mum sent me to [secondary] school in Peckham."
It was during this period that the Blue Story creator can recall how his friendship with figures including the British rapper Giggs would become strained as a result of his postcode.
He explained: "I went to school with Giggs, his brothers, Buck. Literally a lot of people were there, and it was all good and everything, but when I got into a certain year, they've all kind of reared off into their gangs and it and they're all repping the 'Narm [Peckham] — and all of a sudden, I'm like the outsider.
"We've been friends all these years but all of a sudden, [because] they've had issues with certain people in the area and I'm to blame for that?"
The tension at the time is something he remembers as all-consuming and made him consider drastic precautions in response.
"When I was in it in school, it was everything to me. I would go to school thinking about it. I remember contemplating taking a knife to school but didn't want my mum to check my bag.
"That was all that mattered, survival. I was put into survival mode, I wasn't going to let them get the better of me so I would go to school, ready. Me and my friends would meet up 10 minutes down the road so we could all walk down together, so that way, no one could try to jump us. It was a crazy time but I turned the negative into a positive."
Today, the father of four has a better relationship with Giggs, whose fans include Drake and Meek Mill and who is one of the musicians who appears on the soundtrack for Blue Story.
"We're cool because we're in our thirties. We're grown now, we've got families, we've got kids, we've got time to think about things like that, we've got careers, and we're successful — thank God."
From anecdotes in takeaway chicken boxes to the distribution of 320 bleed control kits in various London late-night venues, the response to London's alarming youth violence have been varied, but critics say it has barely scratched the surface.
Today, activists on the issue of youth violence will speak to the myriad of challenges facing Britain's young population, how these issues are exacerbated by class and race, and the need for a public health approach.
Onwubolu felt his project fits into the evergreen conversation and assures that viewers will not leave theatres "ignorant."
"Someone who's not from the streets would watch that and think, 'so that's how a person who comes from a loving parent could end up picking up a weapon, that's crazy,'" said the South Londoner.
"I think there's a misconception that they're all bad people. I think a lot of the media paint them out to be monsters and that they've all come from broken homes with terrible crackhead mothers and stuff like that," said the director.
"I think they don't get what the kids go through, a lot of it is mental health, depression, peer pressure, and because they're not down there on the ground, they will never really get it."
From his experience, Onwubolu is able to deliver what he considers to be the most authentic and true-to-reality portrayal of life in this space. It is that level of authenticity that he feels will resonate with a broad audience and also provides him with a sense of pride for being able to share this moment with his own children. The film features cameos from his 13-year-old son who plays a young Timmy and his 12-year-old daughter who plays a schoolgirl.
He said: "They're proud of me, that's what I do it for at the end of the day. There was a point in my life when they weren't proud, they couldn't say what their dad was doing for a living because I couldn't even tell you what I was doing for a living, so it's a good feeling to have my whole family behind it."
The headlines for the film's opening weekend have been dominated by the news of an incident outside Star City Vue Cinema in Birmingham where a machete was seized during a brawl involving up to 100 young people.
Six teenagers have since been arrested on suspicion of violent disorder, including two girls, aged 13 and 14, and a 19-year-old man.
The response of the cinema chains has been criticised online as disproportionate and damaging to any prospect the film had to make a strong opening weekend performance. Separate reports suggested that the incident occurred while customers were queuing to enter a screening of Frozen 2 and had no connection with the film feeding into the narrative that the decision is motivated by race.
Vue Cinemas maintained its position that the decision came following various incidents and in its statement concluded that it had reached the final position to remove the film on Saturday.
"This decision is not, as some have alleged, based on biased assumptions or concern about the content of the film itself," said a spokesperson for Vue.
Showcase Cinemas said in a statement: "The safety of our guests is of the utmost importance."
"We remain in discussions with the distributor with regards to the possibility of re-introducing the film in due course. We apologise for any inconvenience but guest safety remains our top priority."
Addressing the controversy on Twitter, Onwubolu extended his sympathy to any of the young people who may have been injured and made an example of the latest Joker film starring Joaquin Phoenix, which was the centre of a "credible" threat and resulted in a California movie theatre closing down temporarily.
He wrote: "It's truly unfortunate that a small group of people can ruin things for everybody. Bluestory is a film about love not violence. There were a few incidents earlier this year with the release of The Joker, it's always unfortunate, but I hope the blame is placed with the individuals and not an indictment of the film itself."

For Onwubolu, establishing himself as a credible filmmaker is part of a wider agenda to show that black British storytellers can deliver box office success. From his perspective, the pressure is on for the project to perform, he told BuzzFeed News: "If this film doesn't do what its meant to do in the cinema, then the next Rapman, or the next guy or girl that wants to make a movie with a black cast, they're not going to get the funding from the studio.
"If this film doesn't have like a Black Panther type of impact, they're not going to invest anymore, all we're going to do is wait for Top Boy, once every two years and that's it. We won't get any more movies anytime soon."
As it stands, the film is projected to have brought in £1.3 million since launching, but whether the film will have the space to make the cultural and economic impact that it hopes to achieve without the backing of two major theatre chains is yet to be determined.
Following weeks of campaigning and marketing in a way that black British cinema is rarely afforded, there remains a glimmer of optimism that Blue Story can join the small collection of films of this niche genre that manage to cut through to the mainstream.
BBC Films said: "We are appalled by the incident at Star City and our thoughts are with all those affected by it. Blue Story is an outstanding, critically acclaimed debut feature which powerfully depicts the futility of gang violence. It's an important film from one of the UK's most exciting new filmmakers which we're proud to be part of."
A representative for Paramount said: "We were saddened to see the events that unfolded at Star City and our sympathies are with all those affected. We feel that this is an important film, which we've seen play in more than 300 cinemas across the country, with incredibly positive reactions and fantastic reviews.
"We thank all our exhibition partners for their ongoing support."
The tail end of 2018 was marked with the announcement that the Blue Story creator had signed a "life-changing" deal with Roc Nation for management, film, and television in addition to his own record label allowing him to sign talent. On his encounter with Jay-Z, Onwubolu described how the hip hop billionaire imparted him with a nugget of wisdom that has since reframed what he considers to be power.
He recalled: "I was having meetings about Blue Story and I think BBC wanted something I didn't agree with and he was like, 'Just stick to your guns. They came to you, right? They wanted to work with you, right? They've seen what you've done, so it's not like they're going in blind; they know what you're about, just do it.'
"I said, 'Yeah, it's easy for you to say that, bruv, you're Jay-Z.' He said, 'You think you have to be in a position of power to command power? But the fact is, if they want you, then you are the power, so you've just got to believe in yourself and that's power. Stick with it.'"
For 2020, Onwubolu is headed stateside where he will be developing a program for an American audience. Speaking on his long-term plans, the creative can bask in the confidence of knowing that his pen game and ability to translate it on to the screen has made him a hot property with a wealth of options.
"I've got offers from every company you can probably think of to be honest. This film was kind of like my last gift for the UK for a second but, maybe 2021, I will probably do the Shiro's Story TV series on Netflix or whoever gives me the best deal.
"It all depends on what story I want to tell now. What story am I feeling now? We'll see, but I'm thankful at this moment now I've got quite a few options."
Due to the incident, Blue Story is available in select theatres including some Odeon, Cineworld, and Picture House theatres.

UPDATE
Showcase have since revised their decision and reinstated "Blue Story" with plans to have "increased security protocols".