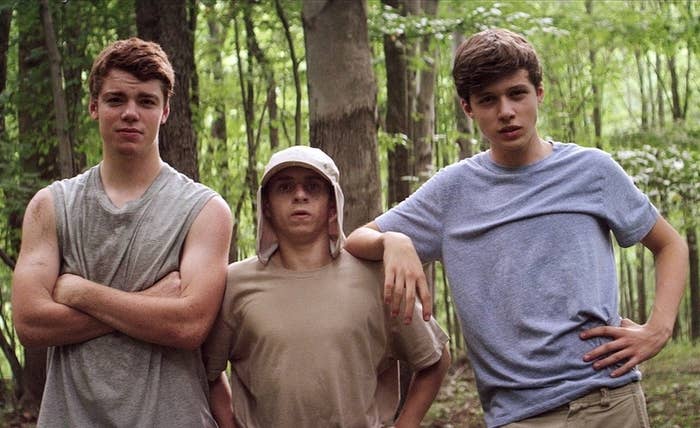 Ohio is synonymous with a lot of things — college sports, presidential electoral politics, roller coasters, etc. — but the state is not really known as a mecca for moviemaking.
That may begin to change with The Kings of Summer. The coming-of-age tale about three high school boys who escape their dull suburban lives by building a ramshackle home in the woods was originally supposed to be set in Staten Island, where screenwriter Chris Galletta grew up. But the generous tax breaks for film production recently put in place by the state of Ohio were too enticing to pass up for the indie production — and Chagrin Falls, the small Cleveland suburb that served as the movie's new setting, turned out to be an unexpected boon for the film's idyllic backdrop.
"People ask me all the time, 'Where the hell did you shoot this?'" says director Jordan Vogt-Roberts, who made his feature directing debut with the Sundance darling. "The nature was out of control. I don't even think people know how beautiful that whole area is."
In advance of The Kings of Summer serving as the opening-night film at the Cleveland Film Festival Wednesday night, BuzzFeed has an exclusive featurette with stars Nick Offerman, Megan Mullally, Alison Brie, Nick Robinson (Melissa & Joey), Gabriel Basso (The Big C), and Moises Arias (Hannah Montana) talking about the pleasures of making their movie far from the glitz of Hollywood. Check it out:
Vogt-Roberts spoke with BuzzFeed right before heading out to Cleveland for the festival, the first time he's had a chance to return to Ohio since they shot there last summer. He says he's looking forward to stealing away to Chagrin Falls again if he has the time. "In L.A., people are so jaded," he says. "You try to shoot something [there], and [the owner is] like, 'Pay me 10 grand or get the fuck out.' In Ohio, there's still that genuine pureness and love of movies, and the process that goes into it. Everybody was so accommodating and so nice. We had people lining up outside of our set just to watch. Moviemaking can be very boring from an outside perspective. It was refreshing to have people genuinely excited to be into what we were doing."
Here's a bonus exclusive first look at the film's festival poster. The Kings of Summer opens May 31.