How Tom Hiddleston Conquered His Biggest Challenge Yet
He's battled the Avengers and haunted Crimson Peak, but performing as country music legend Hank Williams in I Saw the Light was the most daunting role of Hiddleston's career.
The first time Tom Hiddleston ever acted on stage, he was 13 years old. It was a school production of Guys and Dolls, and while the actor would go on to become a peerless Marvel villain and Tumblr-breaking dreamboat, it was not exactly the beginning of a future in musical theater.
"I played the guy that [the female lead] Sarah dances with in Cuba, and Sky Masterson gets jealous and smashes a bottle over his head or something," Hiddleston told BuzzFeed News at the 2015 Toronto International Film Festival, laughing at the memory.
While Hiddleston has certainly enjoyed a healthy ascent in his career, he's shied away from singing and dancing as a part of his given profession. "Singing's always been a private thing," he said. "It's never been something I've thought of myself as being good at. Put a couple drinks in me and take me to a karaoke bar, and see what we get to!"
That all changed when Hiddleston signed on to play Hank Williams — one of the most influential and renowned American singer-songwriters of the 20th century — in the biopic I Saw the Light, which debuted at TIFF last fall and opens in limited release on Friday. Hiddleston sang every note in the film, uncannily capturing Williams' signature country twang and the playful, flirtatious swing of his music. And that accomplishment seems to have changed how the 35-year-old actor regards his own abilities as a performer.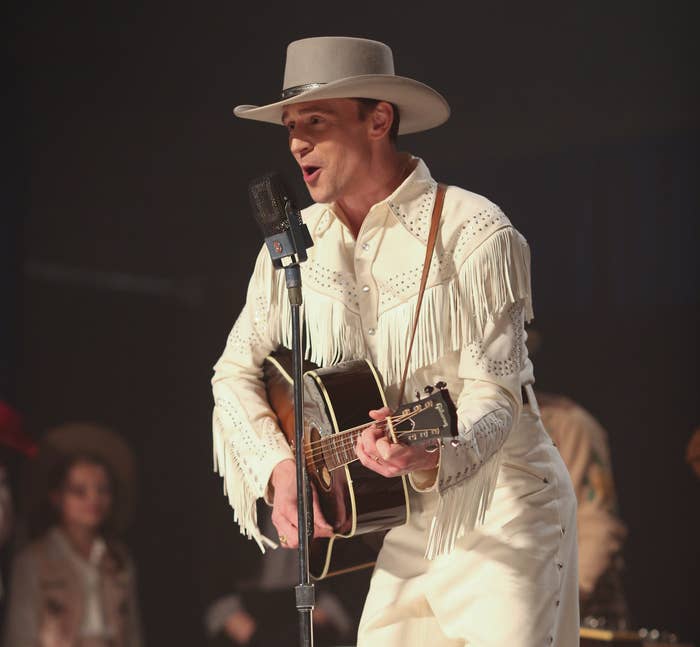 "Playing Hank has been a discovery for me about finding that I actually might be able to sing," he said. "Or at least interpret song in some way."
Hiddleston's reticence to sing professionally comes from his deep reverence for the medium. "There was an essayist called Walter Pater who said, 'All art aspires towards the condition of music.' I always interpreted that as meaning that music, of all art forms, has this ability to go straight to your heart," he said. "This is my aspiration as an actor, to be in a work that has the same impact that music does." (For several of his roles, Hiddleston has crafted playlists to listen to on set to help him get into character, including Sigur Rós for Loki in 2011's Thor, and the scores to 2007's Sunshine and 2013's Gravity for last fall's psychological thriller Crimson Peak.)
In Williams and his music, Hiddleston recognized that yearning for connection with other people. Beyond the bullet points of his movie-friendly biography — a troubled marriage to Audrey Mae (Elizabeth Olsen), self-destructive abuse of alcohol and amphetamines, and a tragic early death at 29 — his deceptively simple lyrics and melodies spoke powerfully to the human condition. "Literally, there is no high more gratifying than feeling that you've made a connection with people," Hiddleston said. "I knew that that's what the film was about — a man who had this extraordinary gift, and he connected really deeply with people because his lyrics talked of everyday experiences, everyday pain, everyday joy. Chasing a girl, or feeling a little lonesome, or having the lovesick blues. And he it made it OK for men in '40s Alabama to say, 'I'm so lonesome, I could cry.' That was his gift."
Growing up in England in the '80s and '90s, Hiddleston said he was more aware of the generation of country and folk music stars that followed Williams, like Johnny Cash, Patsy Cline, and Bob Dylan. But he understood that Williams presaged a larger moment for American pop culture. "I feel in my generation, if you grow up in Europe, there's something incredibly exotic about American cinema, and authentic Americana," he said. "Because we don't have the diners, and we don't have the burgers and the milkshakes — this salty, authentic American experience. I knew my generation grew up on American films, that whenever you saw someone walk into a diner, Hank Williams was always on the jukebox, that inimitable steel guitar sound. So I recognized that immediately."
To capture Williams' voice and sound, Hiddleston spent over a month working and living with American country music singer Rodney Crowell at Crowell's Tennessee home before shooting began. Hiddleston, Crowell, and their team of musicians worked eight to nine hours a day, every day, for five weeks, to help the actor embody Williams' sound. "We'd get up in the morning, we'd make some porridge, have a cup of coffee, and say, 'Well, let's get in there,'" Hiddleston said with a chuckle. Crowell first tasked Hiddleston with learning — and connecting with — Williams' lyrics, a job the actor took so seriously that he launched into an unprompted recitation of Williams' song "Cold, Cold Heart."
"The poetry is so simple and so powerful, and it was just about connecting to that for me," said Hiddleston. "What does it mean to sing, 'I've tried so hard, my dear, to show that you're my every dream / Yet you're afraid that each thing I do is just some evil scheme / A memory from your lonesome past keeps us so far apart / Why I can't I free your doubtful mind and melt your cold, cold heart?'"
The next step was to get Hiddleston to loosen up his ingrained English sense of musical timing. "Whether it's Scottish or Irish celtic stuff, or more traditional English stuff, all the way through, like, Nick Drake, Johnny Flynn, and Mumford and Sons, it's much more on the beat," he said. "We'd [sing] a couple of takes, and [Rodney] would say" — he broke into a spot-on Tennessean accent, "'OK, OK! The Englishman is alive and well this morning. Let's sing the blues for an hour.'"
When Hiddleston finally nailed it, it was unlike anything he'd experienced as a performer. "There were these extraordinary days where Rodney used to say, it's like I'd swam out into clear water," Hiddleston recalled. "For whatever reason, my voice would be warm, and we'd just hit a purple patch, and we'd just record everything. We'd just record, record, record, record, record. 'OK, let's do "Lovesick Blues." Let's do "Move It On Over." Let's do "I Can't Get You Off of My Mind." Let's do "Why Don't You Love Me?"' And I'd just keep singing. It was really fun."
But, he added, "It wasn't easy. There were days when the task seemed insurmountable. But it was always joyful."
Despite connecting with singing professionally like he never had before, Hiddleston added with a laugh that he's "not the guy who's about to release a solo album." And his upcoming projects likely won't require him to break into song, either. He'll next star in the spy miniseries The Night Manager (debuting April 19 on AMC), and the phantasmagoric feature film High-Rise (debuting digitally on April 28, and theatrically on May 13) — followed by effects-driven spectacles Kong: Skull Island and Thor: Ragnarok in 2017.
But Hiddleston's experience making I Saw the Light has expanded his own sense of what he can do as an actor. "I suppose if someone asks me to sing, I'll be less tentative about feeling as if I can do it," he said. He said he'd even consider revisiting that debut theatrical performance in Guys and Dolls — and this time, he would sing: "I'd love to play Nathan Detroit one day."