Inside The Heartbreaking Short Film That Won Sundance
Thunder Road is a single-take, 12-minute movie of a man giving a eulogy for his mother through the words of Bruce Springsteen. Here's how it went from an alcohol-induced idea to Grand Jury Prize winner at the 2016 Sundance Film Festival.
The short film that won the Grand Jury Prize at the 2016 Sundance Film Festival is the definition of "laughing through your tears." In 12 minutes, Thunder Road, which debuted in July on Vimeo, details every gut-wrenching, cringeworthy, and hilarious moment of the eulogy a police officer named James (Jim Cummings) delivers in honor of his late mother. James segues from charming awkwardness to genuine anguish to something that toes the thin line between the sublime and the ridiculous as he sings and dances to his mother's favorite song, Bruce Springsteen's "Thunder Road."

What is most remarkable is that Cummings does all of it in a single, unbroken take.
The idea for Thunder Road came to the 29-year-old star and filmmaker when he was returning home to Los Angeles from a retreat for College Humor, where he was working as a line producer. "I heard 'Thunder Road' on the radio when I was drunk," Cummings told BuzzFeed News in a recent phone interview. "I knew all the lyrics, because it actually is one of my mom's favorite songs, and I listened to it a lot in college. But I thought about it, and I was like, My mom would have heard this when she was younger. I did that whole thing that happens in the movie, where you realize that your parents are people. I had this meltdown. I guess that's growing up. You realize what a prick you were to your parents, and how difficult you must have been to raise."
Cummings remembered a story a friend told him about a funeral in which a son eulogized his mother with a song, and it struck him: What if he played someone singing "Thunder Road" at his mother's funeral? "And then, what if [he] fucked it up?" he said. "How challenging would that be?"
A few days later, Cummings struck up a conversation at a pizzeria with some LAPD officers, who coincidentally told him that in California, they have to wear their uniforms to a funeral.
"I was like, Cool, that's it! I'm going to grow my mustache out," he said. "That became the movie."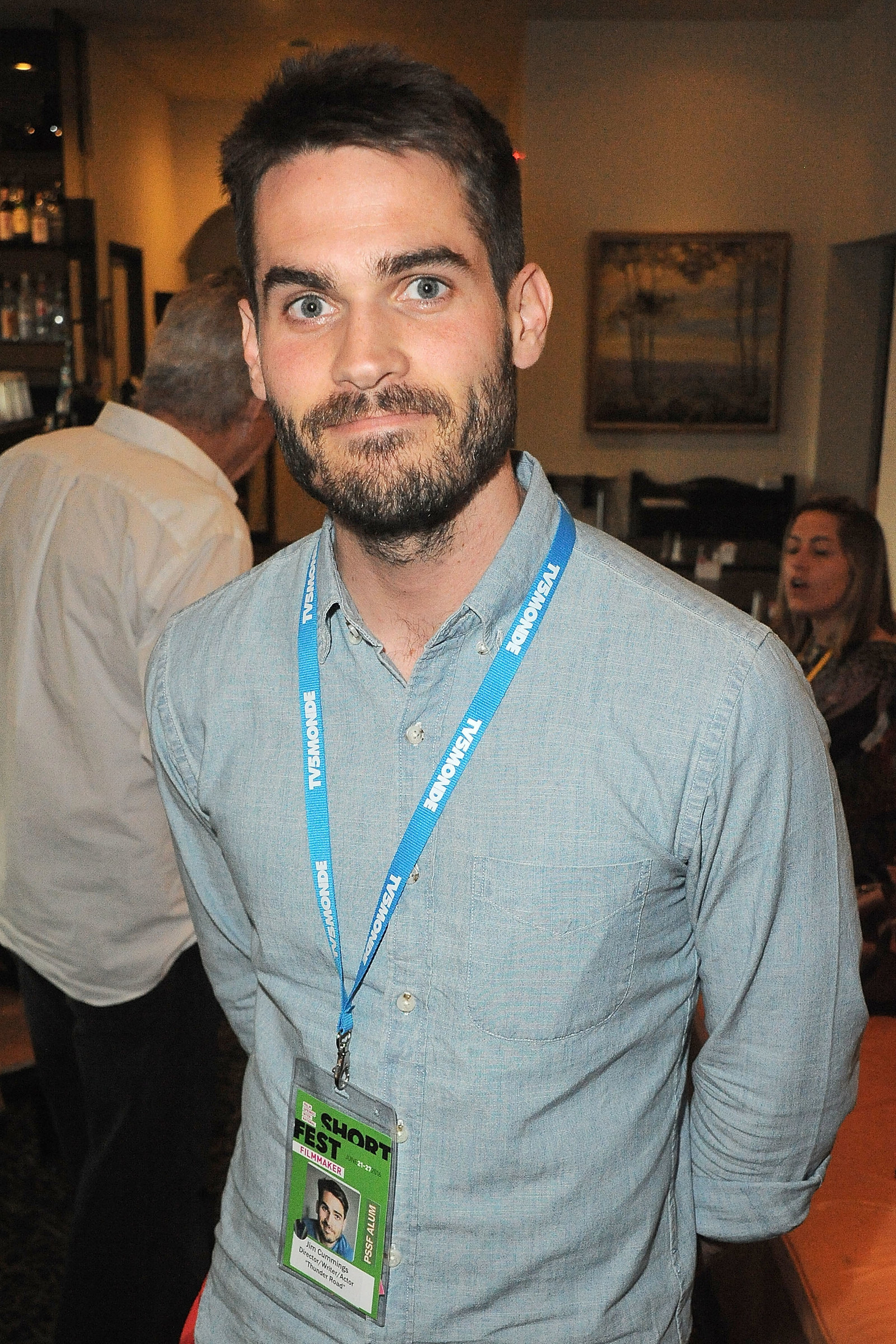 Cummings had only acted once before in a friend's short film, but he knew instinctively that he had to play James, and that he would shoot it all in one take. "If it was cut up, I think it would just feel like a weird funeral movie, rather than an experience people have to go through," he explained. "And also, that's like a high-wire act. It's much more like, Jesus, this guy did all this in one go, you know?"
Shooting in one take also kept costs down, but even then, Cummings' $4,000 in savings wasn't enough to bankroll the production. In desperation, he made a bold decision. "My wife had left me about a year and a half prior," he said. "I still had our wedding rings lying around. So I walked around the Jewelry District downtown and ended up selling them to this weird jewelry store." He got $3,000 for them.
On top of that, his own — very much alive — mother helped out. When Cummings explained the film to his mom, she gave him $1,000 so he could finish it. "I always thought it was going to be this kind of love letter to her," he said. "[And] a kind of apology note as well, for being this shithead kid growing up." Some of the stories James tells in his eulogy were drawn directly from Cummings' life. His mother did anonymously donate to his school, and she really did dictate college textbooks for his dyslexic sister.
Cumming rehearsed the eulogy while driving to and from his job at College Humor — he could get through it three times in one trip — and worked on the dance routine with choreographer Kathryn Burns (Crazy Ex-Girlfriend). He shot the film in October 2015 in a real mortuary near Pasadena, California, and filled the audience of roughly 30 people with friends, professional extras, and total strangers via a Craigslist ad. Most of them had no idea what they were about to see.
"For the first take, I was like, 'Hey, I'm playing a police officer, I'm eulogizing my mom, we have this whole thing planned out, just stay seated and just watch. It will be like theater,'" Cummings remembered. "I did the first take, and then everybody was like, 'Oh my god! This is ridiculous!' And then the challenge [for them] became, OK, how do you not laugh when you know something is going to come? It was very difficult. But we got there."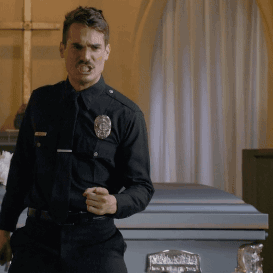 Of the six takes they shot, two of them had to be cut short due to audience laughter. But Cummings' affecting performance wasn't just eliciting levity. "All these older actresses came up to me after I would finish a take and would just, like, hug me, and hold on to me for a second, because they needed it," Cummings said.
The film won even more effusive praise at Sundance. When short film juror Keegan-Michael Key announced Thunder Road had earned the top prize, he called it "a mini-masterpiece of writing, directing, and acting." (You can watch a short documentary of the film's Sundance journey here.) Cummings has worked steadily since, signing with top-tier agency WME, appearing in a recent episode of Hulu's Casual, and writing and directing more one-take short films for Fullscreen. (He acts in one of them, playing a police officer who pulls over a group of kids who've just taken peyote.)
But perhaps most important for Cummings is the impact Thunder Road had on his relationship with his mother, who didn't see the short until after it had been accepted at Sundance.
"It was so funny to watch the eulogy part with her, and of course she's bawling her eyes out," said Cummings. "And then, as soon as the song came on, she and I danced while the rest of the family watched the movie, and sang the song to each other. … It was just great."