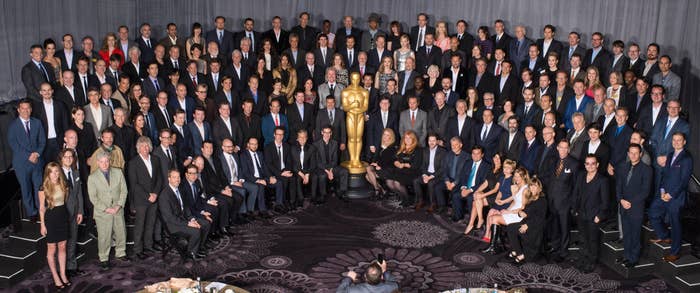 On Monday, the nominees for the 86th Academy Awards posed for a group photo after the official Academy Nominees Luncheon at the Beverly Hilton Hotel in Los Angeles. A few of them were famous movie stars, most of them were not, and many of them have had fascinating careers before this moment. Here's a deeper dive inside the room, and what you need to know about them for your Oscar party.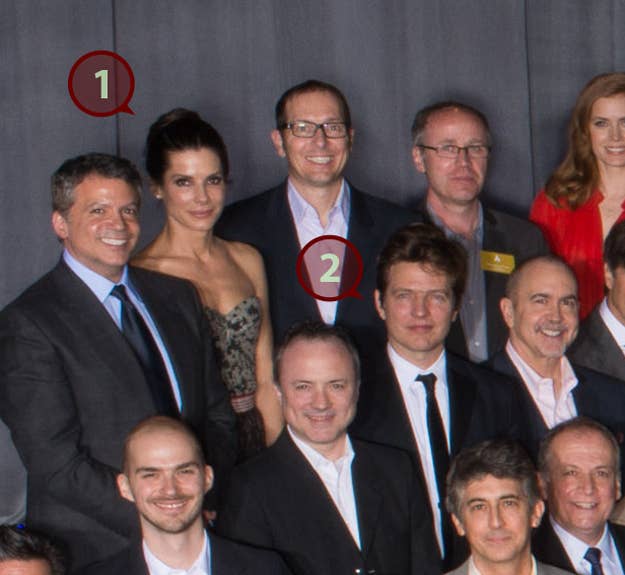 1. Best Actress nominee Sandra Bullock was the second nominee to be placed in the risers, meaning she had to wait while everyone else was introduced, applauded, and put in order for this "class photo." Before the luncheon, she told the press that Gravity "wasn't supposed to be a big blockbuster film. It was supposed to be an avant-garde, esoteric film about loss."
2. Danish director Thomas Vinterberg is representing his film The Hunt, nominated for Best Foreign Language Film (and winner of several awards at the 2013 Cannes Film Festival). If the film wins, however, Vinterberg won't technically be the recipient of the statue — that goes to the country submitting the film, Denmark.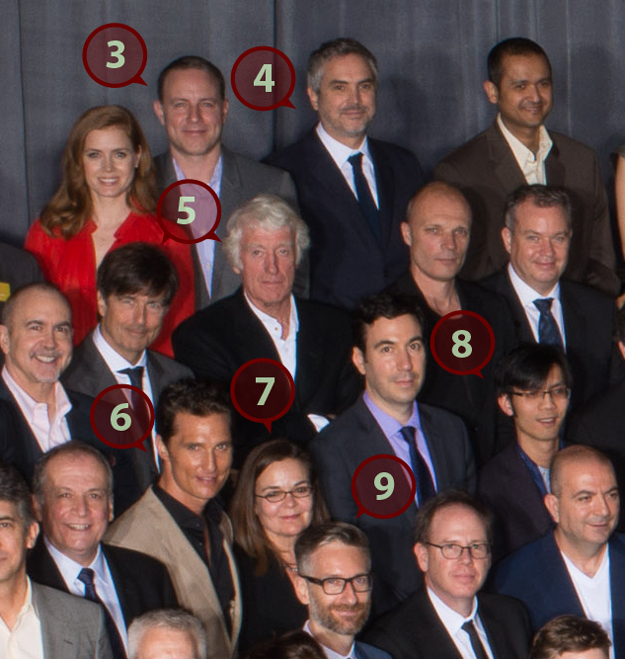 3. This strapping gentleman next to Best Actress nominee Amy Adams is The Croods director Kirk De Micco, nominated (along with director Chris Sanders and producer Kristine Belson) for Best Animated Feature Film. While making the film, De Micco told BuzzFeed last year that he and Sanders "waterboarded" Nicolas Cage to get sounds of him screaming underwater.
4. If he wins, Best Director nominee Alfonso Cuarón would be the first man of Mexican descent to take home an Oscar for that category.
5. The first time Best Score nominee Thomas Newman (for Saving Mr. Banks) and Best Cinematography nominee Roger A. Deakins (for Prisoners) received an Oscar nomination, it was for 1995's The Shawshank Redemption (in the same respective categories). Since then, Newman has received a total of 12 nominations for his music and Deakins has earned 11 nominations for his cinematography — and neither has ever won.
6. When asked in the press room how he would celebrate a win, Best Actor nominee Matthew McConaughey responded with his trademark easygoing candor. "I'm going to celebrate no matter what," he said. "This is my first time nominated. There will never be another first time."
7. Producer Emma Tillinger Koskoff, nominated along with Leonardo DiCaprio, Joey McFarland, and Martin Scorsese for Best Picture hopeful The Wolf of Wall Street, worked in the 1990s as an assistant to actress Uma Thurman and became Scorsese's assistant in the 2000s. This is her first full producing credit on a feature film, and likewise her first Oscar nomination.
8. Along with co-nominee Mark Gill, producer and screenwriter Baldwin Li convinced British acting heavyweights Martin Freeman and Tom Hollander to star in their nominated live-action short film The Voorman Problem, which is about a psychiatrist interviewing a man who believes himself to be a god. It's really good!
9. All those amazing, ultra-'70s dresses and suits in American Hustle? Thank Best Costume Design nominee Michael Wilkinson!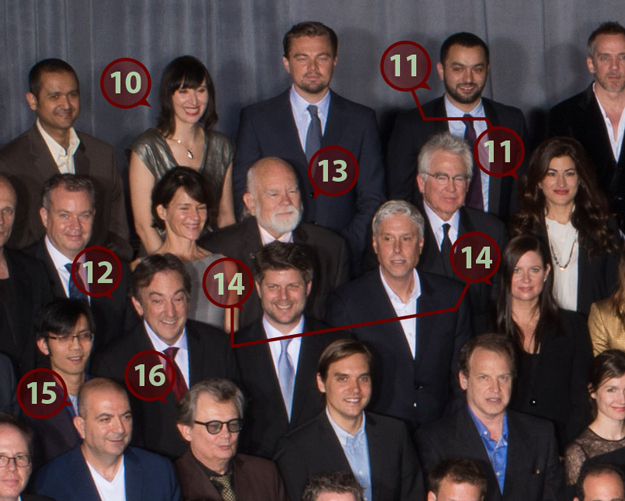 10. Hi, Yeah Yeah Yeahs frontwoman Karen O! Not only are you a Best Original Song nominee for Her's "The Moon Song" (with writer-director Spike Jonze), you got to spend all that time at the luncheon standing next to Best Actor nominee Leonardo DiCaprio!
11. Producer Karim Amer (above) and director Jehane Noujaim (below) are nominated for their feature documentary, The Square, about the 2011 Arab Spring uprising in Egypt — but Noujaim should have been nominated for her equally riveting feature documentaries, 2001's Startup.com (about the dot-com boom and bust) and Control Room (about how Al Jazeera covered the Iraq War). Better late than never!
12. If producer Peter Del Vecho's film Frozen wins Best Animated Feature, it will be the first win for a Walt Disney Animation Studios film in the category's 13-year history.
13. Visual effects artist Peter Anderson (TRON, Cocoon, Godzilla) will receive his honorary Oscar, the Gordon E. Sawyer award, at the Academy's Scientific and Technical Awards on Saturday, Feb. 15, instead of the primetime ceremony on Sunday, March 2. But as a part of this year's Oscar honorees, he was, of course, invited to the nominee luncheon.
14. To recreate the world of a 19th-century plantation in 12 Years a Slave, with very little money, Best Production Design nominees Adam Stockhausen and Alice Baker turned to four historic Louisiana plantations, and transformed other Louisiana locations into the 1840s port of New Orleans, and the streets of Saratoga, N.Y., and Washington, D.C.
15. Hany Abu-Assad's film Omar is only the second film ever to represent Palestine in the Best Foreign Language Film category. He also directed the first, 2005's Paradise Now.
16. That's Her's K.K. Barrett, nominated for Best Production Design with Gene Serdena, making the duck face. He's worked on every one of director Spike Jonze's feature films.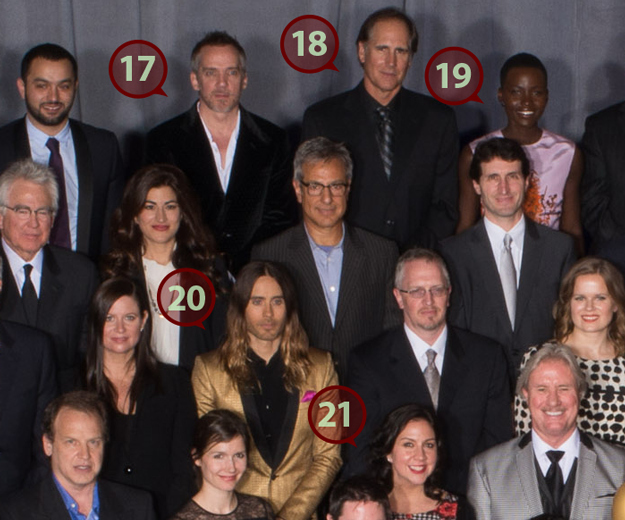 17. Although the man nominated for Best Editing for Dallas Buyers Club (with Martin Pensa) is cited in his nomination as John Mac McMurphy, it's really a pseudonym for the film's director, John-Marc Vallée. He isn't the first director to be nominated for this category under a pseudonym, either — the Coen Brothers were nominated for Fargo and No Country For Old Men's editing collectively as Roderick Jaynes.
18. Dan Sudick is the only one of his fellow Best Visual Effects nominees for Iron Man 3 (i.e., Christopher Townsend, Guy Williams, and Erik Nash) who has worked on every Iron Man film, as well as The Avengers — and he's been nominated for each of them.
19. Should Lupita Nyong'o win Best Supporting Actress for 12 Years A Slave, it will be the first time an actor has won for his/her feature film debut since Dreamgirls' Jennifer Hudson at the 2007 Oscars.
20. Best Supporting Actor nominee Jared Leto (for Dallas Buyers Club) was proud of the snazzy threads he wore to the nominee luncheon. "I don't dress up very much," he told the press room. "You've got to have fun, you know? You want to feel like yourself, not like your agent."
21. The last time someone won the Oscar for Best Original Song for a Disney animated movie, it was Phil Collins for 1999's Tarzan — so, Kristen Anderson-Lopez, the co-writer of Frozen's massive hit, "Let It Go," has a lot to live up to!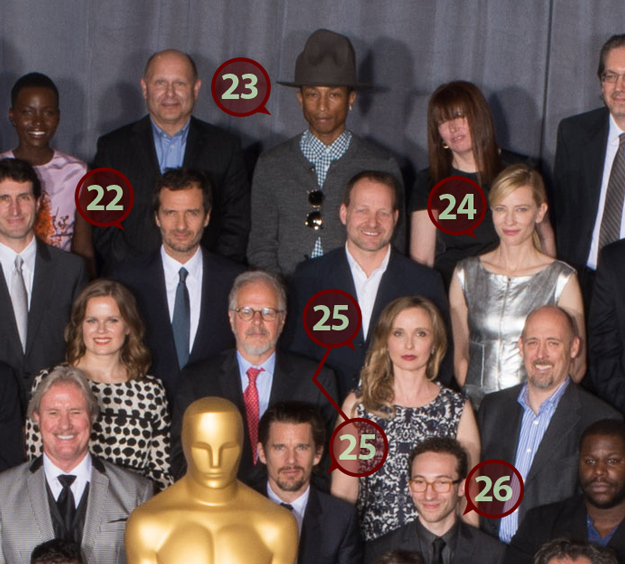 22. Though David Heyman — who produced Best Picture nominee Gravity with Cuarón — shepherded the entire Harry Potter film franchise with a stunningly consistent level of cinematic polish, this is the first year he's an Oscar nominee. And he has a very good chance of winning too.
23. You guys. You guys. It looks like there is a very good chance Best Original Song nominee Pharrell Williams (who wrote Despicable Me 2's "Happy") is going to wear his apparently trademark giant hat to the Oscars. YOU GUYS.
24. Of the three questions allowed for Best Actress nominee Cate Blanchett in the luncheon press room, none of them even gestured toward the enormous ongoing story about her Blue Jasmine director, Woody Allen (who is also an Oscar nominee for the film's screenplay, though he did not show for the luncheon). Instead, Blanchett fielded questions about playing the titular high-strung, high-class character — and that character's expensive fashion, which was all loaned to the production and had to be returned. "The entire clothes budget was less than an Hermes bag," said Blanchett.
25. For the second time, actors Julie Delpy and Ethan Hawke have been nominated for Best Adapted Screenplay, this time for Before Midnight, the third installment of director (and co-nominee) Richard Linklater's Before series. They were also nominated for the screenplay to 2004's Before Sunset (both of which are considered "adaptations" of the first film, 1995's Before Sunrise).
26. Thankfully, Martin Pensa is using his real name for his Best Editing nomination for Dallas Buyers Club.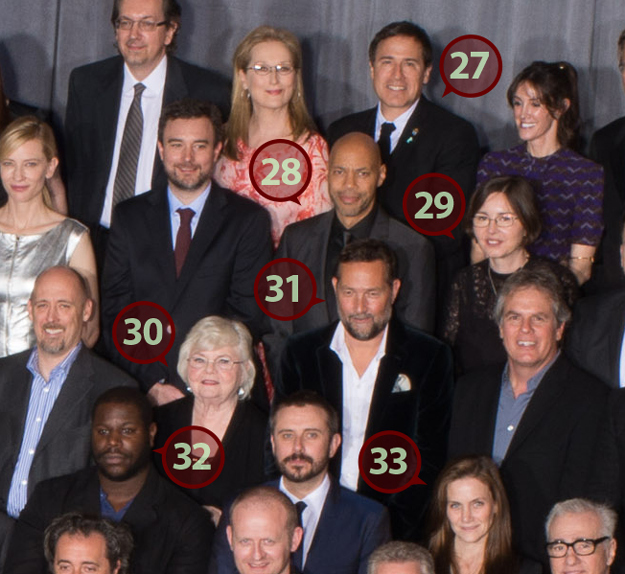 27. Usually, there are at least a couple of Best Director nominees who are also nominated for penning their films' screenplays, but this year, American Hustle's David O. Russell is the only writer-director double nominee.
28. Whoever placed Best Adapted Screenplay nominee John Ridley right in front of Russell has a particularly twisted since of humor. In 1999, the 12 Years a Slave screenwriter was locked in a public battle with Russell over credit for the screenplay to Three Kings, which originated from Ridley and went through a thorough rewrite by Russell.
29. Producer Signe Byrge Sorensen, along with fellow Best Documentary Feature nominee Joshua Oppenheimer, credited many of the people who worked on their film The Act of Killing as "Anonymous," including the film's co-director. The film's subject matter — Indonesian men who carried out acts of genocide during the country's 1965 military coup, and who still brag about their exploits today — demanded it.
30. If 84-year-old Best Supporting Actress nominee June Squibb wins for Nebraska, she will be the oldest acting winner in Oscar history.
31. I humbly submit that there isn't a better name among this year's Oscar nominees than Nebraska cinematographer Phedon Papamichael. It's fun to read and to say!
32. 12 Years a Slave director Steve McQueen was especially proud of the impact the film has had on bringing attention to the eponymous book written by Solomon Northup about his time as a slave. "It was always my ambition to get this book into schools," said McQueen. "It gives me great pride that we've resurrected his novel and the whole world will now learn his name."
33. Should Best Original Screenplay nominee Melisa Wallack win for Dallas Buyers Club (along with co-writer Craig Borten), she would be the first woman to win in this category since Diablo Cody for 2007's Juno.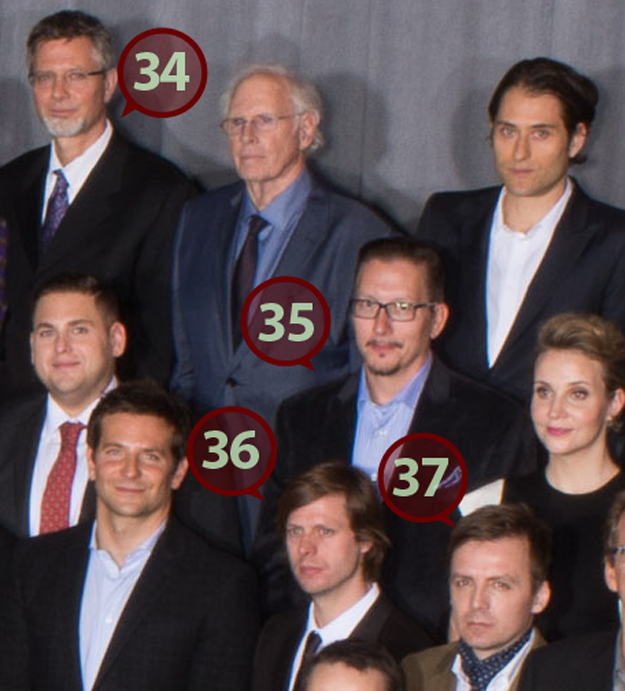 34. Perhaps Best Sound Mixing nominee Christopher Boyes was inspired by the creative facial hair in The Hobbit: The Desolation of Smaug?
35. This is Stephen Prouty. He is nominated for Best Makeup and Hairstyling for Jackass Presents: Bad Grandpa. And he looks about as surprised about the situation as everyone is, frankly.
36. Writer-director Felix van Groeningen — another fabulous name! — is representing Best Foreign Language Film nominee The Broken Circle Breakdown, a Belgian film that is a kind of American bluegrass musical set against the doomed romance of its two leads.
37. Hey, Mark Gill, director of Best Live-Action Short Film The Voorman Problem — great ascot!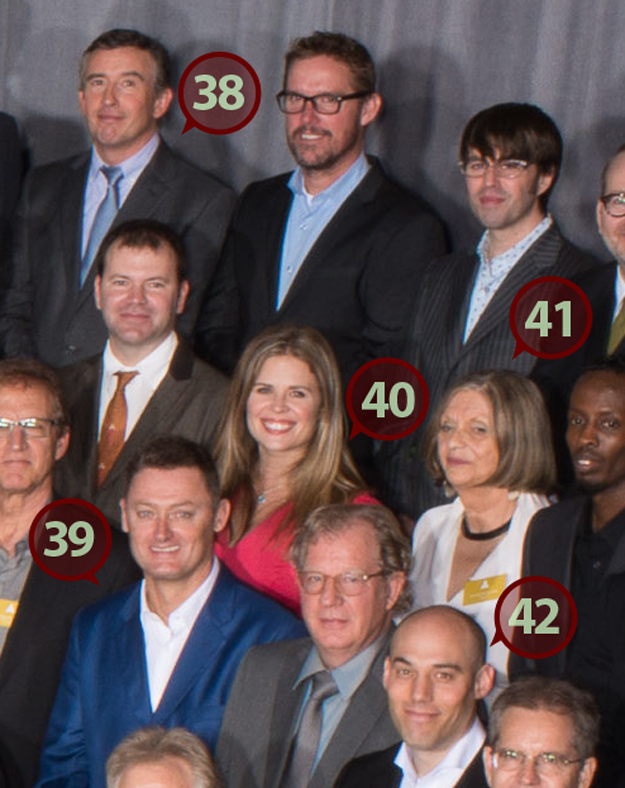 38. One of the less heralded accomplishments this year is that Philomena star Steve Coogan is nominated for both Best Adapted Screenplay and as a producer for the film's Best Picture nod (with Gabrielle Tana and Tracey Seaward). And he has the Alan Partridge movie opening on VOD on Feb. 27!
39. Coogan's co-writer and co-nominee for Philomena, Jeff Pope, is already set to write a British TV movie about comedy team Stan Laurel and Oliver Hardy called Stan and Ollie.
40. It has been a whirlwind 12 months for Frozen director Jennifer Lee, who co-wrote and co-directed this year's Best Animated Feature nominee, and co-wrote one of last year's nominees in the same category, Wreck-It Ralph. She deserves a vacation!
41. Joanne Woollard, one of Gravity's nominees for Best Production Design (with Andy Nicholson and Rosie Goodwin), was first nominated in the same category 26 years ago, for the 1987 British WWII drama Hope and Glory.
42. For Best Documentary Feature nominee The Act of Killing, director Joshua Oppenheimer asked the admitted perpetrators of genocide in Indonesia — all of whom got started in a black market for movie tickets before graduating to far worse atrocities — to re-create their story as old-fashioned Hollywood movies.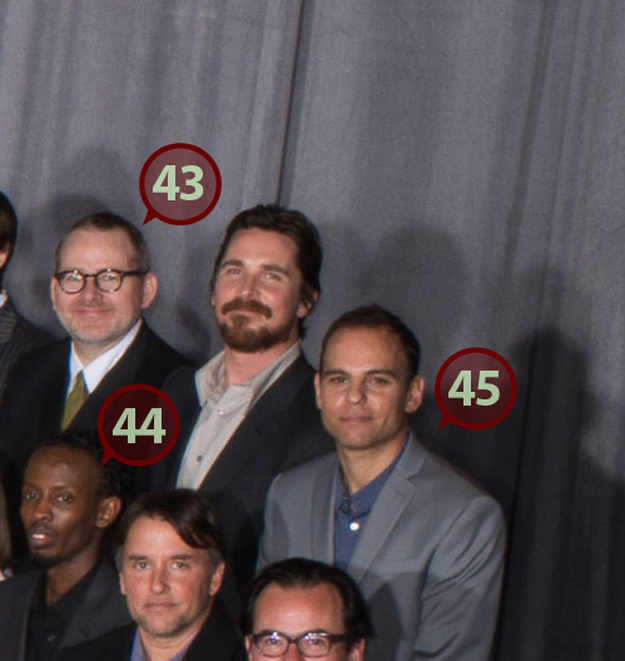 43. A regular presence in the music world, director-producer Morgan Neville, nominated for Best Documentary Feature 20 Feet from Stardom about legendary background singers from the 1950s through today, has also made docs about Hank Williams, Muddy Waters, Johnny Cash, and the Beach Boys' Brian Wilson.
44. Since his Captain Phillips co-star Tom Hanks did not earn an Oscar nomination this year, it would appear that Best Supporting Actor Barkhad Abdi really is the captain now. (My apologies, I couldn't help it.)
45. Miraculously, Best Documentary Short Subject nominee Jason Cohen — the director of Facing Fear, about a gay man reconnecting with the ex-Neo Nazi who beat him nearly to death — has managed to give the man to his right, Best Actor nominee Christian Bale, a run for his money in the handsome department.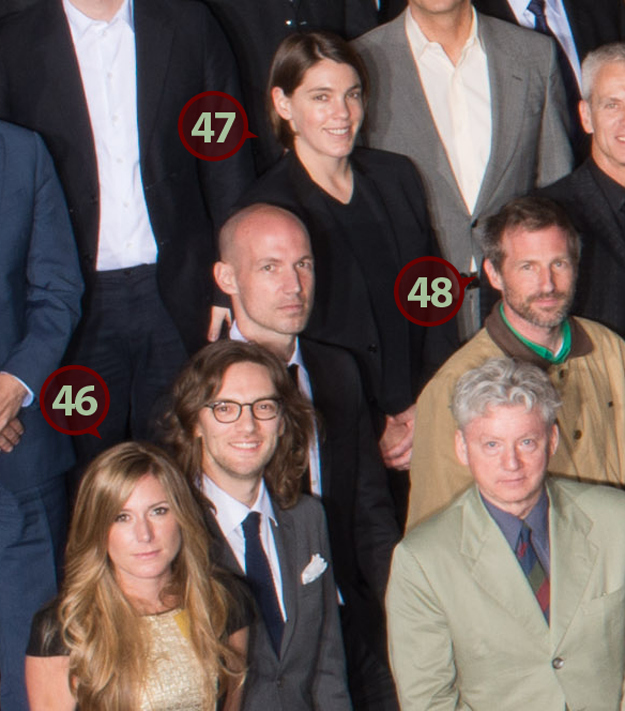 46. Best Documentary Feature nominee Caitrin Rogers started out working as an editor for MTV, BET, and VH1, which ideally suited her as a producer of the musically rich 20 Feet From Stardom.
47. In just four short years, Megan Ellison — daughter of kablillionaire and Oracle co-founder and CEO Larry Ellison — has become a major player in Hollywood, producing two Best Picture nominees this year, Her and American Hustle, which have 15 Oscar nominations between them. Did I mention she's 28?
48. Although Her's Spike Jonze missed out on a Best Director nomination, he still has three nods to his name this year: for Best Picture (as a producer), Best Original Screenplay, and Best Original Song (with Karen O). The only other person with three separate nominations this year is Gravity's Alfonso Cuarón (for Best Picture, Best Director, and Best Editing).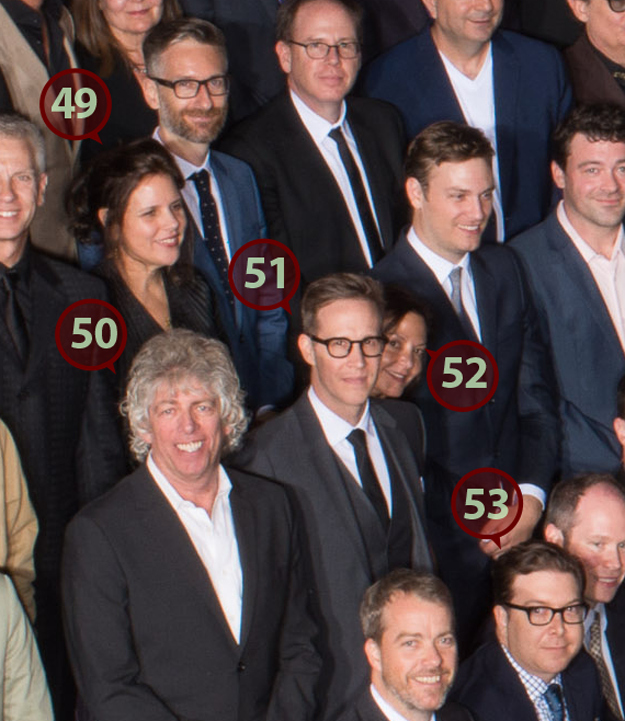 49. Lydia Dean Pilcher has produced several celebrated narrative films, from 1989's Longtime Companion to 1999's The Talented Mr. Ripley to 2007's The Darjeeling Limited. But her first Oscar nomination is for Best Feature Documentary, for Cutie and the Boxer.
50. This fabulous mane of curly gray hair belongs to Greg Orloff, nominated for Best Sound Mixing for Inside Llewyn Davis — a somewhat odd nomination considering none of the music in Inside Llewyn Davis rated a nod.
51. No, that isn't Mark-Paul Gosselaar's inexplicably more handsome brother. It's Joey McFarland, one of the producers for Best Picture nominee The Wolf of Wall Street
52. Hi, Philomena producer Gabrielle Tana — we see you! Tana's most recent films — 2013's Charles Dickens drama The Invisible Woman, 2011's Shakespearean war film Coriolanus, and 2008's period drama The Duchess — have been far more complex physical productions, so the relative straightforward locations and costumes of Philomena must have been something of a relief!
53. Best Original Screenplay nominee Eric Warren Singer wrote the first draft of American Hustle before his co-nominee Russell exploded the script with its freewheeling, semi-improvisational energy. (This time, however, Russell's fellow writer loved his changes.)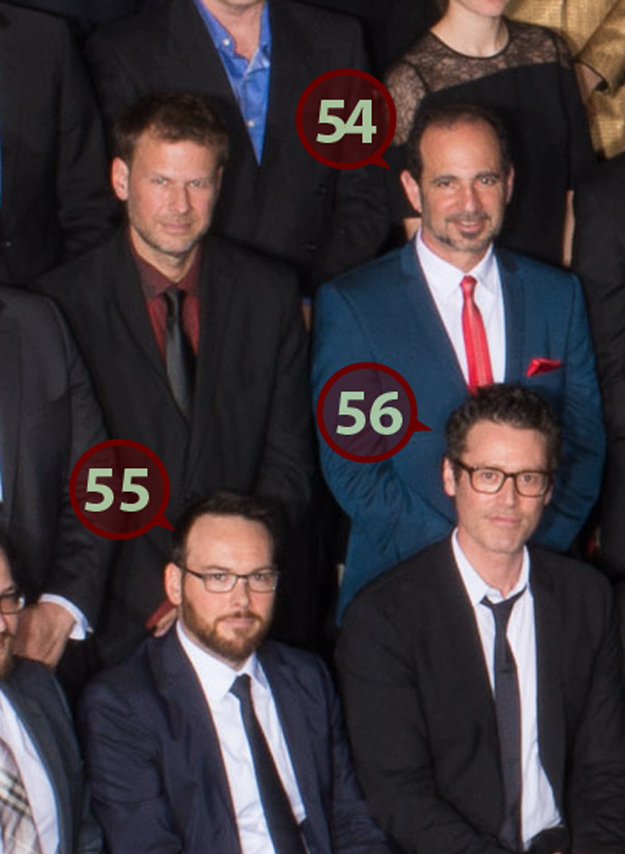 54. In 2003, Vincent Landay produced the MTV doc The Work of Director Spike Jonze, covering Jonze's extensive early career as a music video director. Ten years later, Landay and Jonze are nominated together for Best Picture as producers of Her.
55. Along with being an Oscar nominee for producing Captain Phillips, Dana Brunetti is currently in production on Fifty Shades of Grey, and tweeting odd and funny things about author E.L. James in the process.
56. Best Original Screenplay nominee Craig Borten first interviewed AIDS activist Ron Woodroof in 1992, just months before Woodroof died. He spent the next 20 years trying to get his screenplay about Woodroof made, with actors like Woody Harrelson, Brad Pitt, and Ryan Gosling signing on and then dropping out of the film. After the film finally got made with Matthew McConaughey, however, Borten has recently denied claims that Woodruff — depicted in the film as staunchly heterosexual, and initially homophobic — was really gay-friendly, and bisexual.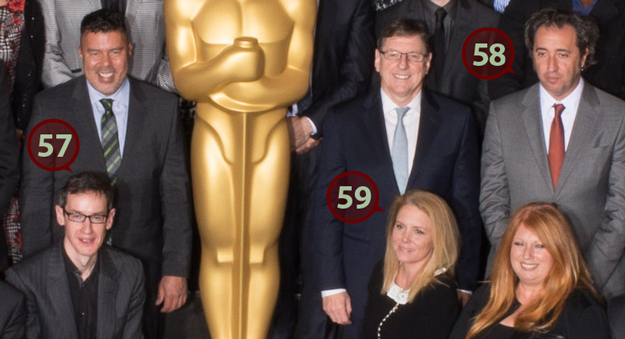 57. The British-born Best Score nominee Steven Price has only just started his career as a feature film composer — Gravity is just his third movie, after 2011's Attack the Block and 2013's The World's End.
58. Before directing Best Foreign Language Film The Great Beauty, Italian filmmaker Paolo Sorrentino was likely best known in the U.S. for making the drama This Must Be The Place, i.e., the movie with Sean Penn looking like a more over-the-top version of The Cure's Robert Smith.
59. Before directing Disney's Get a Horse!, nominated for Best Animated Short, Lauren MacMullan helmed episodes of King of the Hill, The Simpsons, and Avatar: The Last Airbender — but one of her very first jobs was directing a 1995 episode of the live-action Fran Drescher sitcom The Nanny.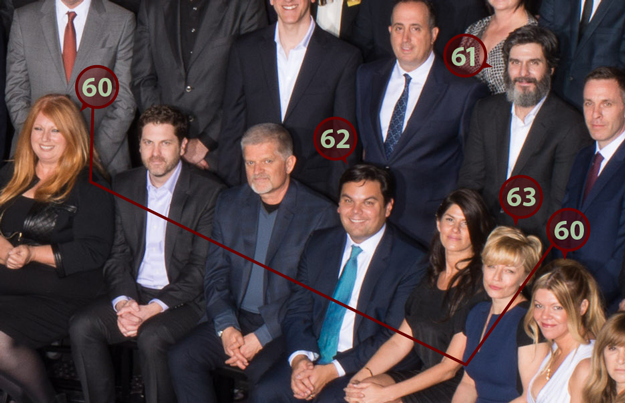 60. Adruitha Lee and Robin Mathews earned their Best Makeup and Hairstyling nomination for Dallas Buyers Club with a makeup budget of just $250.
61. The man with the magisterial beard is Anthony Katagas, one of the five producers of Best Picture nominee 12 Years a Slave. Since 2000, Katagas has worked on at least 29 productions, just about all of them independent films.
62. Robert Lopez, a Best Original Song nominee for Frozen's "Let It Go," knows about show-stopping ballads: He's won Tony Awards for 2004's Avenue Q and 2011's The Book of Mormon.
63. No idea exactly why Tracey Seaward, producer of Best Picture nominee Philomena, is making a duck face in this photo, but she may still be throwing shade at Russia's Winter Olympics opening ceremonies, given that she produced the star-studded Summer Olympics opening ceremonies for the 2012 games in London.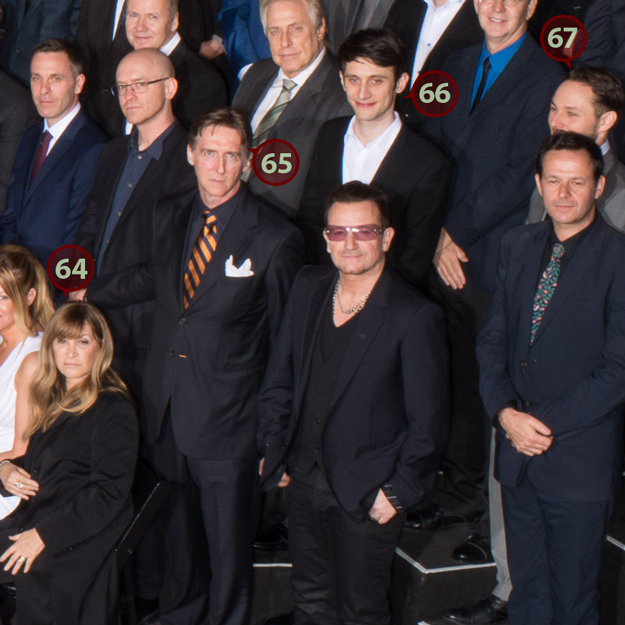 64. Gloria Pasqua Casny — nominated for Best Makeup and Hairstyling for The Lone Ranger — actually worked on last year's Oscar ceremony as a hair stylist.
65. Best Documentary Short Subject nominee Nicolas Reed produced The Lady In Number 6, about 109-year-old Alice Herz Sommer, the oldest living survivor of the Holocaust. For that accomplishment, he was placed next to Best Original Song nominee Bono, but try as he might, Reed cannot out-cool Bono.
66. Jan Lachauer directed the Best Animated Short nominee Room on the Broom, based on the popular 2003 British "picture book" of the same name, which has been translated into 21 languages.
67. Before co-directing the steampunky Best Animated Short nominee Mr Hublot, Alexandre Espigares — whose face is unfortunately slightly obscured here — graduated from The Luxembourg Technical College for Arts and Crafts. He's half-Spanish, and half-Luxembourgish, and has also worked on Iron Man 3, Happy Feet 2, and Star Wars: The Clone Wars.
Notable nominees who did not attend the event include acting nominees Chiwetel Ejiofor (12 Years a Slave), Judi Dench (Philomena), Michael Fassbender (12 Years a Slave), Jennifer Lawrence (American Hustle), and Julia Roberts (August: Osage County); producers Brad Pitt and Dede Gardner (12 Years a Slave), and Scott Rudin (Captain Phillips); screenwriting nominee Woody Allen (Blue Jasmine); and songwriting nominees The Edge, Adam Clayton, and Larry Mullen (Mandela: Long Walk to Freedom).
Here is the full list of all the nominees in the photo, per the Academy:
Row 6: Michael De Luca, Sandra Bullock, Edson Williams, Philippe Le Sourd, Amy Adams, Kirk De Micco, Alfonso Cuaron, Daniel Sousa, Karen O, Leonardo DiCaprio, Karim Amer, John Mac McMurphy, Dan Sudick, Lupita Nyong'o, Chris Meledandri, Pharrell Williams, Judy Becker, Bob Nelson, Meryl Streep, David O. Russell, Rachel Winter, Christopher Boyes, Bruce Dern, Jeremy Kleiner, Steve Coogan, Steve Boeddeker, Dan Golden, Morgan Neville, Christian Bale, Jason Cohen
Row 5: Andy Koyama, Chris Lawrence, Tim Webber, Thomas Vinterberg, Terence Winter, Thomas Newman, Roger A. Deakins, Andy Nicholson, Neil Corbould, Kristine Belson, Peter Anderson, Ron Yerxa, Jehane Noujaim, Alan Baumgarten, Billy Ray, David Heyman, Kim Magnusson, Cate Blanchett, Esteban Crespo, John Ridley, Signe Byrge Sorensen, Jonah Hill, Stephen Prouty, Kirsikka Saari, Tim Alexander, Jennifer Lee, Joanne Woollard, Barkhad Abdi, Richard Linklater, Joe Walker, Edgar Barens, David Clayton
Row 4: Caitrin Rogers, Crispin Struthers, Richard Rowley, Megan Ellison, Alexander Payne, Joe Letteri, Matthew McConaughey, Emma Tillinger Koskoff, Jonathan Gordon, Baldwin Li, Peter Del Vecho, Adam Stockhausen, Christopher Rouse, Alice Baker, Jared Leto, Mark Taylor, Selma Vilhunen, Jay Cassidy, Julie Delpy, Chris Renaud, June Squibb, Phedon Papamichael, Wylie Stateman, Bradley Cooper, Felix van Groeningen, Mark Gill, Jeffrey Karoff, Jeff Pope, David Brownlow, Joshua Oppenheimer, Chris Buck, Alexandre Espigares, Mike Prestwood Smith
Row 3: Malcolm Clarke, Spike Jonze, Chris Sanders, Lydia Dean Pilcher, Michael Wilkinson, Albert Berger, Hany Abu-Assad, K.K. Barrett, William Butler, Peter F. Kurland, Rosie Goodwin, Kristen Anderson-Lopez, Burt Dalton, Ethan Hawke, Martin Pensa, Steve McQueen, Jeremy Scahill, Melisa Wallack, Martin Scorsese, Dorothy McKim, Anders Walter, Alexandre Desplat, Glenn Freemantle, Charles Roven, Jan Lachauer
Row 2 (standing): Greg Orloff, Joey McFarland, Gabrielle Tana, Zachary Heinzerling, Ben Grossmann, Guy Williams, Joel Harlow, Vincent Landay, Beau Borders, Gene Serdena, Richard Hymns, Paolo Sorrentino, Mark Sanger, David Shirk, Richard Suckle, Anthony Katagas, Chris Burdon, Gary Brozenich, Nicolas Reed, Bono
Row 1 (seated): Eric Reynolds, Eric Warren Singer, Oliver Tarney, Eric Saindon, Max Lang, Dana Brunetti, Craig Borten, Michael Semanick, Steven Price, Lauren MacMullan, Adruitha Lee, Patrick Tubach, Erik Nash, Robert Lopez, Robbie Brenner, Tracey Seaward, Robin Mathews, Gloria Pasqua-Casny