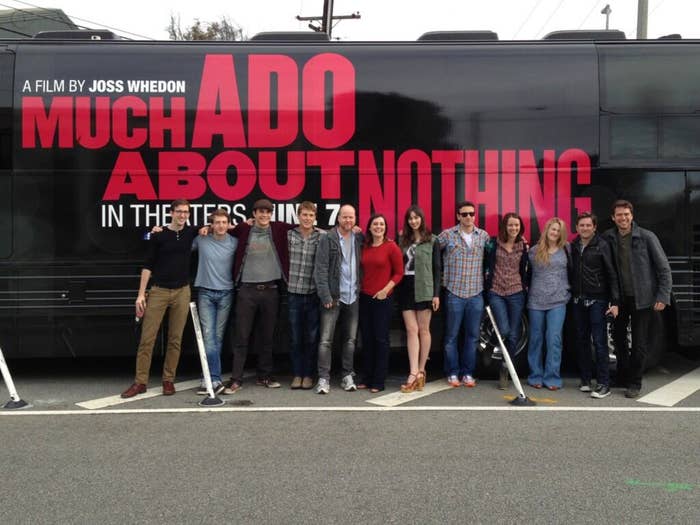 On the afternoon of Thursday, March 7, Joss Whedon and much of the cast of his black-and-white feature film adaptation of William Shakespeare's Much Ado About Nothing packed into a tour bus for the roughly 24 hour trip from Los Angeles to the SXSW Film Festival in Austin, Texas. The crazy, kooky bus ride all came together after a few of the lesser-known castmates began trying to figure out how they were going to attend the film's U.S. premiere on Sat., March 9 at SXSW (Full disclosure: I'll be moderating a panel discussion with Whedon and his actors after the premiere). Once distributors Roadside Attractions and Lionsgate got on board with the notion of a bus tour, things snowballed. They called it "Bus Ado About Nothing."
With all that time cooped up in a tight space, life got a bit weird en route to Austin. Thanks to Twitter, Instagram, and Vine, the journey has been thoroughly documented for our enjoyment. (Note: When this was first posted, the passengers — including Whedon and actors Tom Lenk, Fran Kranz, Spencer Treat Clark, Jillian Morgese, Ashley Johnson, Nick Kocher, and Brian McElhaney — were still on the road. But it has since been UPDATED with their complete journey.)
It began with Joss Whedon's highly anticipated Twitter debut.
On the bus, things were calm at first. Even dignified.
Though there were portents of doom.
And things weren't always dignified.
Quickly, people began to get restless.
Two hours in, some began to turn to drink.
Others began to experiment with social media.
Whedon, meanwhile, went about proving his presence on Twitter, and also challenging the grammar status quo.
At one point, some lucky passer-by received either one of geekdom's currently most coveted prizes, or a bunch of bare asses.
As the evening stretched into the wee hours, things began to get a bit... magical...
Maybe "magical" isn't the best word. But you get the idea.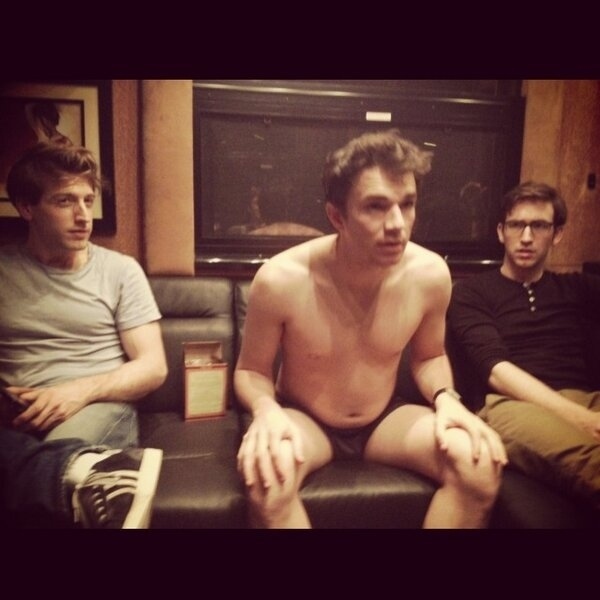 In the morning, they had pancakes!
Things got real.
And love was in the air.
There was a dance party.
And Fran Kranz was admired by Tom Lenk.
But when they started to get cabin fever…
...things did indeed turn dark.
Nick's attempt to embrace a month-old meme backfired...
...until it didn't.