The Complete Annotated Oscar Nominees Class Photo
The standouts among the 156 people who gathered for the 85th Academy Awards nominee luncheon on Monday.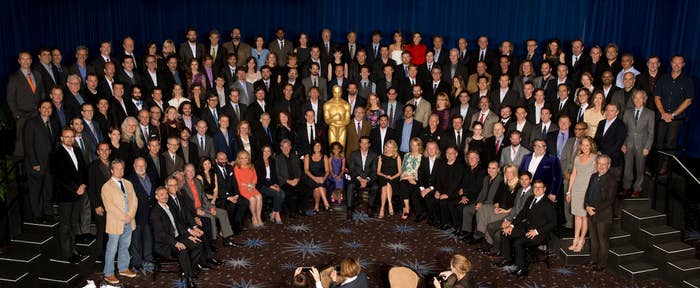 Nominees for the 85th Academy Awards® pose for a group photo at the Academy of Motion Picture Arts and Sciences' Oscar® Nominees Luncheon in Beverly Hills, California, on Monday, Feb. 4. Who are these people — the ones who aren't stars? And what is everyone up to in Hollywood's most prestigious group shot? We take a close look below.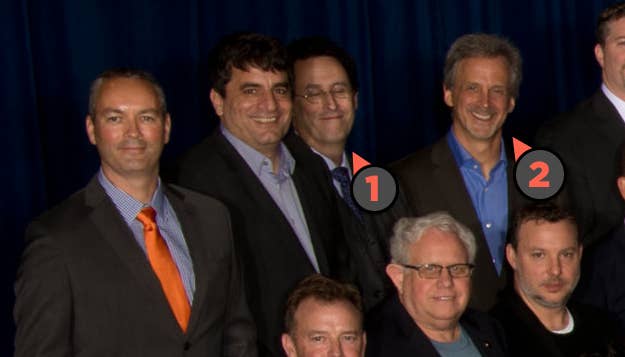 1. There's always someone in every picture who gets caught with his eyes closed. The unfortunate man in this one is Lincoln screenwriter and playwriting god Tony Kushner. We are choosing to believe his eyes are clenched in a sudden spasm of creative inspiration.
2. Editor William Goldenberg is the rare Oscar nominee to appear twice in the same category in the same year: for Argo and Zero Dark Thirty (with Dylan Tichenor, pictured directly below him at the bottom right).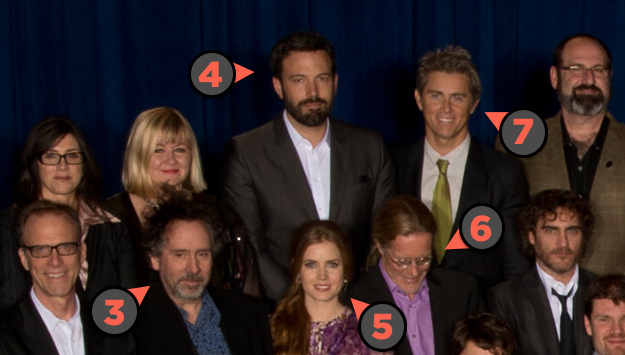 3. Director Tim Burton (nominated for Best Feature Animation for Frankenweenie) arrived at the luncheon with his left arm in a sling after slipping on the streets of London, an injury that he told the press backstage required a metal plate: "Part bionic man!"
4. No, infamous Best Director snubee Ben Affleck didn't crash the party. He's riding in as a producer on Argo's Best Picture nod.
5. Best Supporting Actress nominee Amy Adams (The Master) showed up in a goofy mood after shooting an episode of Zach Galifianakis' web series Between Two Ferns, so when the PA system began playing "Because the Night Belongs to Lovers" during her press Q&A, she took it in stride: "I think maybe this is the theme of this lunch!" (And yes, that's Adams' The Master costar, Best Actor nominee Joaquin Phoenix, glowering at the far right.)
6. Perhaps Adams made Best Sound Editing nominee Per Hallberg (Skyfall) bust up laughing right before the photo was taken?
7. It takes a lot to out-handsome Ben Affleck, but Best Original Screenplay nominee for Flight John Gatins has clearly got what it takes.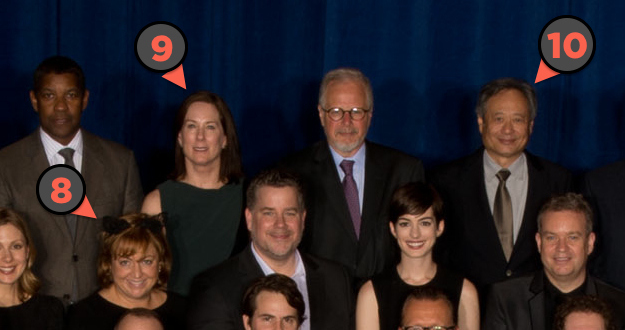 8. And the award for most adventurous head decoration goes to...Best Production Design nominee Eve Stewart (Les Misérables), wearing, we believe, cat ears!
9. Producer (and current emperor of all things Star Wars) Kathleen Kennedy (Lincoln) has been nominated for an Oscar eight times, five for films directed by Steven Spielberg. She has never won.
10. Director Ang Lee (Life of Pi) remains the only person of color ever to win Best Director, for 2005's Brokeback Mountain.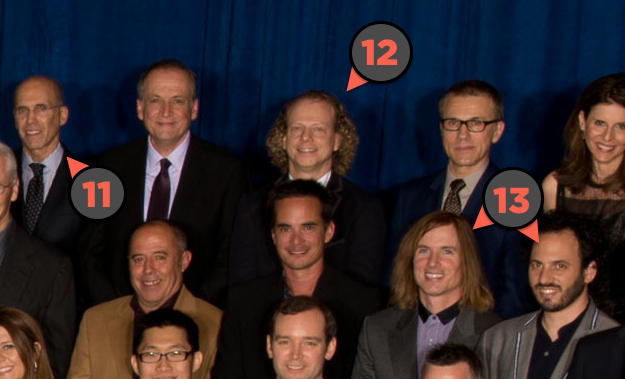 11. Studio executive Jeffrey Katzenberg wasn't nominated for any one film this year. Instead, along with documentarian D.A. Pennebaker (who did not attend the luncheon), producer and film preservationist George Stevens Jr., and stuntman and director Hal Needham, Katzenberg was honored last December at the 4th annual Governors Awards, for which he received the Jean Hersholt Humanitarian Award for his philanthropy.
12. Producer Bruce Cohen (Silver Linings Playbook) also produced the ill-fated 2011 Oscars hosted by Anne Hathaway and James Franco.
13. These two gentleman with the adventurous sartorial style are directors Bryan Buckley (the live-action short film Asad) and Guy Davidi (the feature documentary 5 Broken Cameras).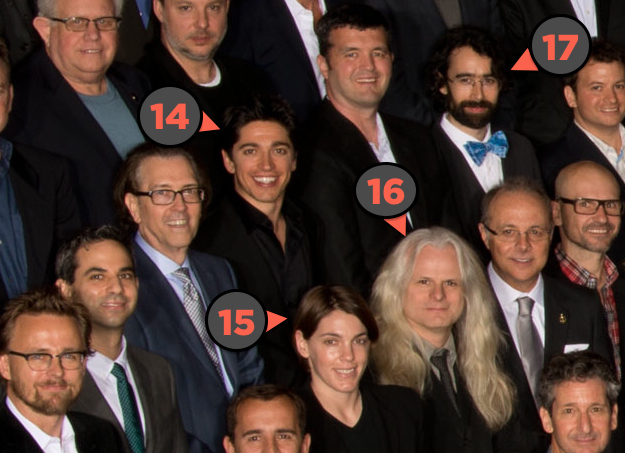 14. This ridiculously photogenic nominee is French-Canadian actor and filmmaker Yan England, nominated for his live-action short film Henry.
15. One of the most conspicuous new producers in Hollywood is Zero Dark Thirty's Megan Ellison, whose Annapurna Pictures has become a major player in independent film in just a few short years (she's also bankrolled The Master, Lawless, and David O. Russell's upcoming Abscam film). It certainly doesn't hurt that her father is Oracle gagillionaire Larry Ellison.
16. This beardless Gandalf is Life of Pi cinematographer Claudio Miranda.
17. Hey there, live-action short film producer Ariel Nasr (Buzkashi Boys) — nice bow tie!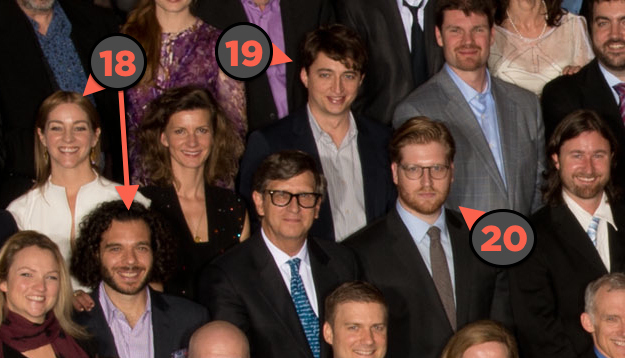 18. Directors and young marrieds Andrea Nix Fine and Sean Fine (nominated for the documentary short Inocente) were first nominated for their 2007 feature doc War Dance. Fun fact! During the luncheon, other attendees commiserated over which Game of Thrones character Sean Fine most resembled. (It's Jon Snow, obviously.)
19. One of the biggest surprise nominees was Beasts of the Southern Wild director Benh Zeitlin, whose decision to make his film largely outside the purview of the filmmaking guilds kept his film from participating in most of the pre-Oscar horse race. He sure looks happy to be there!
20. Unlike Zeitlin's Beasts producer Dan Janvey, who kinda looks like he may throw up.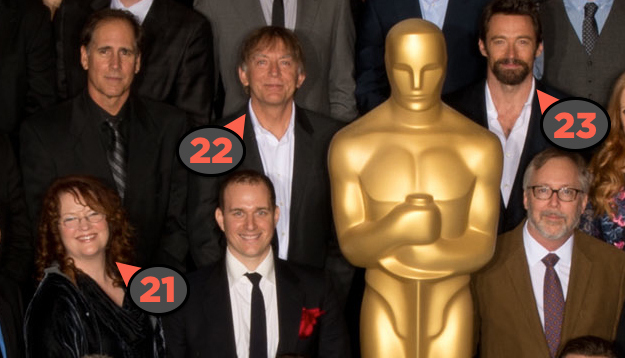 21. Should Pixar's Brave win Best Animated Feature Film, it would spark possibly the most awkward moment of the 85th Academy Awards, since the film's original director Brenda Chapman was essentially fired from the film halfway through production. Because she retained a full director credit, however, she received an Oscar nod alongside Mark Andrews, who took the reins after she left. It's a terribly messy situation, and we're terrible people for secretly wishing to see it happen.
22. Another double nominee in the same category, Andy Nelson worked on the sound mixing for both Les Misérables and Lincoln — but only one involved live singing.
23. Rest easy, Hugh Jackman. With your Best Actor nomination for Les Misérables, you are no longer just "Hugh Jackman, former Oscar host." Phew!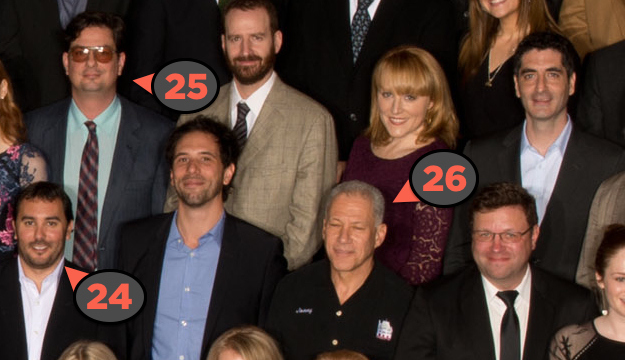 24. Meet PES. He's a commercial director, born Adam Pesapane, nominated for his adorable stop-motion animated short Fresh Guacamole. As of last March, he was developing a feature film version of the Garbage Pail Kids. Hollywood!
25. Now that Roman Coppola has been nominated for Best Original Screenplay for the criminally under-nominated Moonrise Kingdom (along with director Wes Anderson), he officially joins sister Sofia Coppola, father Francis Ford Coppola, aunt Talia Shire, and cousin Nicolas Cage in the most Oscar-nominated family in film history.
26. Another nominee unfortunately caught blinking: director Jon Alpert, nominated for his documentary short Redemption.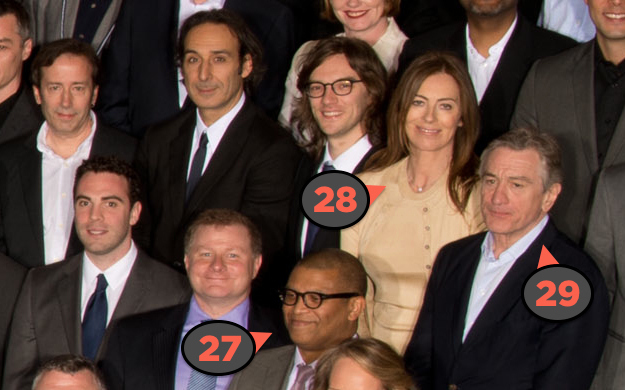 27. When Quentin Tarantino first showed producer Reginald Hudlin the script for Django Unchained, he was impressed. The two had talked about how a slavery revenge picture would be a great theme for the director to explore. "Looks terrific," Hudlin told Tarantino about the script. "Can't wait to see it." Tarantino turned the tables, however, informing him, "Not so fast! You're producing it!" Two weeks later, Hudlin found himself scouting locations in Australia, and a year later he finds himself an Academy Award nominee for Best Picture.
28. Like Ben Affleck, while Kathryn Bigelow was denied a nod for her directing, she earned one for producing Best Picture nominee Zero Dark Thirty.
29. The last time Silver Linings Playbook's Robert De Niro was an Oscar nominee, George H.W. Bush was president. Maybe that's why the Best Supporting Actor nominee looks so grumpy?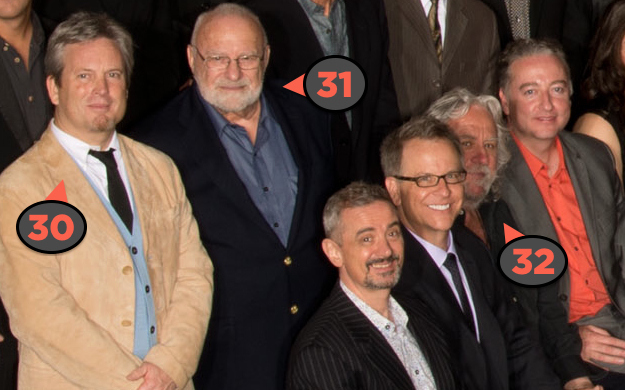 30. This khaki suede aficionado is Life of Pi producer Gil Netter.
31. Editor Michael Kahn (Lincoln) has cut together every single Steven Spielberg film since Indiana Jones and the Temple of Doom.
32. Don't be shy, The Hobbit: An Unexpected Journey production designer Dan Hennah. We see you there!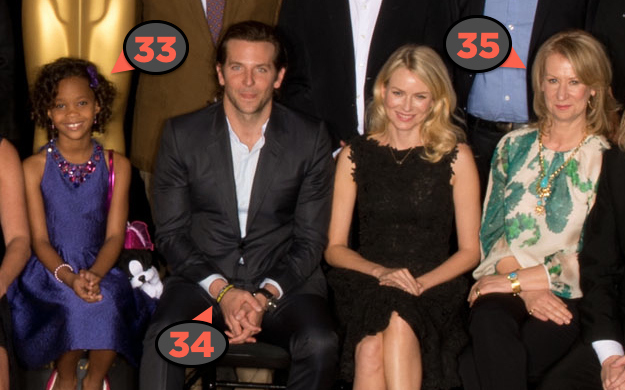 33. Hey, Beasts of the Southern Wild star Quevenzhané Wallis, we folks in the Oscar luncheon press room want to know, what do your friends call you? "Q." Thanks! And watch out for that giant Oscar statue — it's trying to stab you with its sword in your adorable head!
34. For some reason, some of us here at BuzzFeed Entertainment are obsessed with the yellow bracelet Best Actor nominee and ex-Sexiest Man Alive Bradley Cooper (Silver Linings Playbook) is sporting on his right wrist. So now, of course, it's the only thing we can look at.
35. Costume designer Joanna Johnston has dreamt up the garments worn in several Steven Spielberg films, including War Horse, Munich, and Saving Private Ryan — but this is her very first Oscar nomination, for Lincoln.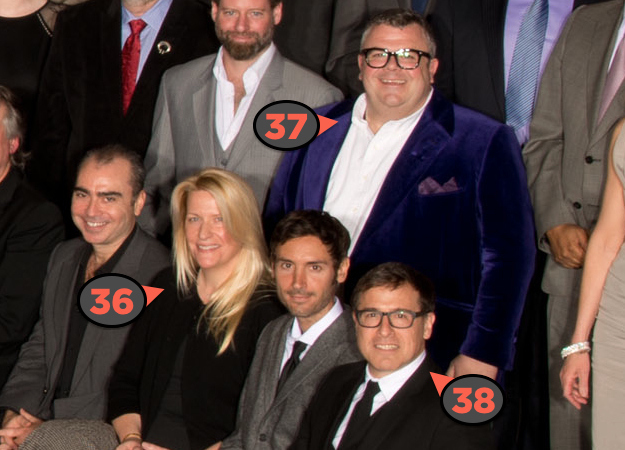 36. This year, of the 22 individuals nominated for Best Sound Mixing and Best Sound Editing, only one is a woman: Skyfall sound editor Karen M. Baker.
37. And the winner for best jacket at the 2013 Oscar nominee luncheon is...Snow White and the Huntsman's Michael Dawson, nominated for Best Visual Effects. Congratulations!
38. Hollywood has radically changed over the last few decades, but it is still a town that loves second chances. The David O. Russell sitting in the front row as a double nominee for writing and directing Silver Linings Playbook looks light-years different than the filmmaker notorious for his on-set blow-ups with George Clooney (on Three Kings) and Lily Tomlin (on I Heart Huckabees).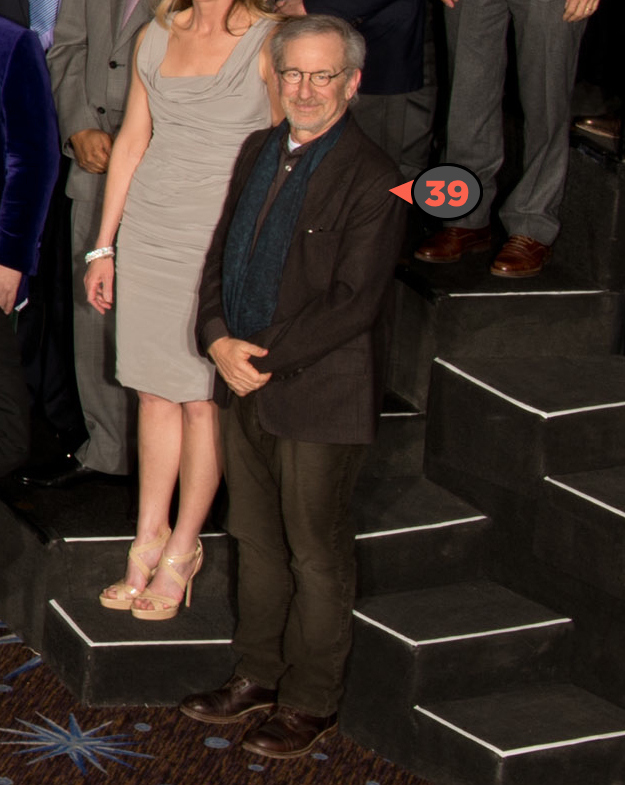 39. Getting all the nominees onto these risers was a long, long process. One by one their names were called out, and the room applauded as they came forward, shook Academy President Hawk Koch's hand, and took their places. The risers were loaded in roughly from the top to the bottom, meaning those placed on the top had to stand in place for around a half hour while the full class assembled. There was one man who did not have to stand in place, however: The penultimate name called was that of Lincoln producer and director Steven Spielberg, the closest thing Hollywood has to a godfather these days, who gamely rose from the comfort of his table and was squeezed in on the end of the second row.
A big theme of this Oscar season, which of late has been dominated by the Argo comeback, is how director Ben Affleck has come across as modest, self-effacing, and gracious, compared with Spielberg, access to whom is strictly controlled and whose operation smacks to some of high-handedness. In the case of the Oscar class photo, it should be noted that Affleck, in comparison to Spielberg's last minute walk-on, was one of the very first called and stood in position the entire half hour at the top of the bleachers, smiling happily.
Notable nominees who did not attend the event include acting nominees Phillip Seymour Hoffman (The Master), Alan Arkin (Argo), Emmanuelle Riva (Amour), and Daniel Day-Lewis (Lincoln); producers Grant Heslov and George Clooney (Argo); directing and screenwriting nominee Michael Haneke (Amour); screenwriting nominees Wes Anderson (Moonrise Kingdom) and Quentin Tarantino (Django Unchained); and host and songwriting nominee Seth MacFarlane (Ted).
Here is the full list of all the nominees in the photo, per the Academy:
Row 1 (from left): Sam Fell, Rich Moore, Dan Hennah, Seamus McGarvey, Sari Gilman, Paco Delgado, Jacki Weaver, Donna Gigliotti, Ethan Van der Ryn, Pilar Savone, Quvenzhané Wallis, Bradley Cooper, Naomi Watts, Joanna Johnston, Paul N.J. Ottoson, Janusz Kaminski, David Womark, Jedd Wider, Karen Baker Landers, Malik Bendjelloul, David O. Russell.
Row 2: Gil Netter, Michael Kahn, David Gopman, Ronald Judkins, Philip Brennan, Chris Butler, David Clayton, Debra Hayward, Tim Squyres, Brenda Chapman, J Ralph, DM Hemphill, PES, Guillaume Rocheron, Jon Alpert, Ron Bartlett, Fodhla Cronin O'Reilly, Jim Erickson, Sam French, Michael Dawson.
Row 3: Nikolaj Arcel, Megan Ellison, Claudio Miranda, Scott Millan, Cedric Nicolas-Troyan, Tammi Lane, Sean Fine, Rick Carter, Dan Janvey, Erik Aadahl, Dan Sudick, Andy Nelson, Hugh Jackman, Jessica Chastain, Roman Coppola, Drew Kunin, Robin Honan, Mino Jarjoura, David Silverman, Tom Van Avermaet, Mychael Danna, Mark Paterson, David Magee, Reginald Hudlin, Helen Hunt, Steven Spielberg.


Row 4: Joachim Ronning, Howard Gertler, Walter Murphy, Yan England, Eric Saindon, Ariel Nasr, Martin Hill, Andrea Nix Fine, Ellen De Waele, Benh Zeitlin, Jeff White, Josh Penn, David France, Mark Boal, Espen Sandberg, Timothy Reckart, Richard Stammers, John Kahrs, Wylie Stateman, Cori Shepherd Stern, Mink Yu Lee, Matthew O'Neill, Janek Sirrs, Philip Stockton, Alexandre Desplat, Crispin Struthers, Kathryn Bigelow, Robert De Niro.


Row 5: Peter Montagna, Eugene Gearty, John Reitz, Dylan Tichenor, Eric Fellner, Jonathan Gordon, Kirby Dick, Tim Burton, Amy Adams, Per Hallberg, Joaquin Phoenix, Sally Field, Lucy Alibar, Eve Stewart, Guy Williams, Anne Hathaway, Neil Corbould, Mark Andrews, Michael Gottwald, Shawn Christensen, Donald Elliot, Jose Antonio Garcia, Ra Vincent, Brian Buckley, Guy Davidi, Kief Davidson, Katie Spencer, R. Christopher White, Kim Nguyen, Martin Samuel.


Row 6: Erik-Jan De Boer, Dror Moreh, Tony Kushner, William Goldenberg, Bill Westenhofer, George Stevens Jr., Stacey Sher, Sarah Greenwood, Ben Affleck, John Gatins, Howard Berger, Colleen Atwood, Denzel Washington, Kathleen Kennedy, Jay Cassidy, Ang Lee, Thomas Newman, Jennifer Lawrence, Cynthia Wade, Alain Boublil, Jeffrey Katzenberg, Joe Letteri, Bruce Cohen, Christoph Waltz, Amy Ziering, Tommy Lee Jones, Hal Needham, Greg P. Russell, Emad Burnat, Gregg Rudloff, Simon Bright.
And if you were curious what the nominees see as they stand there waiting for everyone to fill into place...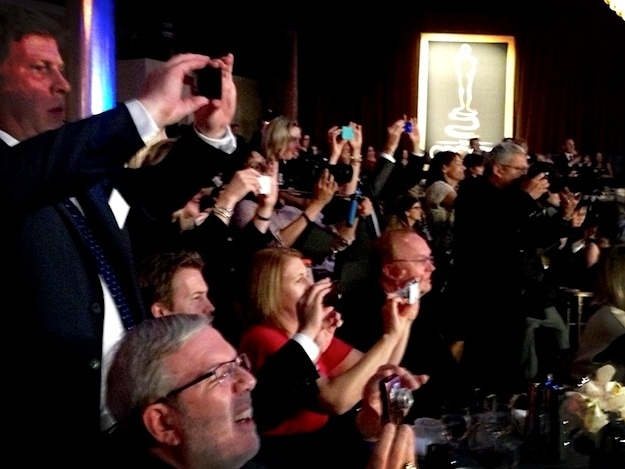 UPDATE: Dylan Tichenor was incorrectly identified as not being pictured. The post has since been corrected.