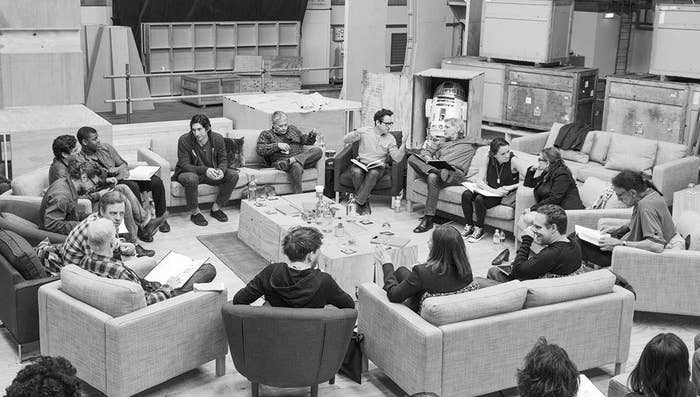 It's official: John Boyega, Daisy Ridley, Adam Driver, Oscar Isaac, Andy Serkis, Domhnall Gleeson, and Max von Sydow will join the original stars of the saga — Harrison Ford, Carrie Fisher, Mark Hamill, Anthony Daniels, Peter Mayhew, and Kenny Baker — in Star Wars: Episode VII, Disney and Lucasfilm announced on April 29.
Director J.J. Abrams said, "We are so excited to finally share the cast of Star Wars: Episode VII. It is both thrilling and surreal to watch the beloved original cast and these brilliant new performers come together to bring this world to life, once again. We start shooting in a couple of weeks, and everyone is doing their best to make the fans proud."
The news finally ends weeks (even months) of fevered anticipation, especially after news broke that Driver (best known as Lena Dunham's boyfriend on HBO's Girls) had been cast as the villain, and Disney Chairman Alan Horn said in early April that shooting had already started on the film. Horn later clarified he meant that only second-unit photography in some far flung locations had begun.
J.J. Abrams will direct Episode VII from a script he co-wrote with Lawrence Kasdan, though Michael Arndt wrote an earlier draft. The story is set 30 years after the events of Return of the Jedi.
Disney first announced some 17 months ago that it would continue the Star Wars saga with a new trilogy of films, after the company purchased George Lucas' company Lucasfilm for $4.05 billion. Lucas, who announced his retirement in the months before the Disney purchase became official, is serving only as a creative consultant on the films. The new president of Lucasfilm, veteran producer Kathleen Kennedy (Lincoln, The Curious Case of Benjamin Button, The Sixth Sense), is producing with Abrams and his longtime producing partner Bryan Burk.
Principal photography will begin in London in May, and the film is scheduled for release on Dec. 18, 2015.